Over the course of a week, my wife and I drink a bunch o'wine – almost always with food. Since I've always been fascinated by wine at the table with food, I thought it would be fun to recap not only the wines we've been drinking, but also how they pair (or don't pair) with the foods at our table.  It features my pick for Wine of the Week (WoW) – a  wine I particularly enjoy, whether it's something new and different, is a great value, or from a producer worth checking out for the week ended November 1st, 2015.
2011 Stage Left Cellars The ExPat – Retail $24
Inky black red color with blackberry cobbler, and black currant, vanilla, and pepper aromas. On the palate its medium-bodied, and well-structured with vibrant acidity, a wonderful texture and soft well-integrated tannins with blackberry, black cherry, and black raspberry flavors, and a giving finish. Blend of 50% Syrah, 50% Petite Sirah. Good value at $24 Outstanding; 90-91pts
2014 Sandlands Blush – Retail $20
Pretty pink color with strawberry and watermelon aromas On the palate it's fresh, well-balanced, with an appealing texture with tart strawberry, and cranberry flavors complemented by a nice vein of saline minerality. Very enjoyable. Blend of 66% Cinsault, 33% Grenache. Very Good; 88-89pts
2010 Maison Anselmet Torrette Supèrieur – Italy, Valle d'Aosta, Retail $35
Ruby color with wild rose, mixed black and red fruit, and cinnamon aromas. On the palate it's medium-bodied, fresh and well-balanced with a wonderful velvety texture and polished tannins with black cherry, plum, pomegranate and a bit of blackberry flavors with an appealing saline minerality and a long spicy finish. Very Good to Outstanding; 89-90pts
2010 Bedrock Wine Co. Syrah T 'n' S Hudson Vineyard South – Retail $38
Deep dark inky violet color with leather, roast meat, dark fruit, violet and a bit of spice aromas. On the palate it medium-bodied, dense, fresh and harmonious with vibrant blackberries, plum, cassis, black cherry, and vanilla flavors. Long finish. Outstanding; 91-92pts
– Wine of the Week –
Years ago, when we first started to lay down bottles of wine, we used to go out and purchase "everyday" wines in the $10-15 range so that we wouldn't drink the wine were we hoping would get better with time.  That strategy (if you could call it that..I think of it as more a consequence of buying a bit too much wine;-) is paying off now.  Now we're making a conscious effort to drink those bottles of wines we've been holding.
And that's how we ended up drinking a simply fabulous wine like the 2010 Bedrock T n S Vineyard South Syrah on a weeknight. I love this wine, it's got that little bit of "weirdness" I appreciate about Syrah and it was well structured and delicious! Likewise, for the Ex Pat 50/50 Syrah/Petite Syrah blend from  Stage Left Cellars, THE winery to get your Rhone on in "The Town" (aka Oakland, CA)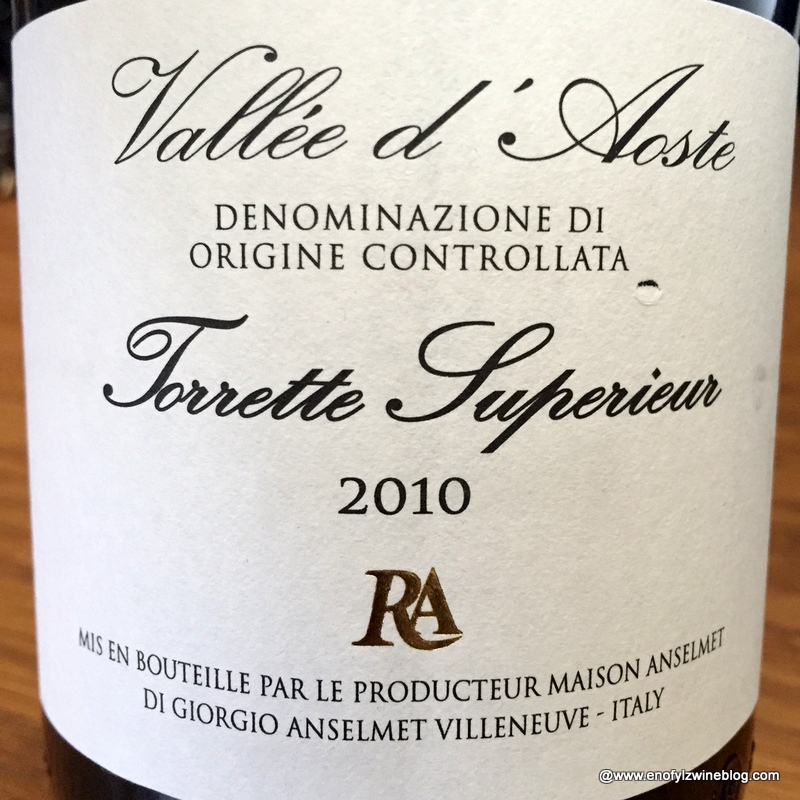 But, my Wine of the Week was the 2010 Maison Anselmet Torrette Supèrieur. It was such an intriguing wine. It brought to mind a Beaujolais, but it has its own unique character too.  It's a great food wine (as virtually all Italian wines seem to be), well-balanced and delicious! If you're looking to get out of you red wine rut, I highly recommend you check out this wine!
There seems to be no end to the number of grape varieties in Italy. And since I joined the Italian Food, Wine and Travel group of bloggers (#ItalianFWT), I've tasted quite a few indigenous grape varieties. This one is a blend of grape indigenous to the Aosta Valley –Petit Rouge, Fumin, Mayolet, and Cornalin.  
The Aosta Valley is the smallest wine region in Italy.  It sits in the northeast corner of Italy bordered by both France and Switzerland. I'll be blogging my more detail about both the region, the wine and fantastic food pairing  this Saturday – November 7th.  I hope you'll check back then for more information.
More about Maison Anselmet
From the winery;
The history of Maison Anselmet is not related to the birth of the company in 2001, but a testimony handed down by generations of men who have linked their lives to the land and its fruits: it's story of passion, hard work, work is life of Anselmet.
The first track of a certain Anselmet winemaker you in 1585 through a contract to purchase a vineyard in the village of Villeneuve, since then the passion of making wine is handed down from generation to generation, until the end of the seventies.
In 1978 Renato Anselmet, Giorgio's father, decided to continue the family tradition, but to start producing wine not only for their own consumption, thus laying the groundwork for what would become in a few years one of the most important and appreciated reality vine-wine in the Aosta Valley: Maison Anselmet.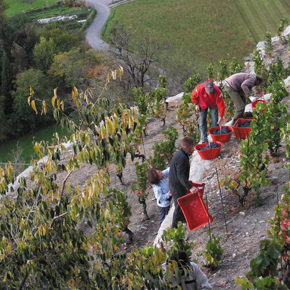 Year after year, have been selected varieties, expand the area of vineyards and increased production in terms of quantity and quality. They have been introduced technical and technological innovations, which have made ​​courageous choices turned a small company into a benchmark of viticulture, not only the Aosta Valley.
From 70 bottles bottled by Renato in 1978 with labels made ​​by the same hands that worked the vineyard, Giorgio exceeds, in 2008, 70,000 bottles. The next goal, ambitious but attainable will soon be 1,000 hectoliters, after 90,000 bottles of 2011.  
The vineyards of Maison Anselmet are definitely not repetitive: they are different in size from 1,000 to 14,000 square meters, different location from St. Pierre in Chambave, different altitude from 600 to 900 m above sea level, different constitution of the soil, different grape varieties planted . For the House, this fragmentation of the territory is both joy (in the results) and pain (machining)! Each area transmits the grapes scents, flavors, colors and special characteristic, but how much work and effort, how much extra care! Numerous vineyards are planted for decades and do not allow a machining, everything must be done by hand. Many other, more recent, are terraced with stone walls to dry and require frequent maintenance. This area offers a lot of hard and difficult, who knows, understands and respects it, as many satisfactions.
_________________________________________________________________________
Follow me on Twitter, Facebook, Instagram, Vivino and Delectable, for all things wine. As a wino with latent foodie tendencies, you'll also find food and wine pairings, and food related stuff! Become a fan and join ENOFYLZ Wine Blog on Facebook. Cheers! This article is original to ENOFYLZ Wine Blog.com. Copyright 2015 ENOFYLZ Wine Blog. All rights reserved.