Last year, I was had the honor of being invited to a private Krug Champagne tasting at my favorite wine store – K&L Wine Merchants.  I recapped that phenomenal tasting in a post entitled "A Taste of Champagne Krug".
Much to my surprise and delight, Gary Westby, K&L's Champagne Buyer invited me to another Krug Champagne tasting several months back.  Except this time, the tasting was with Olivier Krug, the sixth generation of the venerable Krug Champagne family.
With #ChampagneDay upon us, I can't think of a better time to recap this extraordinary tasting of the most memorable wines I've enjoyed this year!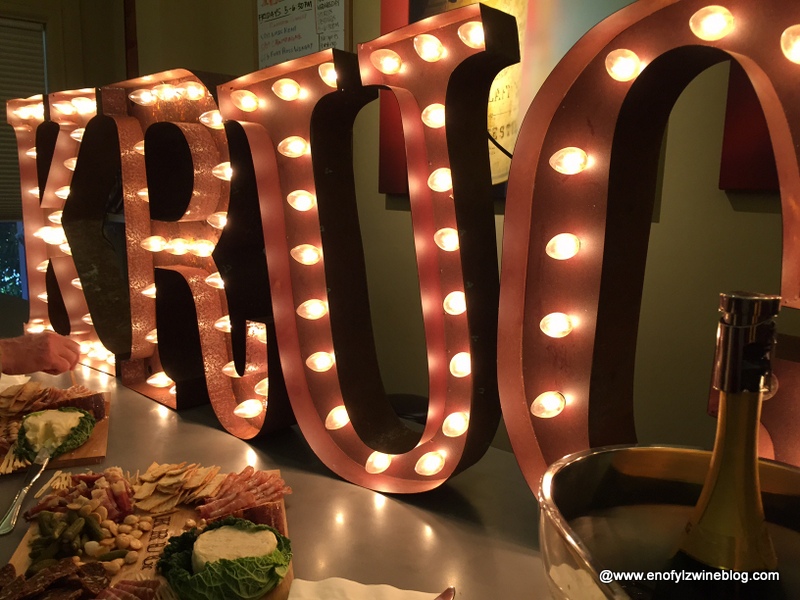 The House of Krug
Krug was established in 1843 by Johann Joseph Krug, and silent partner Hippolyte de Vivès, a member of the family of the founder of Veuve Clicquot  They produced the first Krug et Cie blend in 1845.  After Joseph's death in 1861, his son Paul was the first of five successive generations of Krug's in the business.
In 1999 Krug was acquired by the multinational luxury goods conglomerate LVMH Moët Hennessy • Louis Vuitton S.A. LVMH also owns grande marque Champagne houses Mercier, Moët & Chandon, Montaudon, Ruinart and Veuve Clicquot Ponsardin.
Despite LVMH's majority ownership, the Krug family is still actively involved in all the key decisions of the house but does not manage the day-to-day operations.  Olivier Krug, who has  been in the business since 1989, became house director in 2009, the same year that LVMH named Margareth "Maggie" Henriquez President & CEO of Krug
Krug produces about 40,000 cases annually (It's relatively small house), and 80% of that production is the Krug Grand Cuvée.  In addition to the Grand Cuvée, Krug also produces a multi-vintage Rosé,Vintage Brut, a vintage single vineyard blanc de blanc known as Clos du Mesnil, and a vintage single vineyard blanc de noir known as Clos d'Ambonnay, and older vintages release as Krug Collection series.  Krug is the only Champagne house that produces five prestige cuvées.
For an excellent, more detailed deep dive on Krug, check out Alder Yarrow's (Vinography)  "Krug: A Quintessence of Champagne"
The Tasting
We tasted the same wines as we did last year…with one huge exception…
We also tasted the newly released 2003 Krug Clos du Mesnil!
Yes, boys and girls…dreams do come true!
Olivier Krug  and team presented the wines. Krug has no direct operational role in the business.  But he touches everything that connects Krug to its audience – from grape growers to vendor, and of course consumers.  He is a charming, entertaining, and masterful story-teller.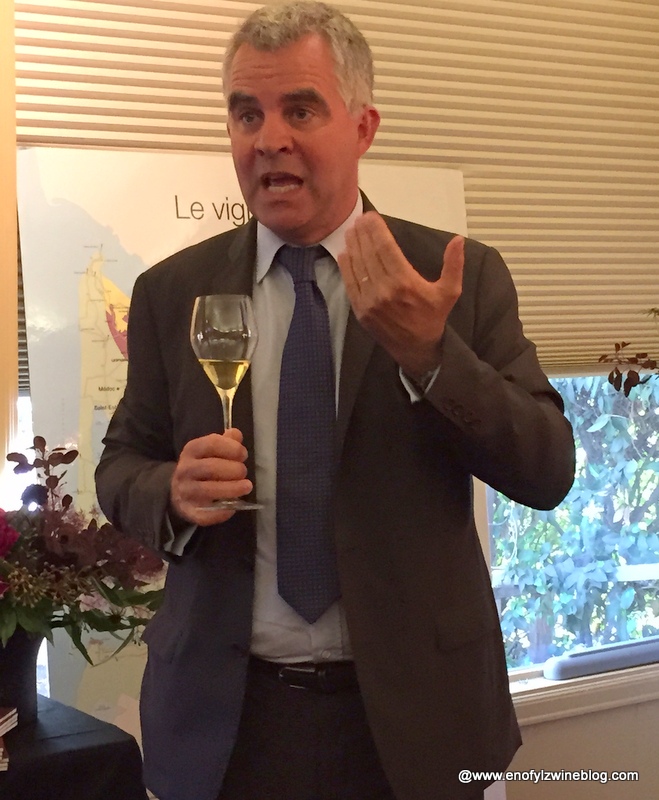 As I listened to the Krug story, there are many things that set Krug apart from other Champagne producers. Here are a few:
The first is that Krug doesn't make any secondary, or entry-level wines.  In fact, all other Krug Champagne is measured against the multi-vintage Grand Cuvée, their least expensive wine.  Unlike most large producers of multi-vintage Champagne who strive for consistency of flavor year end, and year out, the Krug Grand Cuvée is not meant to taste the same each year.
It was Krug's multi-vintage Grand Cuvée, that debunked the myth that vintage Champagne is inherently superior to multi-vintage Champagne.
…unlike other great Champagne producers, Krug makes only prestige cuvées. Instead of its multi-vintage Grande Cuvée being a secondary wine, created after the vintage wine is assembled, Krug has, from the beginning, turned the region's usual practice on its head by devoting its attentions to the multi-vintage Cuvée first, as the house's flagship. – Richard Jennings
Next, according to Olivier Krug "I believe we are the only major house to vinify every single plot separately,"  In 2014  they harvested, and pressed 240 individual plots(in the nearest convenient location to the vineyard). The pressed juice was then brought back to the main facility, where they were barrel fermented in 240 separate lots!
Finally, Krug is also leading the way among the great Champagne houses in becoming more transparent. Since September 2011, each bottle of Krug has a six digit number on the back label referred to as the Krug ID.  You can type this number into a box on Krug's website to learn the story of that particular bottling, including the vintage(s) in the wine, the percentage of grape varieties used, and when the bottle was disgorged.
The essence of Champagne is pleasure – Olivier Krug
As for the wines? Simply the best line-up of Champagne I've ever tasted!
My tasting notes follow: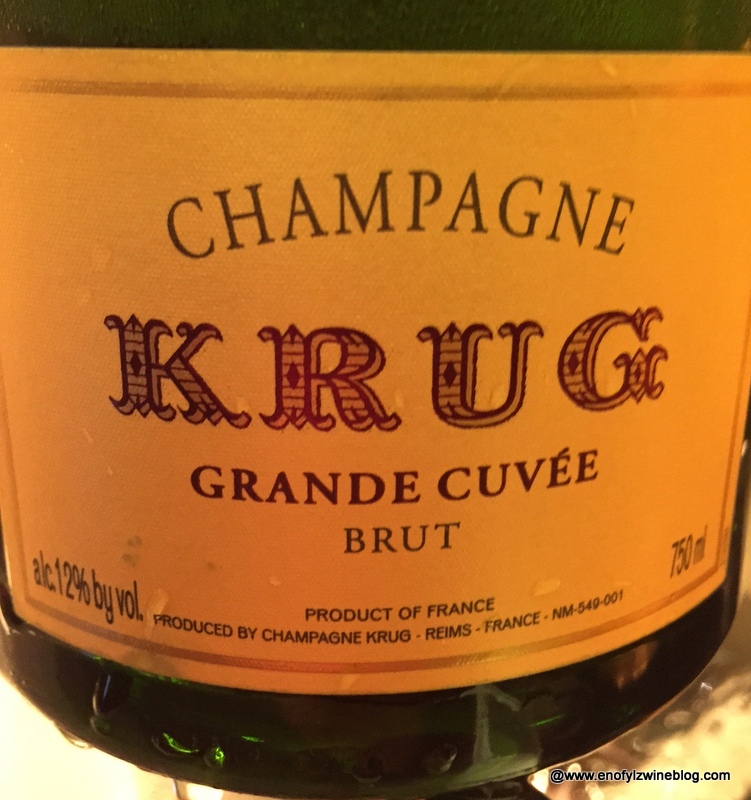 Krug Champagne Brut Grande Cuvée – Light yellow color with an abundance of rapidly rising pin prick sized bubbles and an explosion of complex, hazelnut, yeast, orange zest, dried cherry, and subtle honey aromas. On the palate, it's broad, and rich with a delicate mousse and lively acidity. It shows delicious pear, hazelnut, lemon, apricot and subtle honey flavors. Long rich satisfying finish. ID = 213032 Disgorged Spring 2013. 44% Pinot Noir, 35% Chardonnay, and 21% Pinot Meunier. Blend of 142 wines from 11 different years. Oldest wine from 1990, youngest wine from 2006. This is Champagne that made me a believer that Vintage Champagne isn't always better than multi-vintage Champagne. (94-95 pts.); Retail – $150 Click to buy.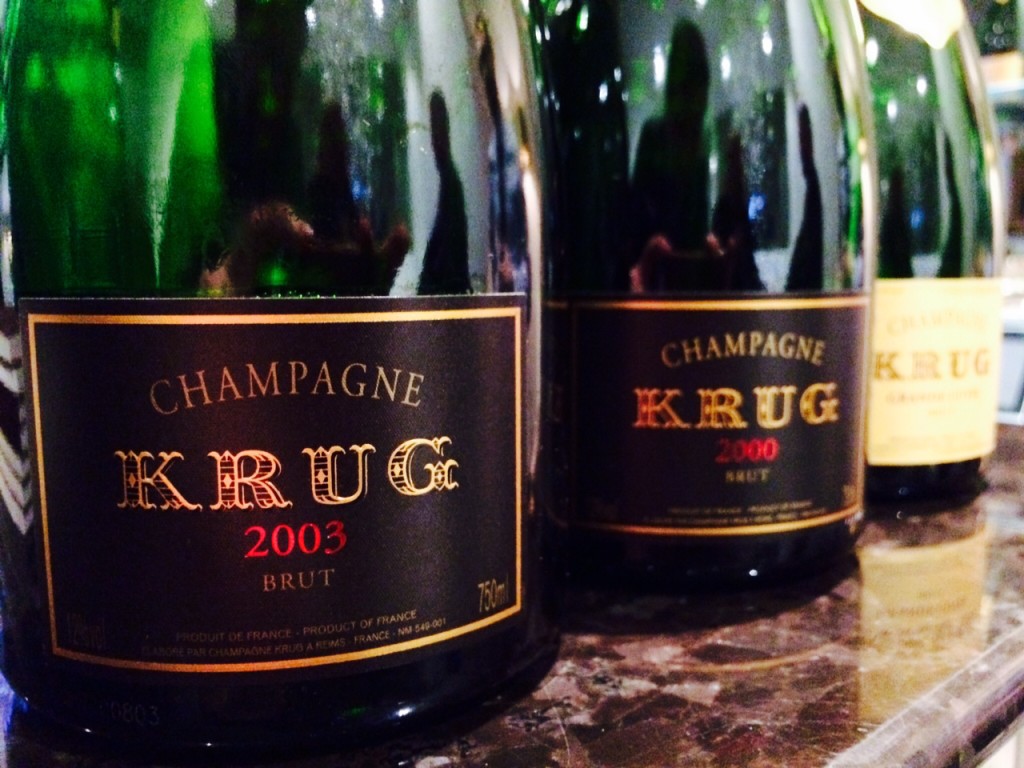 2003 Krug Champagne Vintage Brut – Golden yellow color with an abundance of rapidly rising pin prick sized bubbles, and rich hazelnut, brioche, citrus peel, and mineral aromas. On the palate, it's complex, refined and well structured with a rich delicate mousse and ample apples, tart lemon, hazelnut, subtle spice and mineral flavors. Long finish. ID = 113015. Disgorged Winter 2012/13 Blend of 46% PN, 29% Chardonnay, and 25% Pinot Meunier.  Known as "Vivacious Radiance" at Krug (94-95 pts.); Retail – $229 Click to buy.
2000 Krug Champagne Vintage Brut – Pale yellow color with an abundance of rapidly rising pin prick sized bubbles, and penetrating almond, date, yeast, apple, citrus, ginger, vanilla and subtle spice aromas. On the palate, it intense and refined with a delicate creamy mousse, and apple, pear, mineral, lemon/lime, and subtle spice flavors. Long finish. ID = 412048; Disgorged Autumn 2012. Blend of 42% Pinot Noir, 43% Chardonnay, and 15% Pinot Meunier. Known as "Stormy Indulgence" at Krug (95-96 pts.); Retail – $229 Click to buy.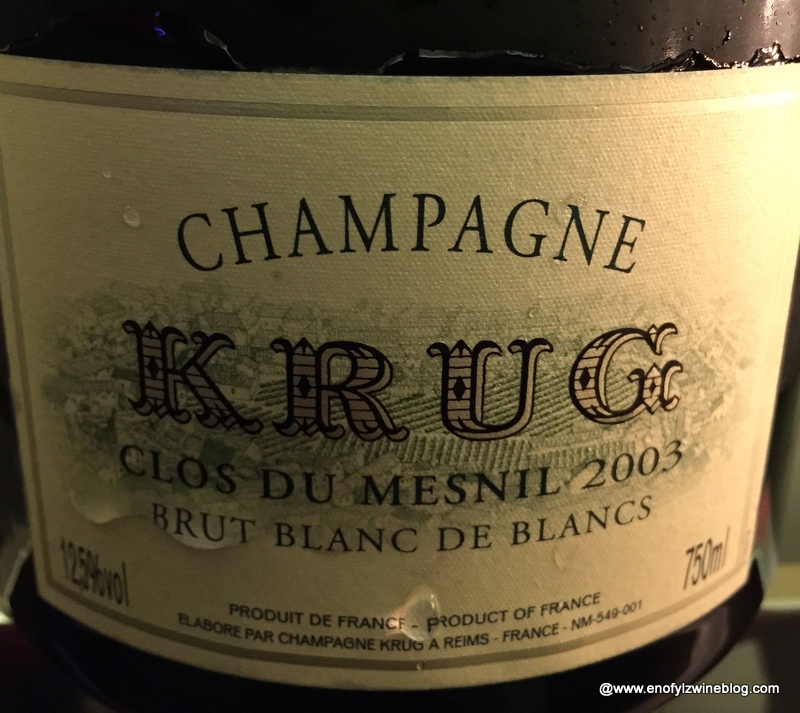 2003 Krug Champagne Clos du Mesnil – Bright yellow gold color with a very fine persistent bead. It's aromatically complex with very appealing hazelnut, citrus-laced creme fraiche, ginger, and and an earthiness that suggests spiced roast coffee grounds. On the palate, it's powerful, elegant, pure and impeccably balanced with a delicate, super creamy mousse. It shows quince, ginger, honey, candied citrus, and subtle spice flavors complemented by a sublime minerality with long lemony finish. Easily the best Blanc de Blanc I have ever tasted. 100 % barrel fermented Chardonnay from the 1.84 hectare walled Clos du Mesnil vineyard (96-97 pts.); Retail – $899 Click to buy.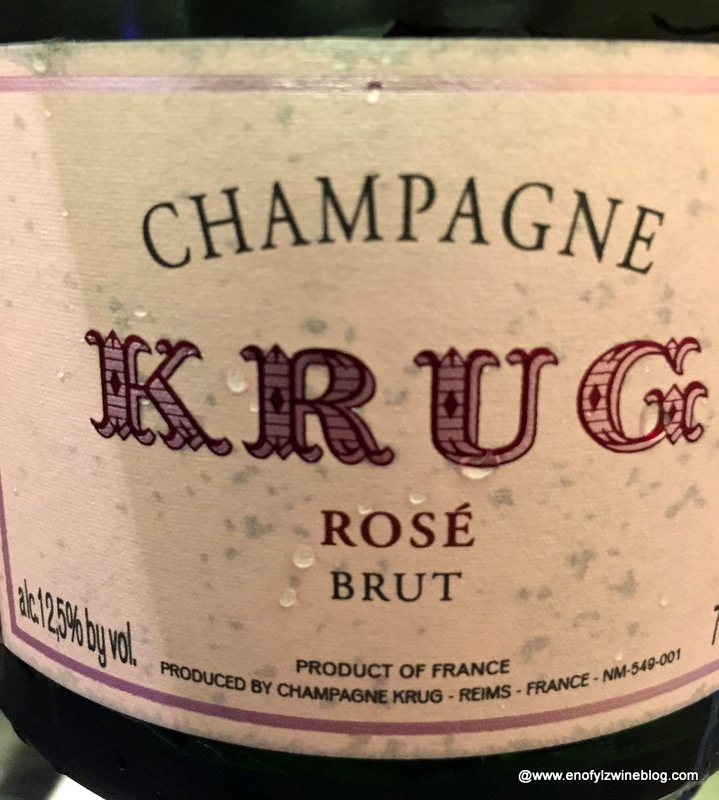 Krug Champagne Brut Rosé – Salmon color with an abundance of rapidly rising pin prick sized bubbles, and very appealing complex, sweet yeast raspberry,strawberry, citrus and subtle nutty aromas. On the palate it's elegant and rich with a delicate, creamy mousse and ample red fruit flavors of raspberries, strawberry, and watermelon along with lemon/lime, mineral, hazelnut and a sublime savoriness. Long finish. A deathbed wine for me!  ID = 113016. Oldest wine – 2000, youngest wine – 2006. Blend of 59% Pinot Noir, 33% Chardonnay, and % Pinot Meunier. Disgorged Winter 2012/2013 (95-96 pts.); Retail – $279 Click to buy.
---
After the tasting, we were invited to partake of the bevy of bottles of Krug Champagne beckoning us…
I went back for more Clos du Mesnil and the Brut Rose!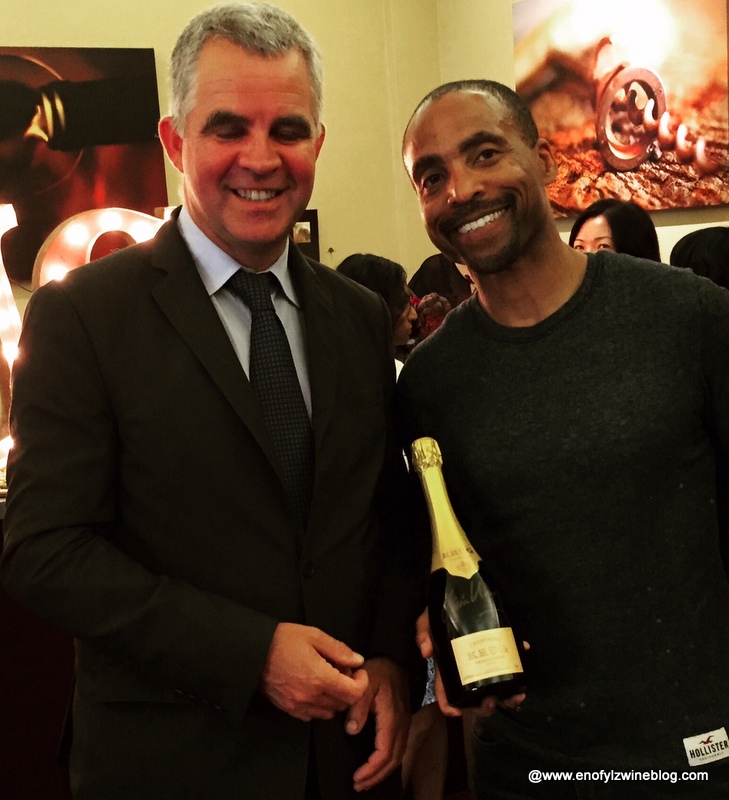 Then I went and purchased my first bottle of Krug (I have a feeling that wherever Olivier goes…Krug sells;-)
It was a bottle of the Grand Cuvée, which Olivier was kind enough to sign for me.
It's official…I am now a Krug Lover!
_________________________________________________________________________
Follow me on Twitter, Facebook, Instagram, Vivino and Delectable, for all things wine. As a wino with latent foodie tendencies, you'll also find food and wine pairings, and food related stuff! Become a fan and join ENOFYLZ Wine Blog on Facebook. Cheers! This article is original to ENOFYLZ Wine Blog.com. Copyright 2015 ENOFYLZ Wine Blog. All rights reserved.