Wine, like traveling, is relative I suppose. Here's what I mean.  Have you ever completed one of those online Facebook questionnaires that is supposed to tell you how well-traveled you are?  I have.  Just when I think you've done more than your fair share of travel, you realize there are so many more places you want to go!
I think it's the same with wine.  I consider myself pretty "well-traveled" wine wise.  But last week I read Eric Asimov's latest "Wine School" about Gigondas, and I realized  that while I've tried plenty of  wines from the Southern Rhone, I'd never tried a wine from Gigondas. Or from Vacqueyras, also mentioned in the piece  (Confession: I've never enjoyed a Northern Rhone wine – I know I can't believe it either!).
Since the focus of this month's French Winophiles is the Rhone Valley, it was a perfect opportunity to get a taste of Gigondas and  Vacqueyras.
The Rhone Valley
The Rhône Valley is located in Southwest France.  It is divided into two sub-regions; North and South. The North is the birthplace of Syrah, and it is the undisputed king of grapes in the region.  In the South, a wide array of red, white, and rose wines are produced, and Grenache is the king of grapes.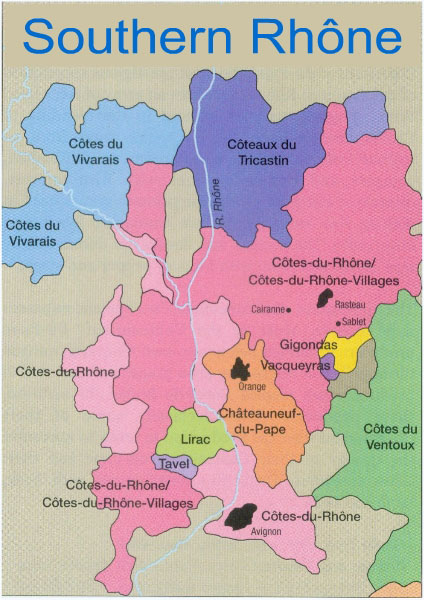 The Rhône classifies their AOCs (appellations) into four categories (in ascending order of quality – Côtes du Rhône, Côtes du Rhône Villages, Côtes du Rhône (named) Villages, and Cru.  
Renown Northern include names such as Hermitage and Cote Rotie.  In the South, the big dog of crus is the Chateauneuf-du-Pape.  Both Gigondas and Vacqueyras are classified as Cru, the highest quality category.
Aside from trying a couple of new-to-me regions, what drove my decision to try Gigondas and Vacqueyras was value.  The other, more renown, crus such as Hermitage, Cote Rotie and Chateauneuf-du-Pape can be pricey.  With Gigondas and Vacqueyras you can get wines with a similar profile, and a less imposing price, but with, ostensibly better quality than Côtes du Rhône, or Côtes du Rhône Villages wine.  
About Gigondas
Gigondas is a village located in the southeastern Rhone Valley.  The appellation sits on a plateau at an altitude of 100m, and gently climbs up around the village with steep slopes up to 430m high in area around the at the Dentelles de Montmirail.  The villages of Beaumes-de-Venise and Vacqueyras are located to the south and west of Gigondas.
A unique protected natural site, with hillsides carved by the hands of men into terrain suitable for vineyards. – Chef Alain Passard
The region produces 99% red wines and 1% rosé.  Both red and rosé wines are made predominantly from Grenache Noir (up to 80%, according to the appellation laws), with varying quantities of Syrah and Mourvedre, the two varieties with which Grenache is most commonly mixed in the region.
The region was elevated from Côtes du Rhône Villages status to cru status in 1971.
The resulting style of wine made in Gigondas is often likened to that of Chateauneuf-du-Pape, just 10 miles (17km) to the southwest.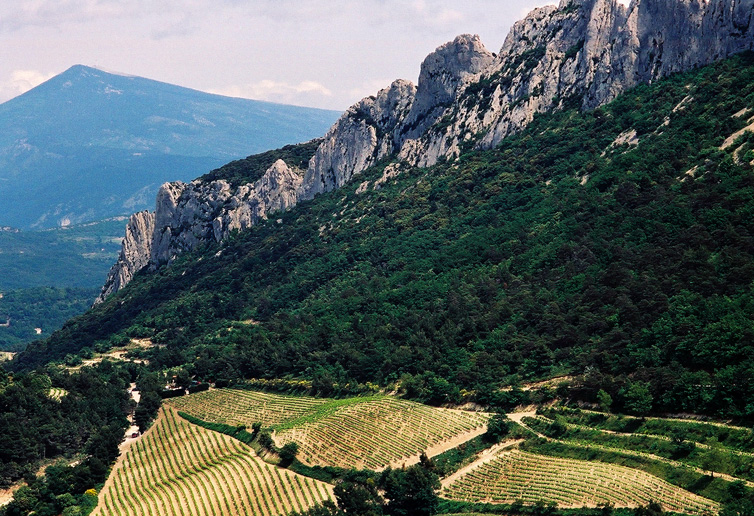 2013 Cécile Chassagne Gigondas – Retail $20
Domaine Cécile Chassagne represents the second generation of the Chassagne family. Her father, Jean-Claude Chassagne established the original estate in 1974 that included It included vineyards in Sablet, Gigondas and the Plan de Dieu. He sold most of the estate in 1998, but his daughter Cécile kept the 3.2 acre estate in Gigondas.
This wine is a blend of 80% Grenache, 10% Syrah,  and 10% Mourvèdre from vines planted in 1974.  It was whole-cluster fermented in large oak vats. It was aged 4 months in 228-litre oak casks.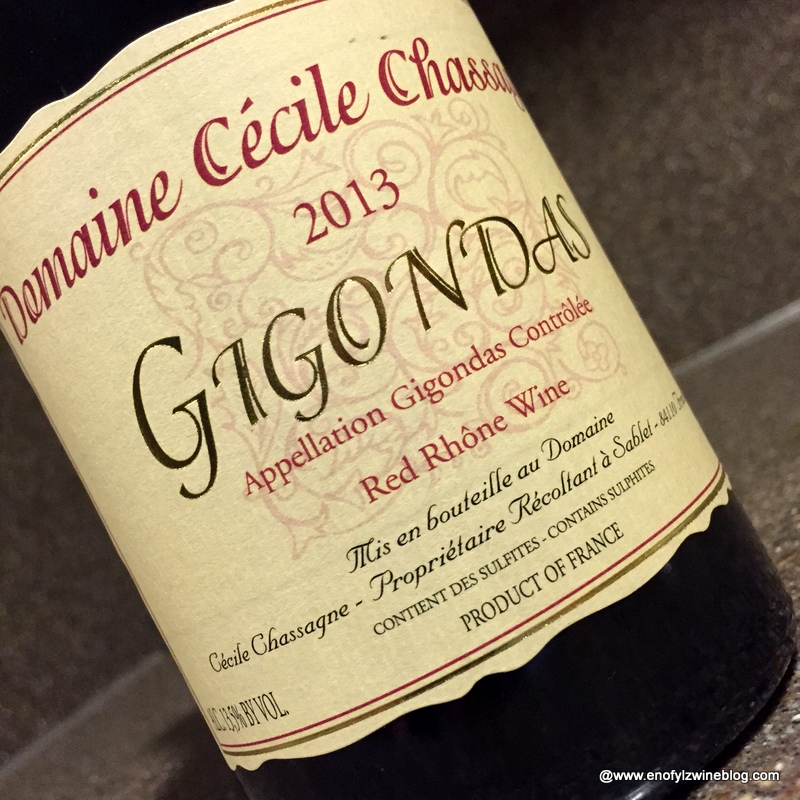 My tasting notes follow:
Pale purple garnet color with appealing savory black and red fruit aromas, subtle spice, and floral aromas with a nuanced appealing mineral note. On the palate it's medium-bodied with tart black cherry, black currant, blackberry, and spice flavors framed by well-integrated dusty tannins and a mineral driven, lingering finish. I enjoyed the tension in his wine.  It's definitely a food wine, as opposed to a cocktail wine in my book. 13.5% alcohol. Very good QPR at $20. I would buy again.  It's enjoyable now (I recommend aerating for at least 30 minutes) but will benefit from further aging.   Pair with Grilled Marinated Leg of Lamb.
About Vacqueyras
Just south of Gigondas, also at the foot of the Dentelles de Montmirail, Vacqueyras was elevated from Côtes du Rhône Villages status to cru status in 1990.  The region produces 95% red wines, 4% white wine and 1% rosé.  Grenache is the dominant variety in Vacqueyras; every blend must contain at least half, although sometimes it accounts for as much as 90% of the mix.  The remaining percentage is made up of Syrah and Mourvedre, with an addition of 10% of any of the other Cotes du Rhone varieties.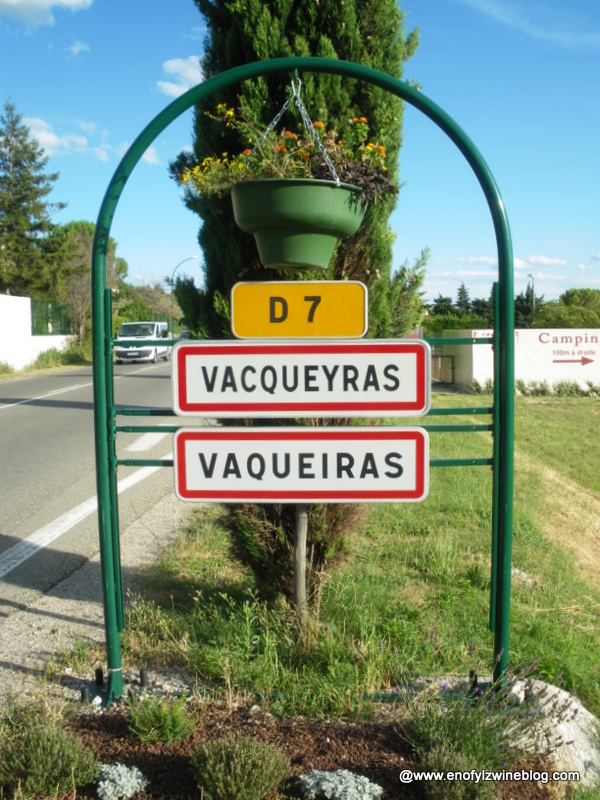 2012 Domaine la Garrigue "La Cantarelle" Vacqueyras – Retail $20
Domaine la Garrigue is set in the heart of the Vacqueyras.  The estate was created in 1850, and has always been worked by the same family, spanning 6 generations.
The wine is a custom cuvee between Eric Solomon, Philippe Cambie and the Bernard family.  It's a blend of 80% Grenache and 20% Syrah that spent 24 months all in concrete tanks.  The fruit is from 80-100+ year-old vines.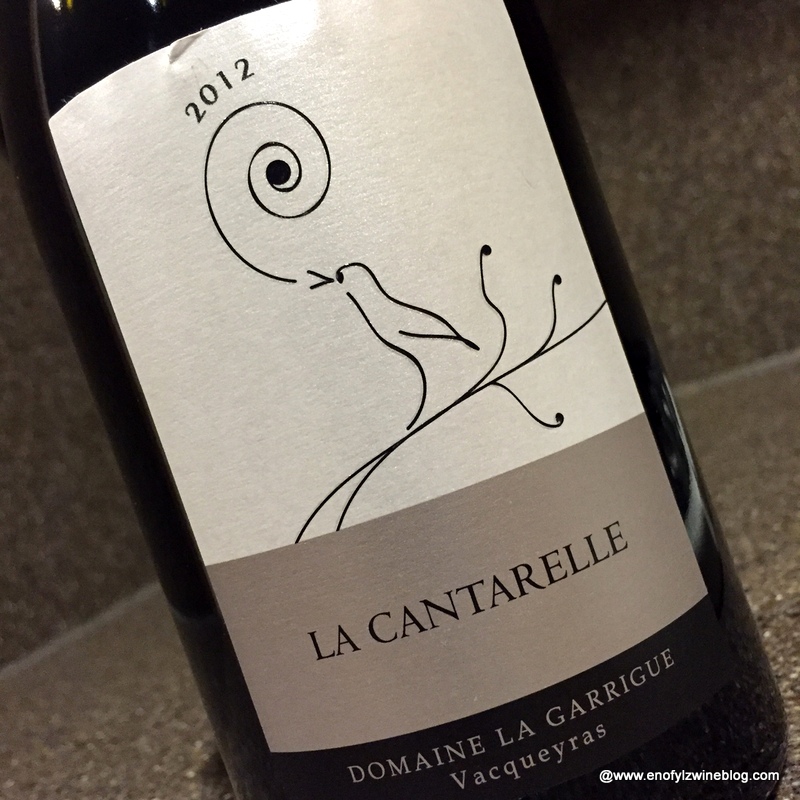 My tasting notes follow:
Bright crimson color with roast meat, black and red fruit, spice and subtle floral, and its namesake garrigue aromas. On the palate it's full-bodied, and fresh with a supple texture and silky tannins with black cherry, red currant, licorice, and spice flavors with underlying earthiness, a bit of minerality and a very giving spicy finish. 15% alcohol.  Very good QPR at $20. I would buy again.  It's enjoyable now but will benefit from further aging. Pair with Braised Short Ribs.
---
The Gigondas seemed to be a more traditional expression of the Southern Rhone Valley; from the bottle embossed with the crest of Gigondas, to it's more rustic, savory character. It brought to mind an Italian Rosso di Montalcino I recently had.  On the other hand, the Vacqueyras was a bolder, more full-bodied wine with more generous fruit.  It's definitely more of a crowd-pleaser in my mind.  I rated both wines Very Good to Outstanding 89-91pts.
For more about Rhône Valley food and wine be sure to check out what my fellow food and wine blogger are sharing!
Join our live Twitter Chat Saturday, October 17th at 8 am PST/11 am EST using #winophiles and share your favorite food and wine from the Rhone Region of France.
_________________________________________________________________________
Follow me on Twitter, Facebook, Instagram, Vivino and Delectable, for all things wine. As a wino with latent foodie tendencies, you'll also find food and wine pairings, and food related stuff! Become a fan and join ENOFYLZ Wine Blog on Facebook. Cheers! This article is original to ENOFYLZ Wine Blog.com. Copyright 2015 ENOFYLZ Wine Blog. All rights reserved.