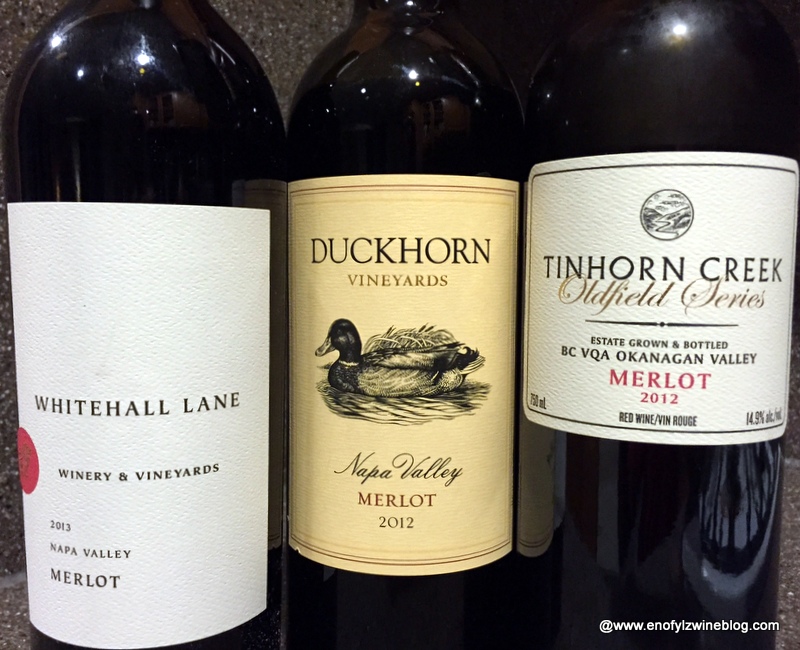 Wine Pairing Weekend is a monthly collaborative event for wine/food bloggers started by David Crowley of Cooking Chat. It's a great way to find food and wine pairings that work (or learn from the ones that don't); along with tips on how to create your own food and wine pairing magic. Jeff Burrows of Food Wine Click is hosting for this month's "#winePW Celebrates October with #MerlotMe"  theme. The participating wineries generously provided us samples, and we got busy exploring Merlot's affinity for food.
In My Glass
I received three bottles of wine – two from the Napa Valley,and one from the Okanagan Valley in British Columbia Canada.  I've tasted different vintages of both the Napa Valley wines previously. The Okanagan winery (though not the Okanagan Valley) was new to me.  All the wines were quite enjoyable.
The three wines were also good examples of the diversity of Merlot.  There was the cooler climate Merlot from the Okanagan Valley, which was closer to Pinot Noir in terms of body, showed higher acidity and showed a higher presence of tannins. On the other hand, the two Napa Valley Merlots were showcased more ample body, softer tannins, less acidity and more plum fruit.
It was also  interesting to note the difference between the Napa Valley wines and the Okanagan Valley wine – a cooler climate Merlot.  Okanagan Valley which was more acid driven, lighter bodied, and a different fruit profile.
My detailed tasting notes follow:
2012 Tinhorn Creek Merlot – Canada, British Columbia, Okanagan Valley VQA
Garnet color with blackberry, cassis, cedar wood, dark chocolate, and tobacco and a hint of dried herb aromas. On the palate, it's light-bodied, and fresh with firm, slightly mouth drying tannins and  blackberry, cassis, vanilla, spice, and a hint of cola flavors. Blend of 85% Merlot, 14% Cab Franc and 1%Syrah. Aged 18 months in French oak. 14.9% alcohol. Sample. Good value at Retail of $26.50
2012 Duckhorn Vineyards Merlot – California, Napa Valley
Garnet color with promising plum, black cherry, violet and a hint of Herbes de Provence aromas. On the palate, it's medium-bodied, and fruit forward with appealing well-integrated velvety tannins.  It shows black cherry, plum, vanilla and a bit of baking spice flavors. Lingering finish. Blend of 88% Merlot, 7% Cabernet Sauvignon, 2% Petit Verdot, 2% Cabernet Franc, 1% Malbec Cooperage 100% French Oak Château-style Barrels (60 Gallons) Barrel Aging: 16 Months Age of Barrels: 25% new, 75% second vintage. Retail $54
2013 Whitehall Lane Merlot – California, Napa Valley
Dark ruby color with plum, blackberry, black cherry, vanilla, and sandalwood aromas. On the palate it's full-bodied, with very good acidity and a plush texture and soft well-integrated tannins that show Rutherford dust. It robust shows blackberry, plum, black cherry, vanilla, spice and a hint of mocha flavors. Lingering finish. Blend of 80% Merlot, 12% Cabernet Sauvignon, 8% Syrah. Aged in a combination of French and American oak barrels for 16 months. 14.2% alcohol. Good value at Retail of $28
On My Plate
I got a little carried away on this one.  Let me explain…
My initial plan to was pair each of the wines with a dish.  Three wines.  Three ethnic cuisines (Chinese, Filipino and Mexican). Three dishes.
But, emboldened by each successful pairing, I somehow ended up pairing Merlot with five ethnic cuisines (including pork, beef, chicken, and vegetarian protein sources) that included  Cajun, a Chinese inspired dish; Filipino, Mediterranean, and Mexican food.
I made the Grilled Smoked Pork Chops with Sweet and Sour Glaze, and Blackened Salmon.  My wife made the Filipino (Chicken Adobo and Nilaga ) dishes. And I purchased the Mexican and Mediterranean food.
Note: The links for the Filipino dishes are the closest I could find to what my wife prepared. She's Filipina, and she'd tell you…"I don't need no stinkin' recipe";-).  I can tell you her Chicken Adobo included chicken livers, and she substituted sweet potatoes for potatoes in the Nilaga and omitted the cabbage.  It wasn't by design, but I think these modifications may have helped when it came to pairing these dishes with Merlot.
Food pairing
Here is a recap of the results of the pairings:
| | | |
| --- | --- | --- |
| Wine | Dish | Pairing |
| Tinhorn Creek  | Filipino Chicken Adobo | Very Good |
| Tinhorn Creek  | Nilaga; Filipino Beef Stew | Very Good |
| Tinhorn Creek  | Blackened Salmon (Salmon fillet seasoned with Chef Paul Prudhomme's Blackened Redfish Seasoning) | Very Good |
| Duckhorn  | Smoked Pork Chop with Sweet and Sour Glaze | Very Good |
| Duckhorn  | Filipino Chicken Adobo | Very Good |
| Whitehall Lane  | Wet Pollo Asado Burrito (Burrito topped with red enchilada sauce) | Good |
| Whitehall Lane | Kofte Kebab Plate (Charbroiled, minced lamb & beef with parsley, onion and seasoning with golden basmati rice and a salad) | Very Good |
| Whitehall Lane | Falafel Wrap (Fried chickpea balls wrapped in lavash bread w/tahini sauce) | Good |
What do "good" and "very good" pairing mean to me?  Good, to me, means there was peaceful co-existence between the food and the wine.  Very good means the food and the wine were better together. Of course, your mileage may vary. For example, my wife rated the Mexican Food and Merlot "very good", while I rated it "good" (definitely better with the sauce though, than without)
I must admit that Merlot was not "top of mind" when it comes to a versatile wine to pair with a range of foods.  But this experience changed my mind.
The magic in Merlot at the table is its easy-drinking character, moderate acidity, and an array of styles that offer flexibility.  One of the surprises  of my experience was how well Merlot paired not only with meats, but also with the vegetables – the salad in my Kofte Kebab Plate and the bok choy in the Nilaga.
I found that Merlot paired exceptionally well with the grilled, and smoked food I tried.  It will also pair well with dishes with mushroom, fresh herb, dishes with berry fruits. If avoid very spice or fiery foods and are mindful about matching the weight of the foods with the wine intensities, you'll be rewarded with a wine that's a great partner at the table!
Check out my fellow #winePW bloggers have cooked up!
The #winePW Twitter Chat will this morning at 8 a.m. PT: Connect with us on twitter, using the hashtag #winePW, and #MerlotMe. We'll chat for an hour about all things Merlot and food pairings.  Also, join us Saturday, November 14th for "Creative Thanksgiving Wine Pairings", hosted by David of  Cooking Chat!
Note: Wines provided as a samples for review.  Many thanks to the #MerlotMe wineries, Duckhorn Wine, Whitehall Lane and . Opinions are our own.
_________________________________________________________________________
Follow me on Twitter, Facebook, Instagram, Vivino and Delectable, for all things wine. As a wino with latent foodie tendencies, you'll also find food and wine pairings, and food related stuff! Become a fan and join ENOFYLZ Wine Blog on Facebook. Cheers! This article is original to ENOFYLZ Wine Blog.com. Copyright2015 ENOFYLZ Wine Blog. All rights reserved.