One of the things I love most about food and wine is their ability to transport one to a different place.  And a  place's people, culture, and customs are reflected in its food and wine.  In that sense, one can virtually travel the world through food and wine.  And that is exactly what we are doing through Italian Food Wine and Travel (#ItalianFWT).  We are taking a virtual tour of Italy by exploring its food and wines.  This month we're exploring Umbria!  And I'm taking a look at Umbria's most famous red wine grape variety – Sagrantino.
About Umbria
Umbria is located in central Italy.  It is only Italian region having neither a coastline or bordered by a foreign country.  The region, which also goes by the nickname "the green heart of Italy" is divided into two provinces – Perugia, and Terni. When you're ready to get off the treadmill that can be more popular destinations like Tuscany, and Lazio, then Umbria just might be for you!
With its verdant landscapes, with rolling hills, mountain landscapes, high plains and lakes Umbria is ideal for folks who want to savor a relaxed countryside experience.  It is a region that is also rich in art and history. Of particular interest to me is the History of Wine Museum of the Fondazione Lungarotti in Torgiano. a place I know I would love to visit.  And of course, there are palazzo, piazza, and cathedrals galore.
And I haven't forgotten about you foodies! The cuisine of Umbria originates from its Etruscan roots.  It's rustic fare, often referred to as "cucina povera", or peasant cooking, which simply means it is built on traditional dishes created with minimal ingredients and methods of preparation that rely heavily on local products such as grains, vegetables, fresh herbs, olive oil, and the prized black truffle found in the Norcia area.
The Umbrian Wine Scene
Orvieto, a DOC reserved exclusively for white wine, is undoubtedly the best-known wine of Umbria.  It accounts for 80% of the regions' vineyards.  The wines are a blend of Trebbiano Toscano (known locally as Procanico, and Grechetto, which together must account for at least 60% of the blend. The remaining 40% may be composed of any combination of other permitted white grape varieties.
The region has two DOCGs for red wines – Sagrantino di Montefalco, and Torgiano Rosso Riserva.  
Sagrantino is grape varietal that grows around the hilltop town of Montefalco.  Whether the grape is indigenous to the area  is debatable.  What's not debatable is that the best Sagrantino in the world comes from Montefalco (there's actually some grown in California – It's sold by Jacuzzi Family Vineyards).
The grape has a long history in Italy. The first official mention of Sagrantino was by the Ampelographic Commission of the district of Foligno in 1879. There are recordings of vineyards in Montefalco going back to the Middle Ages.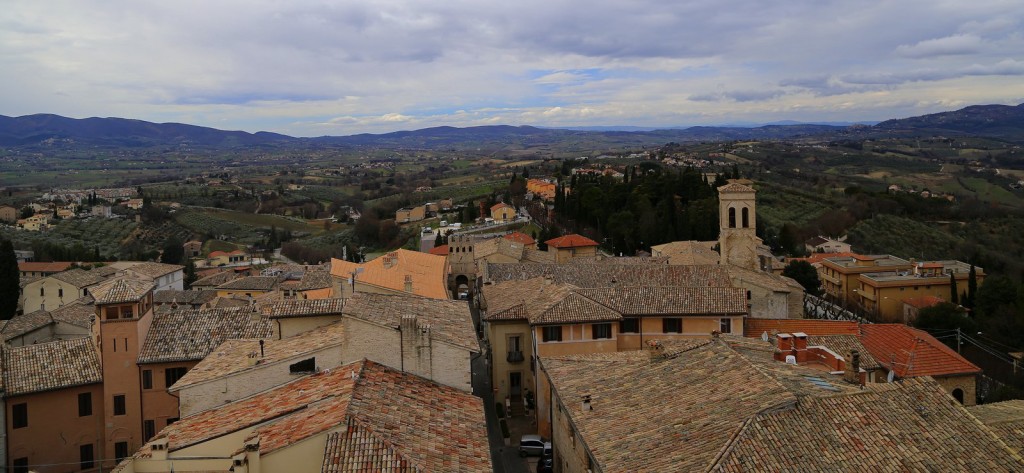 However, by the 1960's the grape had fallen into obscurity, and was on its way to extinction because many believed it just too austere and tannic for table wine (it's also made in a sweet passito style wine). 
What makes this wine so special? Well to start with, the geography. The vineyards sit in a bowl surrounded by the Apennine Mountains. The soil is mostly clay with limestone and sand. The climate gets very hot in the summer (and cold in winter), but the clay soils keep the roots cool as they search for water deep in the ground. The mountains provide cooling breezes especially at night. During the hot days a drying breeze called the Tramontano comes from the north limiting rot. The growing season, like much of Italy, is lengthened by the Mediterranean. This climate results in a grape that has lots of tannins yet also sweet dark fruit. – IntoWine
Only a few growers still cultivated the grape, most notably perhaps Fratelli Adanti. Then in 1971 Arnaldo Caprai, who was in the textile business, purchased land near Montefalco, and established an eponymous winery.  The family worked with the University of Milan to research the best practices for growing Sagrantino. In particular tannin management that would yield powerful, but not overly aggressive wines.
Then tide turned for Sagrantino in 1995 when the winery's 1993 Montefalco Sagrantino was awarded the top rating from Italy's influential Gambero Rosso wine magazine.  There was an explosion of investment in the Montefalco area.
Since 2000, production of Sagrantino has tripled, to approximately 125,000 cases.  Today, Sagrantino di Montefalco may be the best wine you've never tasted!
A Taste of Sagrantino
I chose the 2010 Antonelli San Marco Contrario Umbria IGT.  I know, I know…I've been talking Sagrantino di Montefalco wine. How is it I ended up with an IGT wine?
Well for one, Sagrantino de Montefalco aren't cheap.  Most seem to be in the $45-$60 range.  Secondly,I was curious about this wine because it represents a new way of interpreting the Sagrantino grape. It's cultivated and vinified in such a way to accessible younger, and produce a fresh, enjoyable wine.
I believe it's an IGT wine rather than a DOCG not because the fruit isn't from Montefalco, but because it's not vinified in the traditional style, which requires 30 months of aging including at least 12 months of that in oak barrels.
Instead this wine was aged in stainless steel vats for 18 months, then assembled and clarified in cement vats for 3 months before bottle ageing for at least 6 months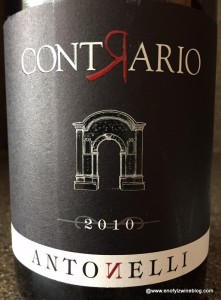 My tasting notes follow:
Translucent violet color with a very appealing mixed dark berry, plum, tar, aromatic dried herb and a hint of eucalyptus aromas. On the palate, medium-bodied, very persistent, focused and very fresh with blackberry, black cherry, and plum flavors with firm, well-integrated tannins with a long sweet finish. 14% alcohol. Retail – $20
This is a wine I highly recommend.  I will be purchasing more.  It was an  absolutely wonderful companion for an aged gouda we had on hand.  I'm looking forward to enjoying with heartier fare when it finally starts to feel a bit like fall/winter in California (it was 87 degree last weekend!)
About the Winery
Antonelli San Marco is a wine and farming estate which extends over an entire 170 hectares located centrally within Montefalco's DOCG winemaking area. With a background rich in history, the Antonelli family is passionately committed to caring for their territory and attentive to the quality of their products. The 125 acre estate is certified organic.
The winery is featured in the Slow Wine 2015: A Year in the Life of Italy's Vineyards and Wines.  It's an Italian Wine guide in which wines are judged not only by their sensory qualities and the pleasure they give, but also for their ability to conjure up a sense of place and the eco-sustainability of the cellar that produces them. 
With on-site cooking classes – Cucina in Cantina and lodging at Casale Satriano Agriturismo, it's a place I would love to visit!
Continue on our Umbrian journey with other fellow bloggers.  Don't forget to join our live chat on Twitter at #ItalianFWT at 11am EST.  We can't wait to her about your Umbrian experiences.
All wines purchased for review unless otherwise stated.
_________________________________________________________________________
Follow me on Twitter, Facebook, Instagram, Vivino and Delectable, for all things wine. As a wino with latent foodie tendencies, you'll also find food and wine pairings, and food related stuff! Become a fan and join ENOFYLZ Wine Blog on Facebook. Cheers! This article is original to ENOFYLZ Wine Blog.com. Copyright 2015 ENOFYLZ Wine Blog. All rights reserved.