Do you have any wine biases?  I know I do.  An example of one of my wine biases is not buying any wine that has what appears to be a cartoon-ish character on the label, such as Hello Kitty wine, kangaroos, or coming soon to a wine retailer near you, ghosts, pirates, pumpkins or witches.
And for the longest time, I also held a bias against non-vintage (or more accurately multi-vintage) still wines.  I specify still wines because multi-vintage sparkling wines, and dessert wines such as Port or Madeira can be quite wonderful, and complex.
Some winemakers argue that producing non vintage wines allows for the winemaker to take what is best from every vintage and build upon their strengths and be more creative. It is not making an inferior wine, but making the best possible wine he or she can from the grapes. While going non vintage is nontraditional, theoretically it does make some sense…
But multi vintage still wines?  Non-vintage = poor quality. Right?…
Wrong!
While I have more than a few bad memories bottles of non-vintage still wines. There have been, from time to time, exceptions which made me think twice about my bias.
But the best thing I can say about those exceptions (some Barefoot wines, which are good, are a notable exception to the exception) is there has been an occasional non-vintage wine which didn't suck.   
But there hasn't been a non-vintage wine I'd run back out and purchase again for anything other than Sangria or perhaps using in a recipe calling for wine.
Until now…
Here are two honest, well-made, non-vintage red blends that bring to mind Ole Skool, food-friendly table wines that show character and quality well above their $12 price.
Bedrock Wine Co. Sherman & Hooker's Shebang! Eighth Cuvée
Marietta Cellars Old Vine Red Lot Number 62
I don't exactly recall how I learned about the Sherman & Hooker's Shebang!  But once I found out Morgan Twain-Peterson, of Bedrock Wine Company was behind it, I was all in. Aside from the Eighth Cuvee featured here, I've tasted, enjoyed, and been a repeat buyer of a  few others cuvees.
I learned about the Marietta Cellars Old Vine Red when I read Jon Bonné's 2013 book, The New California Wine, wherein he wrote "It's immediately evident how much Old Vine Red trumps mass-market competitors that cost only a couple bucks less. It tastes like classic old-fashioned California table red, robust in that Zinfandel way, but a far cry from the generic and sugary confections against which is competes."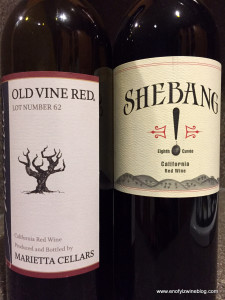 Bedrock Wine Co. Sherman & Hooker's Shebang! Eighth Cuvée
Garnet color with low key, but appealing black and red fruit, earth and spice aromas. On the palate its medium bodies and fresh and with fresh black cherry, plum, and black raspberry flavors and soft sweet tannins.  Lingering finish. The base for this wine comes from more than 100-year-old vines from the Bedrock vineyard, and the resulting wine is an amazing value for a first-class red blend. This blend is 46% Zinfandel, 40& Grenache, 5% Alicante, 5% Petite Sirah, and 4% Sangiovese. Great QPR and highly recommended
Marietta Cellars Old Vine Red Lot Number 62
Violet color with red fruit, spice and brambly aromas. On the palate it's medium-bodied with lively acidity, and dusty tannins with cherry, black raspberry, cassis, spice, and a bit of licorice flavors. Lingering finish. Our modern California version of an Old World table wine, Old Vine Red™ can be enjoyed with food or without, for a special occasion or for simple pleasure.It is a blend of mostly Zinfandel, Petite Sirah, and Carignane with small amounts of other varieties included for complexity Great QPR and highly recommended
More about the Wineries and Wines
From Bedrock Wine Company owner/winemaker Morgan Twain-Peterson…Sherman & Hooker Shebang is a project by Morgan Twain-Peterson, the son of Ravenswood founder Joel Peterson. Morgan grew up in the world of wine in California. In addition to this project, Morgan also produces tiny amounts of old vine, heirloom red and white blends, Pinot Noir, and Syrah under the Bedrock Wine Co. label. Also noteworthy: Morgan passed the prestigious Master of Wine exam and, upon successful completion of the dissertation, will become one of the less than thirty American Masters of Wine!
Sherman & Hooker is named after the two Civil War generals who founded Bedrock Vineyard in 1854. It is a blend of declassified Syrah, Petite Syrah, and Zinfandel from Bedrock Wine Co., along with selected bulk lots from other small producers.
All of the lots, whether from Morgan or from friends, were aged in French oak, and saw no chips, staves, or other gobbledy-gook. Morgan chose to make the wine a multi-vintage, multi-varietal blend in order to maintain quality at a terrific pricepoint. This wine provides delicious drinkability and is sure to be a JUGernaut of a wine!…
__________________________________________
Marietta Cellars was founded by Chris Bilbro in 1978. Chris was inspired by his aunt Marietta hence the origin of the name.  His sons Jake and Scot, representing the second generation have taken over most of the responsibilities of the winery.
The foundation of Marietta Cellars has always been family. It started half a century ago at Great Aunt Marietta's table where Dad learned about simple, good cooking, hard work and honesty. We feel blessed to be carrying on those traditions, working alongside each other, making decisions together, and going through every day as brothers. But we're just as proud of making wines that matter to you and your family. Wines with a place at your table.
Sometimes you have to trust your gut. Dad first worked in hospital administration where the bureaucracy literally burned a hole in his stomach. Shook to the core, he walked away from a life that didn't fit and began making wine with his young family in a rented cow barn outside Healdsburg. Every decision he made was determined by what felt right. No rules, just the values of honesty and fairness passed down from his family. That same approach encourages us to break the mold and make unique wines in an alternative fashion.
We have always kept a low profile in order to concentrate on what we love most: making wine. In order to stay streamlined and focused, we sell only through distributors and do not have a tasting room.
Today there are some 70 distributors spread over 49 states making Marietta Cellars wines very accessible. But, if you need help to find the wines in your area, you can email Marietta at info@mariettacellars.com and they will direct you to the nearest retailer.
All wines purchased for review unless otherwise stated.
Follow me on Twitter, Facebook, Instagram, Vivino and Delectable.