Wine Pairing Weekend is a monthly collaborative event for wine/food bloggers started by David Crowley of Cooking Chat.  It's a great way to find food and wine pairings that work (or learn from the ones that don't); along with tips on how to create your own food and wine pairing magic.  Camilla Mann of Culinary Adventures with Camilla is hosting "Let's Talk Scorched Terroir – and Volcanic Wines – for this month's #WinePW
The Volcanic Island of Santorini
As I began to consider this month's theme, my initial thoughts turned to the Napa Valley (which has a fascinating geology that includes a vast array of soils of volcanic origin).  But I was leaning toward a white wine rather than a red.  Then as fate would have it, I saw a post from Camilla, our host for this month's theme that featured an Assyrtiko (one of my favorites – Domaine Sigalas) from the Greek island of Santorini.
Bingo!
It's been a while since I've enjoyed one. In fact, my second post for #winePW was a fabulous blend of Assyrtiko and Malagouzia last summer.  And I've not had any since then!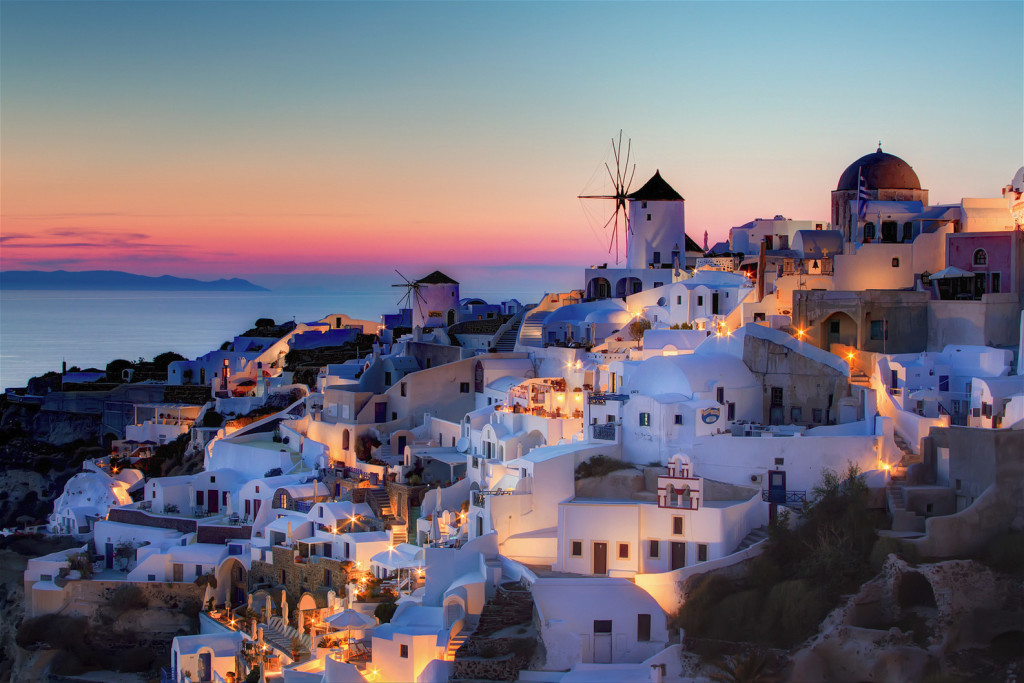 I hadn't really given much thought to Santorini being a volcanic region. I'm more familiar with the Santorini pictured above.
But Santorini is a part of a volcanic island group at the central south end of Aegean Sea. The island caresses the vast crater left by one of the biggest volcanic eruptions in history – the Minoan eruption of 1613.  Thus, the island is also renown for its spectacular sea-filled volcanic caldera, which are surrounded by steep colorful cliffs. One of the island's most fascinating sites is ruins at the Minoan site of Akrotiri. Click here for a cool video about the volcano!
On My Plate
One of my favorite restaurant's in the Bay Area is a Greek restaurant in Palo Alto, Evvia. They serve a delicious oven roasted Branzino that is fantastic.  Inspired by that dish, I, decided to make Grilled Branzini with Ladolemono.
Branzino (plural, branzini),  is a European sea bass that is low in fat, but with a  wonderful richness when cooked on the bone. That's because the fish has lots of cartilage.  So, when the flesh gets hot, it stays succulent long after the fish has hit the right temperature.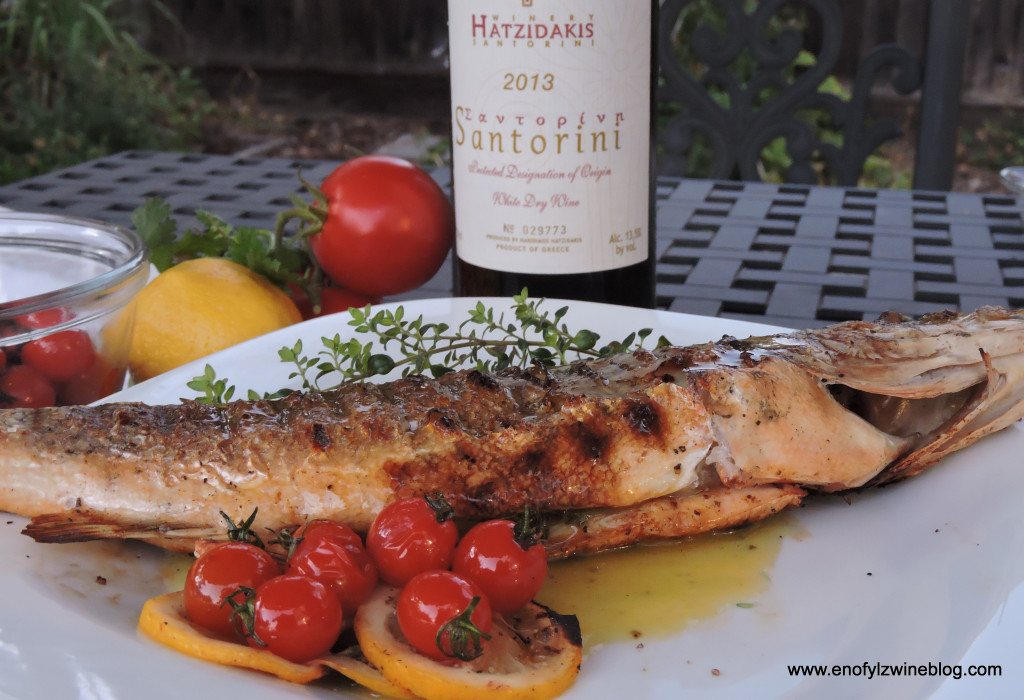 I purchased the Branzini from our local Whole Foods market,  The fish is farm-raised in Greece and was reasonably priced at $12.99/lb.
Ladolemono, with its one-to-one acid-to-oil ratio (as opposed to the usual one-to-three), is a classic Greek vinaigrette that gives a flash of brightness to the smoky, crispy skin of the branzino (would also be wonderful with  grilled octopus, shrimp, or squid)

Grilled Branzini with Ladolemono
Prep time:
Cook time:
Total time:
Serves:
Makes 2-4 servings
Ingredients
2 whole bone-in branzini, cleaned
1 tablespoon extra-virgin olive oil
Kosher salt and freshly ground black pepper
½ cup Ladolemono
2 lemon thyme or thyme sprigs
Old Bay Seasoning
1 lemon—1 thinly sliced
Instructions
Prepare a grill to medium-high heat. Season the fish cavities with salt, pepper, and Old Bay Seasoning. Stuff each cavity with a thyme sprig, and 2 lemon slices. Rub the outside of the branzini with the olive oil and season with salt and pepper.
Grill the branzino over high heat, turning once, until browned and crisp and just cooked through, about 7 minutes per side.
Remove the lemon slices and thyme before plating, and discard. Transfer to a platter, drizzle with Ladolemono , and serve.
Notes
This is recipe is very simple and offers a very high taste/effort ratio
The fish turned out perfectly.  It had tender well flavored flesh (the Old Bay makes it pop), with  a hint of the lemon thyme and lemon placed inside the fish prior to grilling, And the
Ladolemono
was the perfect complement.  
If you  haven't tried whole Branzini on the grill, what are you waiting for?  
In My Glass
The 2013 Hatzidakis Winery Assyrtiko Santorini is a blend of Assyrtiko, Aidani and Athiri
My tasting notes follow:
Pale green color with gold highlights and apple, lemon zest, chalk aromas with a dusty note. On the palate, it's medium-bodied with zesty acidity. It shows apple, lemon, white peach, and mineral flavors with a dusty grip and a lemony mineral driven finish.
The wine was fantastic with the Grilled Branzini.  The lemony minerality of the wine was a great compliment to the Ladelmono.  It was as if the wine was a bit of  spritz of lemon on the grilled fish.  And after taking a sip of the wine the grilled Branzini tasted better.  
The wine was very good on its own, but was better with food.  We had leftovers of the Branzini the next night and paired the wine with a homemade salsa, that included chunks of avocado on a bed of spinach.  It was a wonderful partner with at the table for both the fish and the salad!
Here's what the #winePW crew posted about volcanic wines…
#winePW Twitter Chat September 12,  8 a.m. PT: Connect with us on twitter, using hashtag #winePW. We'll chat for an hour about volcanic wines, food pairings, and #scorchedterroir. "October's #winePW is hosted by @foodwineclick. Stay tuned for Jeff's invitation that might have something to do with #MerlotMe Month.  Cheers!
_________________________________________________________________
Martin Redmond is a Financial Executive by day, and a certified wine geek with latent foodie tendencies the rest of the time. In addition to the wine lifestyle and food he enjoys family, yoga, hiking, and traveling. He likes to get thoughts of wine off his mind by sharing experiences on his ENOFYLZ Wine blog, which features wine reviews, wine country travel, and wine and food pairings.
Follow me on Twitter @martindredmond for all things wine. Since I'm a wino with latent foodie tendencies, you'll also find food and wine pairings, and food related stuff! Become a fan and join ENOFYLZ Wine Blog on Facebook. Cheers! Follow my reviews on Vivino and Delectable This article is original to ENOFYLZ Wine Blog.com. Copyright 2015 ENOFYLZ Wine Blog. All rights reserved.