This week's #SundaySupper theme Asian Cuisine.  Yum!  I love Asian cuisine! But it wasn't always that way.
I grew up on the Midwest, and we didn't eat very much Asian food, other than Chinese food occasionally.
Then we moved to California – the perfect place for me to taste the diverse world of Asian cuisines.   And that's just what the #SundaySupper foodies have on the menu this week.
You're going to find diverse and delectable recipes with roots in China, Japan, Korea, Malaysia, Vietnam, the Philippines and more!
Pairing Wine with Asian Cuisine
Let's face it, for most wine is not top of mind when it comes to pairing with Asian Cuisine. I can't tell you how many times I've gone to an Asian restaurant and seen a diverse selections of beer, or perhaps Sake, and usually, less than a handful of wines.  There's typically a Chardonnay (America's favorite wine), a Cabernet Sauvignon, and perhaps another wine or two.
I think it's because, in broad terms, wine isn't as much ingrained in Asian cultures. Especially when compared to European or even American culture.  Beer or other adult beverages typically find more favor within Asian cultures.  Beer, sake and other adult beverage can be good choices.   But wine can also be a great partner for Asian Cuisine.
Tips for pairing wine with Asian Cuisine
 Don't go crazy over with pairing food and wine.  It can be challenge for one wine to work with a multitude of dishes.  If the wine doesn't work with a particular dish, skip it and have a sip of water or tea to cleanse your palate.  Try the wine with another dishes, and chances are you will find success.
Try food friendly wines with high acidity and lower alcohol.  Riesling, Pinot (Noir, Gris, Blanc), Beaujolais,Dolcetto, Gruner Vetliner, Muscadet, Rosés (still and sparkling ), and sparkling wines are great wines to pair with Asian Cuisines.
Avoid wines with high alcohol and/or tannins. Such wines can overpower a dish or in the case of a high alcohol wine amplify the perception of heat in a spicy dish.
Pair to dominant taste first, flavors second

.  When thinking about which wines to pair with food start with the primary tastes – salty, sweet, sour, and bitter before considering specific flavors. So, what's the difference between tastes and flavor? Tastes are objective, whereas flavors tend to be subjective. For example, the sourness of a lemon, or the sweetness of honey are objective. A lemon is sour and honey is not. On the other hand describing the flavor of a strawberry is personal and subjective.  

Just as foods have primary tastes, so do wines – those being sweet, sour and bitter. This opens the door to match foods and wines, or if you desire to set up contrasts. Start with the primary taste for either the wine or the food, then decide if you want to mirror or contrast the taste before getting into the specifics of flavors. Speaking of dominant tastes and flavors, pair to the sauce because that typically dominates a dish.
Spicy and salty foods like sweet wines.  Wines come in varying degrees of sweetness from off-dry (slightly sweet) to semi-dry (medium sweet) to an unctuous dessert wine that could satisfy a sweet tooth. Wines that are off-dry or semi-dry, such as a Riesling, Chenin Blanc, Viognier, or Muscat make a great counterbalance for moderately spicy Indian and Asian dishes. That's because the sweetness of the wine cuts the heat (unlike carbonated beverages which amplify the perception of heat). Likewise, a sweet wine can provide a nice counterbalance to salty food
Match the "weight" of the food and the wine. Match delicate wines with delicate foods and robust wines with robust foods.
Experiment and have a sense of adventure.  The tips presented in this article are suggestions that will increase your odds of finding wines to pair with Asian Cuisine.  But they may or may not be to your liking.  It's a good idea to keep a track your successes (and failures!) and rely on that to build your knowledge of which pairings work best.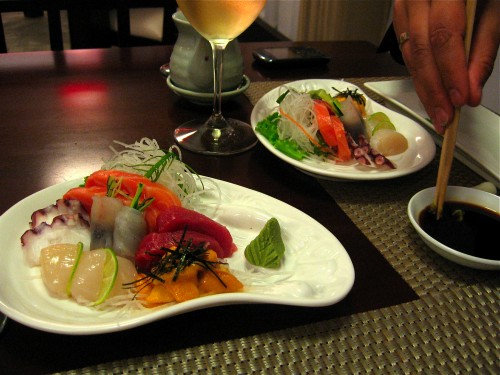 Here are my recommendations for this week's fabulous Asian Cuisine menu:
Pair these Small Bites with a Rosé sparkling wine.  My "house' (everyday) sparkling wine is the Deligeroy Crémant de Loire Rosé Brut ($13). It's a beautiful pale salmon color and packed with strawberry, cherry, peach and blood orange flavors, with a bit of sweetness that is complemented with a hint of herbaceousness. Rosé sparkling wine may be the ultimate wine for starters and small plates.  Sparkling wine sets a celebratory tone and its color makes a visual impression.
I actually don't recommend pairing wine with these soups.  Besides the soups being chock full of flavor, combining hot broth and a cool wine is a tough combination.  I think the wine would be best served either before or after the soup. 

Pair these dishes with Riesling, the white version of a "goes with virtually anything" wine.   Look for 2014 Charles Smith "Kung Fu Girl" Columbia Valley Riesling ($10). It's off-dry so it'll handle some spice, and it fruit forward, and fresh with lychee, nectarine, peach and a bit of citrus character. 
Pair these dishes with Pinot Blanc from the Alsace region of France, its spiritual home. Pinot Blanc, a mutation of Pinot Gris is a member of the Pinot family.  It's often suggested as an alternative to Chardonnay.  It tends to be a medium to full-bodied wine with good acidity.  I've found it's a very good partner at the table with various Asian foods.  Look for the 2012 Charles Baur Pinot Blanc ($13). It has a soft, creamy, and lush character with white peach, and sweet citrus aromas and flavors wrapped in spice.
Pair these dishes with a juicy, low tannin red wine. I recently attended a fabulous Beaujolais and Japanese pairing dinner that was a great reminder of how food friendly Beaujolais wines (made from the Gamay grape) are.  Look for the 2011 Chateau de Jacques Moulin-a-Vent ($14). It has a bold fruit black cherry, plum compote and cassis character with a savory undertone. 
I've been on a bit of a Bahn Mi kick the last few months.  And my top of mind, go to choice is Rose!  Look for the 2014 Bonny Doon Vin Gris de Cigare (around $14).  It's a perennial favorite with an enchanting melon, peach, strawberry and spiced citrus character and lingering saline laced finish. .
Pair these dishes with a Gruner Vetliner, the signature grape of Austria. It's an under the radar grape that's pairs with a wide variety of good  Look for Domaine Wachau Gruner Vetliner (around $16).  It offers enticing aromas of tropical fruit, a bit of yellow apple, white pepper with a delicate herbal note. It's medium bodied and harmonious with crisp acidity, juicy fruits and a spicy finish. 
Oodles of Noodles
Join the #SundaySupper conversation on twitter on today –  Sunday, August 23rd! This week's chat will be hosted by Amy from kimchi MOM. We tweet throughout the day and share recipes from all over the world. Our weekly chat starts at 7:00 pm ET. Follow the #SundaySupper hashtag and remember to include it in your tweets to join in the chat. To get more greatSunday Supper Recipes, visit our website or check out our Pinterest board.
Would you like to join the Sunday Supper Movement? It's easy. You can sign up by clicking here: Sunday Supper Movement.