I attended, as a media guest, the 2nd annual WINEAPAWLOOZA on July 18th at Gamble Family Vineyards in Oakville. WINEAPAWLOOZA is a fundraiser for Jameson Animal Rescue Ranch ("JARR").
The Cause
Founded in 2014 by Monica and David Stevens, JARR is a non-profit no-kill rescue and refuge for companion and farm animals in the Napa Valley.  They provide transitional and permanent shelter, adoption and rescue services, food for the pets of seniors, the homeless and low-income families as well as humane education, animal advocacy and a commitment to ending animal cruelty and overpopulation. The memory of the Stevens' beloved dog Jameson, an adopted Great Pyrenees who lived to the age of 14, inspires the spirit and mission of JARR, which is named after him. "Jameson brought immeasurable companionship and love into our lives. We are so lucky to have known him," Monica Stevens explains.
The Event
Under azure skies, and seemingly made to order perfect Napa Valley weather, we arrived at Gamble Family Vineyards.
I found myself filled with a curious mixture of excitement and trepidation.
No doubt I was excited by the opportunity to taste wine from an amazing lineup of 60 or so of Napa Valley finest boutique wineries.  Funny thing though…I was doing a bit of homework on the wineries that would be pouring, and I only recognized a handful of names.  I decided to check five of the wineries whose names I didn't recognize.  Four were mailing list only, and the fifth was $75/person to taste.  As I said, some of Napa Valley's finest boutique wineries….all the more reason to be excited about tasting wine I'd be unlikely to taste otherwise.
On the other hand, it was my first live auction and I wasn't sure what to expect.
Would I, could I, possibly bid and win something? My inquiring mind wanted to know.
The event schedule was:
5:00-7:00 Walk around wine and food tasting
7:15-8:00 – WINEAPAWLOOZA Auction
8:00-10:00 Wristrocket Concert and Party + more wine and food!
Moments after we checked and picked up our auction paddles and the excellent auction brochure, just off (literally) the red carpet, we were greeted by one of the four-legged guest hosts (if you were expecting bacon to be served you'd have been disappointed!).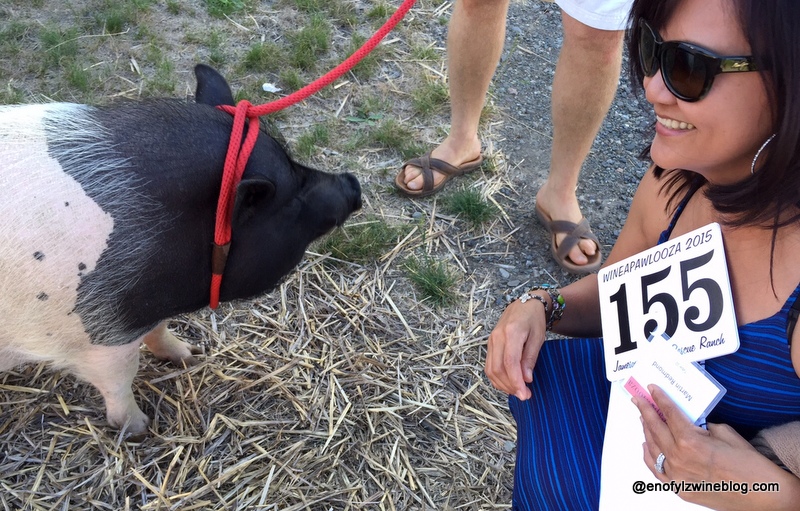 After we finished our stroll down the red carpet and posed for a photograph (Doh! We forgot to go back and check out the photo), we headed over to the area where the wines were poured. There we were promptly given a glass of the very refreshing, well structured 2013 Gamble Family Vineyards Heart Block Sauvignon, a wine which brought to mind White Bordeaux more than California.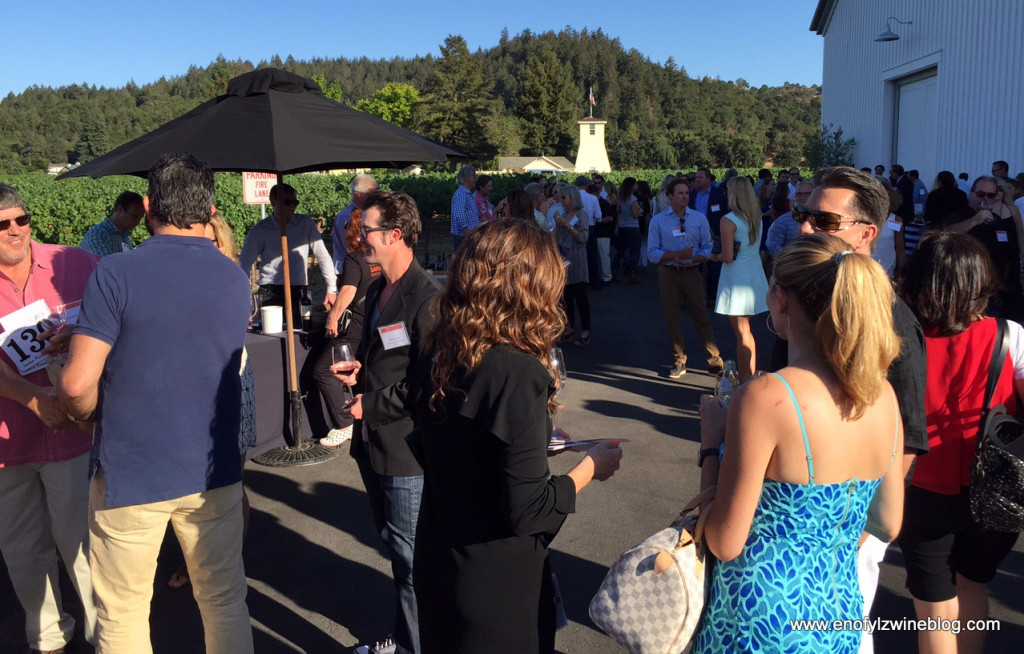 Winemakers and vintners scheduled to pour for the event included  from Adler Deutsch, Aiken, Aloft, Anomaly, Arietta, Arns, Arrow & Branch, Barbour, Behrens Family Winery, Bevan Cellars, Boich, Cabaud, Casa Piena, Charles Woodson Wines, Clark Claudon,  Continuum, Crocker & Starr, Dakota Shy, Dana Estates, Drinkward Peschon, Dunstan Wines, Fairchild Wines, Gamble Family Vineyards, Gandona Estate, Harumph, Herb Lamb Vineyards, Hourglass, Keplinger, Lail, Lorenza, M. Etain, Mad Fritz, Mascot Wines, Marston, Massican, Mayacamas, Meander, Memento Mori, Moone-Tsai, Nine Suns, Piper Cellars, Pott Wines, Pulido-Walker, QTR, Raen, Rarecat, Realm Cellars, Robert Foley, Saintsbury, SBR, Spottswoode, St. Helena Winery, Staglin, Teeter Totter, The Grade Cellars, Tor, Tuck Beckstoffer, Tusk, Venge, Vine Hill Ranch, Vineyard 29, Vineyard 7 & 8, Vivier and Zeitgeist.
We decided to taste through the white and rosé wines before diving into the reds(which on this day, would turn out to be a rookie mistake…more later)
And of course we, began sampling delectable small bites provided by a variety of local restaurants.
We tasted some amazing wines. And there was something for everyone.
Do you like your wines big, ripe, and apologetically hedonistic? Check!
Do you prefer a more restrained Old World style? Check!
Here are a couple of  the more memorable wines (at least the ones I took photos of)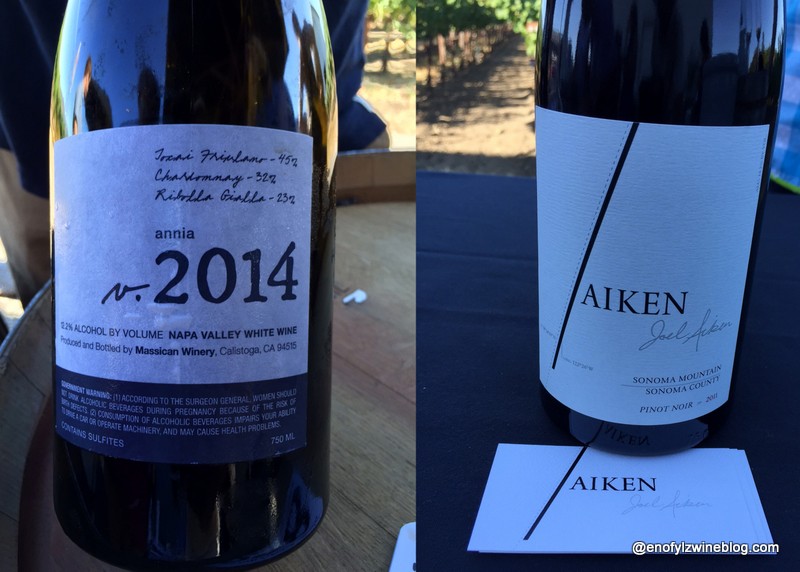 My Wine of the Day was the 2010 Rarecat Cabernet Sauvignon Old Toll Hillside Vineyard – a distinguished blend of Cabernet Sauvignon, Cabernet Franc and Petit Verdot with a harmonious black currant, blackberry, leather character that showed a very appealing minerality.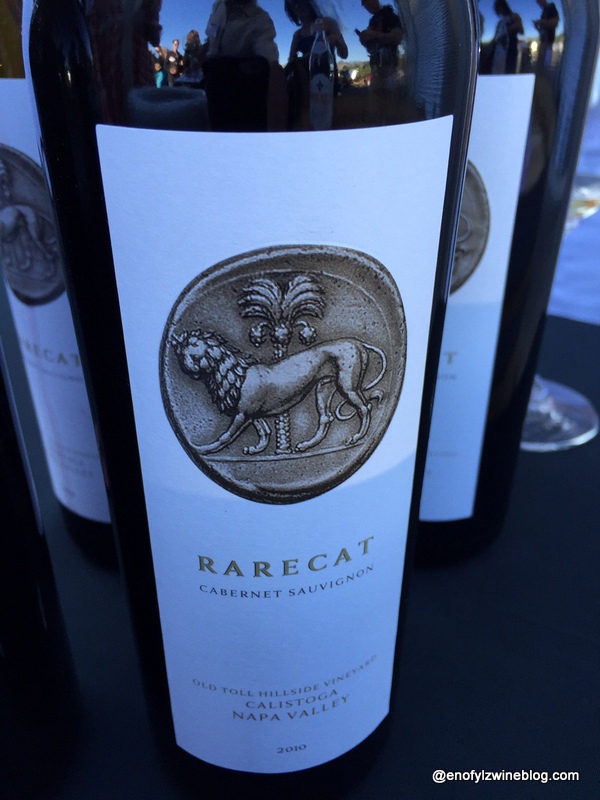 As for the previously mentioned rookie mistake? One of the dozen or so names I recognized when saw the list of wineries pouring was Continuum.  But by the time I made it back around to the spot from which they were pouring they'd run out of wine.
Damn…Oh well…you live and learn!
Next up was the main event…the live auction!
A fast-paced, wine country lifestyle auction filled with travel experiences and one-of-a-kind treasures
As we took a seat at our assigned table, there on the table were several more bottles of wine for our drinking pleasure including a magnum of the 2012 Gamble Family Vineyards Cairo Cabernet Sauvignon and one of my favorite Rosé Champagne!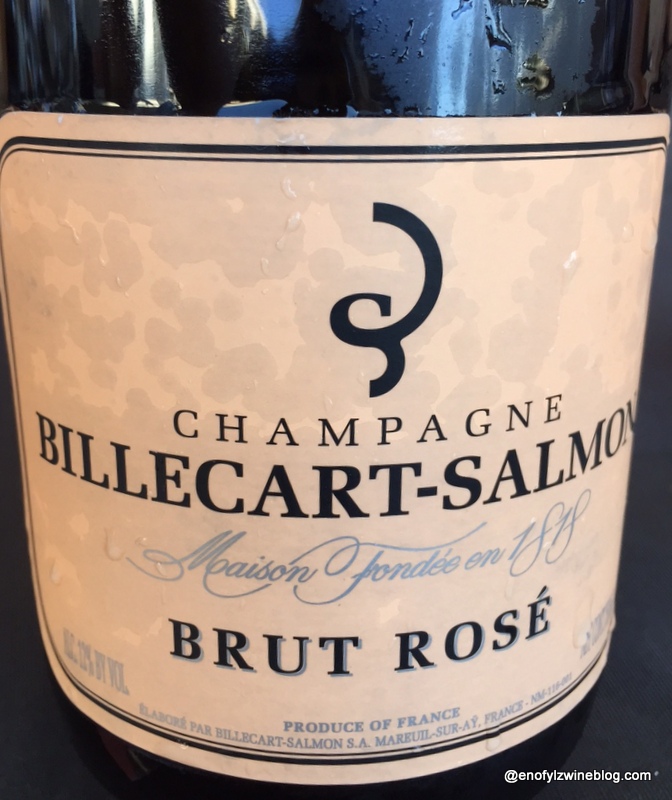 Yep…my kind of party…er auction!
Filled with excitement, my wife and I perused the auction brochure and found a lot that was at the intersection of our dreams and what would we'd be willing to pay for said dream.
Lot 10 – Four nights accommodations in Saint Emillion, plus 2 days of hosted touring through the vineyards of St. Émilion and Pomerol with Wendy Narby including a dinner with Michel Rolland and accommodations in St. Émilion
It not only offered an amazing experience, it was little personal for us because we'd met Sharon Harris of Rarecat Wines, whose Chateau des Amis was accommodations in the package. Her wine was our favorite and we'd had a wonderful chat with her.
We agreed upon a max bid.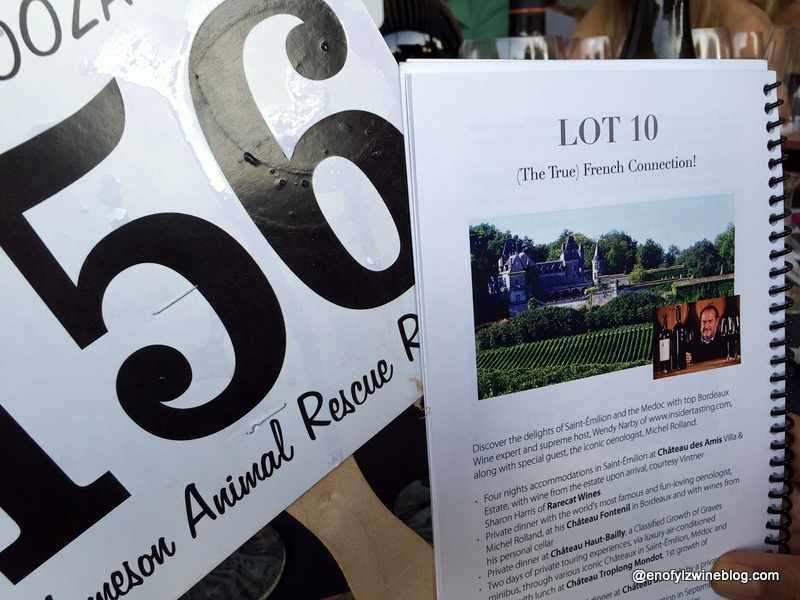 Auctioneer Fritz Hatton presided over the bidding. It was fast, furious and fun.
I was amazed at the amounts of some of the winning bids!
It was all fun and games until lot 9 was auctioned off. Lot 10 was next…and things got real.
Butterflies set in….
Eager to jump into the bidding fray,  and with sweaty palms, I warily grasped my auction paddle…prepared to thrust it into the air…
With fingers and toes crossed, we awaited the opening bid.. Would we have a chance?
Um…No..we were done before we got started…
The opening bid was 2x our max and went up from there…
Oh well, as Napoleon once said "Champagne! In victory one deserves it, in defeat one needs it."
Now I know why there was Champagne on each table!
The top five lots were:
The Golden Rolodex – Eighty Magnificent Magnums – A collection of 80 magnums: $107,500
One Sweet, Wine-Soaked World – An evening with Russell and Victoria Bevan of Bevan Cellars and a Dave Matthews Band concert: $70,000
"Remember To LIve" Hollywood VIP Package – Dinners, tastings and vineyard walks with the proprietors of Fairchild, Fait Main, Memento Mori and Pulido-Walker, $65,000
(The True) French Connection – 2 days of hosted touring through the vineyards of St. Émilion and Pomerol with Wendy Narby including a dinner with Michel Rolland and accommodations in St. Émilion, $60,000
Legendary Napa – Beautiful and Historic Andy Beckstoffer Heritage Vineyards – Dinner with Andy Beckstoffer and 8 ToKalon vintners, 2 days of additional vintner tastings in the respective heritage vineyards and more: $52,000.
But wait…there was more! After the thrill of the auction, there was music, dancing, and more food and wine to be had!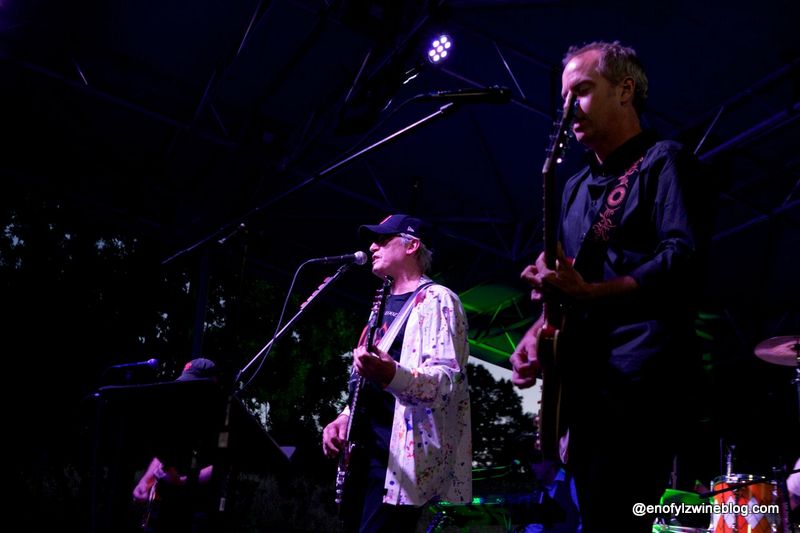 Wristrocket, rocking the WAP stage! Photo by Emma K. Morris. Image courtesy of Jameson Animal Rescue Ranch
When I found out the event raised $750,000 (compared to $430,000 in the prior year), it also brought to this thought to mind…
Napa doesn't get enough credit for the charity work it does!
We had an awesome time! This was our first wine auction, which was amazing in and of itself.  And that coupled with the world-class wine, delectable food and terrific music made for such a memorable experience!
Well done JARR, well done!
_________________________________________________________________
Martin Redmond is a Financial Executive by day, and a certified wine geek with latent foodie tendencies the rest of the time. In addition to the wine lifestyle and food he enjoys family, fitness and traveling. He likes to get thoughts of wine off his mind by sharing experiences on his ENOFYLZ Wine blog, which features wine reviews, wine country travel, and wine and food pairings.
Follow me on Twitter @martindredmond for all things wine. Since I'm a wino with latent foodie tendencies, you'll also find food and wine pairings, and food related stuff! Become a fan and join ENOFYLZ Wine Blog on Facebook. Cheers! This article is original to ENOFYLZ Wine Blog.com. Copyright 2015 ENOFYLZ Wine Blog. All rights reserved.