Welcome to this month's French Winophiles!  We're group a food and wine bloggers pulled together by Christy of Adventures of a Culinary Diva.  We're taking a virtual tour of France region by region and learning about French cuisine, wine and travel.  This month we're exploring the Provence.
About Provence
Whenever I think about France, three places promptly come to mind – Paris, Champagne and Provence.  I've been blessed to have been able to spend at least a week in both Paris and Champagne.  That leaves Provence at the top of my "Places to Visit in France"
Provence is located in Southern France bordering the Mediterranean.  For me, Provence evokes day dreams of a warm sunny days enjoying a glass of rosé at a sidewalk cafe in Nice, people watching in Cannes, touring the idyllic countryside in a convertible, strolling through perfumed fields of lavender, hiking in Haute Provence or maybe playing a game of pétanque in a town square with the locals.  There seems to be an almost endless list of things to do in Provence.
 For me, the pleasure of Provence is its diversity. In just a single day you can have a whole holiday's worth of experiences: breakfast on the beach, a morning exploring Nice's old town, lunch at a country auberge, an afternoon touring the hills, a vineyard visit, an early-evening shot of pastis, a game of pétanque and then an unforgettable sunset over the foothills of the Alps. Oliver Berry, Author
Wow!  And I haven't even  talked about the food or wine yet!
The fresh, and delectable cuisine of Provence more resembles Italian, Greek, or Spanish cuisine than typical French fare.  The region is the birthplace of three world-renowned dishes: salade Nicoise, bouillabaisse and ratatouille. Other well-known Provençal foods include tapenade & anchoïade, Daube Provençale (Provençal stew), Aioli, Pissaladiere, black truffles and Pan Bagnat (hope you're not reading this while you're hungry).
While the archetypal Provence wine is a Cotes de Provence rosé, it is the smaller, more peripheral appellations that really make the region interesting to wine enthusiasts.The two most famous individual names from the region are located right on the Mediterranean coast between Marseille and Toulon. Here, the deeply colored, richly flavored reds of Bandol are produced just 12 miles (19km) from the herby, full-bodied whites of Cassis (source).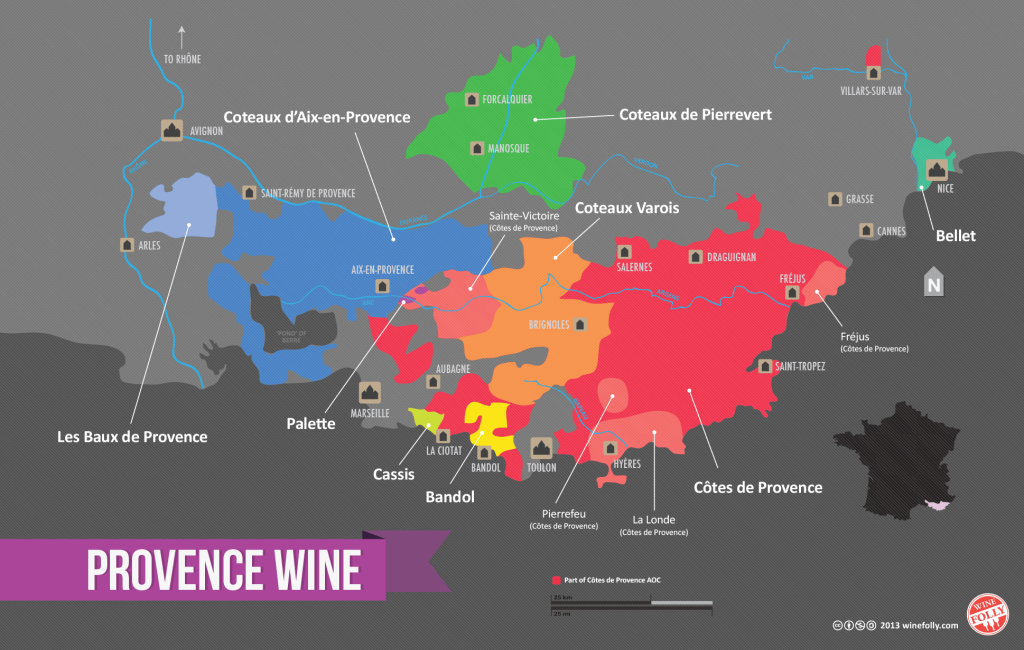 Provençal Food and Wines
I decided to go for the Provençal trifecta (hey, it's a the top  of my list; right?) and chose three wines –  a white from Cassis, a rosé from Cotes de Provence, and a red from Bandol.
Once chose the wines, I chose a dish I thought would pair well with each.  Here are my food and wine pairings:
2014 Château du Rouët Cuvée Réservée Tradition paired Provence-inspired Courgette & Goat Cheese Ciabatta
I prepared this dish on a lazy Sunday afternoon as an appetizer.  It's essentially goat cheese slathered on sliced toasted Ciabatta topped with thin slices of pan-fried zucchini (courgette) lightly dressed with a simple lemon vinaigrette  Goat cheese and zucchini are staples in the Provençal cuisine.
Man was this delicious!  And if you've ever had goat cheese and rosé, then you know  they go together peanut butter and jelly.  It was an excellent pairing!
What was intended to be an appetizer turned into a semi-meal because we gobbled down so many!.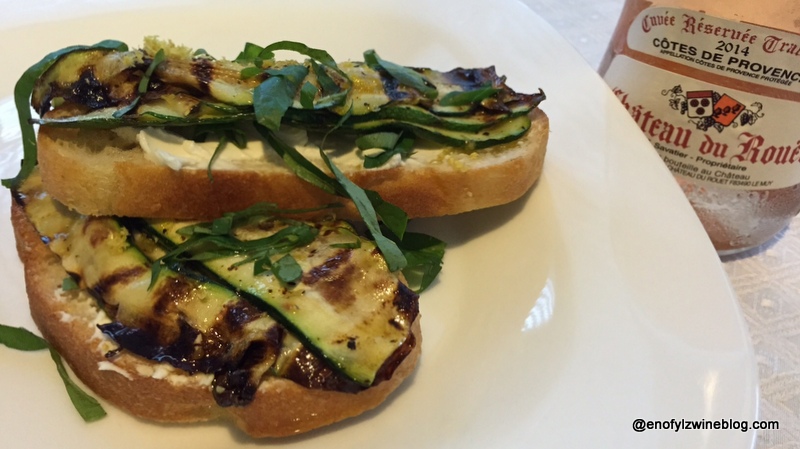 My tasting notes on the wine follow:
Pale salmon color with peach skin, strawberry and cherry aromas. On the palate it's fresh with peach, tart strawberry, and cherry flavors with a bit of minerality and a solid finish. Nice value at $16
Pan Bagnat which literally means "bathed bread," in the ancient dialect of Provence is a specialty of the region of Nice. It's a popular lunchtime dish made of favorite Provençal ingredients: tomatoes, local bell peppers, black niçoise olives, anchovies and tuna, salt, and pepper—a salade niçoise, effectively, between slices of crusty bread. I decided to substitute chicken because I thought tuna would take the sandwich more toward a rosé pairing.
Another hit! My wife – not a sandwich fan – even loved it.  It will be a staple in our picnic basket.  And it's versatile too! I'm already looking forward to trying it with salmon or a Toasted Pan Bagnat with Mozzarella.
And pairing it with the Cassis was a winner too! The crispness, and weight of the wine accentuated the fresh flavors of the sandwich.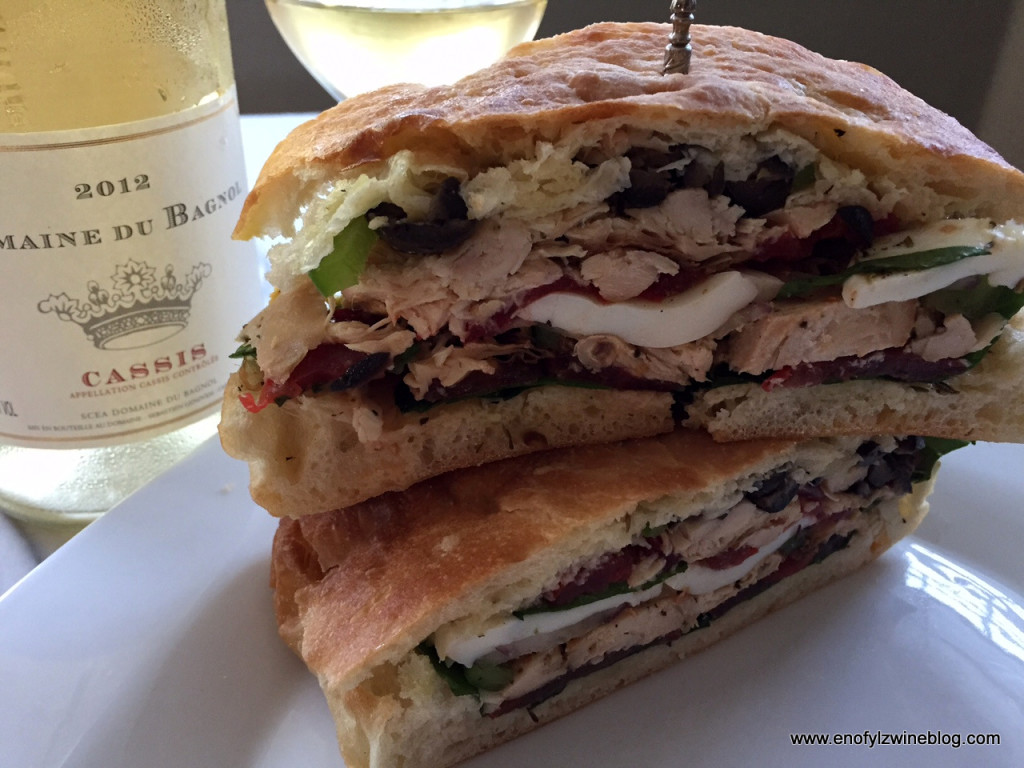 My tasting notes on the wine follow:
Pretty golden-yellow color with sea breeze, stone-fruit, melon bergamot zest, honey and white flower aromas. On the palate, this is a wine about great texture and acidity working in harmony with peach, melon, spiced and orange zest flavors and a satisfying oily finish. Blend of Marsanne (51%), Clairette Blanc (31%) and Ugni Blanc (18%).
Daube de Boeuf Provencal is a classic Provençal (or more broadly, French) stew made with inexpensive beef braised in wine, vegetables, garlic, and herbes de Provence, and traditionally cooked in a daubière, a braising pan.
The I used a Cooking Light version of this French Classic. It was lower in fat and calories, but full of flavor. The recipe is a winner in my book.
What can I say? I'm three for three this week! The Bandol was a luscious wine pairing for this dish.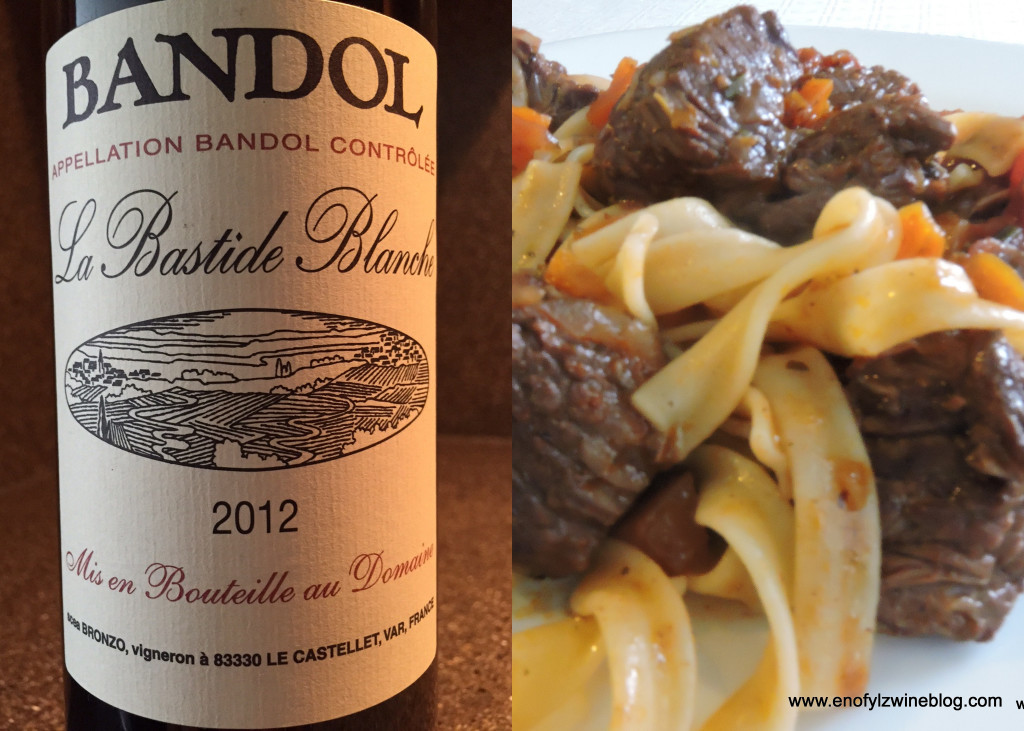 My tasting notes on the wine follow:
Dark red violet color with baked black fruit, graphite, licorice, spice and hints of roast meat aromas. On the palate, it's medium-bodied, fresh, and expressive with a supple texture blackberry, black cherry, spice flavors and an appealing minerality. Long finish. 14.5% alcohol. Organic fruit. Mostly mourvedre with a bit of grenache and cinsault
My favorite wine? The Cassis get the nod by a hair over the Bandol (thought I suspect it would depend on which day you ask me;)  My favorite food?  Cop out time – all of the above!
I'm more in love with Provence than ever! Whose with me?
And there's plenty more Provençal food and wine delicousness.  Check out what my fellow French #winophiles have in store for you!
Join us Saturday, July 18th at 11 am EST/8 am PCT for a live Twitter Chat sharing wine, food and travel stories from Provence. Find us at  #winophiles.
Next month we explore the wine and cuisine of  the Southwest Region of France on Saturday, August 15th.