Wine Pairing Weekend is a monthly collaborative event for wine/food bloggers started by David Crowley of Cooking Chat.  It's a great way to find food and wine pairings that work (or learn from the ones that don't); along with tips on how to create your own food and wine pairing magic.  Michelle Williams of Rockin Red Blog is hosting this month's USA & French Wine and Food theme.  We pairing American food with American wine, French food with French wine or any combination you can cook up!
I usually prepare a dish and pair it with a wine for these events, but my wife and I (Ok..we really me..but she's a good sport – especially when it comes to wine;-) decided to head up to Sonoma County's Dry Creek Valley for Independence Day to attend the annual Ridge Vineyards Zins and Blends event. The event was held at Ridge – Lytton Springs Estate.
The invitation read…
Join us for a tantalizing exploration of regional barbecue paired perfectly with our zinfandels. – Ridge Vineyards
If you're not familiar with Ridge Vineyards, you can check out my review here.  They are one of the World's Most Admired Wine Brands according to Drinks International. This year, Ridge ranked #7 in the world and is the highest ranked North American winery.
I can't think of a better way to celebrate Independence Day than spending  it one of American's most iconic winery's, drinking what is widely regarded as American's grape – Zinfandel expertly paired with some lip-smacking, finger-licking good BBQ!
We couldn't have picked a better day.  It was absolutely gorgeous in Sonoma's Dry Creek Valley – clear blue skies, and in the low 80s!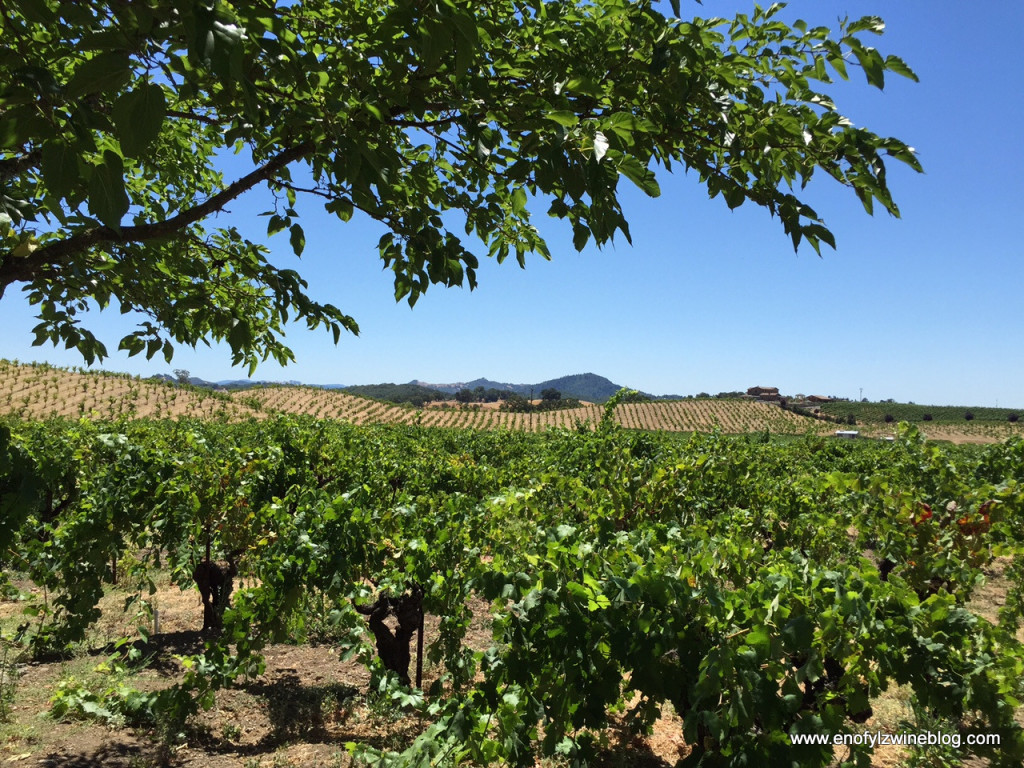 We started the day with a splash of the 2013 Estate Chardonnay – an outstanding well structured judiciously oaked Chardonnay with an alluring green apple, tropical fruit, pear, and citrus character with an appealing subtle minerality.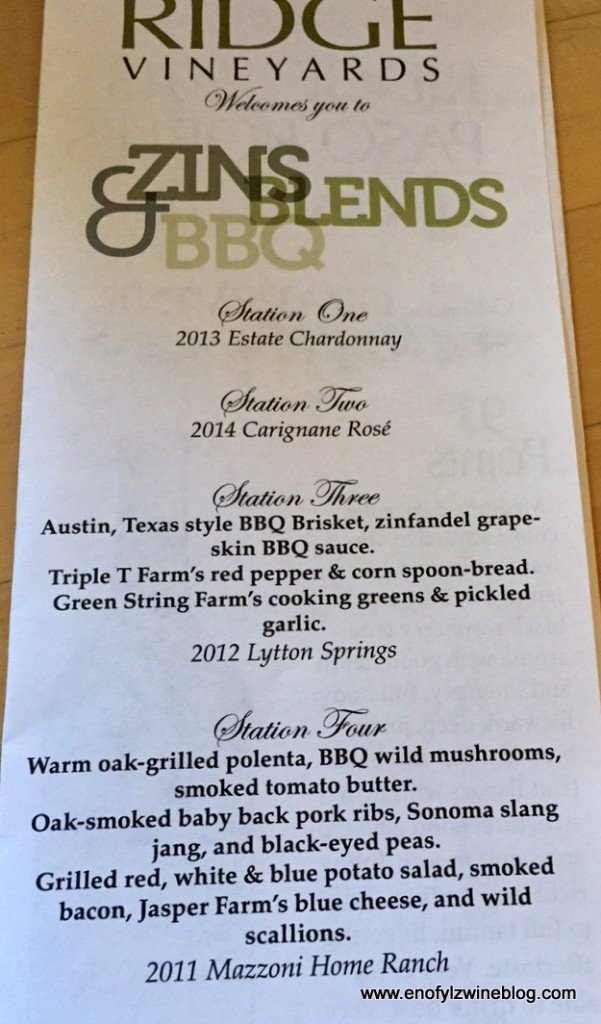 Next up was a splash (actually I went back to the station at least 5 times) of the 2014 Carignane Rosé – a crisp harmonious rose that's super food friendly thanks to it's mouth-watering acidity.  It showed charming red fruit character featuring watermelon, strawberry, and cherries.
It was time to get my food on!
First up was the Austin-Style Texas Brisket that included Zinfandel skin BBQ sauce, spoon bread, greens and picked garlic.
It was "slap yo mama " tasty!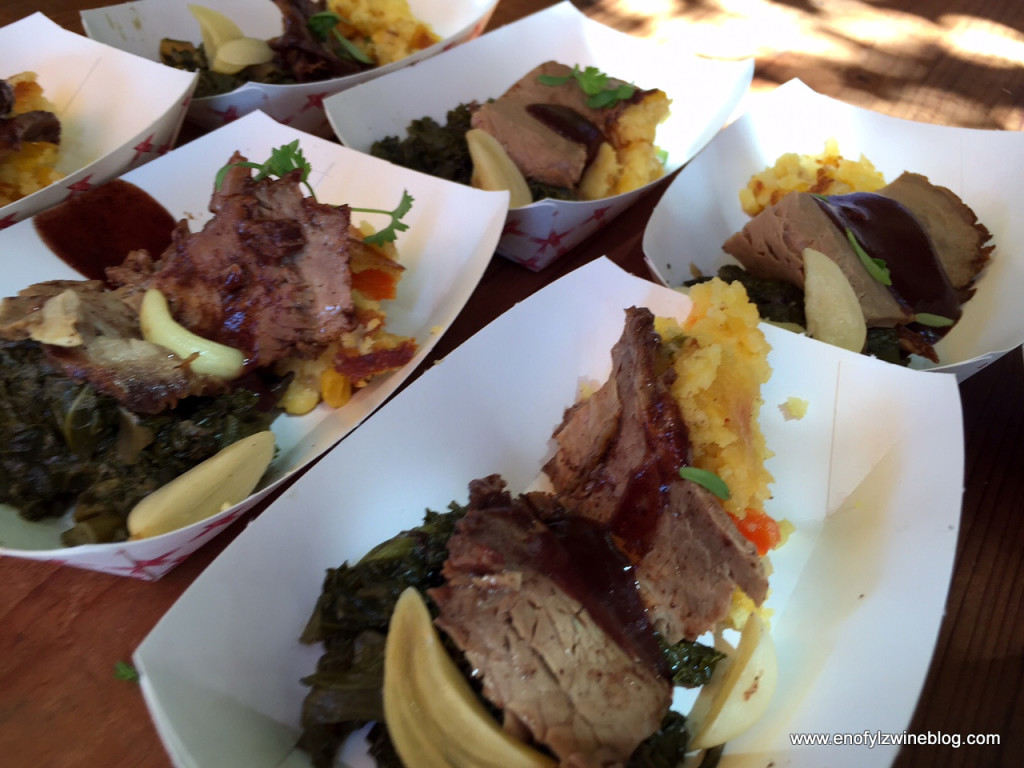 It was paired with the 2012 Lytton Springs – a superb Zinfandel lead field blend that includes Petite Sirah, Carignane and Mataro (a.k.a. Mourvedre) that Ridge has been producing since 1972.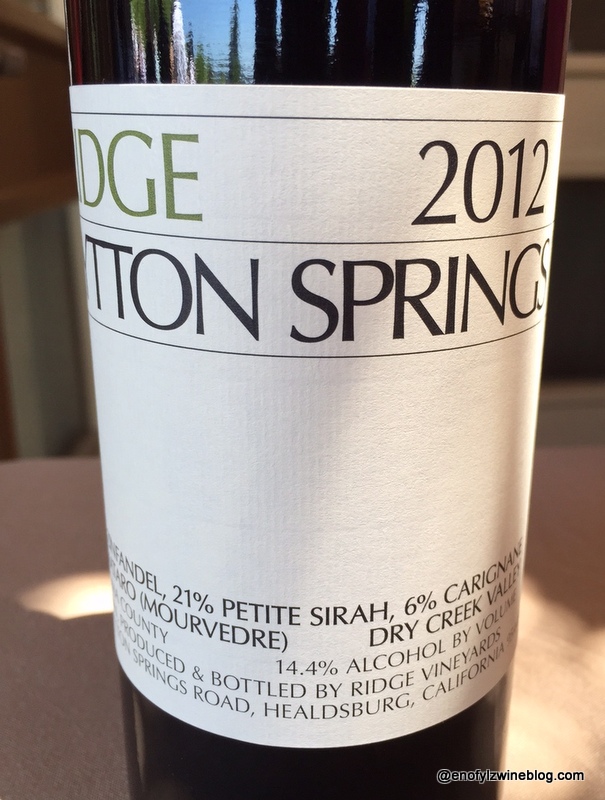 Simply put it's one of America's finest Zinfandel based field blends – year after year! It shows a refined, harmonious red cherry, spice, black raspberry fruit profile with some intriguing red licorice and pepper notes.
It was the perfect pairing and my favorite food and wine pairing of the day!
Next up were the Baby-back ribs with wild mushrooms smoked tomato butter, black-eye peas, grilled red, white and blue potato salad, smoked bacon and blue cheese. 
I have no idea how one would make smoked tomato butter, but the whole thing was an epic gastronomic delight!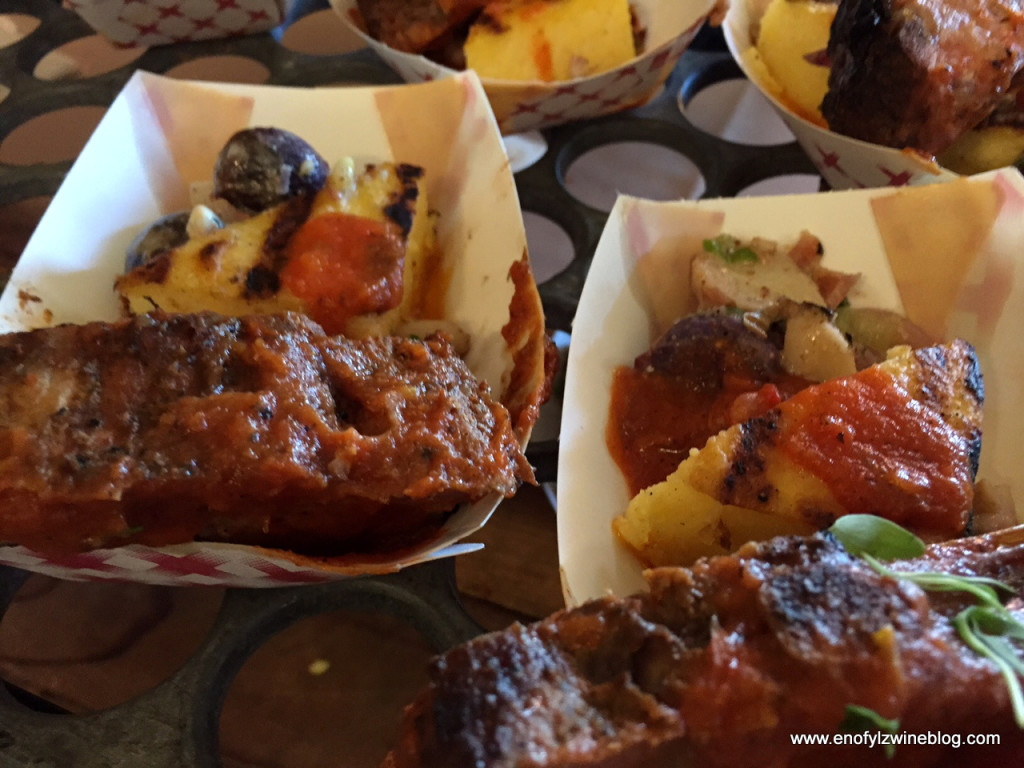 It was (again) perfectly paired with the 2011 Mazzoni Ranch Zinfandel – blend of 57% Zinfandel, 42% Carignane, and 1% Petite Sirah.
Folks – I was too busy licking my fingers to take tasting formal notes.  But what I can tell you it that it was delicious and well-structure and I now have some in my cellar!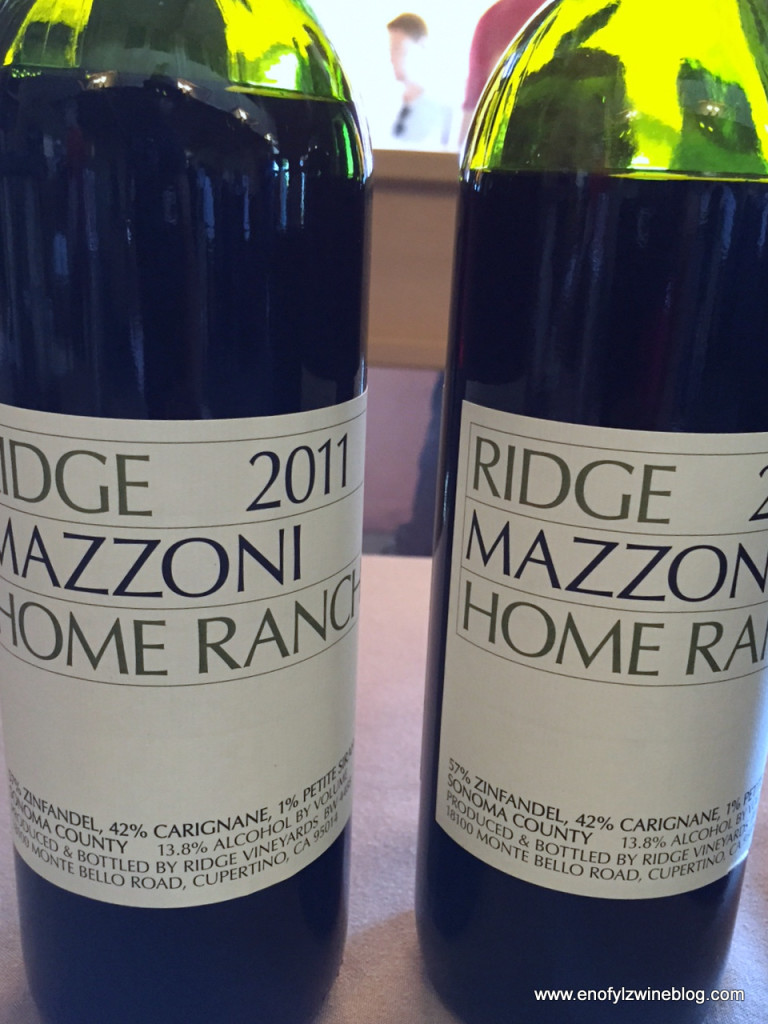 There you have it –  two amazing small plated BBQ dishes perfectly paired with a couple of food friendly distinguished wines.
But it didn't stop there…
To paraphrase a popular party people colloquialism ….Ain't food and wine party, like a Ridge food and wine party cuz a Ridge food and wine party don't stop!
Ridge was also tasting their delicious 2013 East Bench Zinfandel, and 2013 Paso Robles Zinfandel.
In other words…Zin for days!
One of the things I love about Ridge events is that they almost always bring a little sumthin' sumthin' out of their extensive library.
This event was no exception.  And they were tasting a gem – the 2007 Geyserville, which was my Wine of the Day!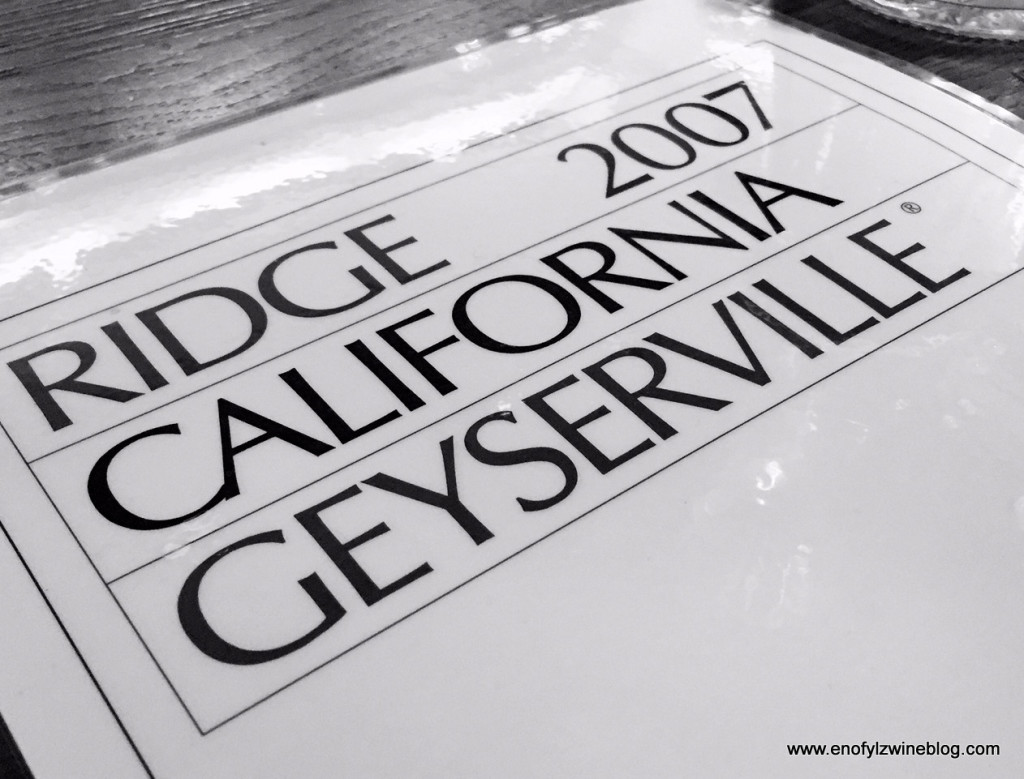 Wow!  I simply adore a Zin with a bit of age on it.
It was showed a refined, complex, savory, slightly earthy intense black cherry, bramble, raspberry and mineral character with a long finish. And it's a fantastic wine at the table too!
How food friendly? When the venerable Chez Panisse opened in 1971 the Ridge Geyserville was one of only two wines on the wine list.  And it's been on their wine list ever since!
It was a remarkable All-American Independence Day with the world-class wines and phenomenal food and wine pairings!
Be sure to check out what my other food and wine loving friends have in store for you:
Please join us this morning at 8 am PST on Twitter for a fun and lively discussion on our American and French food and wine pairings at #WinePW. Also, join us Saturday, August 15 as we explore Portugal, a land of delicious food and outstanding wines!
_________________________________________________________________
Martin Redmond is a Financial Executive by day, and a certified wine geek with latent foodie tendencies the rest of the time. In addition to the wine lifestyle and food he enjoys family, yoga, hiking, and traveling. He likes to get thoughts of wine off his mind by sharing experiences on his ENOFYLZ Wine blog, which features wine reviews, wine country travel, and wine and food pairings.
Follow me on Twitter @martindredmond for all things wine. Since I'm a wino with latent foodie tendencies, you'll also find food and wine pairings, and food related stuff! Become a fan and join ENOFYLZ Wine Blog on Facebook. Cheers! Follow my reviews on Vivino and Delectable
This article is original to ENOFYLZ Wine Blog.com. Copyright 2015 ENOFYLZ Wine Blog. All rights reserved.