Welcome to the launch of French Winophiles!  It's a group a food and wine bloggers started by Christy of Adventures of a Culinary Diva.  We're taking a virtual tour of France region by region and learning about French cuisine, wine and travel.  This month we're exploring the Loire Valley.
About the Loire Valley
The Loire Valley, two hours southwest of Paris is known as "the Garden of France" due its abundance of fertile farmland that include vineyards along with fruit and vegetable farms which line the banks of both sides of the Loire River. The Loire is the longest river in France.
"The Loire is a garden, a mosaic of tastes and flavors with 45 appellations that attract curious wine lovers." – Jean-Pierre Gouvazé
From a vinous perspective, the Loire Valley is one of the largest wine regions of France.  It covers fifteen departments and 52,000 hectares (128,000 acres) of vines shared between 7000 growers, who produce nearly 400 million bottles of wines annually.  It's so large it is there are three large areas – The Western (home of Muscadet – home of my favorite still wine for oysters!), Middle (Vouvray, Tourraine and Chinon) and the Upper Loire (includes, arguably the regions most well-known appellations Sancerre and Pouilly-Fume). It's France's most diverse wine region producing red, white, rosé, sweet and sparkling wines.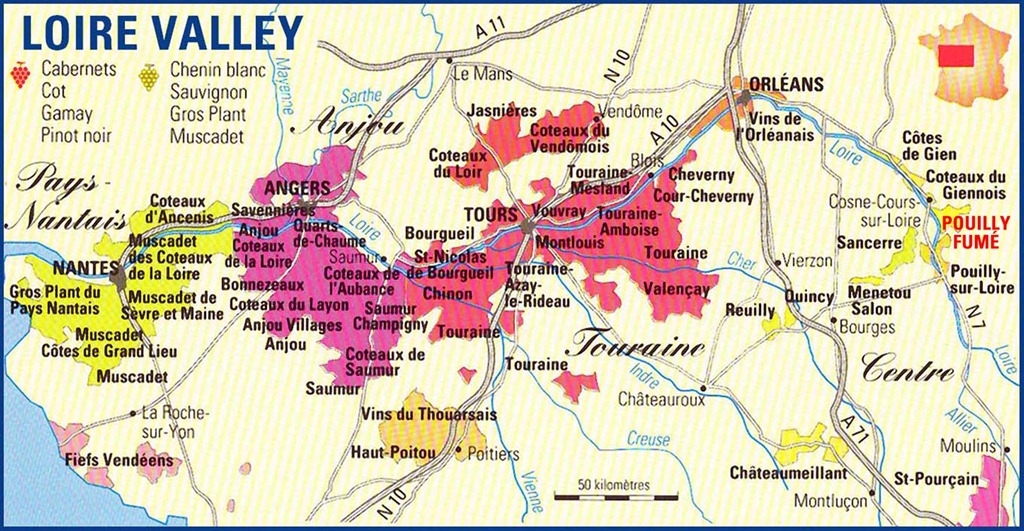 There once was a wine blogger with latent foodie tendencies.
His family and friends called him "M". He had a beautiful, and wise wife named "G".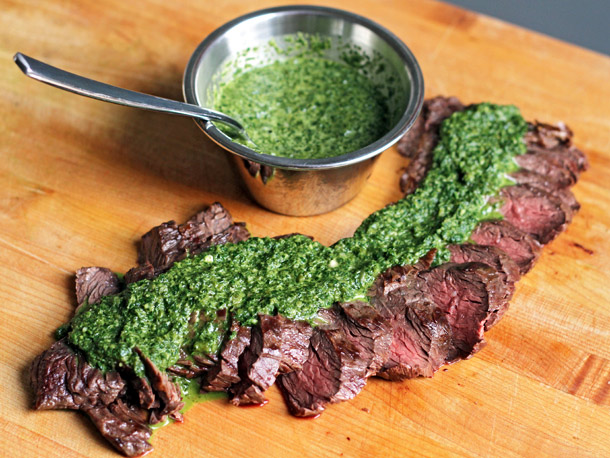 It was a sunny warm Sunday afternoon in their town.
But M and G weren't enjoying the day together as they usually do. That's because "G" toiled away at her computer for her boss.
She, for ions it seemed, had been asking him to make Argentine Skirt Steak with Chimichurri Sauce.  But M hadn't gotten around to it.
On this sunny day, M had been drinking magic grape juice, relaxing, and dreaming of his Golden State Warriors winning the NBA championship.
Then out of nowhere a thought popped into his head…
"A happy wife, makes a happy life"
M was also wise (though it seemed, never as wise as G). So he decided to make G's request come to be.
He went to the store, fired up the Weber  and got to choppin', marinatin' and grillin'.
As the skirt steak was marinating, another thought popped into M's head.
"Why not take advantage of the magic fire, and make something else too?
For that would make them both happy.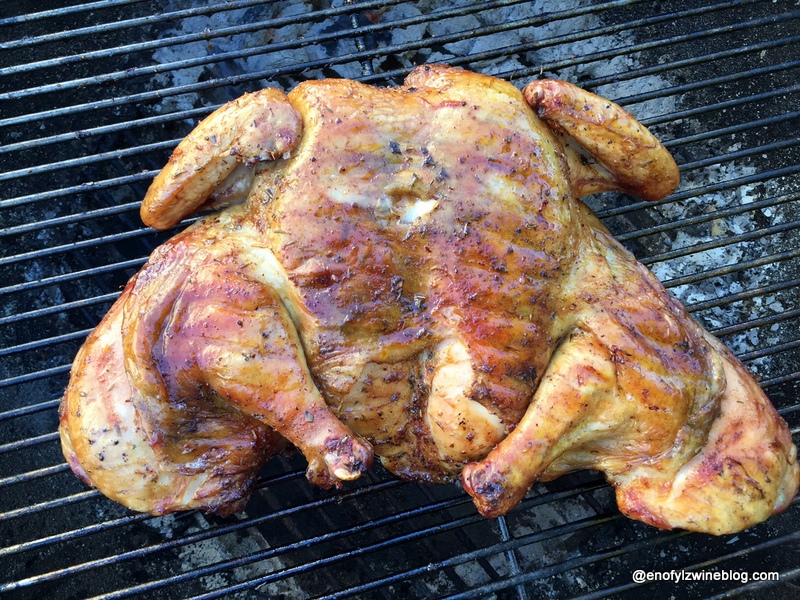 M decided to make Grilled Spatchcock Chicken too!
After M grilled the meats over the magic fire, G made a green salad and they sat down to partake of the Skirt Steak with Chimichurri.
They needed magic grape juice that would play well with the steak.
M chose a tasty Rioja Reserva.  At first M and G were happy with how the Rioja played the steak.
Then they put the supernatural and spicy Chimichurri sauce on the steak.  But the Rioja clashed with the Chimichurri.
This made M and G a little  sad.
But then G reminded M that their favorite sparking rosé the Deligeroy Crémant de Loire Brut Rosé was in the refrigerator.
She though it could bring joy to the table.
They tried the salmon colored sparkling wine with the steak with Chimichurri sauce.  The two played well together.  And this brought them joy.
Excited, they also tried the sparkling wine with the salad. And it brought them more joy that the Rioja could not.
Finally they tried the sparkling wine with the Grilled Spatchcock Chicken.
That too brought them joy! For they had found the perfect wine to enjoy with their meal of red and white meats cooked over the magic fire and their salad too!
The End
We always have a bottle or three of this Crémant on hand.  It's our go-to "everyday" Sparkling Rosé..It retails for $12.99 at our favorite wine store, and offers fantastic value.   We're also fans of the Deligeroy Crémant de Loire Brut  which made my Top 20 Sparkling Wines Under $20 list.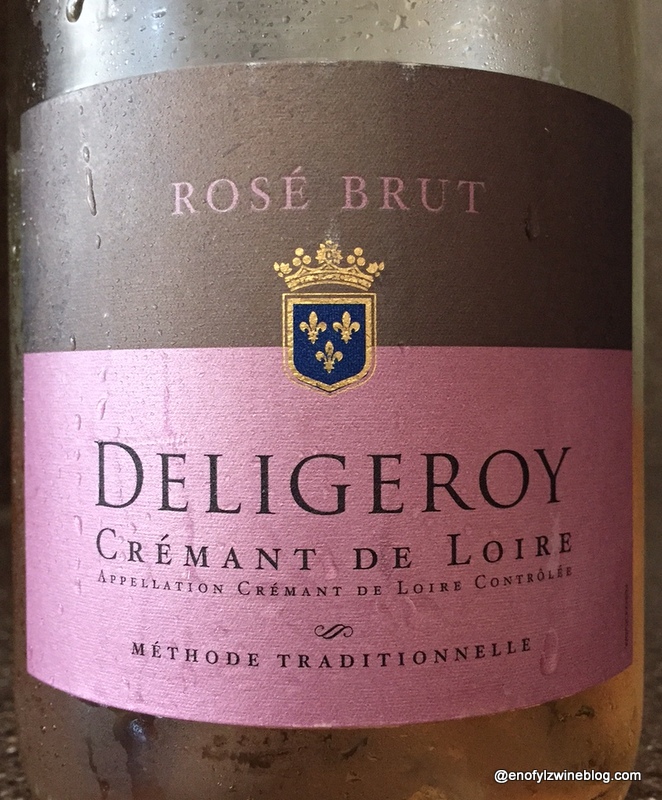 The wine is produced by the Robert and Marcel co-op using the méthode traditionnelle. It's a blend of 90% Cabernet Franc and 10% Grolleau Noir from the Saumur region of the Loire Valley. 

It's a pale salmon color with persistent stream of bubbles,  with appealing strawberry, peach, and a bit of floral aromas. On the palate shows a moderately creamy mousse, crisp acidity, and a surprising depth at this price point with strawberry, cherry, peach, blood orange and a hint of savory spice flavors with a streak of herbaceousness.  The fruit comes from 20- to 30-year-old vines. 12.5% alcohol
Sparkling rose offers tremendous versatility at the table, but I think the streak of herbaceousness from the Cab Franc in this wine really helped it pair so well with the Chimichurri sauce.
And speaking of Chimchurri here's the recipe I used…
Argentine Skirt Steak with Chimichurri
Prep time:
Cook time:
Total time:
Ingredients
3 oz flat leaf parsley, coarsely chopped (about 1 bunch)
½ cu olive oil
3 TBSP red wine vinegar
4 cloves of garlic coarsely chopped
2 tsp red pepper flakes
Kosher salt and fresh ground pepper
2 lb. skirt or flap steak, trimmed
Instructions
Place parsley, oil, vinegar, garlic and red pepper flakes in a food processor fitted with a blade attachment. Season with salt and pepper. Puree until mixture is almost smooth, about 1 minute.
Set aside half of the marinade in an airtight container, reserve in the refrigerator to serve along side the finished meat.
Place other half in non-reactive container with skirt steak making sure the steak is well covered. Cover with plastic wrap and refrigerate for 2 or 3 hours
Heat grill to high. Remove steak from marinade and discard marinade. Place steak over medium-hot area of the grill and cook for about 5 minutes each side. Serve on platter with reserved marinade on top
Notes
I recommend doubling the amount of Chimichurri marinade/sauce. It's delicious!
Don't stop here! Check out the food and wines my fellow #Winophile-s have in store for you!
Jeff from from 

foodwineclick

indulges in "Saint-Jacques Poêlées & Sancerre"

Sarah from 

Curious Cuisiniere

 

brings us "Grilled Salmon with Beurre Blanc and Loire Valley Muscadet"

Wendy from 

A Day in the Life on a Farm

 

tempts us with "Vouvray Poached Pineapple with Rosemary Whipped Cream featuring Bardon and Guestier aka CIC meets French Winophiles"

David from 

Cooking Chat

 

shares "Grilled Shrimp with Pouilly-Fumé

Camilla from 

Culinary Adventures with Camilla

 

brings us "Gravlax, Goat Cheese, & French Sorrel Stuffed Squash Blossoms + Patient Cottat Sancerre 2010"

Anna from 

Anna Dishes

 

is still whipping up her culinary creation

Tammy from Telling Stories from Chez Nous is sharing "Lemon Garlic Chicken with Pan Sauce paired with Oisly & Thesse Sauvignon"

Christy at Confessions of a Culinary Diva is sharing "Chard Roasted Salmon with 2013 Pouilly Fume and 2014 Sancerre Rosé"
Join the #Winophile conversation: Follow the #Winophile conversation on Twitter throughout the weekend and beyond. If you're reading this early enough, you can join us today for a live Twitter chat on our theme Loire Valley on Saturday, June 20th, from 8 a.m. to 9 a.m Pacific Time.
_________________________________________________________________
Martin Redmond is a Financial Executive by day, and a certified wine geek with latent foodie tendencies the rest of the time. In addition to the wine lifestyle and food he enjoys family, fitness and traveling. He likes to get thoughts of wine off his mind by sharing experiences on his ENOFYLZ Wine blog, which features wine reviews, wine country travel, and wine and food pairings.
Follow me on Twitter @martindredmond for all things wine. Since I'm a wino with latent foodie tendencies, you'll also find food and wine pairings, and food related stuff! Become a fan and join ENOFYLZ Wine Blog on Facebook. Cheers! This article is original to ENOFYLZ Wine Blog.com. Copyright 2015 ENOFYLZ Wine Blog. All rights reserved.