Wine Pairing Weekend is a monthly collaborative event for wine/food bloggers started by David Crowley of Cooking Chat.  It's a great way to find food and wine pairings that work (or learn from the ones that don't); along with tips on how to create your own food and wine pairing magic.  Valerie Quintanilla of GirlsGottaDrink.com is hosting this month's #SummerofArneis theme featuring summer recipes that pair with Arneis.
On My Plate
Have you ever gotten a feeling that a certain type of wine would pair well with a certain dish?
I don't exactly know why, but last month when the #SummerofArneis theme was announced, Shrimp and Grits popped into my head.  A couple of weeks thereafter, I was at a local winery that has an Arneis.  I took a sip.  Shrimp and Grits popped into my head again.
I knew I had to try the pairing!
For the uninitiated, Shrimp and Grits is classic dish of the American South with Native and African-American roots.  It was elevated from a humble and simple breakfast dish to haute cuisine in the 1980's.
I used this recipe for Shrimp and Grits.
Except, when I went to my local grocery store, the only grits they had were instant.  I'm a grits purist from way back.  And instant grits just won't do.
What's the difference between grits and polenta? Not much it turns out…but enough to know there's a difference. At least in texture, if not in flavor.
I used cornmeal instead, thinking it would be a solid substitution.  Alas, my "grits" turned out more like polenta than grits.  Ha! I suppose my recipe could be referred to as Shrimp and Cheese Polenta.  Let's consider it a bridge between the American South and Italy!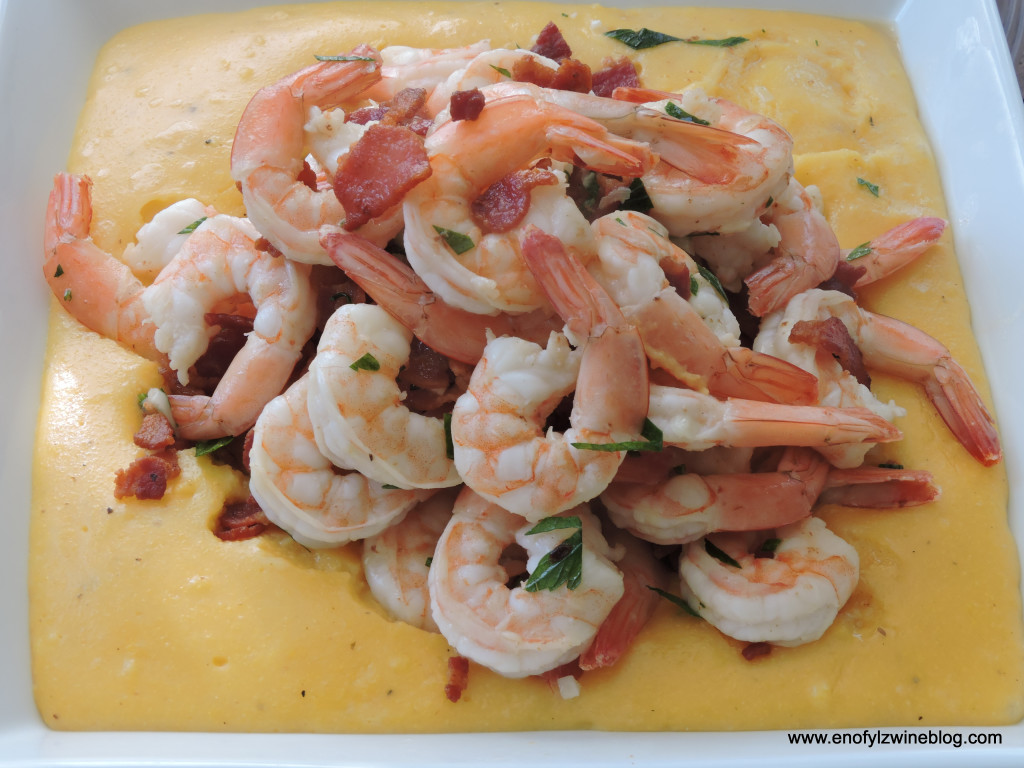 In My Glass
Arneis (literally "little rascal" in Piemontese) is a white Italian grape varietal originating from Piemonte, Italy. It is most commonly found in the hills of the Roero, northwest of Alba. Arneis  is referred to as "little rascal" because it has a reputation for being somewhat difficult grape variety to grow. so-called because it is regarded as a somewhat difficult varietal to grow.  It is low-yielding, and susceptible to powdery mildew.
For centuries, the white Arneis grape has been added, in small quantities, to Nebbiolo wines soften the tannins and harshness of Barolo.  Traditionally Arneis vines were planted next to Nebbiolo vines largely as a form of protection; the Arneis grapes' stronger fragrance distracted hungry birds and insects away from the more highly prized Nebbiolo vines..
The grape was approaching extinction until 1967, when the late Alfredo Currado, a member of the well-regarded Vietti wine family, took it upon himself to invest time and effort into rediscovering and understanding the grape.
"Luca's father Alfredo practically invented dry Arneis in 1967 and was responsible for rescuing the variety from extinction; previously Arneis had been vinified sweet. Another name for the variety is White Nebbiolo, suggesting that Arneis could have been an early mutation of the red variety." – Stephen Tanzer
Today, the grape is more commonly seen as a varietal wine.  In fact, I've tried several Arneis from California wineries that I've very much enjoyed.
But, once I learned a bit about the history of the grape,  the Vietti family, and saw that it was available at my favorite wine shop, I knew I wanted to try the  Vietti Arneis Roero.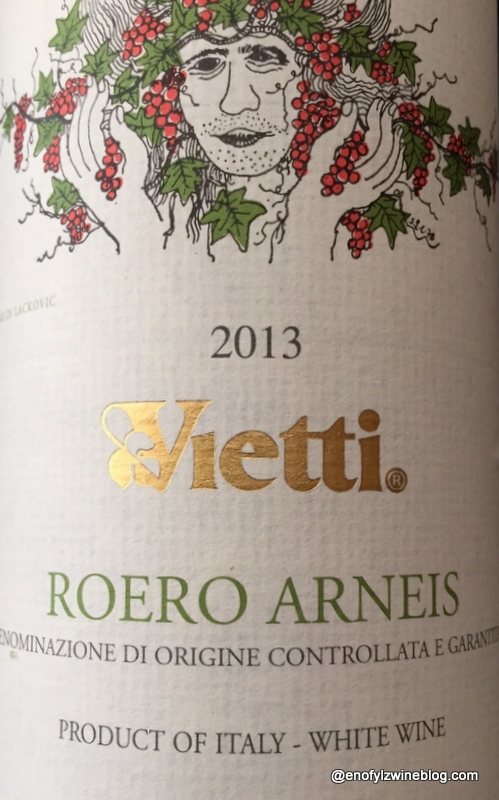 My tasting notes follow:
Very pale green color with pretty stone fruit, white flower, citrus and a hint of hazelnut aromas. On the palate, it's medium-bodied, crisp, persistent, moderately complex, and well structured. It shows peach, apricot, and bit of melon flavors with a complementary mineral note and wonderful length
The Pairing
Overall, this was good pairing – one I would categorize as somewhere between "peaceful co-existence" and "each one makes the other taste better".  The Arneis was a wonderful complement to the flavors of the shrimp and vice-versa.  I think the issue was the strong cheddar cheese flavor in the grits/polenta. It overpowered the wine at times.  Had I used mild cheddar, or another milder cheese(s) or less of the sharp cheddar, I'm  sure this would have been a better pairing.
Next time!
Don't stop here! Check more Summer Arneis Food Pairing Recipes!
Join the #winePW conversation: Follow the #winePW conversation on Twitter throughout the weekend and beyond. If you're reading this early enough, you can join us today for a live Twitter chat on our theme #SummerofArneis on Saturday, June 13th, from 8 a.m. to 9 a.m Pacific Time. You can also visit our group Pinterest board to pin some great pairing ideas for later!
Wine Pairing Weekend July: Join us next month!
In July Americans celebrate Independence Day and the French celebrate Bastille Day. July's Wine Pairing Weekend will take place on Saturday, July 11, led by Michelle Williams of Rockin Red Blog. The group will explore food and wine pairings from the United States and France. From Michelle, Get creative and make your favorite all American food and wine meal, your favorite all French food and wine meal, one of each or a combination of both! With these two regions the sky is the limit!