Over the course of a week, my wife and I drink a bunch o'wine – almost always with food. Since I've always been fascinated by wine at the table with food, I thought it would be fun to recap not only the wines we've been drinking, but also how they pair (or don't pair) with the foods at our table.  It features my pick for Wine of the Week – a  wine I particularly enjoy, whether it's something new and different, is a great value, or from a producer worth checking out; for the week ended June 7th, 2015.
2013 Sandlands Trousseau Noir – Retail – $28
Bing cherry color with appealing and lifted pomegranate, cherry aromas and floral aromas complemented by hints of clay, and mint. On the palate it's light-bodied,refreshing and well structured with an elegant, savory, and alluring character. It shows pomegranate, cherry, a bit of spice flavor and very giving finish. Outstanding; 92-95 pts
2011 Carlisle Three Birds – Retail $23
Ruby color with smokey kirsch, baked plum, raspberry and a hint of white pepper aromas. On the palate, it medium-bodied with a supple texture, and dusty well-integrated tannins. It shows cherry, raspberry and sweet spice flavors with an appealing minerality, and a lengthy finish. Blend of 78% grenache, 16% mourvedre and 6% syrah, from 5 different sites. 14.9% alcohol. Very Good to Outstanding; 89-91 pts
2011 Azienda Agricola Tenuta San Francesco Costa d'Amalfi Quattrospine Riserva Tramonti – Retail – $35
Garnet color with intriguing smoke, leather, baked mixed berry, white pepper, roast anise and a hint of balsamic. On the palate, it's medium-bodied, and well structured with mouth-watering acidity, wonderful depth and richness with firm tannins owing to the Aglianico. It shows, black cherry, raspberry, licorice, peppery spice and bittersweet chocolate flavors and a very giving finish. A blend of Aglianico, Tintore and Piedirosso from pre-phylloxera 100 year-old vines. Outstanding; 92-95 pts
2013 Vietti Roero Arneis – Retail $23
Very pale yellow-green color with pretty stone fruit, white flower, citrus and a hint of hazelnut aromas. On the palate, it's medium-bodied, crisp, persistent, moderately complex, and well structured. It shows peach, apricot, and bit of melon flavors with a complementary mineral note and wonderful length. Very Good to Outstanding; 89-91 pts
Wine of the Week
It was a wonderful week for wine.  I always enjoy trying new to me grapes/wines.  I tried a couple from Italy that we winners.  The first was a white made from the Arneis grape.  I've enjoyed Arneis before, but this was my first from Italy, home of the grape!  The second was a red wine produced (mostly) from a grape I've enjoyed before Aglianico, but with a a couple of other new to me grapes(Tintore and Piedirosso) in the blend.  It never ceases to amaze me how many different grape varieties Italy has!  

The Carlisle Three Birds Rhone blend is a perennial favorite, and it offers very good value.
My Wine of the Week is the 2013 Sandlands Trousseau Noir.  If you've not had Trousseau (aka Bastardo – how's that for a name!) The grape is indigenous to the Jura region of France.  The wines it can produce can be highly alcoholic, but this one was only 12.8% alcohol.  In terms of texture, it reminded me of Pinot Noir.  Fruit for this wine was sourced from the  Bohan Vineyard in Cazadero on the Sonoma Coast.  The vineyard is planted at 1400 feet and is about 3 miles from the Pacific Ocean.  The Trousseau sits in gravelly loam soils derived from sandstone and shale. 5 barrels produced.
Sandlands is the personal project of Tegan and Olivia Passalacqua. The line-up encompasses the forgotten classic California varieties, primarily grown in decomposed granite (sand), from regions and vineyards that have been farmed for many generations but have remained the outliers of California viticulture. 
Primarily head-trained, dry-farmed and own rooted, the vineyards we work with harken back to California's roots of exploration, wonder, and hard work.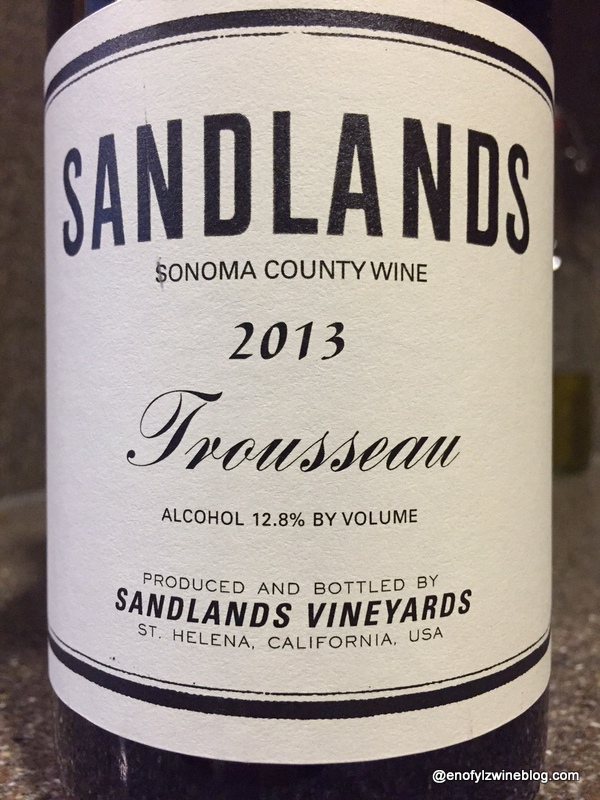 Passalacqua's "day job" is winemaker and viticulturist  for Turley Wine Cellars. He, along with Morgan Twain-Peterson of Bedrock Wine Co., were just honored as Winemakers of the Year by San Francisco Chronicle Wine Editor, Jon Bonné.  He was also featured prominently in Bonné'sThe New California Wine – A Guide to the Producers and Wines Behind a Revolution in Taste. 
They don't make much wine.  But what they do make that I've been able to try has been fantastic stuff.  Highly recommended.
Sandlands wines are available via a mailing list
My Food and Wine Pairing of the Week is the Tenuta San Francesco Quattrospine Riserva Tramonti with Polenta and Sausage Ragu.
What was your Wine of the Week?  Any killer Food and Wine pairings?
Follow my reviews on Vivino and Delectable
Note. All wines were purchased for review unless otherwise indicated
_________________________________________________________________
Martin Redmond is a Financial Executive by day, and a certified wine geek with latent foodie tendencies the rest of the time. In addition to the wine lifestyle and food he enjoys family, fitness and traveling. He likes to get thoughts of wine off his mind by sharing experiences on his ENOFYLZ Wine blog, which features wine reviews, wine country travel, and wine and food pairings.
Follow me on Twitter @martindredmond for all things wine. Since I'm a wino with latent foodie tendencies, you'll also find food and wine pairings, and food related stuff! Become a fan and join ENOFYLZ Wine Blog on Facebook. Cheers! This article is original to ENOFYLZ Wine Blog.com. Copyright 2015 ENOFYLZ Wine Blog. All rights reserved.