One of the things I love most about food and wine is their ability to transport one to a different place.  And a  place's people, culture, and customs are reflected in its food and wine.  In that sense, one can virtually travel the world through food and wine.  And that is exactly what we are doing through Italian Food Wine and Travel (#ItalianFWT).  We taking a virtual tour of Italy by exploring its food and wines.  This month we're exploring Campania!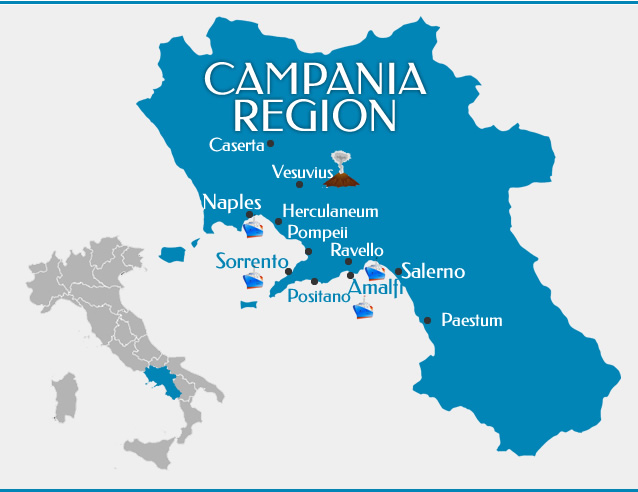 The region of Campania stretches over a wonderfully varied area of Italy, covering coastal areas as well as fertile and beautiful plains further inland, embracing the peace and picturesque tranquility of Capri, Ischia the Amalfi coast, the city and province of Naples including Pompeii, with the furies and glories of Vesuvio. – www.italyguides
This month I decided to try both, a white and red wine from Campania.  Both the wines have coastal origins. The white wine is from Ischia D.O.C. on the eponymous island in the Bay of Naples. The red wine is from the Costa d'Amalfi D.O.C.
Let's start with the white. The 2013 Casa d'Ambra "Frassitelli" is made from 100 % Biancolella.   
Not familiar with the Biancolella grape? Me neither!
Casa d'Ambra is one of the great estates of Italy and represents a gem of viticulture found on the tiny island of Ischia off the coast of Naples. The D'Ambra family has accepted the most difficult conditions for growing and harvested their wide array of indigenous grapes. Vineyards are located on the volcanic cliffs of the island that rise up to a dramatic 600 meters above sea level. The scenery is absolutely stunning with trellised vines overlooking an azure seascape – Wine Advocate
It's a grape believed to be of Greek origin that has been grown in Campania for hundreds of years. It reaches its purest expression on the Island of Ischia grows where it grows in terraced vineyards on volcanic soils and is produced as varietal wine with plenty of character.
My tasting notes follow:
Pale golden color with restrained honey, yellow apple, sea breeze and wet stone aromas. On the palate, it's light-bodied, and focused with a wonderful texture and good acidity with apricot, yellow apple, lemon oil, honey, and a bit of almond flavors with a mineral driven lingering finish.  Very good to outstanding (89-91pts)
I paired this wine with a Campanian cheese – Paglierino.  It's a Pecorino (hard Italian cheese made from 100% sheeps milk) produced by Casa Madaio, a fourth generation cheesemaker and affineur situated in the stunning National Park of Cilento, near the Amalfi coast.
I topped the cheese with quince paste I happened to have on hand.  The cheese has a slightly sweet, nutty,subtle brown butter, and low-key grassy sheepyness that; together with the quince paste and a sip of the wine was an amazing pairing!  This is a wine that I'd love to try with seafood or mixed paella!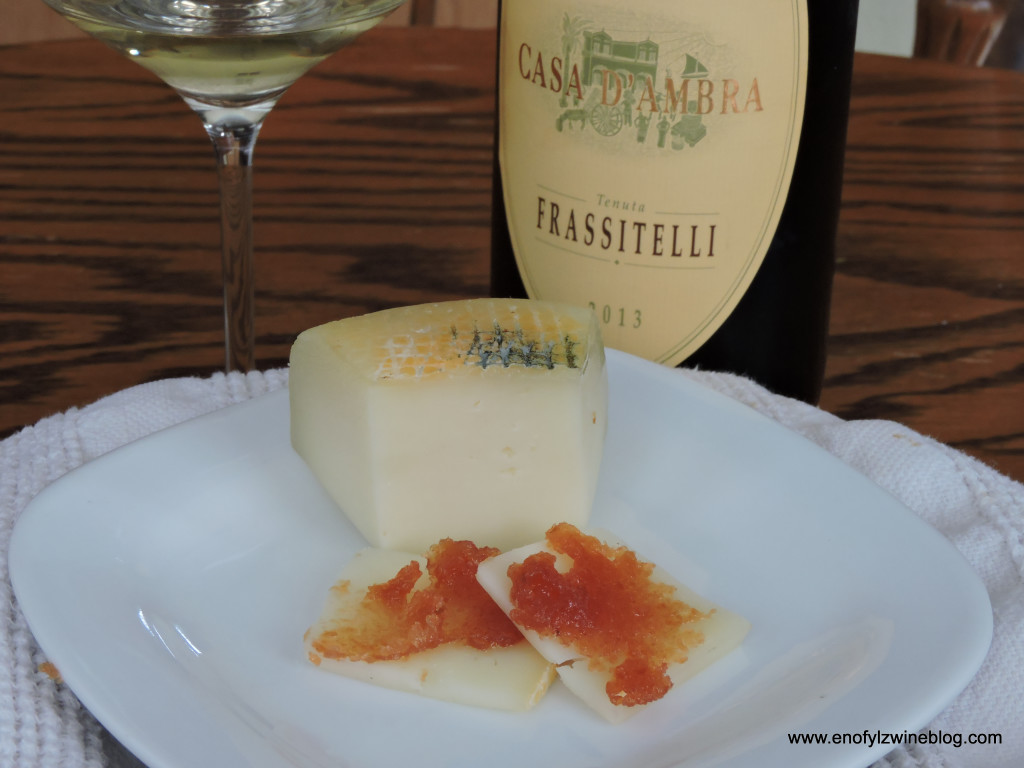 Can you imagine starting the day overlooking azure waters of the Gulf of Salerno, then going wine tasting and sight-seeing in the ancient village of Tramonti?  That's my kind of day!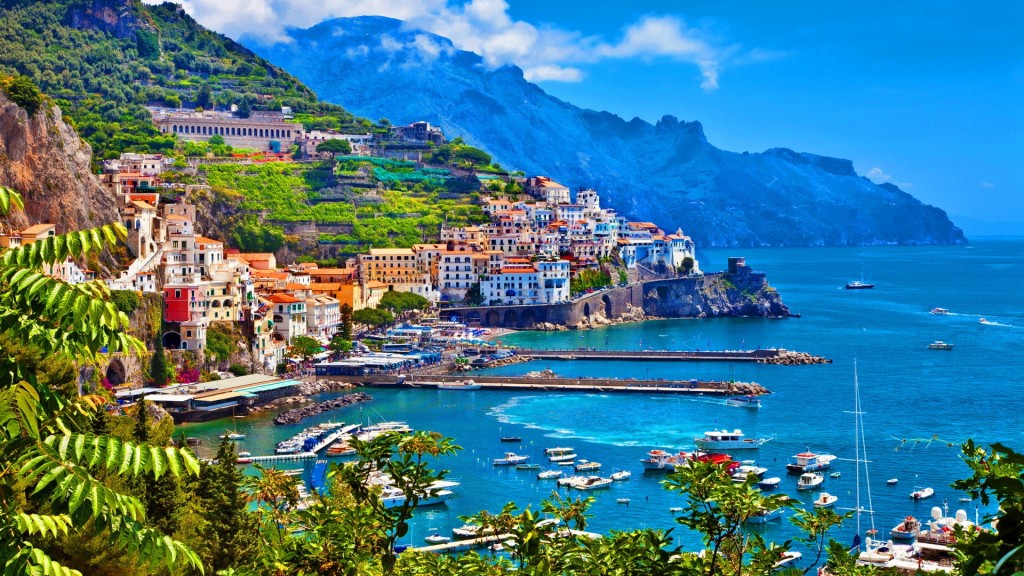 There you'll find Tenuta San Francesco, the producer of the 2011 Costa d'Amalfi Tramonti Riserva Quattro Spine.  Tenuta San Francesco vineyards  are planted to indigenous red and white varietals including the Aglianico, Tintore and Piedirosso that make up the Quattrospine or "4 Spine."  The 100-year-old pre-phylloxera vines grown in a unique pergola system are like nothing you've seen before.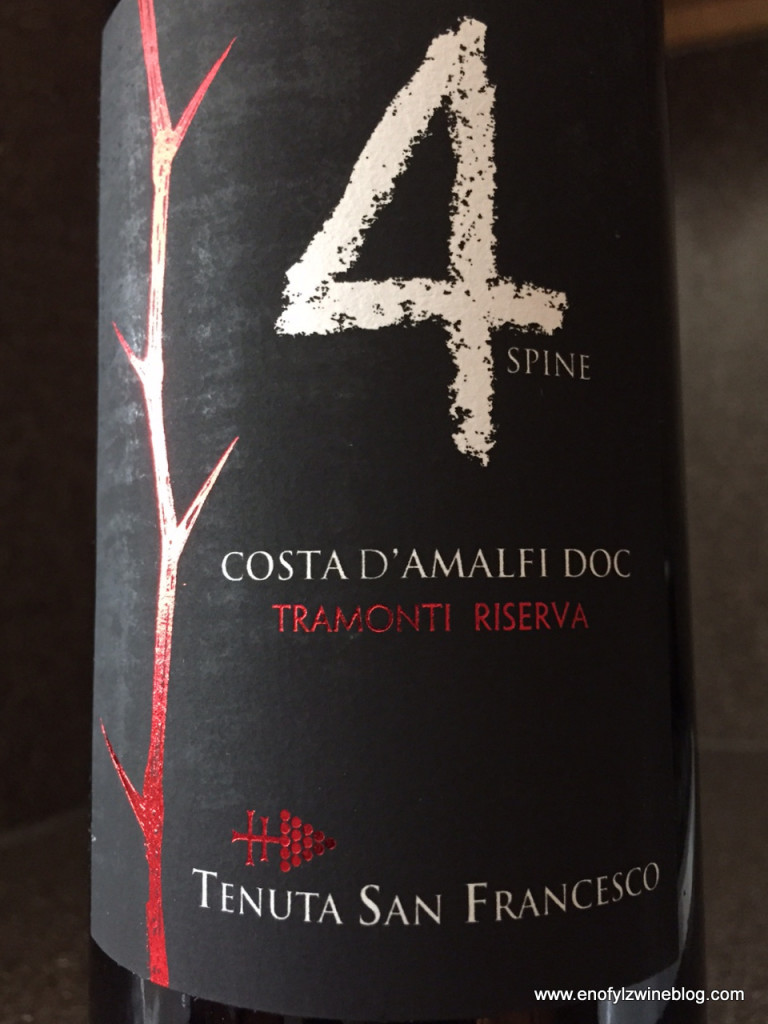 My tasting notes follow:
Garnet color with intriguing smoke, leather, baked mixed berry, white pepper, roast anise and a hint of balsamic. On the palate, it's medium-bodied, and well structured with mouth-watering acidity, wonderful depth and richness with firm tannins owing to the Aglianico. It shows candied black cherry, raspberry, licorice, peppery spice and bittersweet chocolate flavors and a very giving finish. Outstanding (92-95 pts)
I paired the wine with a specialty of the Campania region – Spaghetti alla Puttanesca (Note: I didn't have any anchovies on hand, so I substituted anchovy paste).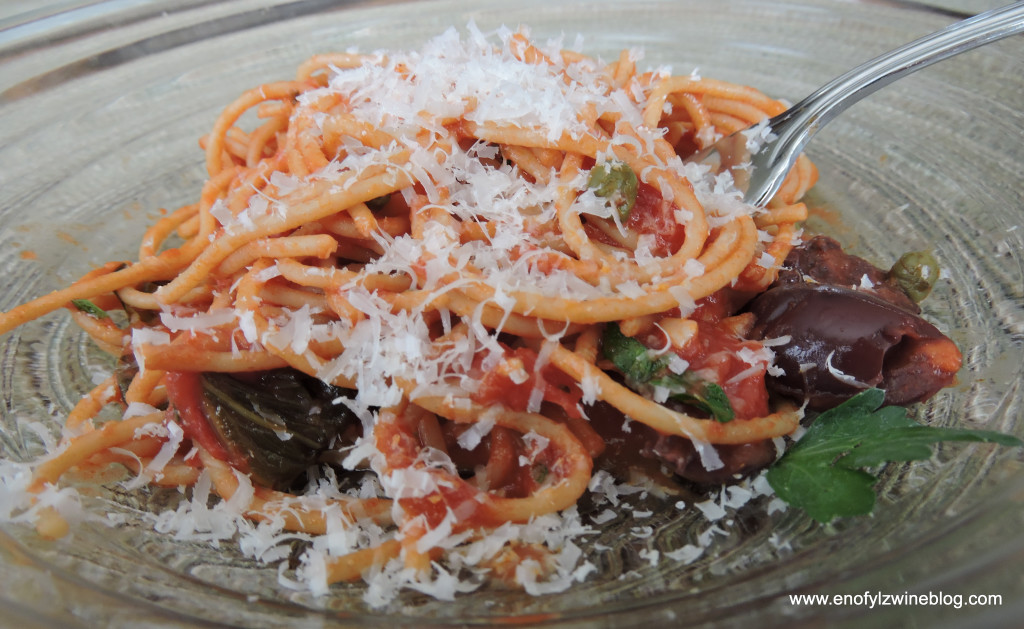 According to Rachel Ray…This sauce is named for ladies of the night. They would place pots of it in their windows to tempt men into the bordellos. I like it because it's spicy, fast and easy (no disrespect to the ladies).  But it seems as though story behind the origins of Puttanesca sauce is situation where one doesn't let the facts get in the way of a good story. Check out food historian Jeremy Parzen's well researched post on the etymology of "sugo alla puttanesca" ("whoreish sauce") for the most likely origin of spaghetti Puttanesca, which it turns out likely to have originated on the island of Ischia!
The wine was a very good pairing with the dish, but I couldn't help but feel it would have been an even better pairing with grilled meats, heartier tomato based pasta dishes, roasts, grilled and braised meats such as lamb, or stews of game and beef.  Even veal and pork dishes, if accented with rustic spices, would  pair very well with this wine.
The first Saturday of each month, the #ItalianFWT bloggers visit a region of Italy. Check out the other posts about Campania:
We'd love to have you join our Twitter Chat Saturday, June 6, at 11 a.m Eastern time/ 5 p.m. Italian time. Some of our bloggers had last minute computer troubles so we may be a bit quieter than usual! Blogs that were posted as of Saturday 6/6, 7 a.m. ET have live links to their posts in the list above; check back as the others will be sharing their posts soon!
_________________________________________________________________
Martin Redmond is a Financial Executive by day, and a certified wine geek with latent foodie tendencies the rest of the time. In addition to the wine lifestyle and food he enjoys family, fitness and traveling. He likes to get thoughts of wine off his mind by sharing experiences on his ENOFYLZ Wine blog, which features wine reviews, wine country travel, and wine and food pairings.
Follow me on Twitter @martindredmond for all things wine. Since I'm a wino with latent foodie tendencies, you'll also find food and wine pairings, and food related stuff! Become a fan and join ENOFYLZ Wine Blog on Facebook. Cheers! This article is original to ENOFYLZ Wine Blog.com. Copyright 2015 ENOFYLZ Wine Blog. All rights reserved.