Wine Pairing Weekend is a monthly collaborative event for wine/food bloggers started by David Crowley of Cooking Chat.  It's a great way to find food and wine pairings that work; along with tips on how to create your own food and wine pairing magic.  Christy of Confessions of a Culinary Diva is hosting this month's South of the Border theme featuring wine pairings for Mexican Cuisine.
On My Plate
I adore Mexican cuisine. It's easily the ethnic food I've had the most.  When I considered what main dish to try for this month's South of the Border theme, two things came to mind.
Try something new, and try something authentic.
I decided to check out the La Cocina de Leslie blog, which is written by Leslie Limón, a native Californian who has been living in Mexico for 13+ years.  Bingo!
The recipe I chose is Chicken Pipían Verde.  Here's how Leslie describes it…

"..Pipián is a traditional Mexican sauce that gets its distinct grainy texture from the pepitas. Pipián can be made in one of two ways: Pipián Verde made with tomatillos and roasted poblano peppers and Pipián Rojo made with tomatoes and dried ancho chiles. Pipián can be served over fish, shrimp, roasted pork, or chicken. Whether you choose to make Pipián Verde or Rojo, you'll love the nutty flavor the pepitas adds to this exquisite sauce."  Note: I've also seen where it can be served over Chile Rellenos
Leslie suggested serving with Mexican Rice, but I wanted a healthier option.  I chose One Pan Mexican Quinoa from Damned Delicious.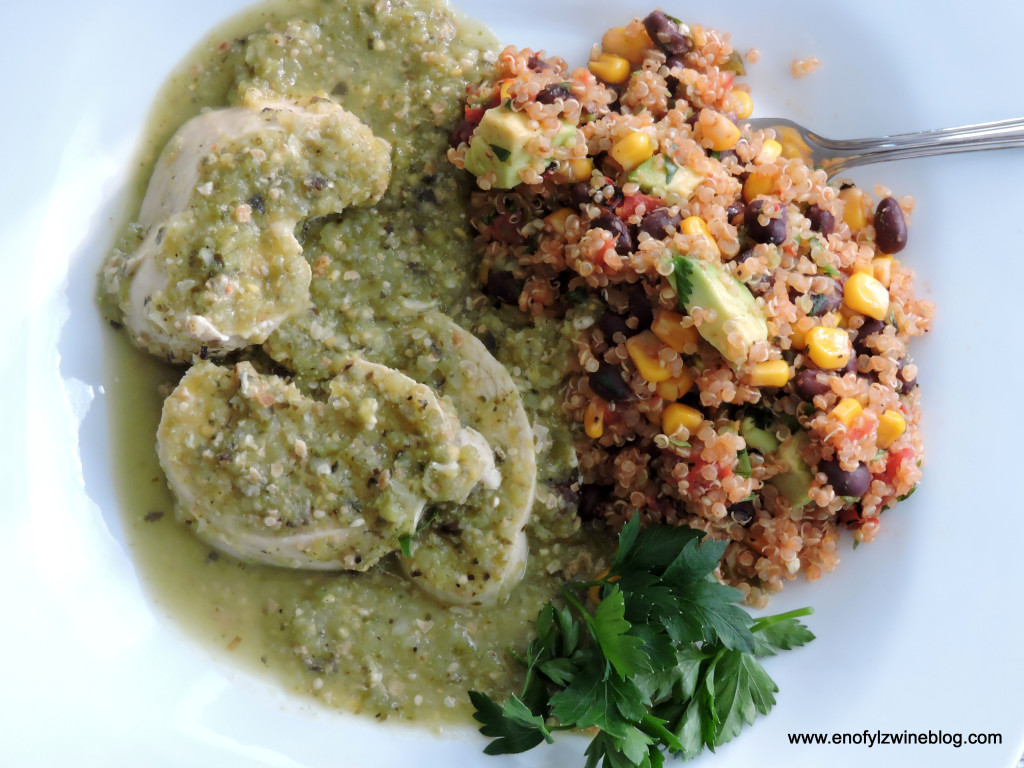 I essentially stuck to the recipes with the exception of  the following:
For the Pipián Verde I substituted corn meal for masa harina because I couldn't find any in time.
For the Mexican Quinoa, I substituted chipotle chili powder for chili powder and used can of Southwestern corn instead of corn.
Considering it was my first time ever working with tomatillas, the Pipián Verde turned out very well.  Likewise for the Mexican Quinoa!
Both were delicious.  I highly recommend both recipes!  They are delicious (and pretty healthy too!)  How delicious were they?
My wife, and I both had seconds (actually she had thirds…but you didn't hear that from me;-).
I even made Chicken Pipián Verde again a few days later (did I mention that my wife loves it)? Except this time we grilled the chicken, tomatillas, and Serrano peppers.
Wow! We enjoyed it even more!
In My Glass
The first two wines that came to mind to pair with my Mexican food was either Riesling (It pairs well with damn near everything) or Sauvignon Blanc.
I had neither.
But I did have a sample of Concha Y Toro's Casillero del Diablo Devils Blend White. It's a  blend of 85% Sauvignon Blanc, 10% Chardonnay,and 5% Gewürztraminer from Chile's Casablanca Valley.
I decided to give it a go…

My tasting notes follow:
Very pale green color with apple, lime, peach, and hints of honeysuckle and gooseberry aromas On the palate, it's medium bodied, and dry with refreshing acidity, and a soft pleasing texture that envelopes ample apple, lime, grapefruit and a kiss of peach flavors. Lingering finish.  Overall, this is an appealing, fresh, well-balanced balanced wine that delivers very good value for the money.   Very good; 86-88 pts  Retail ~$15; 13.5% alcohol.
The Pairing
Overall, this was a very good pairing.  The predominance of Sauvignon Blanc in the blend worked well with the Pipián  Verde Sauce.  But, I think the wine worked better with the Chicken Pipián  Verde than the Mexican Quinoa because the quinoa had a pretty spicy kick to it.  So a bit more residual sugar (sweetness) would have made the wine pair better with the quinoa.
Don't stop here!
Check out what my fellow #winePW bloggers came up with for this month's theme! 
Join the #winePW conversation: Follow the #winePW conversation on Twitter throughout the weekend and beyond. If you're reading this early enough, you can join us for a live Twitter chat on our theme "South of the Border" on Saturday, May 9th, from 8 a.m. to ( a.m Pacific Time. You can also visit our group Pinterest board to pin some great pairing ideas for later! Stay tuned for the June  Wine Pairing Weekend, which will be on Saturday, June 13, 2015