Over the course of a week, my wife and I drink a bunch o'wine – almost always with food. Since I've always been fascinated by wine at the table with food, I thought it would be fun to recap not only the wines we've been drinking, but also how they pair (or don't pair) with the foods at our table.  It features my pick for Wine of the Week – a  wine I particularly enjoy, whether it's something new and different, is a great value, or from a producer worth checking out; for the week ended May 3rd, 2015.
2010 Copain Pinot Noir Les Voisins – Retail – $42
Dark Ruby color fading toward tawny at the rim with appealing earthy, savory cardamom laced red fruits, plum, and sandalwood aromas on the palate it's medium bodied and harmonious fruit.acidity and velvety tannins with bing cherry, plum, raspberry spice and a pleasing minerality. Lingering finish.Very Good to Outstanding; 89-91 pts
2010 Dashe Cellars Zinfandel Florence Vineyard – Retail – $32
Deep black red color with black and red fruits, lavender, violet and potpourri spice aromas. On the palate, it's medium-bodied, elegant and fresh with well-integrated soft tannins, and black raspberry, black cherry, a bit of strawberry, cranberry flavor. Long finish. Outstanding; 92-95 pts
2011 Sartarelli Verdicchio dei Castelli di Jesi Classico Tralivio – Retail – $15
Intense straw yellow color with green nuances with low-key stone fruit, apple, almond skin, lees, and crushed rock aromas. On the palate it's medium-bodied, dry, and fresh with a supple texture and peach, apple and lemon zest flavors and an appealing subtly spicy minerality on a lingering finish Very Good to Outstanding; 89-91 pts
2014 Bonny Doon Vineyard Vin Gris de Cigare – Retail – $16
Very pale salmon color with melon, peach, subtle strawberry and tea leaf aromas. On the palate, it's medium-bodied, and fresh with a wonderful mouth-feel and peach, melon, strawberry, and spiced citrus flavors with a lingering saline finish. Blend of 35% grenache, 18% mourvèdre, 16% grenache blanc, 12.5% roussanne, 8% carignane, 8% cinsaut, 1.5% marsanne, 1% counoise. 13% alcohol Very good; 86-88 pts
Wine of the Week 
I skipped a week of this feature because we were out of time attending the 26th  Annual Passport to Dry Creek Valley.  We made a four-day weekend of it, plus I've been catching up on some sample wines so little had been pulled from our cellar.
All of this week's wines were notable, each for their own reason.  I had my first Verdicchio, and it was wonderful.  Such a food friendly wine.   The Bonny Doon Vin Gris de Cigare is a perennial favorite, and in a world of roses where it more and more challenging to find very good to outstanding rose for under $20 it's consistently just that.  The Dashe Florence Zinfandel was outstanding, and my highest rated wine. But the wine, I keep thinking about, and my Wine of the Week is the 2010 Copain Les Voisins Pinot Noir.
Copain Wines, located in Healdsburg, CA is small family owned winery founded in 1999.   Wells Guthrie is the owner/winemaker.  He discovered early on that his taste in wine gravitated toward Europe in general and France's Rhône Valley in particular. So much so, he picked up and moved with his new bride to the region to learn from the best. For two years, Wells apprenticed for esteemed winemaker and living legend Michel Chapoutier in France's Rhone Valley. During that time, Wells was deeply inspired by the traditions and practices of French winemaking, not to mention the European attitude that wine is an essential part of life. At Copain, he creates wines that are firmly rooted in California, yet with the sensibilities of the European wines that so moved him. He is as committed to crafting these elegant, nuanced wines as he is to building a legacy that will be passed down to his daughters in the great tradition of European winemakers whose estates have been in the same family for generation.
Copain sources fruit from a diverse vineyard (typically cool-climate ) sites from Mendocino County to Santa Barbara.
I've visited the winery on numerous occasions.  It's one of my favorite wineries to visit in Sonoma County.  Sitting in the an Adirondack chair, under the shade of the trees, gazing out over the Russian River Valley and enjoying a glass of Copain wine is one of life's simple, but oh so satisfying pleasures for me!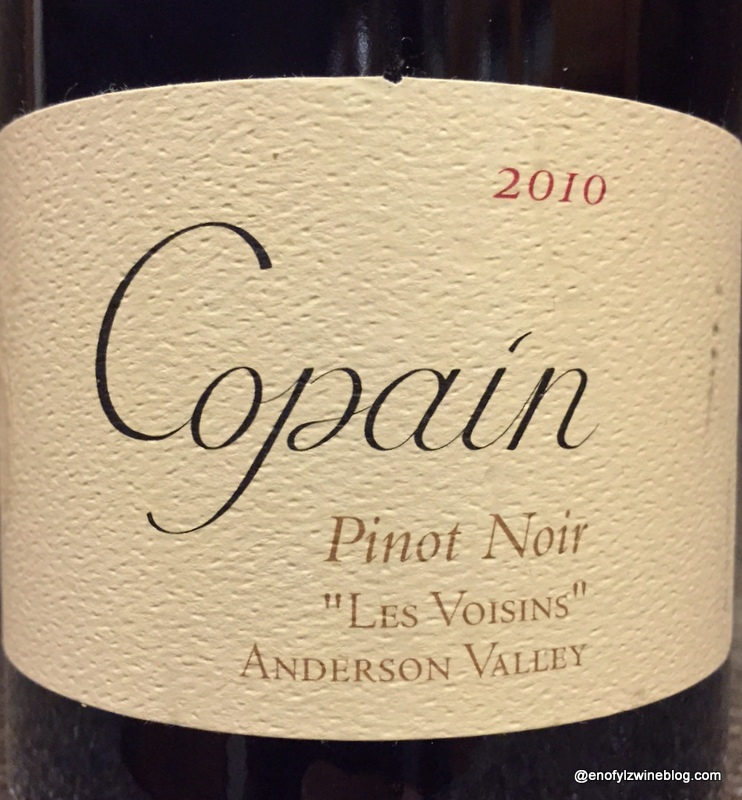 What was your Wine of the Week?  Any killer Food and Wine pairings?
Follow my wine reviews on Vivino and Delectable
Note. All wines were purchased for review unless otherwise indicated
_________________________________________________________________
Martin Redmond is a Financial Executive by day, and a certified wine geek with latent foodie tendencies the rest of the time. In addition to the wine lifestyle and food he enjoys family, fitness and traveling. He likes to get thoughts of wine off his mind by sharing experiences on his ENOFYLZ Wine blog, which features wine reviews, wine country travel, and wine and food pairings.
Follow me on Twitter @martindredmond for all things wine, and since I'm a wino, with latent foodie tendencies, you'll also find food and wine pairings, and food related stuff! Become a fan and join ENOFYLZ Wine Blog on Facebook. Cheers! This article is original to ENOFYLZ Wine Blog.com. Copyright 2015 ENOFYLZ Wine Blog. All rights reserved.