My wife, a friend of ours and I attended past weekend's Passport to Dry Creek Valley. This was the 26th Annual Passport to Dry Creek Valley.  For the uninitiated, here's a description of the event:
Passport to Dry Creek Valley® was introduced in 1990, by the Winegrowers of Dry Creek Valley®, as a time every year when the winegrowing community could come together to celebrate the generations of farmers, vintners and families that are the roots of the Dry Creek Valley wine region. Over the 26 years since, the event has become a beloved tradition among wine lovers who enjoy a world-class tasting experience with a festive twist, all within the idyllic Dry Creek Valley.
This is our fourth consecutive year, and sixth overall Passport to Dry Creek Valley. It's become an annual tradition.  We like it because it's fun event, and you can't beat the value when consider the wine, food and entertainment that's offered.
Over one weekend, Passport guests are welcomed into 45+ wineries throughout Dry Creek Valley, each offering a unique pairing of premium wine, gourmet food and entertainment. Take a vineyard tour for a grape-to-glass look at Dry Creek Valley wine. Sample exclusive vintages, rarely available to taste. Meet winemakers and grapegrowers – the generations of people behind the wine and magical 'Dry Creek Valley spirit'. Savor exquisite food and wine pairings from acclaimed chefs.  Delight in discovering each winery's unique Passport "theme," a tradition of the event. The possibilities are as varied as the wineries themselves and promise a fun, unforgettable weekend. Enjoy!  The event runs from 11:00 a.m. – 4:30p each day.
It turned out to be another gorgeous weekend in Dry Creek Valley.
I thought what I call the "Dry Creek Streak" was in jeopardy when it rained very early on Saturday morning (I've been told by many that it's never rained during Passport ).  But sure enough, it cleared up by the time Passport started on Saturday and Sunday was even more beautiful!
As I sit here on the porch of a farm-house we rented for the weekend reflecting on what a fun weekend it was, my wife and our friend are "napping".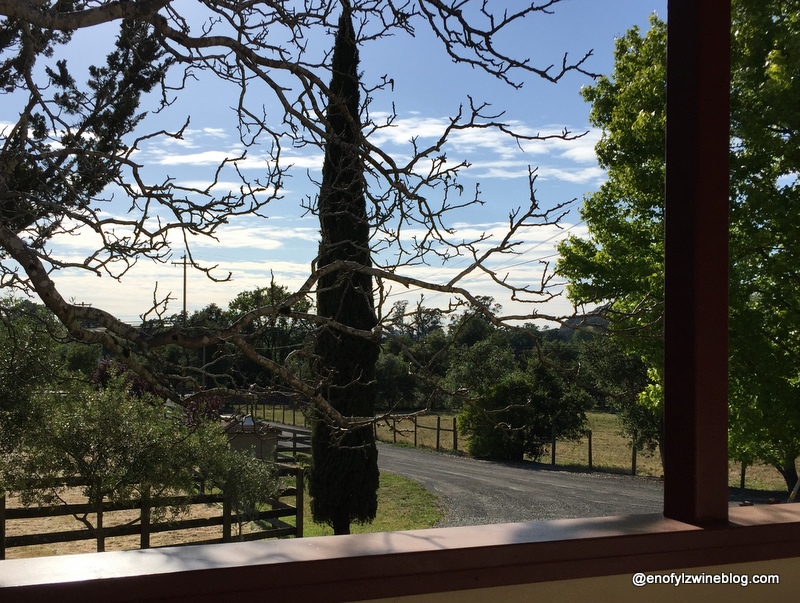 Since I've got some time, here's a recap of  the memorable wines, food and wine pairings and entertainment we experienced.
Saturday
Since there are so many wineries, you need a plan (check out the participating wineries and/or the map of wineries).
We drove up Friday and finalized our plans while having dinner at the fabulous Chalkboard in Healdsburg, which has a thriving restaurant scene.
Our plan always includes a mix of favorites we visit every year (Seghesio, Rafanelli, Quivira, Kokomo, Papapietro Perry), plus wineries we've  either visited intermittently, or haven't visited before.  The planning was made a bit easier this year, because there were a couple perennial favorites not participating this year for one reason or another – Unti (we dig the wines), and Stephen Walker ( the wines were good, but candidly we went for the last couple of years for the all you can eat oysters).
The Plan for Saturday was to visit:
We typically allow for an hour or so at each winery, so we plan to visit 5-6 wineries a day Then we see how it goes because as Helmuth Carl Bernard Graf von Moltke once said…
"No Battle Plan Survives Contact With the Enemy"
As it turned out things went better than planned on Saturday.  We visited the aforementioned wineries plus (thanks to "one stop shopping" at Family Wineries) the following wineries: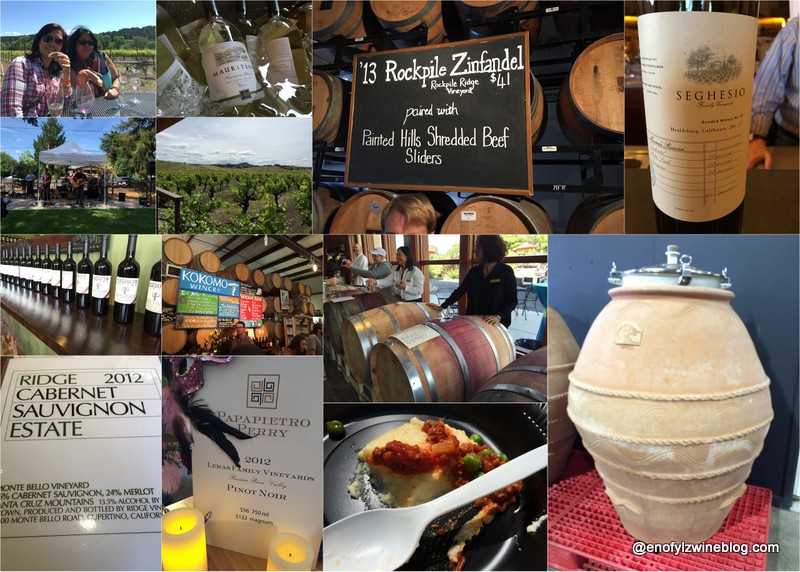 My favorite wines were:
2012 Seghesio Pagani Ranch Zinfandel
2012 Seghesio Marian's Reserve
2013 Ridge Geyserville
2012 Ridge Lytton Springs
2012 Ridge Estate Cabernet Sauvignon
2012 Mazzocco Warm Springs Ranch Zinfandel
2014 Kokomo Grenache Rosé Pauline's Vineyard
2012 Papapietro Perry Pinot Noir Leras Family Vyd
My favorite food and wine pairings were:
Seghesio – 2013 Seghesio Barbera paired with Seghesio Panissi;Risotto alla Barbera w/Family Recipe Sausage, Cranberry Beans and Grano Padano Parmesan + 2011 Grenache 1942 Block paired with Linguine w/Wild Mushrooms, Hazelnut Cream Sauce, and Truffled Pecorino!
Mauritson – 2013 Mauritson Sauvignon Blanc paired with Mini Crab Cakes w/White Remoulade Sauce + 2013 Rockpile Zinfandel paired with Painted Hills Shredded Beef Sliders
Amphora – 2009 Bevill/Wolcott Vyd Petite Sirah paired with Chocolate Truffles with Gold Dust
Kokomo – 2012 Estate Malbec paired with Street tacos; Carnitas with mole sauce, roasted corn and chipotle aioli
Peterson – 2013 Geyserville Fire Dept 100 yr Anniversary Zinfandel paired with Firehouse Chili.
Other memorable moments:
There was wonderful live music at Seghesio, and Kokomo.  And Amphora offered a back to back tasting of their 2012 Aglianico and 2014 Aglianico (barrel sample). The 2012 was aged in oak, while the 2014 is being aged in an amphora (see photo above lower right corner).  Vintage variation aside, I found the difference between the two wine fascinating.  The 2014 showed more pronounced minerality and a texture I favored.  If you're ever wondered about the difference between a wine aged in oak v concrete this was a wonderful opportunity to find out!
We didn't visit any wineries we hadn't been too before though.  We vowed to rectify that on Sunday!
Sunday
The plan for Sunday included three wineries we hadn't visited before (*):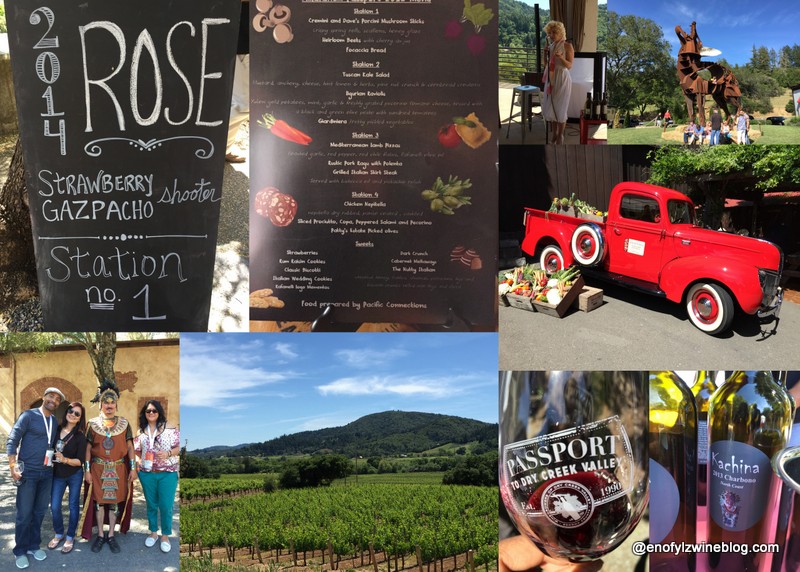 My favorite wines were:
2012 A. Rafanelli Cabernet Sauvignon
2013 Quivira Sauvignon Blanc Fig Tree
2012 Quivira Zinfandel Reserve Dry Creek Valley
2013 David Coffaro Lagrein
Cast Blanc de Noirs
2013 Cast Estate Zinfandel
2011 Sbragia Cabernet Sauvignon Andolsen Vineyard
My favorite food and wine pairings were:
A. Rafanelli –  2012 Cabernet Sauvginon paired with lamb pizza and beef brisket
Cast Estate – 2012 Estate Petite Sirah paired with pulled pork sliders
David Coffaro – 2014 Rose paired with Ahi Tuna Tartare
Kachina –  2013 Charbono paired with Yucatan Style Beans
Quivira – 2011 Syrah paired with Nonie's Meatball Brochette with Heirloom Tomato Puree adn Vella Dry Jack Cheese
Sbragia – 2012 La Promesa Zinfandel paired Farro & Spicy Salami Salad
Other memorable moments:
The live Jazz of Christian Foley at Cast was wonderful and seemed to be a perfect pairing with their wines and the view from their patio. I could have stayed longer.  The Marilyn Monroe, Frank Sinatra, and Dean Martin impersonators at Sbargia were very entertaining! were This is the second or third time we've finished Passport at Wilson.  DJ Fiznik Rick was rockin' the house and it's always a party with Wilson.  It's become out favorite last stop for Passport.
Insider's tip:  Unless you check in at A. Rafanelli, get there early. The line to get in is long. But the very hospitable staff comes out to pour wines while your waiting and the Italian Trio that entertains makes the wait bearable.  Once inside, the food totally makes it worth the wait!
We had a fantastic weekend at Passport to DCV!  It's become an annual tradition for us!