Wine Pairing Weekend is a monthly collaborative event for wine/food bloggers started by David Crowley of Cooking Chat.  It's a great way to find food and wine pairings that work; along with tips on how to create your own food and wine pairing magic.  The theme for this month's Wine Pairing Weekend is "Wine Lover's Dilemma; Spring Flavors and Wine Pairing"

The movable feast that is Easter has always been a harbinger of Spring for me. And here in California, our unseasonably warm weather means Spring has sprung earlier than usual with many trees and flowers already in bloom with the omnipresent colors of the season on glorious display…well except for multitude of lawns that have been allowed to turn brown, by choice, due to our severe drought!
On My Plate
Time got the best of us this year, and we found ourselves at our local Costco the day before Easter deciding, real-time, what we'd have for our Easter dinner.
We picked up a couple of enticing items for our main dishes – King Crab Legs and beautiful piece of Whole Halibut.
My wife was on King Crab Leg duty. That left me with the Halibut duty.
When I searched for whole halibut recipes, I kept coming across halibut steaks and halibut fillets.  Eventually I found this recipe for Baked Whole Fish With Potatoes and Lemon, which I modified a bit and adapted to downsize the servings.
Here's our Easter Menu:
Roasted Halibut with Potatoes and Lemon
This recipe comes from Italian fashion and tableware visionary Rosita Missoni's Sardinian fish merchant
Ingredients
3lb. gold potatoes, very thinly sliced
5 Tbsp. extra-virgin olive oil, divided
Fine sea salt and freshly ground black pepper
1.5 lemons, thinly sliced
¼ cup coarsely chopped fresh flat-leaf parsley
1 3-lb. section of whole halibut
3-4 fresh or dried bay leaves
Dash of dried dill
Dash of paprika
Instructions
Preheat oven to 400°. Put potatoes in a large bowl. Drizzle with 2 Tbsp. oil and toss to coat. Season with salt and pepper. Line a large rimmed baking sheet with parchment paper and grease parchment with 2 tsp. oil. Layer potato slices evenly on parchment; season with salt and pepper.
Par-cook the potatoes in the oven for 20 minutes
Prepare the fish by removing the spine, and any large bones with a sharp boning knife(optional; remove skin)
Arrange half of the lemon slices over potatoes and sprinkle with parsley.
Set fish skin side down over potatoes and rub with 2 Tbsp. oil; season skin and cavity with salt and pepper. Top with remaining lemon slices and arrange bay leaves over fish. Drizzle with remaining oil, and add a dash of dried dill and paprika.
Bake until fish is just cooked through, 40-60 minutes (depending on size). Using a butter knife or metal spatula, flake flesh off the bone and serve immediately.
Notes
This could easily be adapted for halibut fillets

I would consider adding Old Bay seasoning to season the fish instead of dried dill, paprika combination.

I used a meat thermometer and cooked the halibut to an internal temperature of 140 degrees
The dish turned out very well.  It was a feast for the eyes and the palate!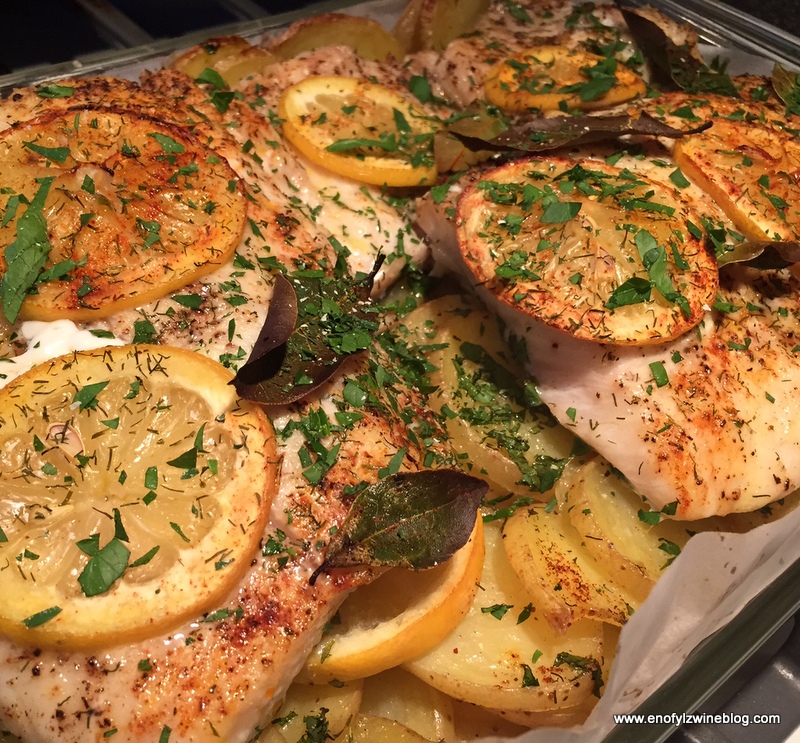 The halibut was moist, and its delicate flavor was enhanced by the lemon, bay leaf and spices.  The lemon also imparted a citrusy brightness to the potatoes, which were al dente.  Just the way I like them.
In My Glass
There are a multitude of choices for pairing wine with fish.   In terms of white wines, I'd bet Sauvignon Blanc, or Chardonnay would be top of mind for most.
Not me. I wanted to try something different.
And I love blends..especially Rhone blends because I believe that a well made blend can be more than the sum of its parts.
That reasoning lead me to the 2011 Tablas Creek Côtes de Tablas Blanc, a blend of roughly equal parts of the four primary Rhone white grapes – Viognier, Grenache Blanc, Roussanne and Marsanne.
I'm a big fan of Tablas Creek who essentially brought the Rhone Valley to Paso Robles (check out the full story here)  They make diverse menu of distinguished, well crafted,  harmonious wines year after year!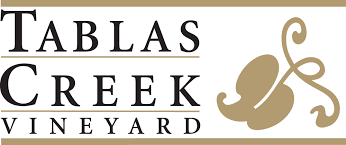 Here's what Tablas Creek Vineyard said about the wine:
"The Tablas Creek Vineyard Côtes de Tablas Blanc is a blend of four estate-grown white Rhône varietals: Viognier, Grenache Blanc, Roussanne and Marsanne. The wine, like most wines of the Southern Rhône, is a blend of varietals, featuring the floral aromatics and stone fruit of Viognier, the crisp acids and rich mouthfeel of Grenache Blanc, and the structure and minerality of Marsanne and Roussanne."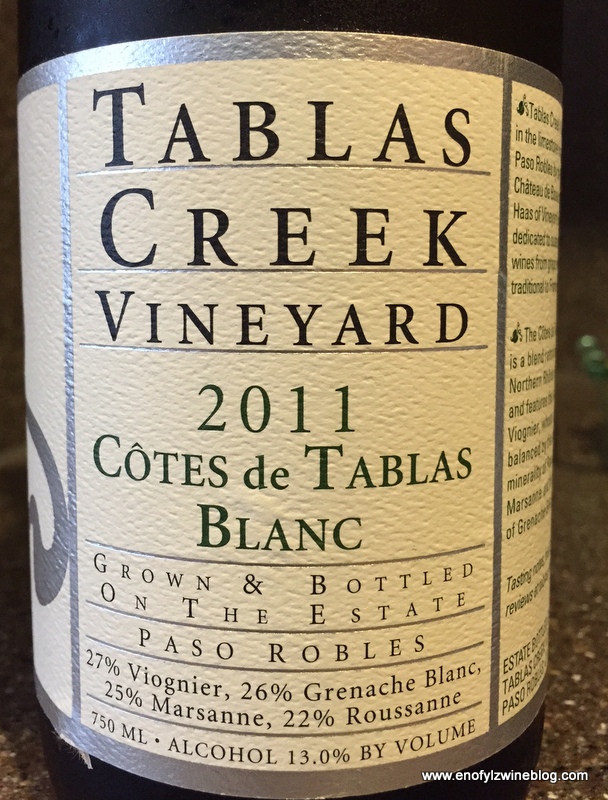 My tasting notes follow:
Pale gold color with honeysuckle, peach, melon, honey aromas. On the palate it's medium-bodied, dry and broad with racy acidity and an appealing hint of tannins. It shows peach, melon, honey, and a hint of spice flavors with an appealing combination of salinity and wet stone minerality on the long finish.
The Pairing
It was a wonderful pairing.  The medium-bodied  weight of the wine was well matched to the food.  When I had a sip of wine with the food, the wine made the food taste better and the food made the wine taste a tad sweeter and more delicious! The wine also has a saline mineral character which was a perfect complement to the fish.
Don't stop here!
Check out what my fellow #winePW blogger came up with for this month's theme! 
If you are catching this post early enough, you can join our live Twitter Chat on Saturday, April 11, at 8 a.m. PT, via the Twitter hashtag #winePW. If you've come to us after April 11, consider joining us for #winePW 12 on Saturday, May 9. when our host is Christy from Confessions of a Culinary Diva.  Christy is challenging us to come up with Wine Pairings with Mexican Cuisine. It should be fun!
_________________________________________________________________
Martin Redmond is a Financial Executive by day, and a certified wine geek with latent foodie tendencies the rest of the time. In addition to the wine lifestyle and food he enjoys family, fitness and traveling. He likes to get thoughts of wine off his mind by sharing experiences on his ENOFYLZ Wine blog, which features wine reviews, wine country travel, and wine and food pairings.
Follow me on Twitter @martindredmond for all things wine, and since I'm a wino, with latent foodie tendencies, you'll also find food and wine pairings, and food related stuff! Become a fan and join ENOFYLZ Wine Blog on Facebook. Cheers! This article is original to ENOFYLZ Wine Blog.com. Copyright 2015 ENOFYLZ Wine Blog. All rights reserved.