Open That Bottle Night ("OTBN"), created by former Wall Street Journal wine columnists Dorothy Gaiter and John Brecher, is the one night a year that we are all encouraged to get out that bottle of wine that is so special that no occasion seems special enough to actually open it.
While it's great to open that special bottle of wine and share a meal, what makes OTBN so special for me is making memories with friends!
My wife and I have been celebrating (and hosting) Open That Bottle Night ("OTBN") since 2010.  After a magnificent OTBN dinner last year, one of the wine-loving friends offered to host OTBN this year.
My wife and were looking forward to this particular couple hosting OTBN because they are the consummate host and hostess.  He usually does the heavy lifting in the kitchen, while she create beautiful tablescapes, makes to die for desserts (especially chocolate, but you name it, she nails it when it comes to sweet treats!), and does the little things that make guests welcome and set the stage for a memorable evening (like the sign below).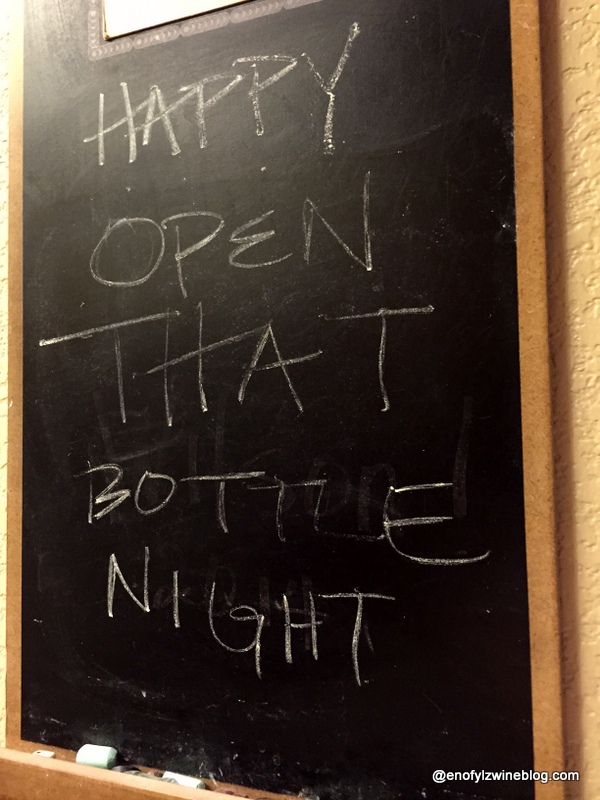 When they host you know you're going to get a restaurant quality meal complete with appetizers…and they've got a wonderful wine cellar!
I must tell you, it was very gratifying to have no OTBN angst this year!  Once I found out what was on the menu I immediately knew which bottle I'd bring
Aside from my wife and I, there were two other couples.  Each couple brought a special bottle for the evening.
In true high-style fashion, we started the night with a mouth-watering collection of appetizers that included cheeses and…Champagne!
Two actually…
The Delamotte was the crowd favorite (I discovered that Delamotte is the sister house to one of the world's best luxury Champagnes – Champagne Salon).  It's a blend of Chardonnay, Pinot Noir and Pinot Meunier.  The Chardonnay for cuvee is sourced from Salon's grand cru vineyards, and drinks above its $35 price point.  The Rose de Riceys a rare treat from the Aube region of Champagne was also very good.  It brought to mind a sparking Burgundy.
Note: You can check out my detailed tasting notes on the OTBN wines we shared by clicking here, or on the hyperlinked name of the wines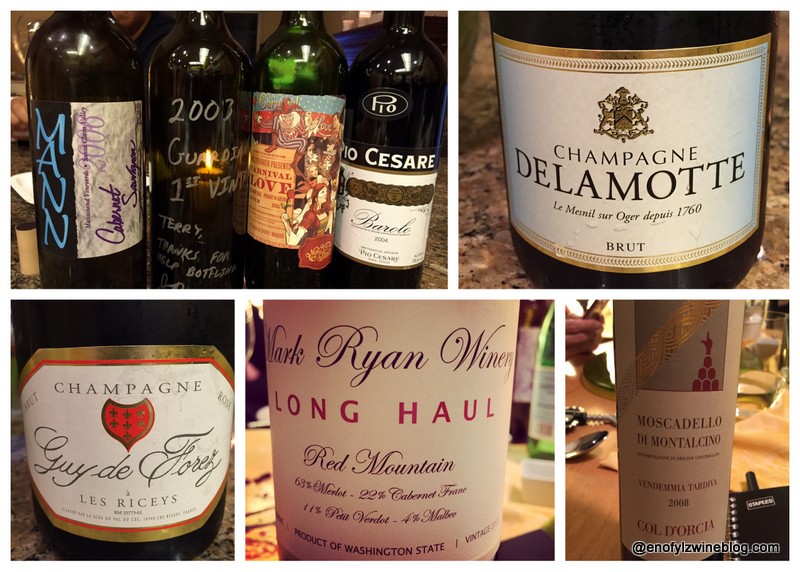 After polishing off a couple of bottles of Champagne, and plenty of appetizers, it was time for dinner.  On the menu:
Grilled beef with Sicilian herb sauce over
Wild mushroom risotto and peas
Aged Gouda Chive Popovers
The meal was fabulous!  My personal favorite part of the meal was the Wild Mushroom Risotto!  I had… (well just you never mind how many helpings I had;-)
The wines served with the entrée were as follows:
Of the initial wines served (there was a bonus bottle later…I'll get to that), I thought the Pio Cesare Barolo was the wine that paired best with our meal.  And it was phenomenal with the risotto!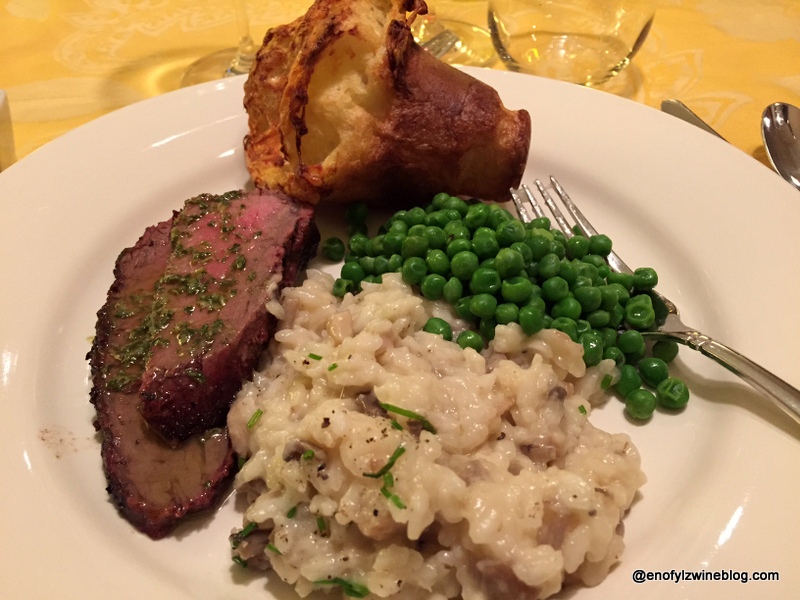 Of course, all the wines were wonderful.  And there were a couple of notable stories behind the wines.  The Mollydooker Carnival of Love was the Wine Spectator #2 Wine for 2014. And the 2003 Guardian Cellars (the bottle with no label) was the first ever wine produced by Guardian Cellars. It was brought by the owner/winemaker's brother who helped bottle it. And it was his last bottle!
As the evening advanced, and the warm glow love, laughter, and not necessarily cultured badinage about love, life and children flowed like so much wine…our host decided it was time for some more wine!
Off to his cellar he went and came back with a fabulous bonus bottle!
After we'd pretty much polished off the wine, and each of us was in that sweet spot between being happily sated and falling into a food coma…
This happened!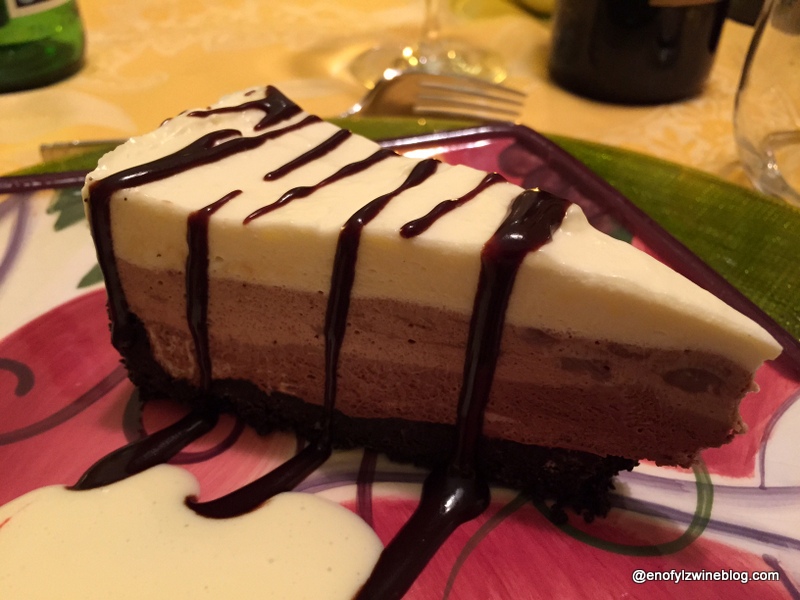 The Triple Chocolate Mousse Torte which was paired with a 2008 Tenuta Col d'Orcia Moscadello di Montalcino Pascena.  
It was my first time trying this amazing dessert wine from Tuscan wine village of Montalcino,a region renown for Brunello. Its historic roots date back to the Renaissance when it was considered a "divine" wine. A nectar of the Gods!
It's a late harvest style dessert wine made from local grape Moscadello, (a local form of white muscat) grape.  It's an opulent, yet vibrant wine with intoxicating, perfumed aromas, and it was excellent paired with the dessert!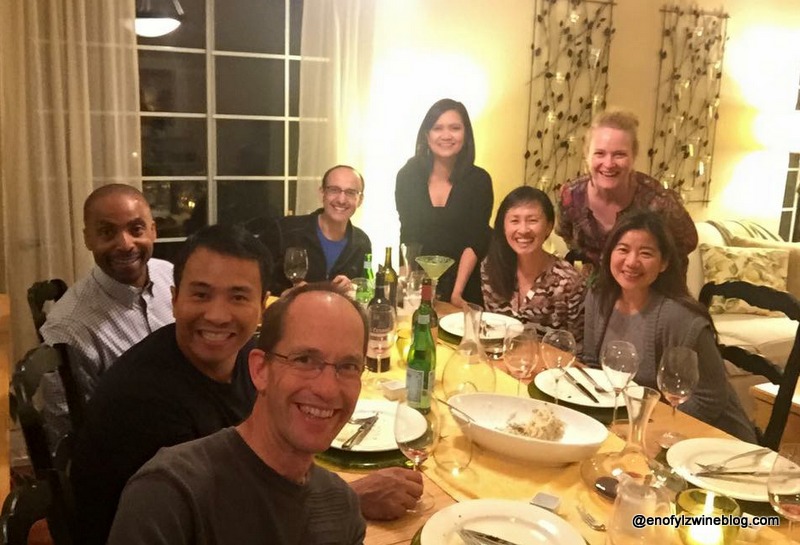 As Saturday turned in the Sunday, me being the wino I am, I wondered which wine(s) were the favorite(s).
I noticed there were three empty vessels of wine.  It's been my experience that the empty bottles(or decanters) will tell you which wines were folk's favorites.  Based on the "empty bottle" hypothesis, the evening's favorite wines(in order served) were the Pio Cesare Barolo, Mollydooker Carnival of Love Shiraz , and the Mark Ryan Long Haul.
It was an awesome evening of empty bottles, filled hearts, and cherished memories. And isn't that what Open That Bottle Night is really about!
Be sure to check out these special pairings and cherished memories  from my fellow #winePW bloggers!
If you are catching this post early enough, you can join our live Twitter Chat on Saturday, March 14, at 11 a.m. ET, via the Twitter hashtag #winePW. If you've come to us after March 14, consider joining us for #winePW 11 focused on wine pairings for early spring vegetables hosted by A Day in the Life on the Farm on Saturday, April 11.
_________________________________________________________________
Martin Redmond is a Financial Executive by day, and a certified wine geek with latent foodie tendencies the rest of the time. In addition to the wine lifestyle and food he enjoys family, fitness and traveling. He likes to get thoughts of wine off his mind by sharing experiences on his ENOFYLZ Wine blog, which features wine reviews, wine country travel, and wine and food pairings.
Follow me on Twitter @martindredmond for all things wine, and since I'm a wino, with latent foodie tendencies, you'll also find food and wine pairings, and food related stuff! Become a fan and join ENOFYLZ Wine Blog on Facebook. Cheers! This article is original to ENOFYLZ Wine Blog.com. Copyright 2015 ENOFYLZ Wine Blog. All rights reserved.