One of the things I love most about food and wine is their ability to transport one to a different place.  And a  place's people, culture, and customs are reflected in its food and wine.  In that sense, one can virtually travel the world through food and wine.  And that is exactly what we are doing through Italian Food Wine and Travel (#ItalianFWT).  We taking a virtual tour of Italy by exploring its food and wines.  This month we're exploring Trentino-Alto Adige!

The Region
Trentino-Alto Adige is Italy's northernmost wine region.  Notwithstanding it's hyphenated name, it's really two autonomous provinces. Alto Adige, nestled in Alps, is bordered by Veneto to the east, Lombardy to the west, and the Tirol region of Austria to the north. Alto Adige or Südtirol, as it is known in German,  has a predominately German speaking population. This is due to the region's former status as part of the Austro-Hungarian Empire.  It was re-claimed by Italy in 1919.  To its south is Trentino, which is almost entirely Italian speaking.
Here's an overview of what I learned about Alto Adige:
Winemaking in the region pre-dates Roman occupation of the Adige Valley
The Alto Adige DOC, which covers the majority of wines made here, was granted in 1975
One of the smallest wine-growing areas in Italy (approximately 13,000 acres), producing only 0.7% of Italy's total production
It leads Italy in wines meriting a DOC designation: 98% of its wines fall into this category
The vineyards are tiny and ownership is impossibly fragmented. Typical vineyards are about a hectare; which is probably why…
Most wine made here is produced by co-operatives (15 co-ops produce about 70% of the wine)
The major green grapes varieties, Pinot Grigio and Pinot Blanc account for over 20% of the total wine production and are a hallmark of the region.
The native Schiava black grape variety dominates red wine production accounting for almost 25% of total vineyard area. The velvety Lagrein, also a native variety, is also widely planted.
Surrounded by the Dolomites and Rhaetian Alps Alto Adige is one of the most beautiful wine regions in Europe.
The Gewürztraminer grape owes its name to the village of Tramin (Termeno in Italian) about 12 miles south of the region's major city Bolzano.
Cantina Terlano
Founded in 1893, the Cantina Terlano winery is now one of the leading wine growers' cooperatives in Alto Adige. It's current membership is composed of 143 growers working a total area of 165 hectares. Seventy percent of their production is white wines.
"The most impressive wines I tasted this year from Alto Adige came from Cantina Terlano. Simply put, these are reference point wines. I can't imagine these wines not being represented in any serious cellar." – Antonio Galloni, Wine Advocate 2011
Cantina Terlano winery has a traditional focus on long-lived wines. In fact, Terlano has a Wine Archive located about 13 meters underground which contains over 20,000 bottles.  It's quite a collection of rarities comprising various vintages from 1955 to the present. Some of the wines actually date from 1893, the year the winery was founded!
The Wine
From Cantina Terlano (Kellerie Terlaner in German)… A composition of Terlano's three most traditional white varieties, namely Pinot Bianco, Chardonnay and Sauvignon, this old cuvée, which was one of the wines produced when the winery was founded, is an extremely complex wine. Pinot Bianco, as the main variety used in the cuvée, provides the freshness and a good acid structure, while Chardonnay delivers a pleasing warmth and mellowness and Sauvignon adds the fine aromatic character.
The fruit for this wine come from the Alto Adige Terlano  sub-region of Alto Adige, a region renown for its high quality white wines.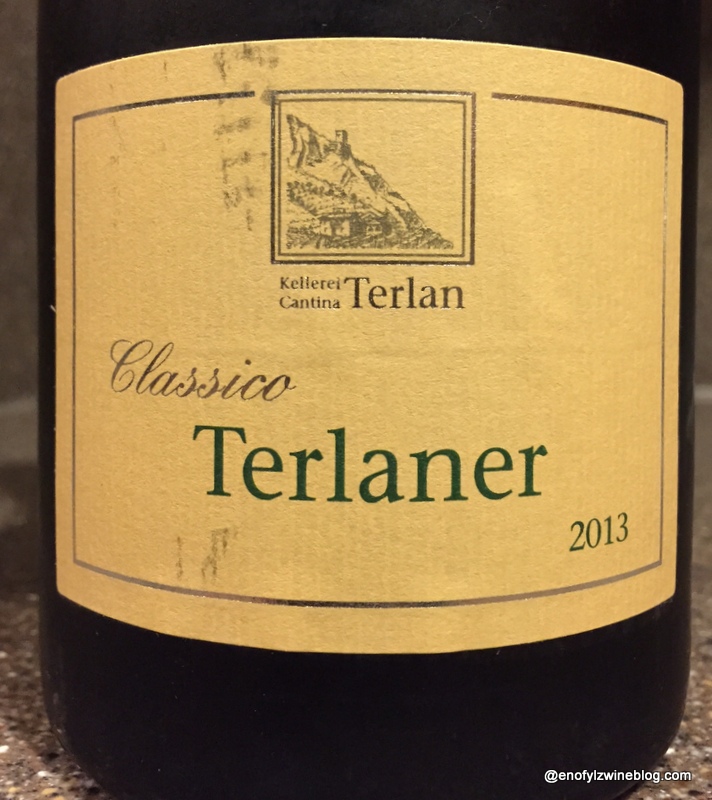 My tasting notes follow:
Pale yellow-green color with pear, lemon, white flower and lemongrass aromas. On the palate, it's dense, and tangy with bright acidity, and white peach, lemon, hint of apple flavors with a wonderful mineral note and a lingering sweet finish. Blend of 60% Pinot Bianco, 30% Chardonnay and 10% Sauvignon Blanc. 13.5% alcohol. Retail $22 >>Find this wine<<
I paired the wine with a fabulous Seafood Lasagna (recipe here) I prepared. (Note: I substituted seafood stock for the clam juice and chicken stock and used real crab meat)
What a fabulous pairing! The wine's bright acidity was a welcome counterpoint to the richness of the Bechamel sauce in the Lasagna, while the "weight" of the wine was a perfect complement of the weight of the dish.  And in the mouth each made the other taste better!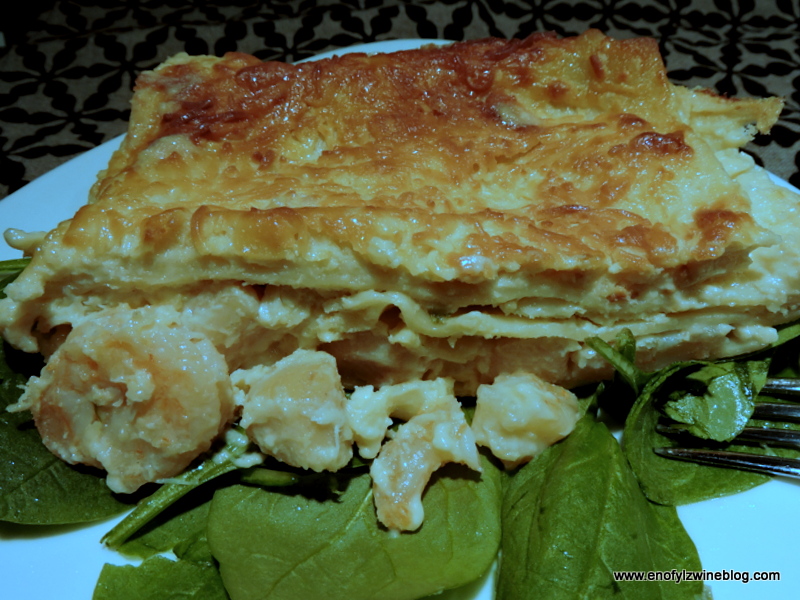 Much to my surprise, I've yet to try an Italian red wine for #ItalianFWT.  But , so far I've been captivated by Italian white wines.  I think my choices have (mostly) been driven by the foods I've been pairing with the wines.  But the whites have been memorable (and repeat purchases), including the Cantina Terlano Classico!
Don't stop here.  We have lots more great information to share with you on the Trentino-Alto Adige region.  Join the rest of our Italian bloggers group:
Make sure to join us live on Twitter today and throughout the weekend at #ItalianFWT to chat about the Trentino-Alto Adige region and your experiences.  We can't wait to hear from you.  Check back at #ItalianFWT throughout the month as well for additional blogs on food, wine and travel of Italy.  Next month on April 4th we feature Sicily so stay tuned.  Ciao ciao!
_________________________________________________________________
Martin Redmond is a Financial Executive by day, and a certified wine geek with latent foodie tendencies the rest of the time. In addition to the wine lifestyle and food he enjoys family, fitness and traveling. He likes to get thoughts of wine off his mind by sharing experiences on his ENOFYLZ Wine blog, which features wine reviews, wine country travel, and wine and food pairings.
Follow me on Twitter @martindredmond for all things wine, and since I'm a wino, with latent foodie tendencies, you'll also find food and wine pairings, and food related stuff! Become a fan and join ENOFYLZ Wine Blog on Facebook. Cheers! This article is original to ENOFYLZ Wine Blog.com. Copyright 2015 ENOFYLZ Wine Blog. All rights reserved.