Sometimes the universe smiles on you.  My 2015 wine resolution is to perfect my palate for Italian wines.  And by "perfect my palate", I don't mean developing greater tasting acuity.  For me, it means "living" with a particular wine, learning everything one can about it, and buying as much of that wine as your pocketbook will allow.
As it turns out, I know a few food and wine bloggers through Wine Pairing Weekend (#winePW), also exploring Italian wines, one region at a time through the Italian Food, Wine and Travel (#ItalianFWT) group started by Jennifer Gentile Martin.  This month we're focused on Emilia-Romagna!
Top Ten Things I Learned About Emilia-Romagna
One of the things I love most about food and wine is their ability to transport one to a different place.  And a  place's people, culture, and customs are reflected in its food and wine.  In that sense, one can virtually travel the world through food and wine.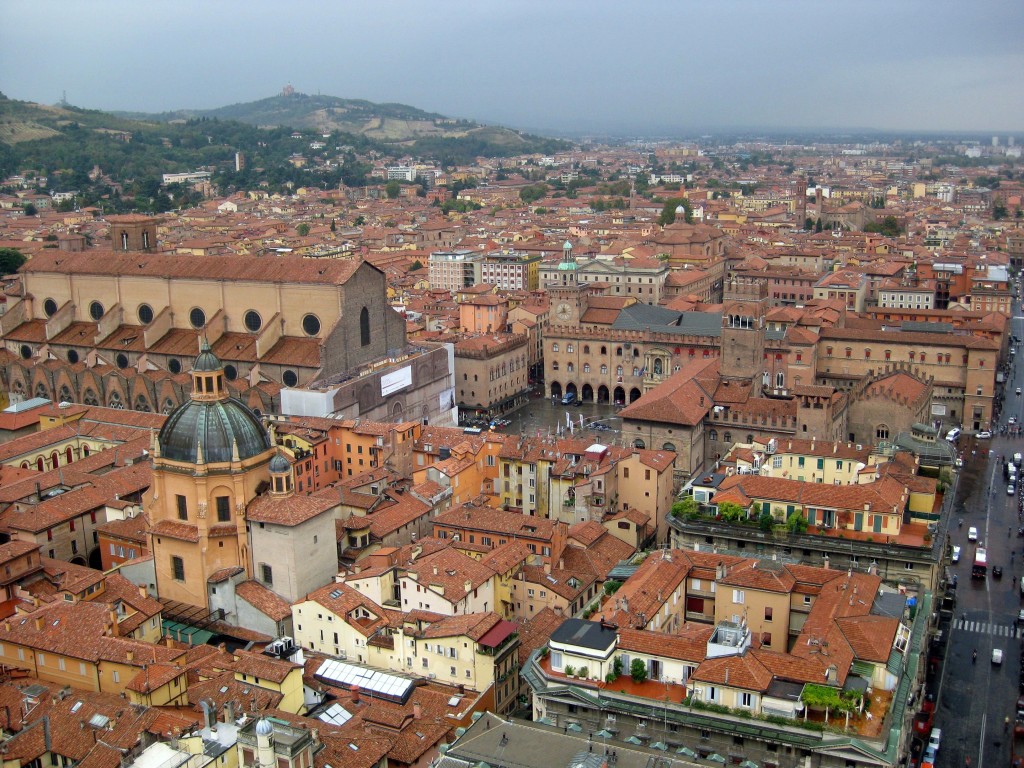 Emilia-Romagna is in many ways, a largely undiscovered region of Italy. I know it's totally new to me.   So it was a fun to get to know a bit about it.  Here are the Top 10 things I learned about the region.
If you ask an Italian about the best food in Italy (aside from their mother's kitchen;-) the answer is likely to be Emilia-Romagna, which is widely regarded as Italy's ultimate gastronomic destination.
The  of Italy's most loved culinary delights have origins in the region, including Parmigiano-Reggiano, Proscuitto di Parma, Balsamic Vinegar, Lasagna Bolognese and all manner of stuffed pastas including Tortellini and Tortelloni, Ravioli, Cappelleti, Cannelloni.  The flavors of Emilian cooking are extra-large and luscious!
Emilia-Romagna spans nearly the entire width of Italy. It is sandwiched between Tuscany to the south, Lombardy and Veneto to the north and the Adriatic Sea to the east. It is the only Italian wine region with a both an East and West Coast
Real balsamic vinegar is made only in Emilia-Romagna, in the towns of Modena and Reggio.  So if you're looking for authentic balsamic vinegar look for one labeled aceto balsamico tradizionale de Modena or Reggio.
Lambrusco –  The grapes used for Lambrusco are of the Vitis labrusca species rather than the Vitis vinifera used in approximately 99% of the world's wines. There are at least 13 indigenous Lambrusco grape varieties, and 8 Lambrusco DOCs, and 2 IGT/Ps.  Three that specialize in artisanal Lambrusco are Salamino di Santa Croce, di Sorbara, and Grasparossa di Castelvetra.
Emilia-Romagna has two DOCGs (Denominazione di Origine Controllata e Garantita – the highest classification for Italian wines), Albana di Romagna, and Colli Bolognesi Classico Pignoletto.  Both, to my surprise, are white wines.
If castles are your thing, there are plenty to see, including the renown Castles of Parma and Piacenza.
There are plenty of major cities to see including the capital of the region Bologna Modena, Parma, Ferrara, and Ravenna, but there you'll also find the charming beach town of Rimini, and plenty of charming lesser traveled villages.
The oldest Renaissance Festival in the world is held in Ferrara.
Anyone watch "Borgia" TV series that started in 2011? I did, and it seems like many of the central characters, and places are of Who's Who of Emilia-Romagna history.
On My Plate
After reading about the some of the region's classic food and wine pairings, it was time to take a bite of Emilia-Romagna!
After reading about Lambrusco's affinity of salume, I tried a couple of classic pairings; a Salume Crudo plate that included Parmigiano-Reggiano, and Proscuitto di Parma wrapped cantaloupe.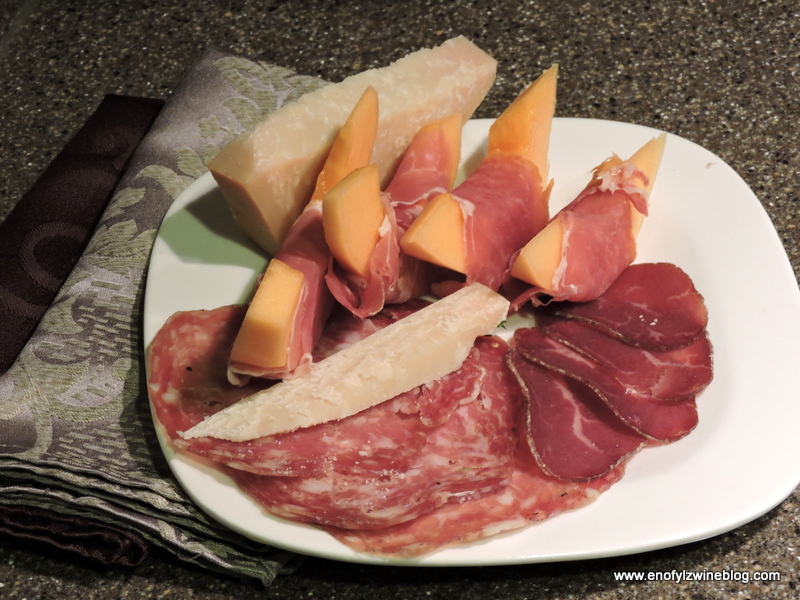 Then I decided to combine two classic products from the region Parmigiano-Reggiano cheese and Proscuitto di Parma, and make a grilled ham and cheese sandwich.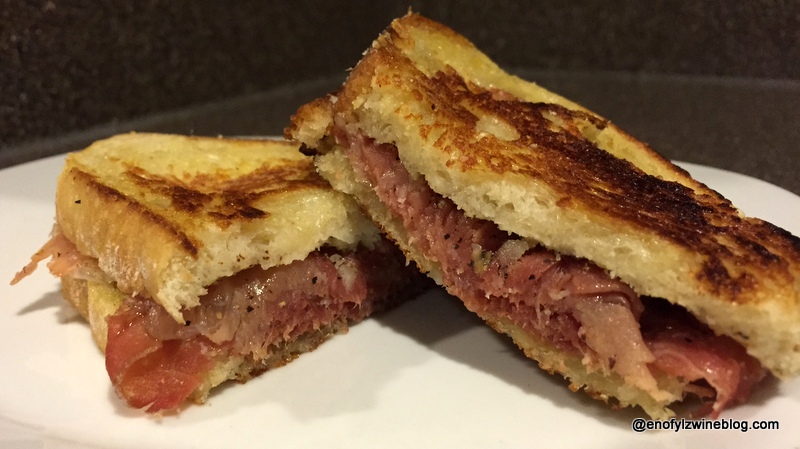 The sandwich was amazing – best "ham and cheese" sandwich I've ever had!
Grilled Parmigiano Reggiano Cheese and Prosciutto di Parma Sandwich
Author:
Inspired by Ciao Italia with Mary Esposito
Prep time:
Cook time:
Total time:
Two classic products of the region of Emilia Romagna go into this delicious "ham and cheese" sandwich
Ingredients
4 slices Artisan Italian Bread
1½ cups finely grated Parmigiano Reggiano cheese
4 thin slices Prosciutto di Parma
Coarsely ground pepper
2 tablespoons extra-virgin olive oil
1 clove garlic, peeled and halved
Instructions
Heat a heavy 12-inch skillet over low to medium-low heat. Sprinkle half of cheese over two bread slices. Generously grind pepper over the top. Place two slices of prosciutto di Parma over the cheese. Place the remaining slices of bread on top, pressing down gently to set.
Brush sandwich tops completely with half the olive oil; place each sandwich, oiled side down, in skillet. Brush remaining side of each sandwich completely with remaining oil. Cook until crisp and deep golden brown, 5 to 10 minutes per side, flipping sandwiches back to first side to re-heat and crisp, about 15 seconds. Rub the toasted sandwiches with the garlic half. Serve.
Notes
I used Sperlonga bread. Next time I'll use a bread without so many large holes in it, as the grated cheese falls through.
In My Glass
Of course I had to try the regions most famous wine – Lambrusco, but I also wanted to try a white wine too.
Lambrusco has had a bad reputation in the U.S. thanks mostly to Riunite, which introduced their insipid and overly sweet sparkling red wine in the 1970's and '80s But real Lambrusco is bone-dry with flavors of fresh fruits, earth, minerals, and roses. It's also low in alcohol.  In Emilia-Romagna, it's consumed much the way we consume soda here in the U.S.  It's a refreshing afternoon quaff, and it pairs impeccably with the region's rich cheeses and salumi.
I chose a wine from Lambrusco Grasparossa di Castelvetro. Lambrusco grasparossa is the particular type of Lambrusco, and Castelvetro is where it's from (near Modena) It's the smallest wine-producing region located south of the town of Modena. The wines of this region are typically dry and full-bodied, and the most tannic Lambrusco.  Lambrusco Grasparossa di Castelvetro is usually at the top of the dark-&-foamy scale in terms of Lambrusco.
The grapes are estate grown and fermented into a dry red base wine; three or four times a year batches of the base wine are re-fermented in pressurized tanks to add sparkle. The wine is bottled in a champagne bottle with a champagne cork. I should emphasize that this wine bears no resemblance to the mass-produced Lambrusco that was popular here some years ago, and if you haven't had a good example of this wine you should try it.
Barbolini "Lancillotto" Lambrusco Grasparossa di Castelvetro – S12.99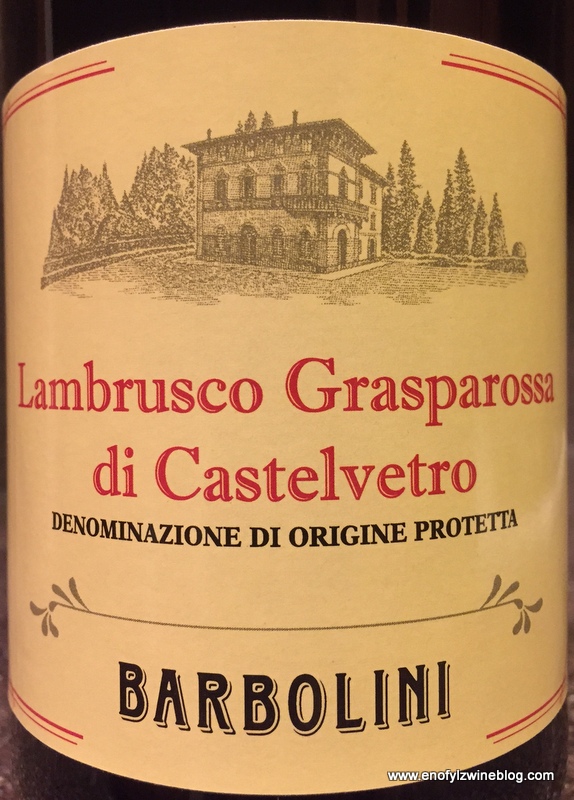 My tasting notes:
Purple violet color with purple delicate mousse. On the nose it shows foxy, earthy, dark cherry, berry, spice and a bit of dried herb aromas. On the palate, it's medium-bodied, and well-balanced with a hint of dusty tannins on the back end with black cherry, black grape, and a hint of spice flavors. 11.5% alcohol.  Bottled in a Champagne-style bottle with a traditional sparkling wine cork.  Recommended!
It was excellent paired with my salume plate and the Grilled Parmigiano-Reggiano and Proscuitto di Parma sandwich!
Note:  If you're looking for a "dry" Lambrusco, it will be labeled "Lambrusco Rosso/Rosato Frizzante Secco" 
For my white, I went with Pignoletto – a lively crisp white wine grape variety indigenous to Emilia-Romagna.  I went top shelf and chose a wine from the Colli Bolognesi Classico Pignoletto DOCG. Colli Bolognesi Classico Pignoletto was the second DOCG to be granted to the Emilia-Romagna wine region, joining the esteemed Albana di Romagna in November 2010.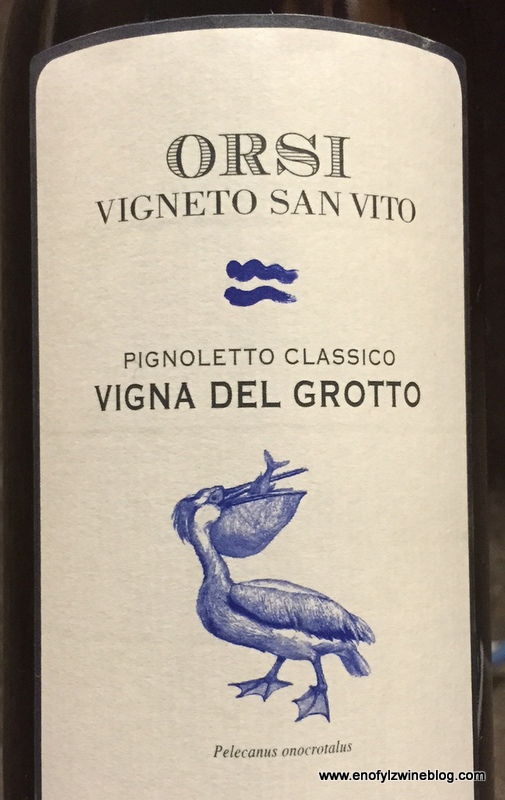 My tasting notes follow:
Slightly cloudy gold color (unfiltered) with lime zest, honeysuckle,and stone fruit aromas. On the palate, it's full-bodied, and fresh with a wonderfully supple texture and white peach, lime, honey, and a hint of persimmon flavors. Lingering mineral laced finish. Bottles unfiltered. Battonage during 6 months sur lie aging in large oak casks impart some complexity and a wonderful creaminess.  Highly recommended! Will buy more!
This wine paired especially well with the Proscuitto di Parma wrapped cantaloupe.  It also paired well with the Parm on its own.  And interestingly, it paired well with the Grilled Proscuitto di Parma and Parmigiano-Reggiano sandwich too. It brought the Parmigiano flavor in the sandwich and to the fore in a favorable way. It would also pair well with pasta dishes with fish or shellfish, or mushrooms and truffles.
I don't know about you, but Emilia-Romagna is now on my bucket list!
Don't stop there!  Join our other bloggers and their featured articles this month on Emilia Romagna:
Join us next month on February 7th as we travel to one of the most famous regions of Italy, Tuscany!  For additional Italian related blogs of food, wine and travel throughout the month stay tuned to #ItalianFWT.  Ciao ciao!
_________________________________________________________________
Martin Redmond is a Financial Executive by day, and a certified wine geek with latent foodie tendencies the rest of the time. In addition to the wine lifestyle and food he enjoys family, fitness and traveling. He likes to get thoughts of wine off his mind by sharing experiences on his ENOFYLZ Wine blog, which features wine reviews, wine country travel, and wine and food pairings.
Follow me on Twitter @martindredmond for all things wine, and since I'm a wino, with latent foodie tendencies, you'll also find food and wine pairings, and food related stuff! Become a fan and join ENOFYLZ Wine Blog on Facebook. Cheers! This article is original to ENOFYLZ Wine Blog.com. Copyright 2015 ENOFYLZ Wine Blog. All rights reserved.