Wine Pairing Weekend is a monthly collaborative event for wine/food bloggers started by David Crowley of Cooking Chat.  It's a great way to find food and wine pairings that work; along with tips on how to create your own food and wine pairing magic. The theme for this month's Wine Pairing Weekend is "New Wine Resolutions for the New Year"

Go hard, or go home…that's my motto…at least when it comes to resolutions.  With that in mind, I decided hit all three of my food and wine resolutions right off the bat…
Cook at least one recipe from Cooking Light each month – I've been subscribing  to "Cooking Light" for more years than I care to admit, yet I rarely make anything.  It's been years of looking at the pretty pictures, and thinking about, rather than acting on the great ideas for delicious, healthy food.
Perfect my palate for Italian Wine –  I almost always consume wine with food and I think Italian wines are, across the board, the most food friendly wines.  Yet, I only enjoyed a grand total of 4 bottles of Italian wine in 2014. A pity. That will change in 2015!
Eat meatless at least once a week – Surely I can carve out at least one day a week to invest in my health. Right?
The Food
There is was – fresh out of the mailbox – the January/February issue  of "Cooking Light". With one of the main themes of the issue being "How to Eat Clean in 2015", there were plenty of great ideas and recipes.  But I didn't find vegetarian dishes that floated my boat.  So, I decided to convert the  Sausage and Kale Pesto Pizza to vegetarian by swapping  Upton Naturals Italian Seitan for the Italian sausage in the recipe. Viola! Vegetarian!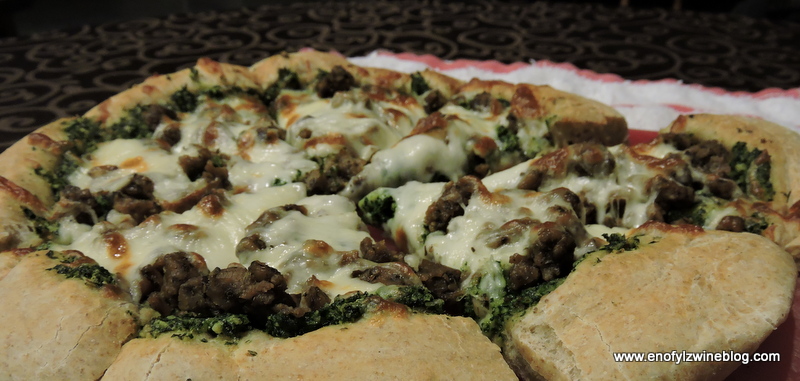 And what is seitan (say-tahn)?  It's a plant based protein derived from the protein portion of wheat. It stands in for meat in many recipes and works so well that a some vegetarians avoid it because the texture is too "meaty."
The other appeal of this recipe for me was Cooking Light's claim that…
Cooking pizza in a skillet is a revelation: guaranteed dough success for even the most timid pie makers
"Cool" I thought because I disdain any recipe with the words "yeast" and "degrees" in it.  I've even experienced abject failure when using pre-made dough. It inevitably turns out oval or some other ungodly shape.  And that's after I've struggled with the flour on the counter and my hands thing.
Could this recipe be my pizza pie making salvation?
Yes!  The pizza turned out beautifully!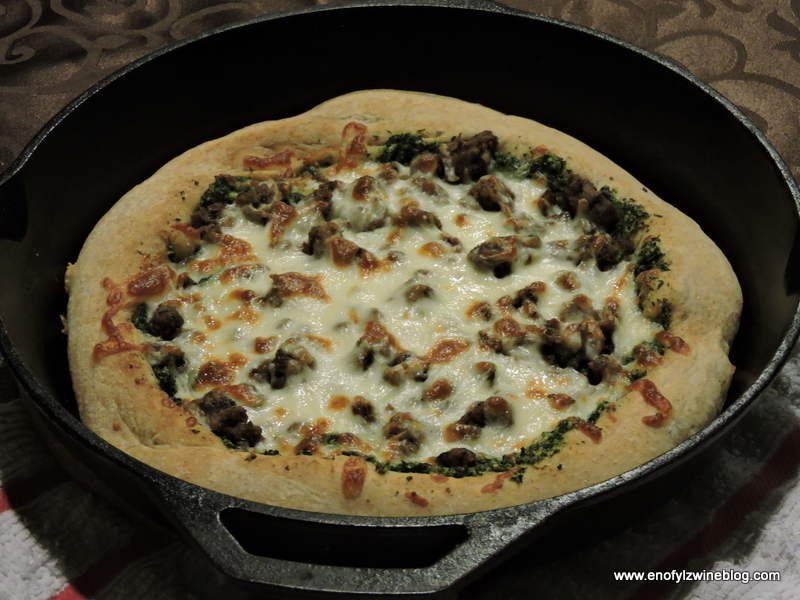 The pizza was actually round and the was dough was relatively easy to work with. Hallelujah!  It was also quite delicious and exceeded my expectations. I loved the meaty, ample texture of the seitan, and I didn't miss the Italian sausage a bit!

Skillet Kale Pesto and Seitan Pizza
Author:
Inspired by Cooking Light,
Prep time:
Cook time:
Total time:
"Cooking pizza in a skillet is a revelation: guaranteed dough success for even the most timid pie makers" - Cooking Light
Ingredients
10 ounce refrigerated fresh whole-wheat or whole-grain pizza dough
Cooking spray
4 ounces Upton's Italian Seitan
3 ounces prechopped curly kale (about 3 tightly packed cups)
2 tablespoons water
1 teaspoon sugar
¼ cup pine nuts or slivered almonds, toasted
3 large garlic cloves, minced
¼ cup extra-virgin olive oil, divided
1 ounce Parmigiano-Reggiano cheese, grated (about ¼ cup)
2 ounces shredded part-skim mozzarella cheese (about ½ cup)
Instructions
Place dough on counter at room temperature; cover to prevent drying.
Preheat broiler to high.
Heat a 10-inch cast-iron skillet over medium-high heat. Coat pan with cooking spray. Add sausage; cook 3 minutes or until browned, stirring to crumble. Remove sausage from pan. Add kale, 2 tablespoons water, and sugar to pan; cover and cook 2 minutes or until kale wilts. Place kale on 2 layers of paper towels; squeeze out excess moisture. Wipe pan clean with paper towels.
Place nuts and 1 garlic clove in a mini food processor; pulse until finely chopped. Add kale; pulse until finely chopped. Add 2 tablespoons oil; process until almost pastelike (add 1 to 1½ tablespoons water, if necessary). Add Parmigiano-Reggiano; pulse mixture just until combined.
Heat skillet over medium-high heat. Roll dough into a 10½-inch circle. Add 1 tablespoon oil to pan; swirl to coat. Fit dough in pan, pressing slightly up sides of pan. Top evenly with pesto; sprinkle with sausage and mozzarella. Cook 2 minutes over medium-high heat or until browned on bottom. Place pan in oven; broil 2 minutes or until cheese melts. Cut into 8 wedges.
Notes
I modified the recipe by adding 3 cloves of minced garlic rather than 1. I substituted 4 ounces of Upton Italian Seitan for 3 ounces of Italian sausage in the original recipe
The Wine
Castello di Querceto is a Tuscan estate owned by the François family who settled in Tuscany in the 18th century from their French homeland.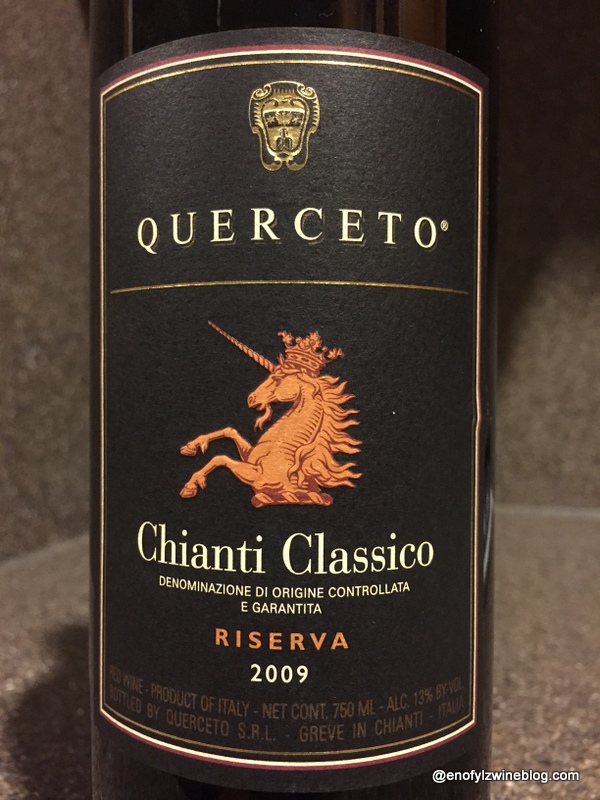 My tasting notes on the wine follow:
Ruby color with savory black cherry, tobacco, dried mushroom, and cedar aromas. On the palate, it's medium-bodied, elegant, and well structured with dusty tannins, and dried and backed black cherry, a hint of blueberry, vanilla and tobacco flavors with a lingering finish. This wine grew on me with each sip. Definitely a food wine and a good value at $17! 13 % alcohol 
The Pairing
I decided to go with the "what grows together goes together" tenet of food and wine pairing.  And pizza and Chianti is a classic pairing.  And I considered this a "good" pairing – one where the food and wine achieved peaceful co-existence, but didn't quite make it to each made the other better.  The challenge was the pesto sauce, I thought the seitan would be the dominant flavor.  And it was  – on the front palate. But the kale pesto stepped to the fore on the back palate, and for me it was good, but not great. I think this would have been a much better pairing had the sauce been tomato rather than pesto.  Next time (and there will be a next time!), I'd try a Rosé, which I think will take the pairing up a notch.
Check out these great ideas food and wine combinations from my fellow #winePW bloggers:
Remember to join us for our Twitter Chat on Saturday, January 10th at 8 a.m. using hashtag #winePW.  
Join us next month when we solve all your Valentine's Pairing dilemmas hosted by @CulinaryCam!
__________________________________________________________________
Martin Redmond is a Financial Executive by day, and a certified wine geek with latent foodie tendencies the rest of the time. In addition to the wine lifestyle and food he enjoys family, fitness and traveling. He likes to get thoughts of wine off his mind by sharing experiences on his ENOFYLZ Wine blog, which features wine reviews, wine country travel, and wine and food pairings.
Follow me on Twitter @martindredmond for all things wine, and since I'm a wino, with latent foodie tendencies, you'll also find food and wine pairings, and food related stuff! Become a fan and join ENOFYLZ Wine Blog on Facebook. Cheers!
This article is original to ENOFYLZ Wine Blog.com. Copyright 2015 ENOFYLZ Wine Blog. All rights reserved.