Every Thursday I feature a wine I particularly enjoy, whether it's something new and different, is a great value, or from a producer worth checking out.  My Wine Of The Week is the 2011 Ridge Vineyards Geyserville.

The Winery
Ridge Vineyards  is a California winery with two estates, Monte Bello in Cupertino, and Lytton Springs in Healdsburg.  They are best known for producing single-vineyard premium Bordeaux style Cabernet Sauvignon Blend ("Monte Bello"), Zinfandels, and Chardonnay.  Ridge was established by three engineers from nearby Stanford Research Institute (SRI).  They produced its first commercial wine in 1962 after purchasing the winery in 1960.
Great wines have always been determined by their site – by nature, not by man – Paul Draper
It wasn't too long after that, that Ridge gained an international  rep when the  Ridge Monte Bello, under the direction of winemaker Paul Draper , took fifth place in the "Judgment of Paris" in 1976 against nine other French and California wines.  Here's what's really cool though, the 1976 Monte Bello unanimously took first place in The Judgment of Paris 30th Anniversary when it was tasted against the same wines thirty years later!
Ridge has four estate vineyards, Monte Bello (first commercial release was in 1962), Geyserville (first release 1966), Lytton Springs (first release 1972), and their newest property East Bench.
The Wine
The fruit for this wine comes from Ridge's Geyserville vineyard located in the Alexander Valley in Sonoma County.  It has is home to the oldest vines that Ridge farms. The "Old Patch" section of the vineyard contains vines that are more than 130 years of age.
Geyserville is a traditional field blend of zinfandel and its complementary varieties: carignane, petite sirah, and mataro (mourvedre). Each vintage is unique, distinct, extraordinary… yet they do have elements in common, including the blackest of blackberry fruit, ripe plum, rich cherry, and cedar. A remarkably consistent and elegant wine with exceptional layering, Geyserville's unique flavor characteristics are often attributed to the relatively higher percentage of carignane, added to the petite sirah found in most of our other zinfandels. Among the most age-worthy of Ridge wines, Geyserville often drinks beautifully well beyond 10 years of age. – Ridge Vineyards
Click here to watch a video of winemaker Eric Baugher describe this vineyard.
Blend of 78% Zinfandel, 16% Carignane, 4% Petite Sirah, 1% Alicante Bouschet, and 1% Mataro; 14% alcohol; Retail – $38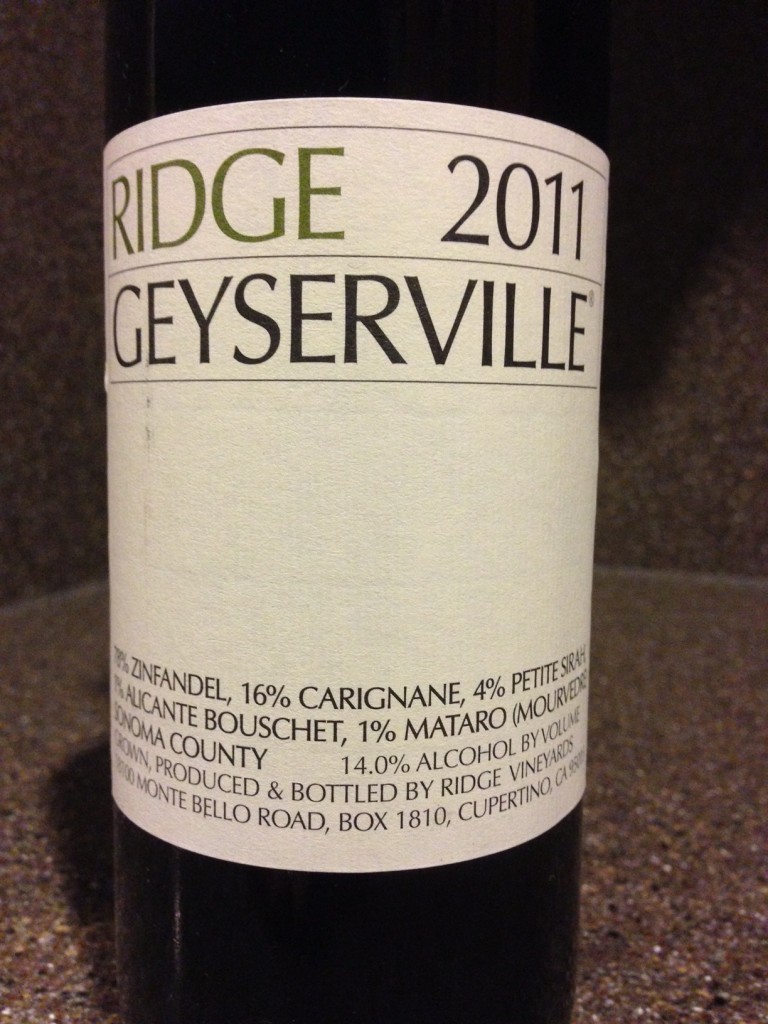 My tasting notes follow:
Dark ruby color with lifted kirsch, bramble, lavender and spice aromas. On the palate it's medium-bodied and balanced with wonderful acidity and tart black cherry, black raspberry and mineral flavors with a long savory finish. Drink now or age for at least 10 years >>Find this wine<<
Rating: A: I adore field blends and this is one is among the best year in year out. And it's one of the most food friendly Zins I've ever had.
Pair with: I went to a Ridge event last year where the 2006 vintage of this wine (drinking beautifully BTW) was paired with Kale, Sausage and Pecorino Pizza.  This would make a great Thanksgiving wine.  And for my vegan brethren consider pairing with Braised Seitan with Black Pepper Plum Sauce. 
Sample purchased for review
Ratings Key:
(A+) – 95-100/Extraordinary
(A) – 92-95/Outstanding
(A-) – 89-91/Very Good to Outstanding
(B+) – 86-88/Very good
(B) – 80-85/Good
(C) – 70-79/Bleh
(D) – 50-69/#Fail
Related posts:
Martin Redmond is a Financial Executive by day, and a certified wine geek with latent foodie tendencies the rest of the time. In addition to the wine lifestyle and food he enjoys family, fitness and traveling. He likes to get thoughts of wine off his mind by sharing experiences on his ENOFYLZ Wine blog, which features wine reviews, wine country travel, and wine and food pairings.
Follow me on Twitter @martindredmond for all things wine, and since I'm a wino, with latent foodie tendencies, you'll also find food and wine pairings, and food related stuff! Become a fan and join ENOFYLZ Wine Blog on Facebook. Cheers!
This article is original to ENOFYLZ Wine Blog.com. Copyright 2014 ENOFYLZ Wine Blog. All rights reserved.