Every Thursday I feature a wine I particularly enjoy, whether it's something new and different, is a great value, or from a producer worth checking out.  My Wine Of The Week is the 2011 Faust Cabernet Sauvignon Napa Valley. 
The Winery
Faust Winery is the creation of Augustin Huneeus and it continues to satisfy his long-held desire to produce a wine that embodies the most seductive characteristics of Napa Valley Cabernet Sauvignon.
Born in Santiago, Chile, Agustin is one of the few vintners who has dedicated his entire professional life to wine.  With a career spanning 50 years, he has produced wine in more than 15 countries.  Perhaps best known today for creating Quintessa, the stunning biodynamic vineyard and winery estate he and his wife Valeria own in Rutherford, Napa Valley, Agustin is recognized as a driving force in how fine wine is produced, recognized, sold and marketed in the United States.  The philosophy that great vineyards make great wine is his guiding principle.
The Faust vineyard is located in Coombsville, Napa Valley's newest appellation located in the eastern foothills south of Atlas Peak.  It consists of 110 acres of mature Cabernet Sauvignon and Merlot vines, with small plantings of Petit Verdot, Syrah and Sauvignon Blanc.  The vineyard is farmed in ten distinct blocks, all of which have a unique character.  Yields on the property are especially low as extra care is put into practices such as winter pruning, green harvest and selective picking.
Faust also seeks small lots from family growers in other unique Napa Valley growing districts including Yountville, Atlas Peak, Mount Veeder, St. Helena and Rutherford.
In addition to this wine, Faust also produces two other wines which are 100% Cabernet Sauvignon – "The Pact" (sourced from Napa Valley's newest appellation – Coombsville), and "The Lure" (sourced from the renowned Stagecoach Vineyard).
Faust is certified under the Napa Green Certified Land Program.
The Wine
The wine is a blend of all five of the six Bordeaux grape varieties featuring 78% Cabernet Sauvignon, 17% Merlot, 3% Petit Verdot, 1% Malbec, and 1% Cabernet Franc.  The grapes are sourced from throughout the Napa Valley including estate vineyards in Coombsville, and Rutherford and Yountville, Mount Veeder, Atlas Peak, and St. Helena.
All grapes were hand-picked, double-sorted and crushed, then cold-soaked and fermented in both French oak and stainless steel tanks.  After an extended maceration, Faust was aged for 19 months in French oak.
78% Cabernet Sauvignon, 17% Merlot, 3% Petit Verdot, 1% Malbec, 1% Cabernet Franc; 14.2% Alcohol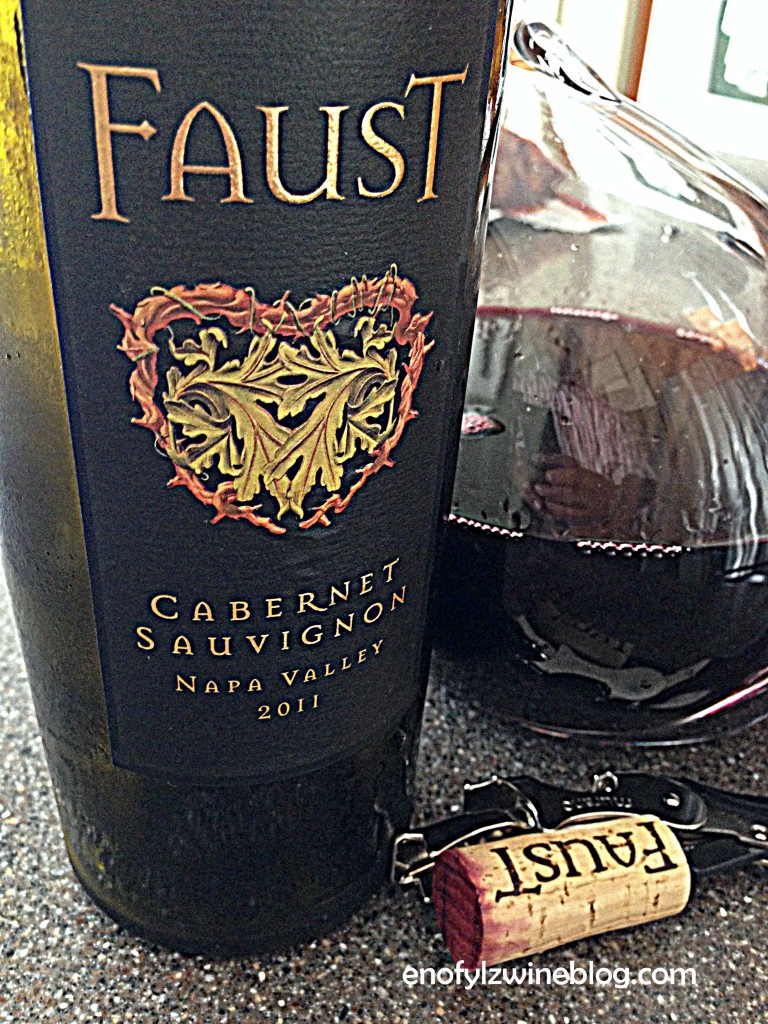 My tasting notes follow:
Dark ruby color with enticing dark cherry, dark chocolate, dried herb and spice aromas. On the palate, it's medium-bodied,  and concentrated, with harmonious fruit, acidity, and tannins and a supple texture.  It shows delicious dark cherry, cassis, spice flavors with a subtle minerality.  Long finish.  Drink now, but will age for 5-7 years  >>Find this wine<<
Rating: 
A

:
A delicious and harmonious Bordeaux blend!
Pair with: Lamb chops, Korean Sizzling Beef,  Slow cooked Beef Brisket or Meatloaf
Wine provided as a sample for review.  Many thanks to Fineman PR

Ratings Key:
(A+) – 95-100/Extraordinary
(A) – 92-95/Outstanding
(A-) – 89-91/Very Good to Outstanding
(B+) – 86-88/Very good
(B) – 80-85/Good
(C) – 70-79/Bleh
(D) – 50-69/#Fail
__________________________________________________________________
Martin Redmond is a Financial Executive by day, and a certified wine geek with latent foodie tendencies the rest of the time. In addition to the wine lifestyle and food he enjoys family, fitness and traveling. He likes to get thoughts of wine off his mind by sharing experiences on his ENOFYLZ Wine blog, which features wine reviews, wine country travel, and wine and food pairings.
Follow me on Twitter @martindredmond for all things wine, and since I'm a wino, with latent foodie tendencies, you'll also find food and wine pairings, and food related stuff! Become a fan and join ENOFYLZ Wine Blog on Facebook. Cheers!
This article is original to ENOFYLZ Wine Blog.com. Copyright 2014 ENOFYLZ Wine Blog. All rights reserved.