Every Thursday I feature a wine I particularly enjoy, whether it's something new and different, is a great value, or from a producer worth checking out.  For this week, my Wine Of The Week is the 2009 Ridge Zinfandel Carmichael Ranch.
Ridge Vineyards  is a California winery with two estates, Monte Bello in Cupertino, and Lytton Springs in Healdsburg.  They are best known for producing single-vineyard premium Bordeaux style Cabernet Sauvignon Blend ("Monte Bello"), Zinfandels, and Chardonnay.  Ridge was established by three engineers from nearby Stanford Research Institute (SRI).  They produced its first commercial wine in 1962 after purchasing the winery in 1960.
Great wines have always been determined by their site – by nature, not by man – Paul Draper
It wasn't too long after that, that Ridge gained an international  rep when the  Ridge Monte Bello, under the direction of winemaker Paul Draper , took fifth place in the "Judgment of Paris" in 1976 against nine other French and California wines.  Here's what's really cool though, the 1976 Monte Bello unanimously took first place in The Judgment of Paris 30th Anniversary when it was tasted against the same wines thirty years later!
And speaking of anniversaries – 2014 marks our 50th year of producing fine, site-specific zinfandels sourced primarily from pre-Prohibition old vine vineyards.
Ridge has four estate vineyards, Monte Bello (first commercial release was in 1962), Geyserville (first release 1966), Lytton Springs (first release 1972), and their newest property East Bench.
The Wine
Carmichael Ranch is located on the western side of the Alexander Valley, south of Geyserville.  Originally a part of the Rancho Sotoyomi land grant, these hundred acres were purchased in the mid-1800s by Archibald Carmichael. Ridge began farming the western half in 2000. Ridge first pro
It's a blend of 96% Zinfandel, 4% Petite Sirah. Here's how Ridge, a leader in wine industry when it come to labeling describes the winemaking process…
All Estate grown grapes, hand harvested. Destemmed and
crushed. Fermented on the native yeasts, followed by full
malolactic on the naturally occurring bacteria. Minimum
effective sulfur (35 ppm at crush, 120 ppm over the course
of aging). Pad filtered at bottling. In keeping with our
philosophy of minimal intervention, this is the sum of our
actions
It was aged 13 months in 100% air-dried american oak: (15 % new, 85% two to four years old).  Retail – $28; Alcohol – 14.2%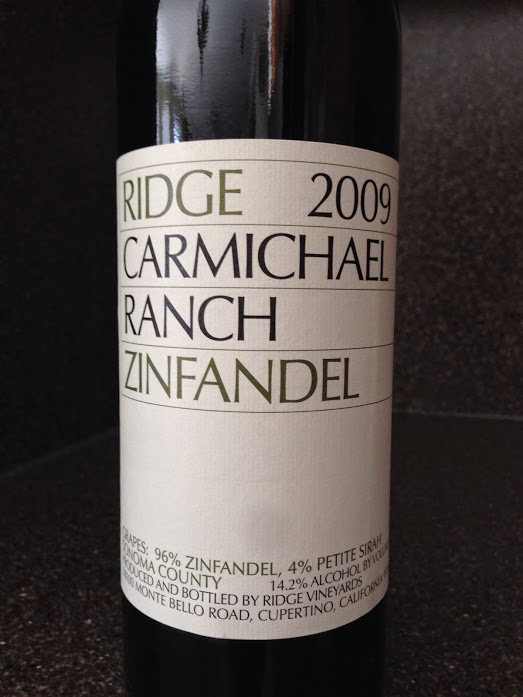 My tasting notes follow:
Crimson color with appealing ripe mixed black and red fruits, spice, bramble and a hint of leather aromas. On the palate, it's medium-bodied with soft well-integrated sweet tannins, , very good acidity and plum, blackberry, black cherry, and spice finish and a lingering satisfying finish. 
Rating: A-: This relative newcomer to is a delicious addition to Ridge's formidable lineup of Zinfandels! And it's drinking very well now!

(A+) – 95-100/Extraordinary
(A) – 92-95/Outstanding
(A-) – 89-91/Very Good to Outstanding
(B+) – 86-88/Very good
(B) – 80-85/Good
(C) – 70-79/Bleh
(D) – 50-69/#Fail
__________________________________________________________________
Martin Redmond is a Financial Executive by day, and a certified wine geek with latent foodie tendencies the rest of the time. In addition to the wine lifestyle and food he enjoys family, fitness and traveling. He likes to get thoughts of wine off his mind by sharing experiences on his ENOFYLZ Wine blog, which features wine reviews, wine country travel, and wine and food pairings.
Follow me on Twitter @martindredmond for all things wine, and since I'm a wino, with latent foodie tendencies, you'll also find food and wine pairings, and food related stuff! Become a fan and join ENOFYLZ Wine Blog on Facebook. Cheers!
This article is original to ENOFYLZ Wine Blog.com. Copyright 2014 ENOFYLZ Wine Blog. All rights reserved.