Every Thursday I feature a wine I particularly enjoy, whether it's something new and different, is a great value, or from a producer worth checking out.  For this week, my Wine Of The Week is the 2011 Raventós i Blanc "L'hereu" Brut.
The Winery
The family of producer Raventós i Blanc, has been winemaking in the Catalonia region of Spain for an astonishing 500+ years! They've grown grapes on their historic 90 hectares (just over 222 acres) property, which has been in the family since 1497.
In 1872, Josep Raventós Fatjó, the great-great-great-grandfather of current manager/winemaker and oenologist Josep "Pepe"Raventós, began experimenting with Spanish wines made in the same manner as was being done in Champagne, France – and hence, CAVA was born.  But unlike Champagne, the DO Cava designation is defined by a specific practice of winemaking, rather than a region where wine is made. There are over six regions with the DO Cava status, though over 90% of production is from the Penedès region. The town of Sant Sadurni d'Anoia is the unofficial Cava capital in the heart of Penedès, home of many top producers, including the benchmark estate of Raventós i Blanc.
Josep "Pepe" Raventós of Raventós i Blanc decided that, given Cava's less-than-glorious reputation, he wasn't going to call his wines "Cava" anymore but "Conca del Riu Anoia," or simply "Conca" for short. 
In December 2012, Raventós i Blanc took an important step in its evolution, leaving the Cava DO and creating a new designation, Conca del Riu Anoia. This small geographical area will convey strict viticultural traditions, the strength of the land, the unique, indigenous grape varieties and the characteristics of the soils.
The exclusive use of native Catalan varietals like Xarel·lo, Parellada and Macabeo is one of Mr. Raventós's criteria for producers who wish to use the Conca name for sparkling wines. (Many Cava producers also employ Pinot Noir and Chardonnay.) In addition, 80% of their fruit must be their own, not purchased; they must produce only vintage sparkling wines, no nonvintage; and they must age their wines for at least 18 months (current Cava law requires a minimum of just nine months of aging). Would-be Conca producers must also observe both biodynamic and organic practices.
The Wine
This wine is produced from nearly 100% estate, biodynamically grown fruit. The grapes are harvested by hand and rapidly delivered to the winery, where they are processed via a gravity flow system.  It's a blend of 45% Macabeo, 35% Xarel.lo, and 20% Parellada. The is dosage is 8.5g/l.  12% alcohol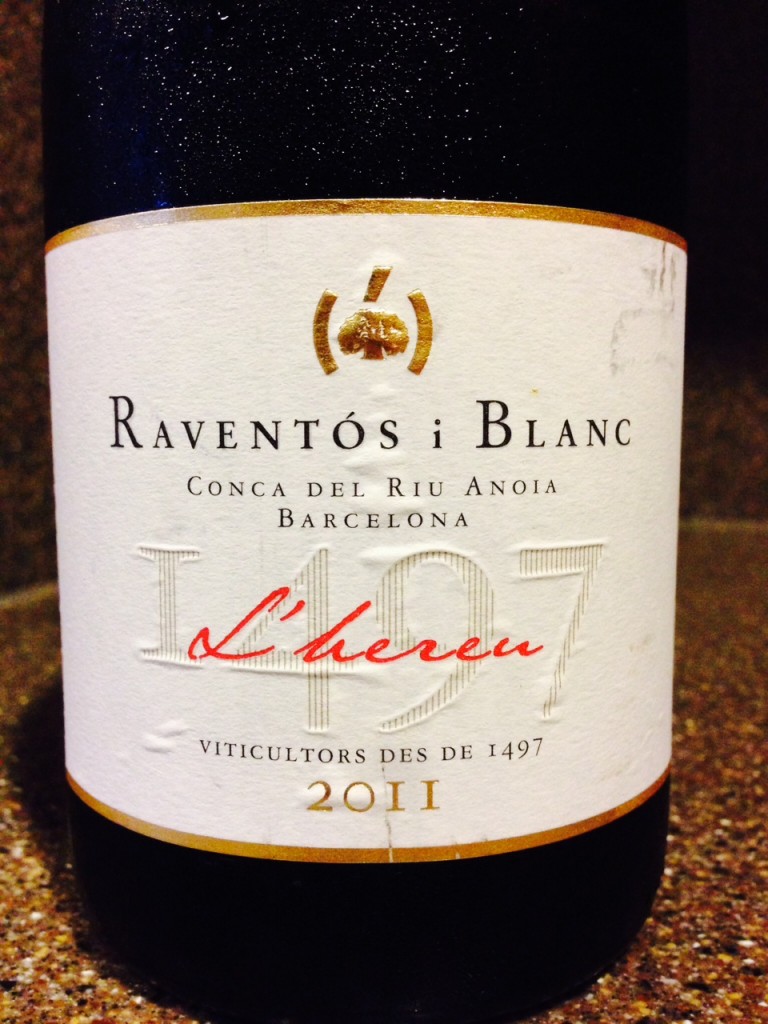 My tasting notes follow:
Pale gold color with lots of pin prick bubbles, and autolytic, yellow apple, pear, citrus and mineral aromas. On the palate, it's clean and fresh with a moderately creamy mousse with apple, ginger, lemon, lime and mineral flavors. Lingering finish. 
Rating: A-  This is a serious wine that drinks like many $35-$40 sparkling wines I've enjoyed in terms of complexity and refinement (including many entry-level Champagne) It's a fantastic value at <$20!  >>Find this wine<<
Ratings Key:
(A+) – 95-100/Extraordinary
(A) – 92-95/Outstanding
(A-) – 89-91/Very Good to Outstanding
(B+) – 86-88/Very good
(B) – 80-85/Good
(C) – 70-79/Bleh
(D) – 50-69/#Fail
__________________________________________________________________
Martin Redmond is a Financial Executive by day, and a certified wine geek with latent foodie tendencies the rest of the time. In addition to the wine lifestyle and food he enjoys family, fitness and traveling. He likes to get thoughts of wine off his mind by sharing experiences on his ENOFYLZ Wine blog, which features wine reviews, wine country travel, and wine and food pairings.
Follow me on Twitter @martindredmond for all things wine, and since I'm a wino, with latent foodie tendencies, you'll also find food and wine pairings, and food related stuff! Become a fan and join ENOFYLZ Wine Blog on Facebook. Cheers!
This article is original to ENOFYLZ Wine Blog.com. Copyright 2014 ENOFYLZ Wine Blog. All rights reserved.