You want to know the difference between winos and foodies?  Winos are more likely to pick a wine, then decide which food to pair with it.  Foodies are more likely to pick the food, then (maybe) decide which wine to pair with it.  I'm a wino ( granted – with latent foodie tendencies), so when I saw the theme for this week's Wine Pairing Weekend #2 –  Refreshing Summer Wine Pairings,  the first thing I did was select a wine.  And top of mind for me,  was a refreshing summer white wine. But I wanted something other than the typical Sauvignon Blanc, or Chard.  No, I was in the mood to experiment,  and try something new.  And that's when the 2012 Tablas Creek Picpoul Blanc I've been holding on to for a few months came to mind.
The Wine
Picpoul Blanc is an ancient white-wine grape variety native to the Languedoc region in Southern France, where it is known as Piquepoul or Piquepoul Blanc.  It's used primarily as a blending grape in Châteauneuf du Pape, but is best known for the light-bodied green wines of the Pinet, a region that run along the southern coast of France in the Languedoc. Like the better known Grenache and Pinot, Picpoul has red, white and pink variants, though Picpoul Noir and Picpoul Gris are very rare.
The name Pique-poul translates literally as "stings the lip", and is a reference to the grape's naturally, mouth wateringly high acidity.
Tablas Creek Vineyard imported Picpoul vines from France to replicate the clonal selection of French grapes. The grapes were quarantined in 1996, and released in 1998. The first vines were planted 2000.
Tablas Creek says that Picpoul grown in California maintains its bright acidity, but also develops an appealing tropical lushness.
My tasting notes are below…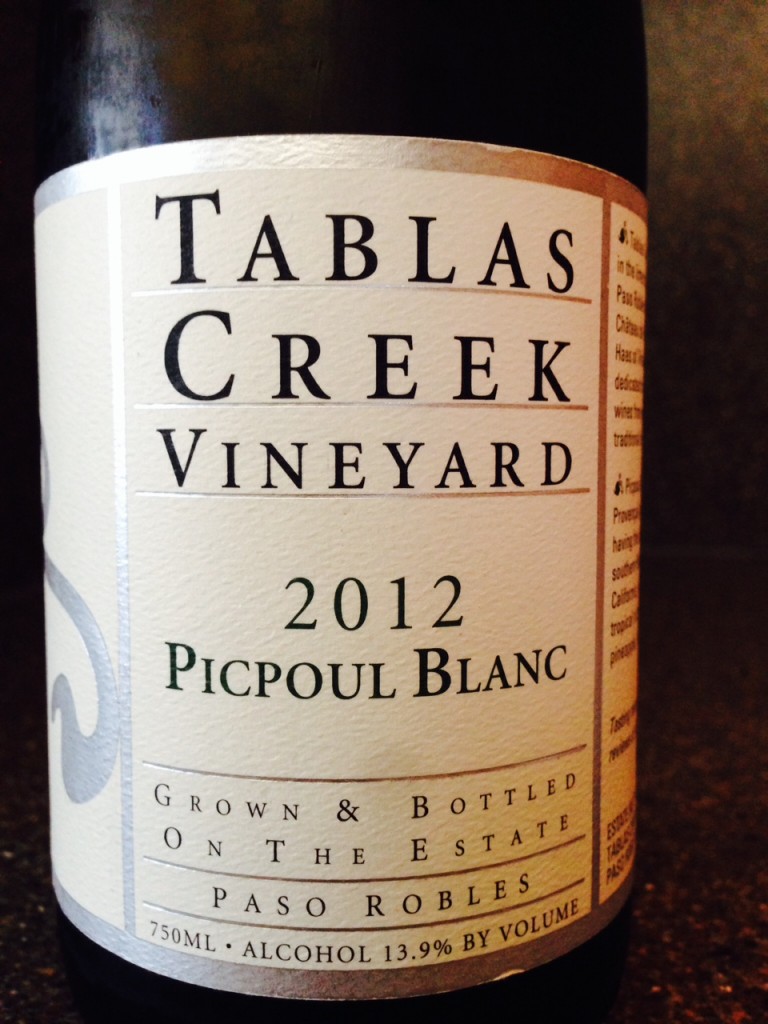 The Tablas Creek Picpoul Blanc shows subtle pineapple, lemon, and white flower aromas. But it really comes alive on the palate.  It's harmonious, and  fresh with a lush texture and very acid driven with expansive pineapple,  and lemon flavors complemented by subtle mineral and spice shadings offering some complexity.  The acid drives a lingering finish.  >>Find this wine<<
This is a very food friendly wine that will pair well many dishes including fried calamari, fish cakes, all manner of prawns, Thai dishes.  I'd even give it a go with Spaghetti Carbonara!
The Food
I adore Ceviche, and it's a great dish for summer when the mercury is rising.  Not only do you not have cook use heat sources to cook it, it's also pretty healthy too.  It's a great source of lean protein. I chose to use the Cook's Illustrated recipe for Ceviche with Tomatoes and Avocado.
I made the Ceviche after I started a Beer Can Chicken on my Weber. Typically, it's more like an appetizer served with crackers and the like, but I decided to "saladfy" it by chopping up some Romaine lettuce, adding some cherry tomatoes, cucumber, and sliced avocado dressed with a citrus vinaigrette.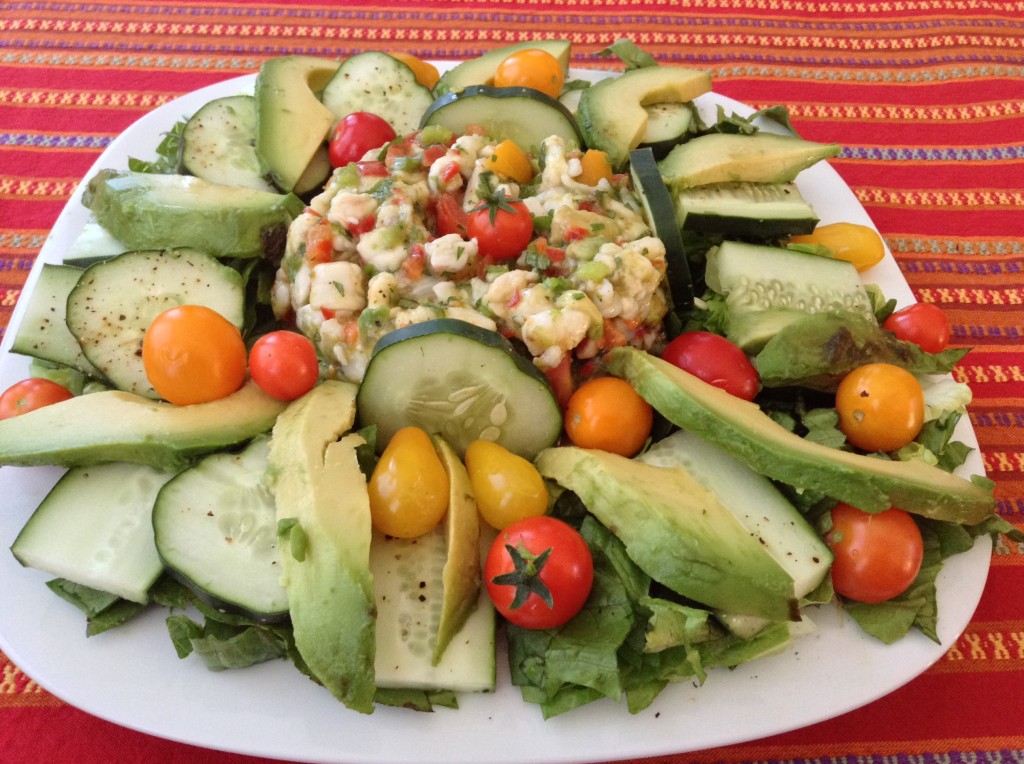 Ceviche with Tomato and Avocados
Author:
Inspired by Cook's Illustrated
Recipe type:
Appetizer or Salad
Prep time:
Cook time:
Total time:
Ingredients
1 pound extra-large shrimp (21 to 25 per pound), large sea scallops, skinless fish fillets, or a combination
1 teaspoon grated lime zest from 1 lime
½ cup juice from 4 limes
½ cup juice from 4 lemons
1 small red bell pepper, stemmed, seeded, and chopped fine
1 jalapeño chile (small), stemmed, seeded, and minced
1 medium garlic clove, minced or pressed through a garlic press (about 1 teaspoon)
Salt
¼ cup extra-virgin olive oil
4 scallions, sliced thin
1 cup cherry tomatoes, quartered
3 tablespoons minced fresh cilantro leaves
½ teaspoon sugar
1 ripe avocado, pitted and diced fine
Ground black pepper
Instructions
If using shrimp, peel them completely, devein, and slice each shrimp in half lengthwise using a paring knife (through the deveined groove in the back). If using scallops, remove the side tendon (see illustration below) and slice into ⅓-inch-thick rounds. If using fish, remove any bones and slice into 1-inch squares about ⅓ inch thick.
Stir the lime zest, lime juice, lemon juice, bell pepper, jalapeño, garlic, and ½ teaspoon salt together in a medium bowl. Gently stir in the seafood, cover with plastic wrap, and refrigerate until the seafood is firm, opaque, and appears cooked, 45 to 60 minutes, stirring halfway through the marinating time.
Place the mixture in a fine-mesh strainer, leaving it a little wet, then return to the bowl. Gently stir in the oil, scallions, tomatoes, cilantro, and sugar followed by the avocado. Season with salt and pepper to taste before serving.
Notes
Fresh seafood and freshly squeezed lime and lemon juice are essential for this dish. Be sure to pat all seafood dry with paper towels so that any moisture does not water down the marinade. I used a 50/50 blend of shrimp and Dover sole. Slicing the seafood into pieces no thicker than ⅓ inch is important for even cooking; super-thin fish fillets (such as sole, flounder, or tilapia) are the easiest to use, as they require the least amount of prep. Heat is not used to cook the fish in this dish—the acid in the citrus juice firms it and makes it opaque. Add the avocado just before serving to prevent it from breaking down and coating everything with its green color

Use a nonreactive container for making ceviche, such as glass, ceramic or stainless steel.
The Wine and Food Together
The Tablas Creek Picpoul Blanc was  stellar pairing with my Ceviche with Tomatoes and Avocado.  The food made the wine taste better and the wine made the food taste better.
The weight of the wine was a perfect complement to the "weight" of the Ceviche, which was loaded with avocado and tomatoes.  And the ample tropical fruit profile of the wine was a great complement to the tart nature of the Ceviche.
Score!
Wine Pairing Weekend #2 Bloggers: Be sure to check out the great pairings my fellow bloggers have come up with for the July Wine Pairing Weekend! 
Culinary Adventures with Camilla posted "Green Fig Ice Cream + Cambiata Albariño"
Vino Travels — An Italian Wine Blog shared "Orzo salad and Trebbiano d'Abruzzo"
Curious Cuisiniere posted "Grilled Trout paired with a Tropical Fruit Viognier"
ENOFYLZ Wine Blog paired "Ceviche and Tablas Creek Picpoul Blanc"
Take a Bite Out of Boca shared "Grilled Mango-Sriracha Shrimp, Pineapple and Peppers paired with Burg Layer Schlosskapelle Spatlese Kerner"
foodwineclick shared "Steamers and Cava on the Porch"
Confessions of a Culinary Diva blogged about "Aperol Spritz"
Cooking Chat paired "Grilled Salmon with Mango Salsa and a White Burgundy"
Join the #winePW conversation: Follow the #winePW conversation on Twitter throughout the weekend and beyond. If you're reading this early enough, you can join us for a live Twitter chat on our theme "Refreshing Summer Wine Pairings" on Saturday, July 12, from 11 a.m. to noon Eastern Time. You can also visit our group Pinterest board to pin some great pairing ideas for later! Stay tuned for the August Wine Pairing Weekend, which will focus on "Wine for Summer's Bounty" on Saturday, August 9.