Summer is officially here!  Rosé season is in full bloom, although truth be told, it's Rosé season for me pretty much year-round for me!  With that in mind, I'm cranking up my annual series of weekly "Drink Pink!" Rosé tastings.  It's my quest for the best Pink Porch Pounders! This week's Rosé is the 2013 Quivira Grenache Rosé Wine Creek Ranch.
The Winery
Quivira Vineyards and Winery, located in Healdsburg, CA specializes in Zinfandel, Sauvignon, and Rhône varietals.  The Quivira estate is composed of four distinct vineyards in the Dry Creek AVA – Wine Creek Ranch, Goat Trek Vineyard, Katz/Absner Ranch, and Anderson Ranch – a total of 93 acres of vineyards.
In the 16th to 18th centuries, the area we know as Sonoma County appeared on European maps as a mythical kingdom called "Quivira" whose streets were said to be paved with gold. Today, the region's "gold" is the acres of grapevines that thrive there.
Quivira has been Demeter certified Biodynamic® and organic winery since 2005!  In addition to their vineyards, the estate consists of lush biodynamically and organically farmed gardens, a pond, greenhouse, chicken coop and a solar electric system which has supplies all of their electricity.  Produce from the garden is supplies local markets with fresh produce.  Additionally, Quivira offers estate-grown and estate-bottle olive oil and estate honey in their tasting room.
My most recent visit was during Passport to Dry Creek Valley this past April.  We always make it a point to visit Quivira because we love their wines, the tasting experience and checking out the gardens.
The Wine 
Quivira has been making Rosé for years, but this is the first release of a  Demeter-certified Biodynamic Rosé. sourced from estate Wine Creek Ranch vineyard
While the Grenache can be credited with much of what is going on in the glass, the Mourvèdre does its part, contributing spice and structure while the Syrah broadens the mid-palate and also adds subtle floral and pepper notes.
The wine is a blend of 710% Grenache, 15% Syrah, and 15% Mourvedre that underwent sur lie aging in stainless steel.
Retail – $22; 13.5% alcohol; 682 cases produced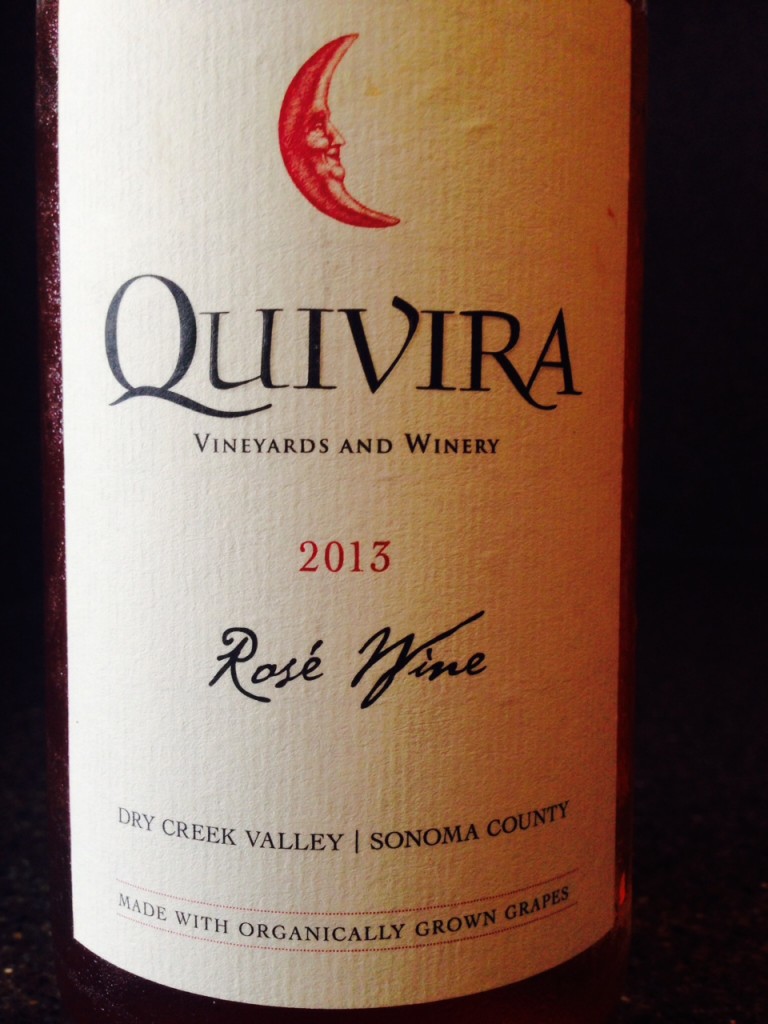 My tasting notes follow:
Orange tinged pink, almost copper color with ripe strawberry, watermelon, and gentle spice aromas. On the palate, it's between light and medium-bodied, fresh and crisp cherry, strawberry, watermelon,spice and a bit blood orange flavors.  Lingering finish.
Rating: A-:  A perennial favorite, this one continues to deliver fresh deliciousness  >>Find this wine<<
Pair with: A plate of salumi, light salads, or bahn mi sandwich.  Some dry rosé needs food. This isn't one of them, it's delightful on its own!

Sample purchased for review
Ratings Key:
(A+) – 95-100/Extraordinary
(A) – 92-95/Outstanding
(A-) – 89-91/Very Good to Outstanding
(B+) – 86-88/Very good
(B) – 80-85/Good
(C) – 70-79/Bleh
(D) – 50-69/#Fail
__________________________________________________________________
Martin Redmond is a Financial Executive by day, and a certified wine geek with latent foodie tendencies the rest of the time. In addition to the wine lifestyle and food he enjoys family, fitness and traveling. He likes to get thoughts of wine off his mind by sharing experiences on his ENOFYLZ Wine blog, which features wine reviews, wine country travel, and wine and food pairings.
Follow me on Twitter @martindredmond for all things wine, and since I'm a wino, with latent foodie tendencies, you'll also find food and wine pairings, and food related stuff! Become a fan and join ENOFYLZ Wine Blog on Facebook. Cheers!
This article is original to ENOFYLZ Wine Blog.com. Copyright 2014 ENOFYLZ Wine Blog. All rights reserved.
Related post you might enjoy: