It's not every day that I get a chance to taste of history.  I had a chance to do just that this week when myself and select other wine bloggers were invited by Charles Communications Associates to participate in an online tasting of the latest spring releases from Charles Krug Winery (Peter Mondavi Family), Napa Valley's oldest winery and a National Historic Landmark.
The Winery
The Charles Krug Winery was established by Prussian immigrant Charles Krug in 1861. In 1943, Italian immigrants Cesare and Rosa Mondavi purchased the historic property, which remains a family-owned winery producing estate-driven Napa Valley wines. Built on a foundation of family values, hard work and European winemaking tradition, the winery offers a portfolio of Cabernet Sauvignon and Bordeaux-styled wines. The winery is under the direction of Peter Mondavi Jr., who along with his brother Marc Mondavi, stewards the family business passed to them by their father, legendary Napa Valley wine icon Peter Mondavi Sr., who continues to serve as President and CEO.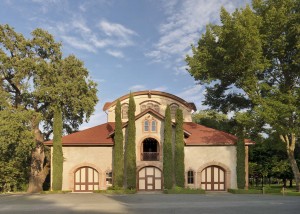 The family is now proudly welcoming members of the fourth generation to the business, continuing a legacy started almost 70 years ago and setting a foundation for generations to come.  They have consistently continued their dedication to producing the finest Bordeaux style wines in the Napa Valley.
Demonstrating a commitment to the land and historic preservation, the Peter Mondavi Sr. family sustainably maintains 850 acres of Napa Valley vineyards and they've recently completed a massive historic renovation of the winery, which includes the newly renovated tasting room in the historic Redwood Cellar (Charles Krug himself opened the first tasting room in California in 1882).

The reds in the spring release signal a special milestone for the winery, as 2011 marked Charles Krug's 150th vintage as well as the inaugural vintage of their Family Reserve 'Howell Mountain' Cabernet.  Peter Mondavi Sr. turns 100 this year!And as the oldest winery in Napa (with perhaps the world's oldest vintner – ) Charles Krug continues to distinguish itself as a Valley institution.
The Tasting
The online tasting was led by  
Peter Mondavi Jr
,  and
Stacy Clark
, Winemaker. The participating wine bloggers were all sent the following wines from  of the latest Spring release from Charles Krug to discuss and taste along:
• 2013 Limited Release Estate Sauvignon Blanc 
• 2011 Napa Valley Merlot 
• 2011 Family Reserve 'Generations' 
• 2011 Family Reserve 'Howell Mountain' Cabernet Sauvignon
If you are interested in the details of the tasting, you can view the recorded video stream at the 
Brandlive link
. It lasts about an hour and is full of information. I found the introduction by Peter Mondavi, Jr. to be particularly interesting – as he recounts the history of his family and the Charles Krug winery.
Below are my tasting notes for the wines tasted and discussed: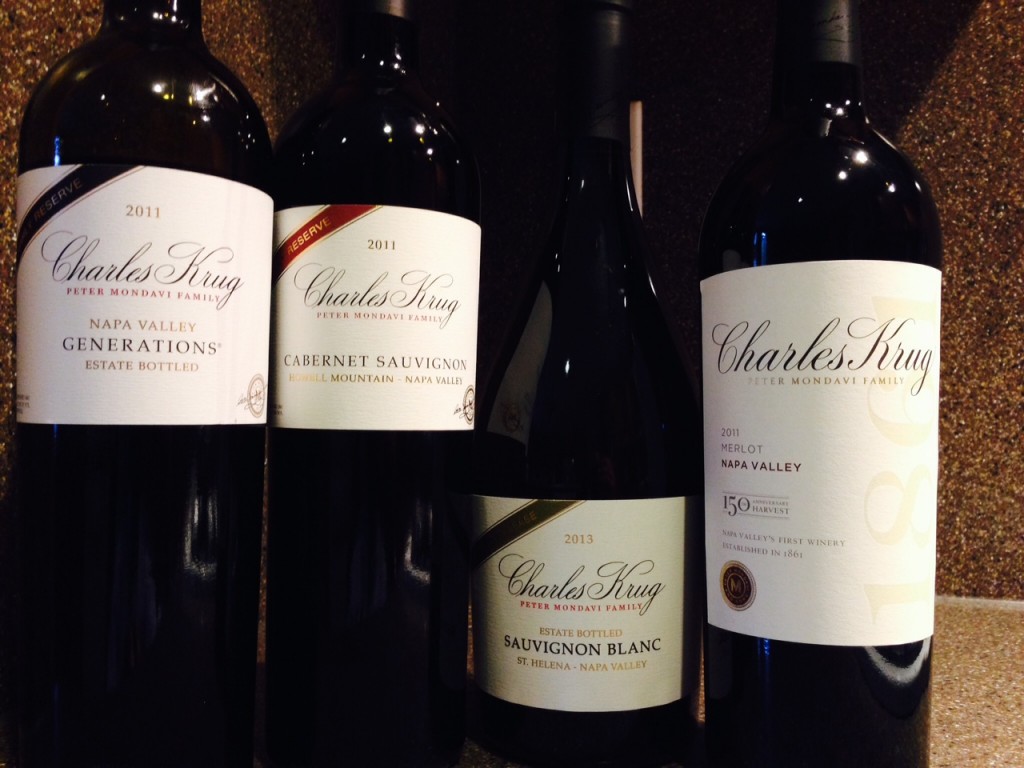 Many thanks to Charles Communications Associates and Charles Krug for the opportunity to discover these fantastic wines!
Related post you might enjoy:
__________________________________________________________________
Martin Redmond is a Financial Executive by day, and a certified wine geek with latent foodie tendencies the rest of the time. In addition to the wine lifestyle and food he enjoys family, fitness and traveling. He likes to get thoughts of wine off his mind by sharing experiences on his ENOFYLZ Wine blog, which features wine reviews, wine country travel, and wine and food pairings.
Follow me on Twitter @martindredmond for all things wine, and since I'm a wino, with latent foodie tendencies, you'll also find food and wine pairings, and food related stuff! Become a fan and join ENOFYLZ Wine Blog on Facebook. Cheers!
This article is original to ENOFYLZ Wine Blog.com. Copyright 2014 ENOFYLZ Wine Blog. All rights reserved.