As a certified "wine geek", I love going to tastings.  Not only is it a great way to taste many wines, it's also a chance to expand my palate, and "try before I buy" with with wines outside of my usual vinous habitat here in California.  My favorite type of tasting to go to (other than "free") is Champagne tastings.
I don't do it often enough. It's mostly because Champagne tastings are few and far between.  And the few you do find can be pricey too.
So I was delighted to see that my favorite wine store, K&L Wine Merchant's is hosting a Fourth Friday series of Champagne tastings at their Redwood City location.
I recently attended a special Thursday night Champagne tasting, which featured Champagne Pierre Paillard.
Paillard is what's known as a "Grower Champagne" (a.k.a, "farmer fizz") – which essentially means Champagne produced by the same estate that owns the vineyards from which the grapes come.  While large Champagne houses, such Veuve Clicquot, or Mumm, may use grapes sourced from as many as 80 different vineyards, Grower Champagnes tend to be more terroir focused, being sourced from single or closely located vineyards around a village.
Paillard  has 28 acres exclusively in the Montagne de Reims grand cru top village of Bouzy.  Their estate is planted to Pinot Noir and Chardonnay.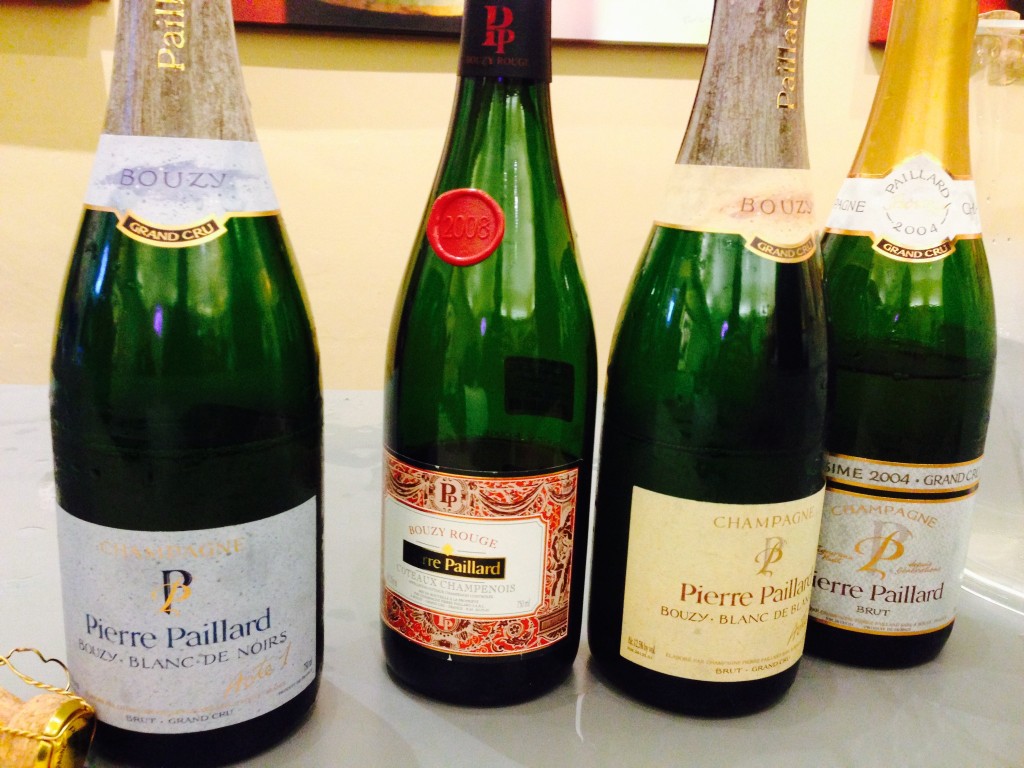 The tasting featured five wines (4 sparkling and 1 still).  The still wine was a pleasant surprise, as I didn't know still wine was produced in Champagne!
It was a rare treat too! How rare is still wine in the Champagne region?  In 2012 around 100,000 bottles of still wine were produced, compared to the 308 million bottles of Champagne!
The still wine was a Pinot Noir designated as "Coteaux Champenois", a separate appellation for still wines from Champagne.  According to K&L… Bouzy is famous throughout Champagne for making some of the best red wine in the region, and almost all of it is gobbled up in Champagne. Most of the production is blended in to make rose Champagne pink, and nearly all of the rest is consumed locally.
My tasting notes follow:
It was a great tasting.  I have to say, the surprise of the tasting for me was the still wine rather than one of the sparkling wines.  I expected the Champagne to be outstanding, and they delivered.  On the other hand, I wasn't expecting a still wine, but I found myself intrigued by the Pinot. It was a leaner style than Pinot than I'm accustomed to.  And it was the kind of wine that grew on me with each sip rather than being love at first sip…
The next Champagne tasting (the 2nd of 3 such scheduled tastings) – "Misunderstood Meunier" is scheduled for February 28th!

Related posts you might dig:
__________________________________________________________________
Martin Redmond is a Financial Executive by day, and a certified wine geek with latent foodie tendencies the rest of the time. In addition to the wine lifestyle and food he enjoys family, fitness and traveling. He likes to get thoughts of wine off his mind by sharing experiences on his ENOFYLZ Wine blog, which features wine reviews, wine country travel, and wine and food pairings.
Follow me on Twitter @martindredmond for all things wine, and since I'm a wino, with latent foodie tendencies, you'll also find food and wine pairings, and food related stuff! Become a fan and join ENOFYLZ Wine Blog on Facebook. Cheers!
This article is original to ENOFYLZ Wine Blog.com. Copyright 2014 ENOFYLZ Wine Blog. All rights reserved.