As I stand upon the doorstep of another year, poised to step into 2014, one of the traditions our family has is eating black-eye peas for luck and greens (which represent money) for prosperity.  Our other tradition is that I make my Seafood Gumbo. We don't always make the greens, but we always have black-eyed peas.  The challenge is that I'm so involved with making the gumbo,the black-eyed peas are often an afterthought quickly whipped up at the last-minute.  So this year, I decided to whip up something that would combine the black-eyed peas with the greens (how's that for hedging my luck and prosperity for 2014!).  And it had to be something I could make ahead so I can give all my love and attention to my Gumbo on New Year's Day…thus this Black-Eyed Peas and Green Casserole.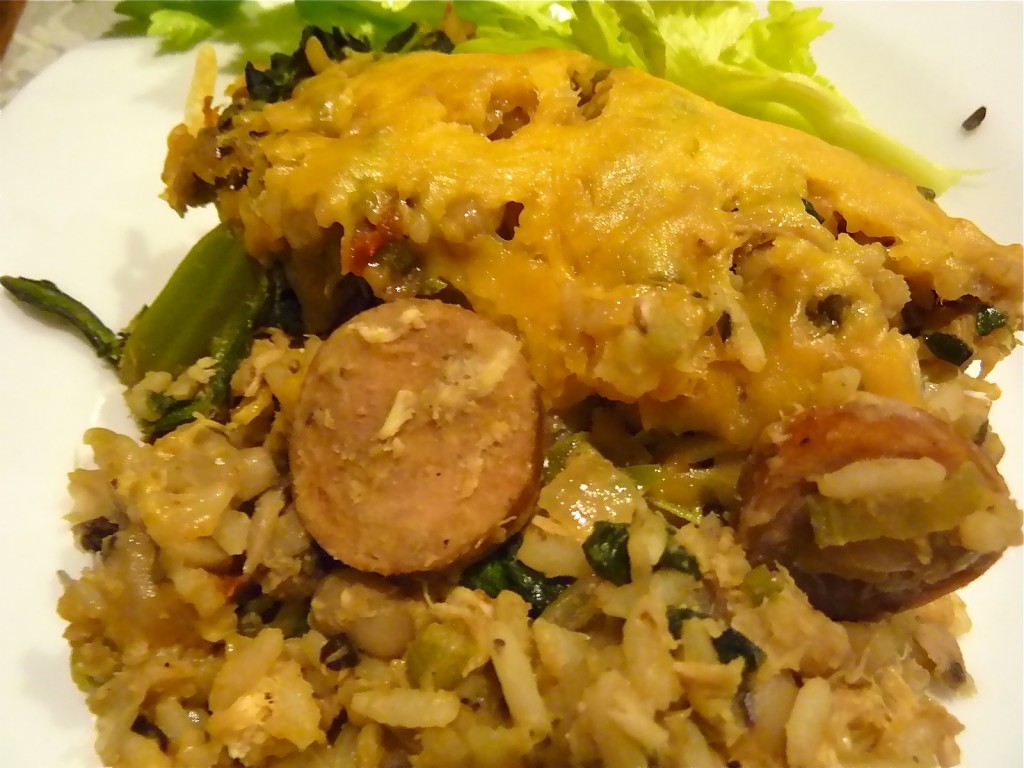 Truth be told, it turned out better than I expected, especially because I was pretty much winging it…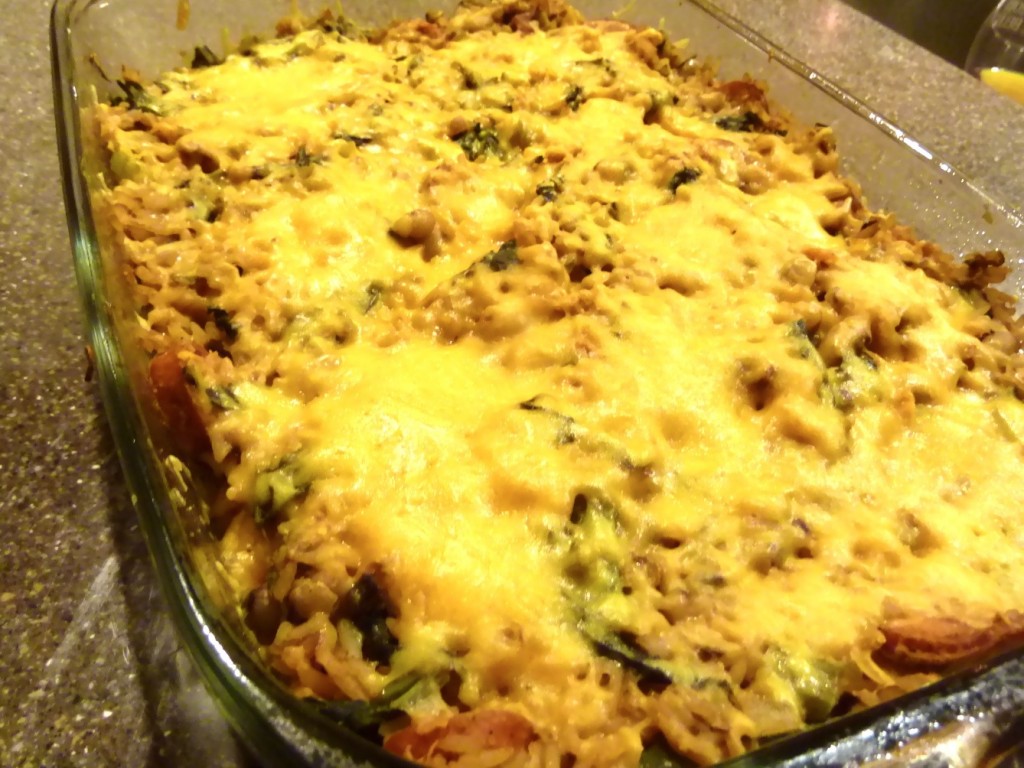 It's a fairly versatile recipe too because you could easily substitute other meat or vegetarian protein sources for the andouille sausage.  You could lighten it up by substituting oil oil for the bacon fat.  The spice level can be adjusted up or down by adding more or less jalapeño and/or cayenne pepper.  Cheddar cheese not your favorite?  Try it with pepper jack…and so on…
What's your favorite New Years tradition?

Black-Eyed Pea and Greens Casserole
Prep time:
Cook time:
Total time:
A casserole that combines the best of Southern New Year's tradition "eat for luck" staples - black-eyed peas and collard greens!
Ingredients
1½ cup dry black-eye peas
1 pkg of Zatarain's Dirty Rice Mix
4 slices of bacon
10oz pkg of pre-rinsed chopped collard greens
12oz pkg of Aidell's Cajun Style Andouille, sliced
1 medium onion, chopped and divided
2 stalks of celery
3 garlic cloves, minced
1 small jalapeño pepper
2 TBSP tomato paste
Salt
Pepper
2 tsp of Emeril's Essence
1½ cup sharp cheddar cheese, shredded
Instructions
Sort and wash peas; place in a large Dutch oven. Cover with water to 2 inches above peas; Bring to boil. Add the dried peas and boil for 30 minutes, or until tender (as tender as a canned black bean would be). You don't want them to have much of a bite to them, but you don't want them mushy either. Drain the beans when you've got them where you want them. Rinse and set aside.
While beans are cooking, cook the Zatarain's Dirty Rice Mix according to directions omitting the ground beef. Set aside
Preheat oven to 350 degrees F.
Pan-fry bacon. Remove from bacon from the skillet and drain on a paper towel, then crumble. Save for later use.
Add sliced andouille sausage to pan with bacon fat and brown. Remove from pan and set aside
Add ½ chopped onion, celery, jalapeño, and tomato paste to skillet and cook over medium heat until vegetables are soft; 5-10 min.
Combine vegetables, cooked dirty rice, black-eyed peas, and crumbled bacon in large bowl and mix well.
Parboil collard greens for 15 minutes and drain
Add 1 TBSP of olive oil to pan in which you cooked bacon and vegetables, over medium heat: Add other half-onion and saute until 3-4 minutes. Add garlic and saute until fragrant about 30 seconds.
Place parboiled greens in pan with garlic/onion and saute 10 minutes. Add Essence and salt and pepper to taste.
Add greens to black-eyed pea and rice mixture along with ½ cup of cheddar cheese.
Stir it all together and then scoop it into a 9x12-inch (or similarly sized) casserole dish coated with PAM. Bake, uncovered, for 20 minutes. Sprinkle remaining cheese on top and bake for an additional 10 minutes, just until cheese is melted.
Serve with cornbread!
Notes
It would be easy to substitute for andouille sausage with other meat or protein source, but the andouille sausage adds a nice smokiness to the dish.
I used collard greens, but mustard greens or a combination thereof would also be nice
I'm also offering wine pairing recommendations for the other delicious menu items served up at the virtual #SundaySupper table for this week's "Reflections and Resolutions" theme.
Since it's a New Year's theme, I'm recommending all sparkling wines this week!  Of course, bubbly is a top of mind selection for celebrations, or drinking like cocktails. But they are much under-rated and under-appreciated at the table.  Simple put, Sparkling wines are fantastic with food! And if there is one wine that can take you from appetizers through to dessert, it's a sparkling wine.
Here's what I mean – bubbly works well:
As a counterbalance to salty(ever had bubbly with popcorn? – it's yummy!), rich and creamy, and moderately spiced foods
As a replacement for other highlighting acids (citrus) for fish or shellfish
Raw foods – sushi, sashimi, oysters, and ceviche
With many Latin, Asian, and Middle Eastern dishes
With many cheeses, especially hard cheeses like Parmesan, rich cheeses (triple-cream cheese anyone?), and salty cheeses such as Feta
With tart foods: citrus, vinegars, pomegranate, dill, caper, and tomatoes
Dishes with a crunchy texture  (phyllo pastry, fried chicken, and tempura come to mind)
Pairing with rustic or coarsely textured foods like polenta, pesto, hummus, and baba ghanoush
There are four primary styles of sparkling wines  – Blanc de blancs is 100 percent Chardonnay (other white wine grapes) and carries those flavors. A classic brut is a blend of red and white grapes, typically Chardonnay and Pinot Noir. Blanc de Noirs is mostly made with red wine grapes, typically Pinot Noir, and tends to have red fruit flavors. And sparkling rosé has just been left on those Pinot Noir (or other red wine grape) skins a tiny bit longer, to pick up more color, texture, and flavor.  There many types of sparkling wine too – Champagne, Cava, Prosecco and Crémant to name a few.
Experiment.  Find the style and or type you prefer, and don't wait just for a special occasion or celebration to pop open a bottle of bubbly!
Here is this week's #SundaySupper menu and my wine pairing recommendations:
Breakfast
Pair these breakfasts dishes with the 2011 Innocent Bystander Pink Moscato.  It's a blend of Gordo Muscat and Black Muscat from the Yarra Valley in Australia.  It's only 5.5% alcohol and it has a red berry, strawberry, peach, and zesty citrus character.  It's a fun and fizzy quaff that is moderately sweet but not cloying.
Appetizers & Snacks
Pair these with a Blanc de Noir.  I recommend Gloria Ferrer Blanc de Noirs.  It's made from primarily Pinot Noir and exhibits strawberry and black cherry aromas with subtle vanilla highlights.  On the palate, it's lush with creamy cherry, lemon and cola flavors. 
Main Dishes & Sides
Pair these appetizers and snacks with a Rosé Sparkling wine.  One of my favorites is the Roederer Estate Anderson Valley Brut Rosé.  It's pairs wonderfully with a wide range of foods.  It's a blend of 60% Pinot Noir and 40% Chardonnay with a creamy, layered, citrus, strawberry, tart cherry and mineral character. 
Desserts
Pair these desserts with a sparkling red wine – Brachetto d'Acqui, from Italy. It is a produced from the Brachetto grape.  Look for Banfi Rosa Regale. It has a delicate aromas of  rose petals and offers luscious flavors of fresh raspberries and strawberries
Drinks
Join the #SundaySupper conversation on twitter on Sunday! We tweet throughout the day and share recipes from all over the world. Our weekly chat starts at 7:00 pm ET. Follow the #SundaySupper hashtag and remember to include it in your tweets to join in the chat. Check out our#SundaySupper Pinterest board for more fabulous recipes and food photos. Would you like to join the Sunday Supper Movement? It's easy! You can sign up by clicking here: Sunday Supper Movement.