Every Thursday I feature a wine I particularly enjoy, whether it's something new and different, is a great value, or from a producer worth checking out.  For this week, my Wine of the Week is the 2011 Bodegas Basilio Izquierdo B de Basilio Blanco.
The Winery
My wife and I had the pleasure of meeting Basilio Izquierdo and tasting through some of his wines at his micro-winery in Laguardia (La Rioja) Spain.   Bodegas Basilio Bodegas  is one of several personal projects of Basilio, who is originally from La Mancha.  He was the Technical Director (head winemaker) of CVNE for over thirty years.  Since 2006 he has been producing his own wines.
Spaniards talking about making wine use the verb elaborar, to elaborate, not fabricar, to produce or manufacture.  To elaborate something, Spain's winemakers say, implies consciousness, time, and the labor of creation and nurturance.
Bodegas Basilio Izquierdo elaborates two white wines, a rose wine and two red wines(about 10,000 bottles annually).
In a nutshell, Bodegas Basilio Izquierdo is focused on
Making vin de garde – wines that age well
Wines that are balanced
Elaborating wines using traditional methods from the 60s, and 70s.
Easier said than done, I'd say, but after tasting though a few samples of his yet to be released red wines and this wine, I'd say he's hitting the nail on the head!
The Wine
This is a unique wine for  the Rioja region of Spain, which is well renown for its red wines.  Much less so for its white wines. And of its white wine grapes, the predominant grape variety (upwards of 90%) is Viura (a.k.a Macabeo).  So, a white wine that is predominately Garnacha Blanca (Grenache Blanc) is rare.
Garnacha Blanca is a minor grape in Rioja.  There are approximately 26 hectares (out of a total of 67,000 total hectares)  of Garnacha Blanca planted in the Rioja D.O.
Not only are wines made with Garnacha Blanca relatively rare in Rioja, but how Basilio Izquierdo "elaborates" this wine is unique.
Whole clusters of grapes for this wine were loaded into the basket of the Bodegas Basilio Izquierdo wine-press…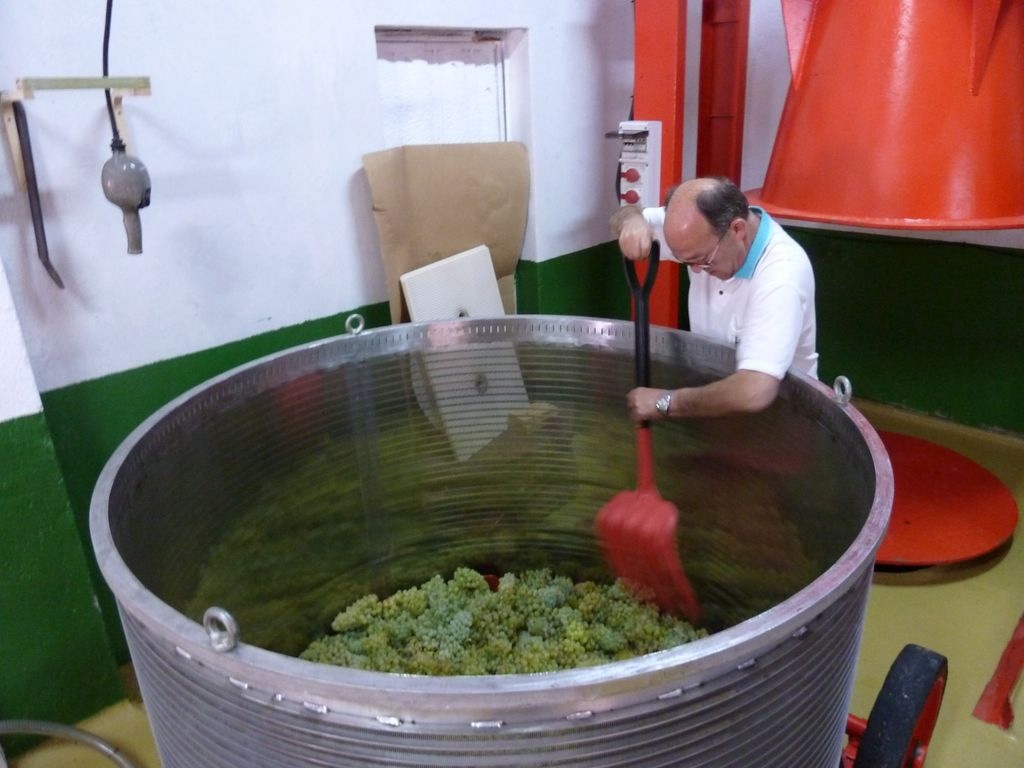 Then very gently pressed (only 40 litters of grape juice from a 100 kilos of whole clusters) in its19th century grape press.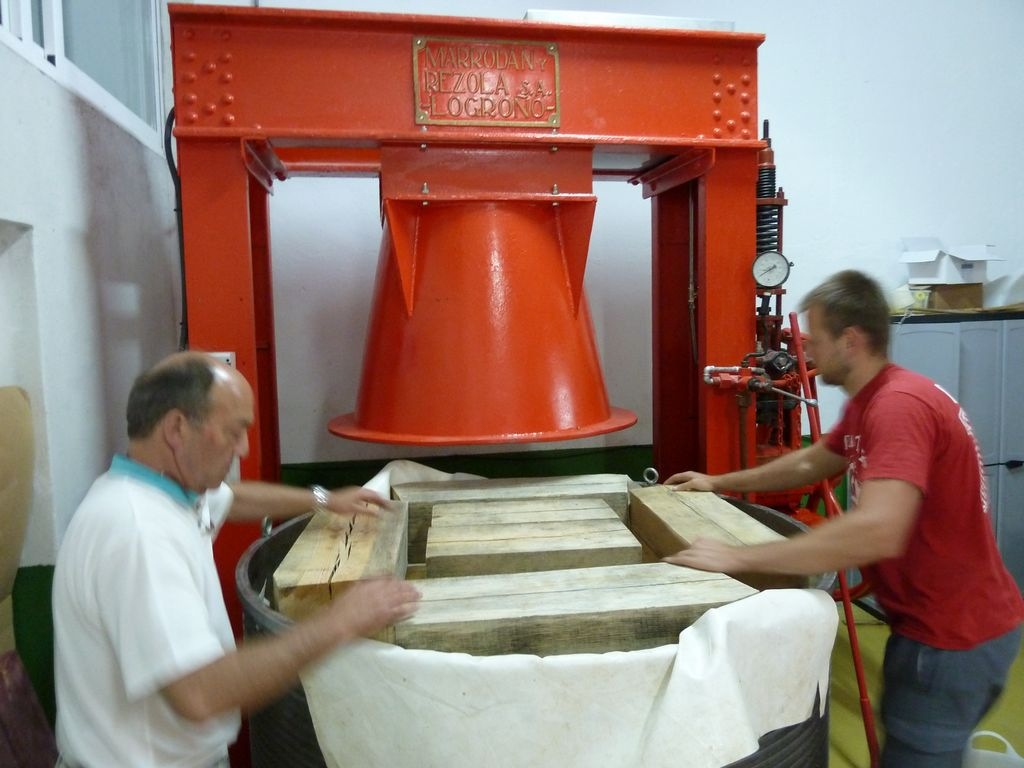 The pressed juice from the Garnacha Blanca and from the Viura are fermented, separately in 600 litre French oak barrels.
Then the wine is manually stirred (a technique referred to as "battonage') on its lees for 9 months in order to enhance it's fruit flavors, and minimize the effects of fermentation in oak barrels.
The wine is blend of 67% Garnacha Blanca and 33% Viura.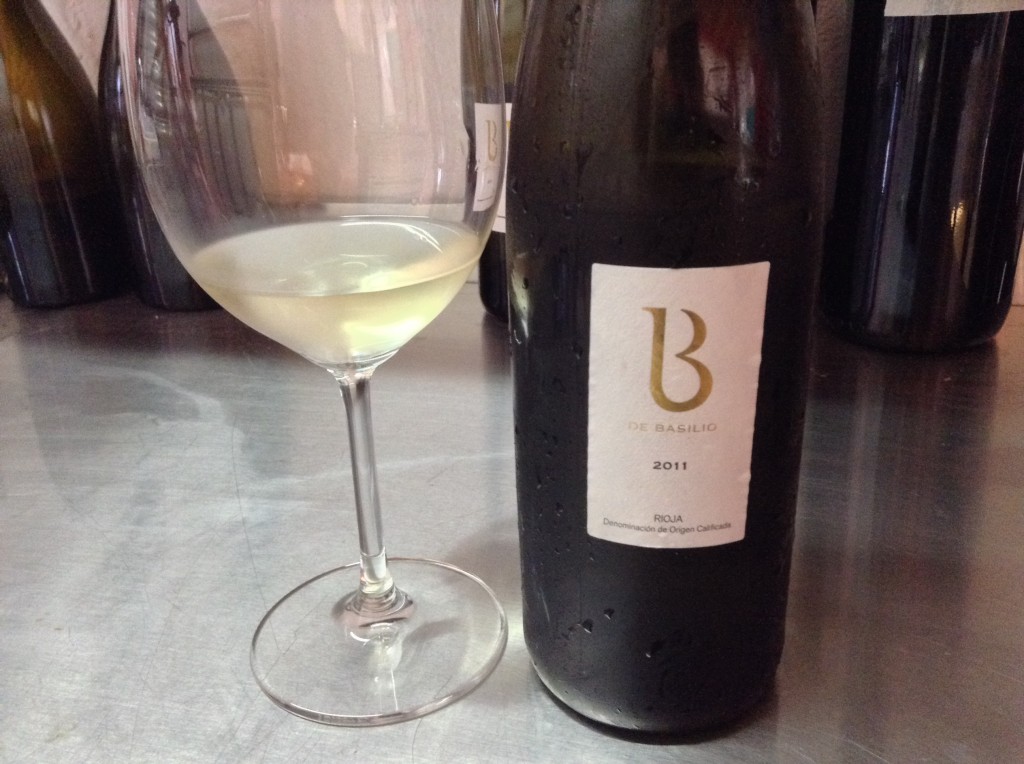 My tasting notes follow:
Lovely stone fruit, citrus, and a touch of white flower aromas.  On the palate, it medium-bodied, surprisingly viscous, well-balanced, and persistent with focused  stone-fruit, citrus , and mineral flavors.  Long finish. 
Rating: A-: This is an excellent wine that will age well for at least another 10 years!
Pair with: Grilled seafood, grilled shrimp,  and spicy Asian preparations of chicken and fish
>>Find this wine<<
Ratings Key:
(A+) – 98-100/Extraordinary
(A) – 94-97/Outstanding
(A-) – 90-93/Excellent
(B+) – 86-89/Very good
(B) – 80-85/Good
(C) – 70-79/Bleh
(D) – 50-69/#Fail
Follow me on Twitter @martindredmond for all things wine, and since I'm a wino, with latent foodie tendencies, you'll also find food and wine pairings, and food related stuff! Become a fan and join ENOFYLZ Wine Blog on Facebook. Cheers!
Related posts you might enjoy: