My wife and I are in Spain! One of the highlights of our trip is our stay in quaint town of Haro, in the heart of La Rioja – Spanish Wine Country. While staying  at Los Augustinos Hotel in Haro, we saw this sign…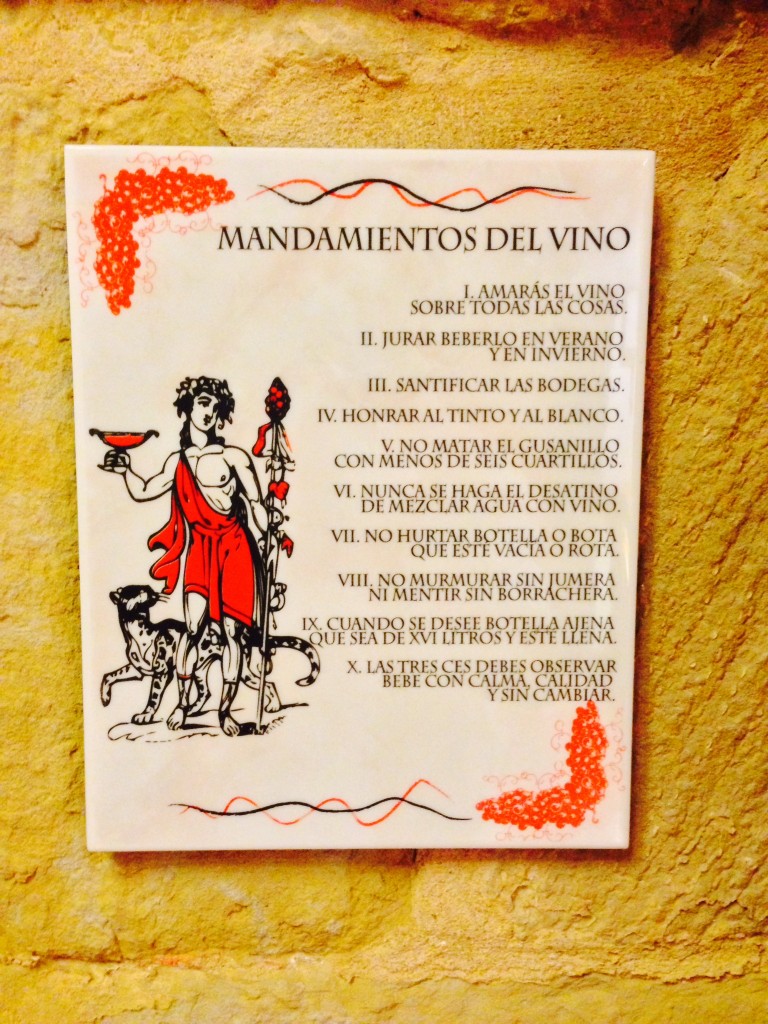 As near as I can figure it out, this is how I believe the above translates into English… The 10 Commandments of Wine
You will love wine above all other things.
Swear to drink it in the summer and the winter.
Sanctify wineries
Honor thy red and thy white.
Don't have a snack with less than 3 liters.
May it never be your destiny to mix water and wine.
Never steal a bottle or wine bag that is empty or broken.
Never mutter or lie without being drunk.
Whenever you desire someone else's bottle, let it be 16 liters and full
Observe the The Three C's, drink with calm, quality (cualidad in Spanish), and without change.
There's some good stuff here for sure, though the list is clearly dated (it refers to a wine bag, a massive quantities of wine in #5, and #9). But the list got me thinking about my own 10 commandments of wine.  Here they are…
Honor they red, white, dry pink, sparkling and dessert wines
Thou shall keep an open mind about wine and continually expand thy palate. Try something new every now and then. Wonderful wines come in a variety of styles, and from all over the world.
Thou shall serve wine at the appropriate temperature to maximize enjoyment.  I suggest using the "20/20" rule as a rule of thumb: take white wine out of the fridge 20 minutes before serving, and put red wine in the fridge 20 minutes before serving.
Thou shall not believe there is a direct correlation between price and quality, or between the quality of the wine and it's closure (i.e. a wine closed with a screw-cap don't automatically equal horrible wine)
Thou shall be thy own best critic – Trust your taste buds, and your won't go wrong…#drinkwutchyalike
Thou shall not mix water and wine (especially frozen water!) – In other words thou shalt not rinse they wine glass with water, then drink more wine!
If thou are at a crowded winery, thou shall not hog the tasting bar.  Get thou glass of wine, then step back…Do unto others..
Thou shall realize the only wine and food pairing rule is that there are no rules. There is no ONE wine to go perfectly with a dish.  Many may work well.
Thou shall realize that a wine's "legs' are not a sign of quality
Thou shall share great bottles of wine with friends who appreciate it!
What are your 10 commandments of wine? Leave a comment and let me know! In vino veritas!