Yes, it's still that time of year… Yes, it's Rosé season (which is year-round in my book; granted most folks don't see it that way)!. With that in mind, I've embarked upon a series of weekly "Drink Pink!" Rosé tastings.  This week's Rosé is the 2012 Domaine de la Modorée La Dame Rousse Tavel Rosé.

The Winery
Domaine de la Mordorée is a relatively new winery in Chateauneuf-de-Pape.  It was founded in 1986 by brothers Fabrice and Christophe Delorme with a total of 5 hectares of vines.  By 1989, the industrious brothers had expanded the holdings of Domaine de la Mordoree to 60 hectares located in 8 different regions in the Southern Rhone valley.  The Domaine is ideally located at the crossroads of Provence and Languedoc. And they have a reputation for producing some great wine from their vineyard across the Rhone Valley including Châteauneuf du Pape, Lirac, andTavel.  The winery takes its name from a wild game bird, known as a woodcock, hence the logo on the wine bottle's label.
"Christophe Delorme's objective as a winemaker is to be unintrusive and maintain total respect for his terroir and the fruit it produces. His dream is to achieve a perfect balance between concentration, terroir and flavors. Delorme seems to be moving in the direction of biodynamic farming. He represents the best of an enlightened approach to winemaking that has one foot in the traditions of the past and one in the future."
– Robert Parker, The World's Greatest Wine Estates
Domaine de la Mordoree practices sustainable, organic farming of their vineyards in all their locations including Chateauneuf du Pape, Lirac, Tavel and Cotes du Rhone. They are working on earning the rights to be certified agriculture biologique. They have old vines. On their property in the rocky terroir of La Crau, their plantings are over 100 years of age.  The wines are aged in a combination of enamel coated, temperature, stainless steel tanks and small oak barrels.
 The Wine
Sad, but true, this was only my second rosé from France this summer (the other was from Provence)!  Candidly, with the popularity of dry rosé on the rise, I'm finding Cali producers have upped their game.  On top of that,  2012 was a great vintage, and I think that's manifest in the across the board quality of California rosés  I've enjoyed this Summer!
Having said that, one the whole, no one does rosé better than the French.  The two most renowned areas for rosé production in France are Provence and Tavel.
This wine is from Tavel, an appellation in the southern Rhone Valley that specializes in dry rosé wines.  Tavel is a little pocket in the Côtes du Rhône about 20 minutes northeast of the city of Avignon.  Tavel has a reputation for producing rosé that is fruity and fun, As opposed to Provence (in particular Bandol) which has a reputation for producing more serious rosé.
The vineyards that produced this wine average 40 years in age.  The grapes are hand-harvested.  It is a blend of 60% Grenache, 10% Syrah, 10% Cinsault, 10% Mourvèdre, 5% Bourboulenc, 5% Clairette. 14.5% abv.  SRP is $25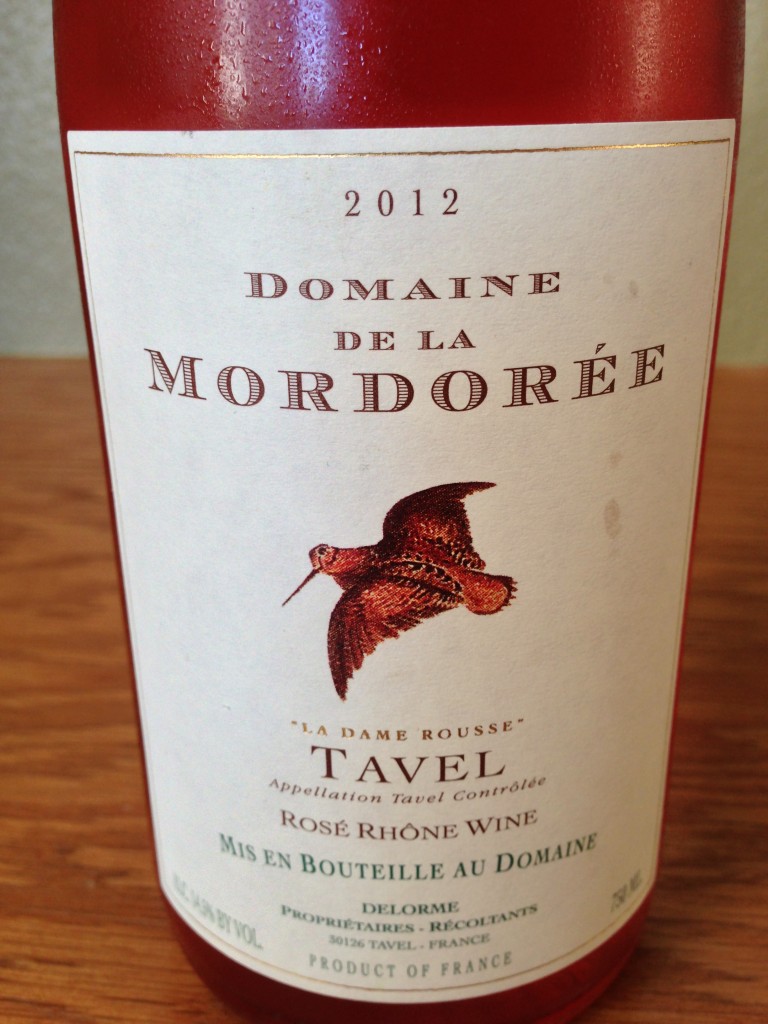 My tasting note follows:
Strawberry red color with a wonderful orange hue with fresh wild strawberry, cherry citrus, and a hint of fresh herbs aromas. On the palate, it medium-full bodied and sophisticated with a creamy mouth feel, lively acidity, and intense strawberry, cherry spice and blood orange flavors. Long spicy finish. 
Rating:  A-: This wine manages to walk the line between serious and "fun" just fine!
Pair with: This is an ideal picnic wine.  It's a great partner for food, and has the body to go with a variety of foods.  Pair with grilled meat, deli sandwiches, light pasta dishes, pizza.  For a real treat pair with Consommé of mussels and prawns in Tavel Sauce.
>>Find this wine<<
Sample purchased for review 
Ratings Key:
(A+) – 98-100/Extraordinary
(A) – 94-97/Outstanding
(A-) – 90-93/Excellent
(B+) – 86-89/Very good
(B) – 80-85/Good
(C) – 70-79/Bleh
(D) – 50-69/#Fail
Follow me on Twitter @martindredmond for all things wine, and since I'm a wino, with latent foodie tendencies, you'll also find food and wine pairings, and food related stuff!
Become a fan and join ENOFYLZ Wine Blog on Facebook. Cheers! This article is original to ENOFYLZ Wine Blog.com. Copyright 2013 ENOFYLZ Wine Blog. All right