This week's #SundaySupper theme is all about Global Street Food. You know – that ready-to-eat food served up at mobile street carts, food trucks, movable market stalls, and food parks.
One of the things I love about living in the San Francisco Bay Area is its diversity.  It's a (mostly) delightful, if sometimes quirky mash-up of ethnicities, cultures, politics, religions, you name it.  The gastronomic scene reflects that diversity.  Name a cuisine and you can find it in the Bay Area.  And of course
And of course, there are a multitude of opportunities to sample street food in the San Francisco Bay Area, including Off The Grid, SOMA Street Food Park, among many others.
One of my favorites is Sanguchon, a Peruvian Food Truck that serves a killer pulled pork sandwich. I usually get it with yucca fries.
Many local wineries have gotten in on the act, none more so that Rock Wall Wine Company, which regularly hosts "Food Truck Frenzy" with 6-8 gourmet food trucks, a DJ, and plenty of their award-winning wines.
Yes…wine goes with damn near anything.
Especially street foods from around the world.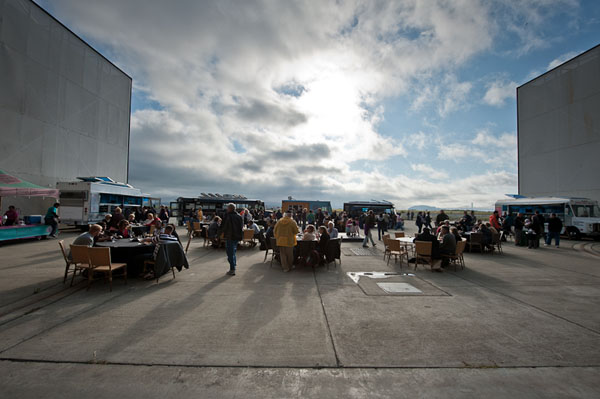 Global street food deserves a global wine selection.  My wine pairing recommendations include wines from Argentina, France, Germany, Italy, and California
My wine pairing recommendations  and this weeks slate of scrumptious #SundaySupper street eats follow (click on the name of the wine to find):
Pair these dishes with sparkling wine.  One of my favorites is Scharffenberger Brut Excellence.  It's a great value that's a blend of 67% Pinot Noir and 33% Chardonnay with a full-bodied golden apple, ginger and honey character.  And remember sparkling wines are one of the most friendly wines there is!
Pair these dishes with a Pinot Blanc, a white grape variety that is a mutation of Pinot Noir. The first time I had it with food prepared with typical Indian food spices I was skeptical, but Pinot Blanc and such dishes rock! Look for the 2011 Paul Black Pinot Blanc d'Alsace from France.  It opens up with appealing apple, lemon and ginger aromas that follow on the palate with a lively mouthfeel, a kiss of tropical fruit and mineral undertone.
Pair these dishes with a wine made from the Torrontés grape variety, Argentina's only indigenous grape.  Look for the 2011 Bodegas Colomé "Estate" Torrontés Valle Calchaquí Salta.
One of the tried, tested and mostly found true tenets of wine and food pairing is that "Riesling goes with anything".  Arguably Riesling is the most versatile white wine at the table. That's certainly the case this week.  Pair this diverse range of dishes with an off-dry Riesling.  I like the 2011 Von Hovel Oberemmeier Hutte Riesling Kabinett (is that a mouthful or what?).  It has a stone fruit, tropical fruit, sweet lime, and spice character and racy acidity.
Pair these dishes with a dry Rosé, a very versatile partner at the table.  Look for the 2012 Bonny Doon Vin Gris de Cigare. This an atypical Rosé in that it's a blend of  both red and white Rhône grape varieties.  A typical Rosé is composed of solely red grape varieties.  It has an appealing strawberry, white peach, melon, spice and mineral character.
Pair these dishes with Chianti, the classic Italian red wine. Look for the 2011 Coltibuono Cetamura Chianti.  It's a blend of 90% Sangiovese and 10% Canaiolo with a beautiful black cherry, spice, and licorice character with a kiss of rusticity.
Pair these dishes with Malbec, or more specifically, a blend of Malbec and Tannat, a little known grape variety, that today is best known as the national red grape variety of Uruguay.  Look for the 2011 Domingo Molina Hermanos Malbec-Tannat from Argentina. It's a dark and delicious full-bodied wine with a blackberry, plum, and chocolate character with soft texture and a mineral undertone.
Pair these sweet treats with Banyuls, a lighter style fortified wine made in France.  It's a Port-style wine made from Grenache, and is a great match for chocolate.  Look for the 2009 Les Clos de Paulilles Banyuls Rimage.  It has rich, dense blackberry, plum, caramel, and vanilla aromas and flavors. 
Pair sweet treats with Moscato d' Asti. I like the 2012 Vietti Cascinetta Moscato d'Asti.  It has a lovely rose, and peach character with a soft effervescence.
Pair these sweet treats with the 2011 von Hovel Riesling noted above:
Let's hit the pavement this Sunday in search of the best street food from around the globe!  Join us for a #SundaySupper event featuring Global Street Food that we've made in our own kitchens, in honor of our favorites and/or those we would love to try! We'll also be holding our live #SundaySupper twitter chat at 7pm (ET) on Sunday evening.  We'd love to have you join us as we discuss the best and the worst of Global Street Food!