It's that time of year… Yes, it's Rosé season!. With that in mind, I've embarked upon a series of weekly "Drink Pink!" Rosé tastings.  This week's Rosé is the 2012 Margerum Riviera Rose.
The Winery
The Margerum Wine Company is Santa Barbara County based winery owned by Doug Margerum.  The winery currently produces three primary wines: a Sauvignon Blanc called Sybarite, a Syrah called Über, and a Rhone blend called M5. They also produce a variety  of single vineyard wines from Pinot Gris, Sauvignon Blanc, Grenache, & Syrah, a distinctive Pinot Gris "Klickitat" from their own vineyard in Washington State, along with small lots of Chenin Blanc, Riesling, & this Rosé.
I discovered the winery when I attended the 2013 Rhone Rangers Grand Tasting. This Rosé was one of my top rated wines (for a complete list of my top rated Rosé from the tasting click here).
The Wine
The 2012 Margerum Riviera Rose is composed of Grenache gently pressed and blended with saigneé of Grenache, Counoise, and Cinsault.   Some red barrel aged Grenache (3%) was added to the blend to give color, light tannins, and weight.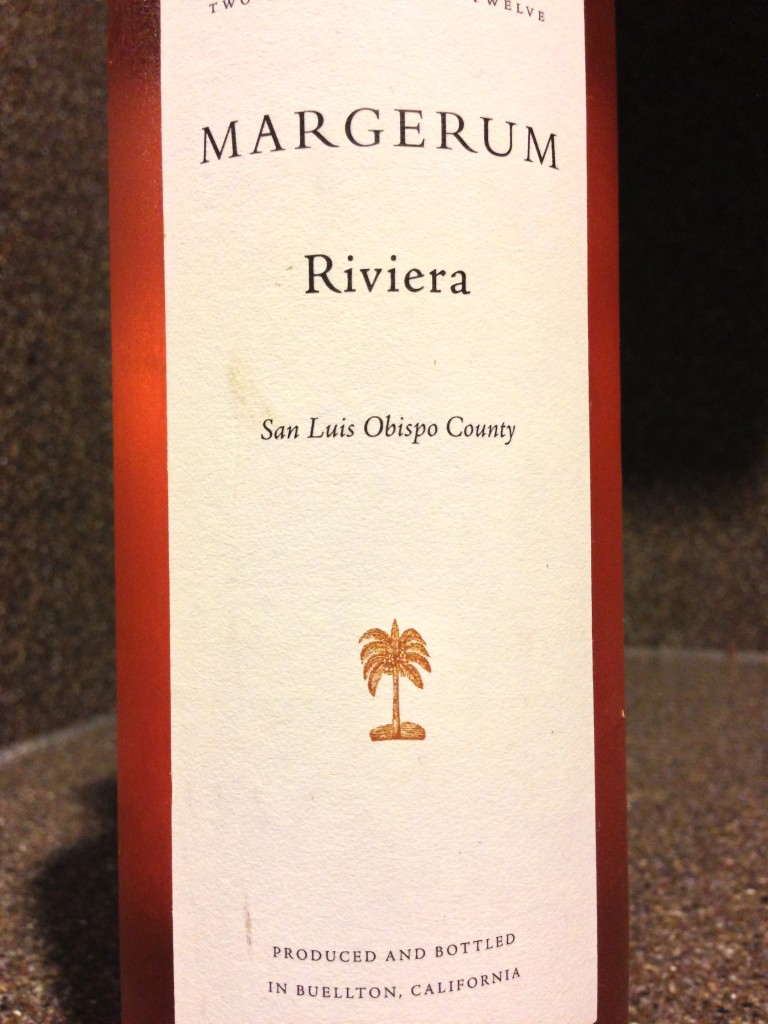 My tasting notes follow:
Salmon pink color with appealing aromatic red berry, melon, and stone fruit aromas. On the palate, it's light-bodied, fairly dry, fresh, and elegant with raspberry, strawberry, melon and spice flavors. Creamy mouthfeel.  Medium-long finish.
Rating:  A- This is a distinguished Rosé I highly recommend!
Pair with: I enjoyed with Fish tacos and Tostada Shrimp Ceviche!
Sample purchased for review 
Related Posts:
Ratings Key:
(A+) – 98-100/Extraordinary
(A) – 94-97/Outstanding
(A-) – 90-93/Excellent
(B+) – 86-89/Very good
(B) – 80-85/Good
(C) – 70-79/Bleh
(D) – 50-69/#Fail
Follow me on Twitter @martindredmond for all things wine, and since I'm a wino, with latent foodie tendencies, you'll also find food and wine pairings, and food related stuff!
Become a fan and join ENOFYLZ Wine Blog on Facebook. Cheers! This article is original to ENOFYLZ Wine Blog.com. Copyright 2013 ENOFYLZ Wine Blog. All rights reserved