Every Thursday I feature a wine I particularly enjoy, whether it's something new and different, is a great value, or from a producer worth checking out.  For this week, my Wine of the Week is the 2011 Campovida Viognier Riserva.
The Winery
Campovida is a family owned and operated certified organic farm and working vineyard located in Hopland, California in Mendocino County.  It's a unique place that offers deep connections with nature, wine tasting, a professional culinary kitchen, a 10-room retreat center. It's a place where you can relax, enjoy and create your custom gatherings. The property is located on a site that was formerly the Fetzer Valley Oaks Food & Wine Center , a 51-acre property originally opened and founded by the Fetzer family.
The husband and wife team of Gary Breen and Anna Beuselinck are owners of Campovida. The couple purchased the property intending to make it their dream home. But it's evolved into Campovida.
My wife and I had the pleasure of visiting Campovida about a month ago.  We were very impressed by the couple's vision, the property, and the wines.
The winemaker is Sebastian Donoso. Sebastian, who was born in Chile, moved to the United States with his family when he was 14. He attended architectural school in Miami, Florida, but quickly realized that's not what he wanted to do with the rest of his life.  He moved to California and graduated from Fresno State University with a degree in enology and began his career as a winemaker at Sarcina.  He became winemaker for Campovida in 2012.
The winery produces a total of about 2,000 cases of wine annually.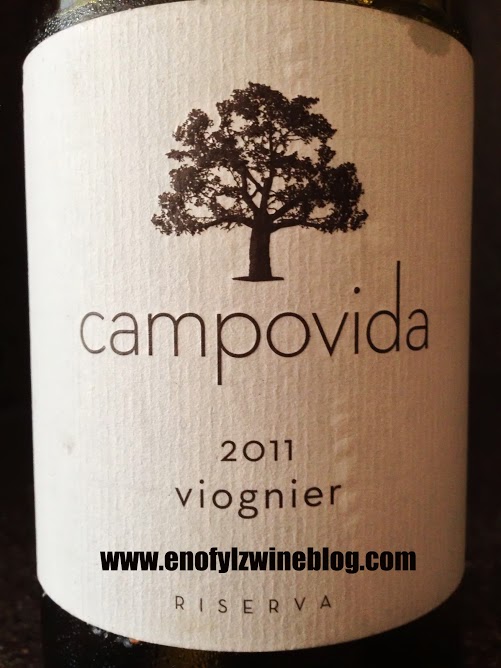 My tasting notes follow:
Pale yellow gold color with pretty aromatics of honeysuckle, stone fruit and white flowers. On the palate, it's dryish, medium-bodied with a supple texture, medium acidity, with peach, nectarine, honey, sweet lime, spice, and mineral flavors. Medium-long finish.
Rating: A-: This is lovely wine that shows a wonderful harmony.
Pair with: Pair with curried dishes, shellfish, or dishes with a fruity sauce such as pineapple salsa,  or mango chutney. Try with  Viognier Steamed Clams. And remember the holidays will be here before you know it!  This wine would be a fine partner at your holiday table.
Sample provided for review
Ratings Key:
(A+) – 98-100/Extraordinary
(A) – 94-97/Outstanding
(A-) – 90-93/Excellent
(B+) – 86-89/Very good
(B) – 80-85/Good
(C) – 70-79/Bleh
(D) – 50-69/#Fail
Follow me on Twitter @martindredmond for all things wine, and since I'm a wino, with latent foodie tendencies, you'll also find food and wine pairings, and food related stuff! Become a fan and join ENOFYLZ Wine Blog on Facebook. Cheers!
This article is original to ENOFYLZ Wine Blog.com. Copyright 2013 ENOFYLZ Wine Blog. All rights reserved.