It's that time of year… Yes, it's Rosé season!. With that in mind, I've embarked upon a   series of weekly "Drink Pink!" Rosé tastings.  This week's Rosé is the 2012 Cornerstone Cellars Stepping Stone Corallina Rosé.
Cornerstone Cellars was founded in 1991 by Drs. Michael Dragutsky and David Sloas. Their first crush was five tons of Howell Mountain Cabernet Sauvignon. Today the founders of Cornerstone Cellars and have been joined by Managing Partner Craig Camp, Winemaker Jeff Keene, in the Napa Valley, and a group of Memphis based partners led by Hal Lewis and John Carrier. In addition to the Cornerstone label, their second label is Stepping Stone.  The Stepping Stone wines are intended to be accessible sooner.
All the wines share one goal: to make compelling, exciting wines that speak clearly of the vineyard, variety and vintage from which they are born.
This rosé from Stepping Stone by Cornerstone was conceived as a Rosé from the beginning. It is made entirely from a single block of Syrah vines sourced from the West side of the Oak Knoll  District AVA in Napa Valley.  The fruit was whole-cluster pressed to maintain the fruit's aroma and flavor profile.  It was aged for 5 months in mature French oak.
"We confess to being rosé snobs. Corallina Syrah Rosé is a real rosé. That means it's not the leftovers of someone trying to beef up their red wine….Single vineyard Napa Valley syrah, fermented bone-dry and aged in oak for almost six months is a statement. We're serious about rosé."
Cornerstone has tasting rooms in Yountville in Napa Valley and in Gaston, Oregon.  I must confess I've not had the pleasure of stopping by to do some tasting, but after tasting this wine, I'm looking forward to visiting next time I'm in Napa!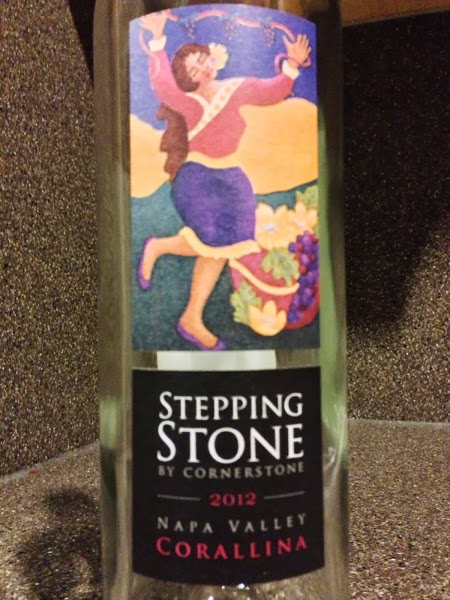 My tasting notes follow:
Copper color with aromatic with creamy strawberry, citrus and a hint of floral aromas. On the palate, it's medium-bodied, with medium acidity, a great mouthfeel, with wild strawberry, citrus rind, and a kiss of cranberry and mineral flavors. Medium-long finish. 14.1% alcohol.
Rating:  A-
I really enjoyed this wine.  I especially appreciate the fact that it's medium-bodied. That, along with it's acidity make it very versatile at the table.  Unlike many Rosés, which are great with salads or lighter fare, this one can stand up to heartier fare.  It's currently on sale for $16 through May 31 (SRP-$20), which is a great deal. Highly recommended!  

Sample provided for review by Cornerstone Cellars
Ratings Key:
(A+) – 98-100/Extraordinary
(A) – 94-97/Outstanding
(A-) – 90-93/Excellent
(B+) – 86-89/Very good
(B) – 80-85/Good
(C) – 70-79/Bleh
(D) – 50-69/#Fail
Follow me on Twitter @martindredmond for all things wine, and since I'm a wino, with latent foodie tendencies, you'll also find food and wine pairings, and food related stuff!  Become a fan and join ENOFYLZ Wine Blog on Facebook. Cheers! This article is original to ENOFYLZ Wine Blog.com. Copyright 2013 ENOFYLZ Wine Blog. All rights reserved.