This week's SundaySupper theme is all about "low and slow" foods.  I adore foods prepared "low and slow" whether it's a crock-pot, smoked meats, or on the stove top (gumbo anyone?).  The foods are so full of flavor, one can use less expensive cuts of meat, and perhaps most of all, I like that you can leave the food unattended for long stretches of time.  My favorite food prepared "low and slow"?  That's a tough one, there are so many, but top of mind for me would be rib!  What about you?  What's your favorite food prepared "low and slow"?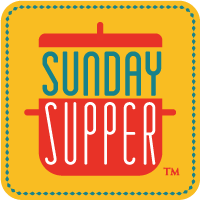 If you're not familiar with the Sunday Supper Movement, it was founded by Isabel aka Family Foodie. Our mission is to bring back Sunday Supper around the family table in every home.
Check out this week's lineup of great dishes from the #SundaySupper family of food bloggers, and my wine pairing recommendations. 
Low and Slow Breads:
Low and Slow Starters, Main Dishes and Sides:
Pair these dishes with Pinot Gris, an underappreciated grape variety that very good at the table.  Look for the 2010 Domaines Schlumberger Pinot Gris Les Princes Abbes from Alsace, France. It's a dry-style with a rich honeyed tropical fruit and baked apple character. 
Pair these dishes with a Rosé.  Look for the 2012 Bonny Doon Vin Gris de Cigare. It's a a tasty blend of Grenache, Roussanne, Grenache Blanc, Cinsault and Mourvèdre that is chock full of strawberry, stone fruit, and citrus flavors.
Pair these starter, main, and side dishes with a Chianti, a wine from Tuscany region of Italy.  Look for the 2011 Marchesi de' Frescobaldi Chianti Castiglioni. It's a blend of 90% Sangiovese, and 10% Merlot that's between medium and full-bodied with soft tannins, great acidity that shows plum, raspberry and spice flavors.
Pair these main dishes with 2011 Ridge Vineyards "Three Valleys" Sonoma Zinfandel Blend. It's a blend of Zinfandel, Petite Sirah, Syrah, Grenache, Alicante Bouchet, and a significant dose of old-vine Carignane that adds depth and acidity to this tasty blend.  It's well-balanced has a bright red berry fruit, herbal and spice character. 
Pair these main dishes with a red Rhône blend.  What's great about blends is that the combination of grape varietals creates a wine that is greater than the sum of its parts.  Such is the case with my recommended wine the 2010 Bonny Doon Vineyard Contra Old Vine Field Blend.  It's a rich blend of Carigane, Syrah, Zinfandel, and Petite Sirah loaded with dark fruit, spice, and a bit of smoke aromas and flavors.
Pair these main dishes with a Rioja, the 2007 Bodegas Vina Eguia Reserva. It shows spice, leather and bright red fruit aromas followed by raspberry, sweet tobacco and vanilla spice on the palate.  I recommend letting the wine "breathe" for an hour or so and you'll be amply rewarded.
Low and Slow Desserts:
Pair these dessert with a late harvest Riesling.  I love the 2011 Navarro Late Harvest Cluster Select Riesling. It has a great apricot, pear, pineapple, honey and baking spice character, with a long finish. And its crisp acidity keeps from being cloying.
Remember to join the #SundaySupper chat on Twitter Sunday to discuss cooking low and slow! We'll tweet throughout the day and share our delicious recipes. Our weekly chat starts at 7:00 pm EST. Follow the #SundaySupper hashtag, and remember to include it in your tweets to join in the chat. Check out our #SundaySupper Pinterest board for more delicious recipes and food photos.