My wife and I make it a point to drink sparkling wine on a weekly basis.  It's typically Friday night…thus "T.G.I.F. Bubbly"  It's a celebration of sort, to the end of the workweek.  She get's to drink and enjoy the bubbly, while I get to drink, enjoy and blog about it!  This week's sparkling wine is the NV Terre di San Venanzio Fortunato Prosecco
The Winery

Terre di San Venanzio Fortunato is a family owned winery located near the most prestigious 'cru' of Cartizze in Valdobbiadene. The winery is named after San Venanzio Fortunato,  a Latin poet born in Valdobbiadene in the sixth century, who was elected Bishop at Poitiers in France.
They produce limited quantities of Prosecco Superiore DOCG sparkling wines including Brut, Extra Dry, Millesimato, and their top of the line Superiore di Cartizze.  They also produce two non Prosecco Superiore DOCG sparkling wines – a Rose, and Prosecco Treviso.
The Wine
For many years Prosecco was used to describe both the grape, and the region where the grape are grown.  In mid 2009, Italian wine regulations were revised to clearly state that Prosecco was no longer to be classified as a grape, but a region that was clearly delimited.  There are two such regions classified as a DOCG, the highest status for Italian wines. This one is from one of those regions known as Conegliano Valdobbiadene.
Most Prosecco is made in the extra-dry (a.k.a. extra-brut) style, meaning they have higher levels of residual sugar resulting in a touch of sweetness, but this wine is made in the "Brut" style more familiar to most American palates.  The producer does several secondary fermentations per year to ensure freshness.
This wine is a direct buy at K&L Wine Merchants.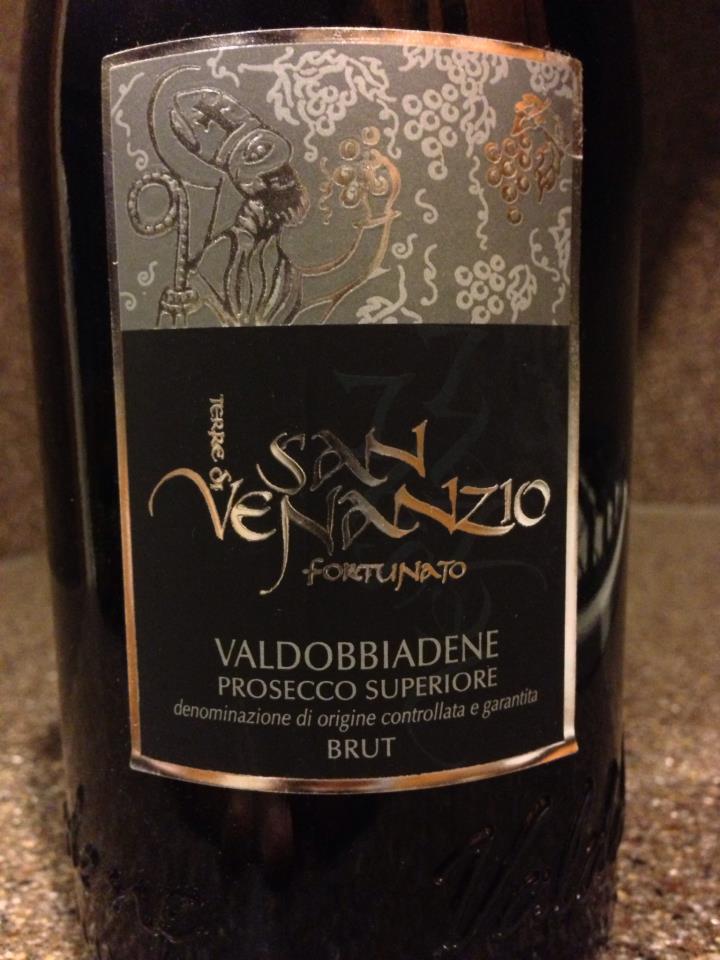 My tasting notes follow:
Very pale straw yellow color with lots of pin prick bubbles. Shows aromas of green apples, stone fruits, and white flowers. On the palate, it's medium-bodied, dry with a creamy mousse and apple, white peach flavors with a mineral undertone. Medium finish. Great QPR @$12
Rating:  B+ : I think I just found a new "house" Prosecco!
Pair with: We paired with a variety of sushi rolls, and it was a very good pairing! Since this is a Brut, rather than extra-dry style, I think it's a more versatile food pairing partner.  Pair with appetizers/snack like popcorn, chips or ceviche, or light main course with fish, seafood, crustaceans, tamales, fish tacos or pasta primavera!
The Wine Geek Stuff:
Here's an interesting aside – The producer recommends drinking this from a "Reidel goblet" rather than the typical flute!  Great idea!  I often drink bubbly from a regular wine glass…
Ratings Key:
(A+) – 98-100/Extraordinary
(A) – 94-97/Outstanding
(A-) – 90-93/Excellent
(B+) – 86-89/Very good
(B) – 80-85/Good
(C) – 70-79/Bleh
(D) – 50-69/#Fail
Follow me on Twitter @martindredmond for all things wine, and since I'm a wino, with latent foodie tendencies, you'll also find food and wine pairings, and food related stuff!  Become a fan and join ENOFYLZ Wine Blog on Facebook. Cheers! This article is original to ENOFYLZ Wine Blog.com. Copyright 2013 ENOFYLZ Wine Blog. All rights reserved.