Every Thursday I feature a wine I particularly enjoy, whether it's something new and different, is a great value, or from a producer worth checking out.  For this week, my Wine Of The Week is the 2011 Bedrock Wine Co. Heritage Compagni Portis
Bedrock Wine Co. is an "itsy-bitsy winery making wine in a converted chicken coop". Though recently Morgan Twain-Peterson, the winemaker/owner of Bedrock Wine Co. announced some big changes including building a new winery, and hiring of close friend, Chris Cottrell to work with him.  Sounds like Bedrock will be moving from the "itsy-bitsy" level to a higher level production-wise.  The wines are already major quality-wise!
There are two things that make Bedrock Wine Co. special in my view – the first is Morgan (you can check out his full bio here), but suffice it to say he's been making wine since he was "knee-high to a bug" including working harvests in McLaren Vale, Australia and worked as a visiting winemaker at Chateau Lynch-Bages in Bordeaux before returning to California to focus on revitalizing California's heirloom vineyards. The second is his vineyard sources. I did a post last year entitled Bedrock Wine Co: Where Old Vine Love And Transcendent Wine Making Come Together, wherein I focused on the sources of Bedrock's grapes.
In terms of the wine making process itself at Bedrock, it's surprisingly Ole Skool (or as Morgan might put it "Cro-magnum").  Grapes are pitch-forked into a small Zambelli destemmer, the punch-downs are manual, after fermentation the wines are basket pressed in an Italian press that is manually operated.   It's a very manual and time-consuming process, but I can vouch for the results.  Peterson is making some unique distinctly Californian wines that are spectacular!
The Wine
The grapes for this wine were sourced from Compagni-Portis vineyard, one of the many vineyards from which Bedrock Wine Co. sources grapes that are listed in the registry of the Historical Vineyard Society.  It is one of the few remaining mixed-white vineyards.
Here's what the Bedrock Wine Co. says about the wine…
As I have written in the past I am just smitten with this vineyard.  The eclectic field blend of Gewurtzraminer, Riesling, Chardonnay, Roter Vetliner, and others was planted in 1954…The dry-farmed vines yielded a scant 1 ton to the acre in 2011.  The wine was whole-cluster pressed and native yeast fermented in a combination of stainless steel and older French barrels.  As one would expect from a cooler year this is a more delicate version of Compagni; it is beguilingly fragrant and expressive…
Not familiar with Roter Vetliner?  Neither was I.  It's an ancient grape native to Austria of unknown parentage. Today, there is little acreage planted to this grape in Austria.  I imagine there is even less here in California. From what I glean from a bit of research it's similar to a pungent version of Sauvignon Blanc that ages well.  It's part of the Vetliner family, the most well-known is Grüner Veltliner.  But there are also  Brauner Veltliner and Frühroter Veltliner grape varieties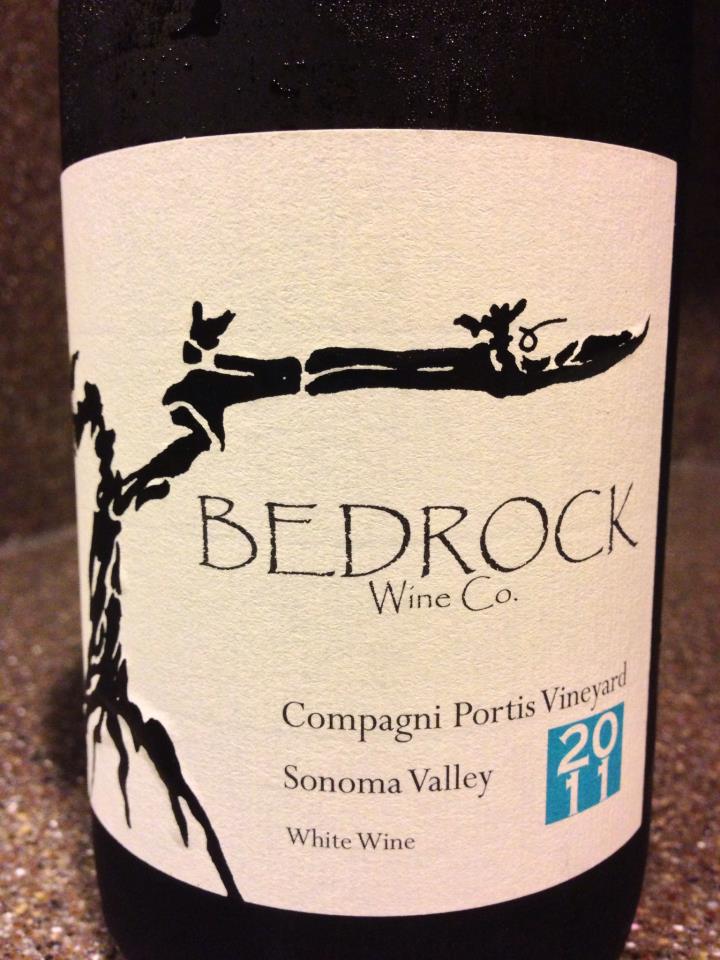 My tasting note follows:
Pale yellow color with aromatic, lychee, tangerine, spice, and a hint of floral aromas. On the palate, it's medium-bodied, and fresh with a great mouth feel followed by white peach, tangerine, and spice flavors. Med/long finish.  – 92pts
Rating: Highly Recommended.  This is a great example of Bedrock achieving it's objective to channel the fruit of ancient vines into powerful, elegant, and distinctly Californian wines
Pair with: The evening I enjoyed this wine, I paired it with Tandoori Chicken, Dal (yellow lentil) Curry, and Boti (Lamb) Kabab.  I'd pair with other spicy Asian cuisine, Seafood Gumbo, or Roasted Roots and Fruits.  It's also just fine on its own!
The Wine Geek Stuff:
Alcohol: 13.8%
Closure: Cork
AVA: > California> Sonoma County> Sonoma Valley
Grape Varieties: Gewurtzraminer, Riesling, Chardonnay, Roter Veltliner, and several others.
Cooperage: Aged in SS and neutral oak for 5 months
Retail: $25
Cases produced: 130
Drink: now – 2015
Related posts you might enjoy:
Follow me on Twitter @martindredmond for all things wine, and since I'm a wino, with latent foodie tendencies, you'll also find food and wine pairings, and food related stuff!  Become a fan and join ENOFYLZ Wine Blog on Facebook. Cheers! This article is original to ENOFYLZ Wine Blog.com. Copyright 2013 ENOFYLZ Wine Blog. All rights reserved.