This week's #SundaySupper theme is all about lighter healthier food to help you maintain a healthy, wholesome diet. #SundaySupper.  One of the things I appreciate most about the talented #SundaySupper food bloggers is their creativity.  So I know you'll find not only slimmed down versions of some of your favorite dishes, you'll also be introduced to some new, exciting, and undoubtedly diverse, healthy fare.
The #SundaySupper mission is to Bring Back Sunday Supper around the family table in every home. It starts off as one day a week and soon becomes a way of life.
Speaking of healthy…it's generally accepted that moderate consumption of alcohol, including wine does more good than harm. With that in mind, here are some things to understand about the calories in wine:
Wine is made of mostly water, alcohol, carbohydrates.  The carbs result from the residual sugar left in wine after fermentation.
A glass of wine can range between 110 – 300 calories depending on the wine. The range has to do with alcohol content, inherent sweetness of the wine and serving size.

Generally speaking, the lower the alcohol content, the lower the calories.  That's because alcohol has 7 calories per grams of alcohol compared to 4 calories per gram for sugar (in the form of residual sugar in wine). If you're counting calories, consider wines below 15% alcohol by volume.

Use 25 calories per ounce as a caloric guideline for wine. If you're really counting calories, and want to know the specific amount of calories in a particular wine varietal (e.g. Syrah v. Merlot v Chardonnay), you can search the USDA National Nutrient Database for the Specific Calories by Wine Varietal (I found it interesting the list includes dessert, red and white wine, but doesn't seem to include sparkling wines).  
As with food,  portion control is important with wine.  A standard serving of wine is considered to be 5 ounces, but if you're counting calories a 3 or 4 ounce pour may be more appropriate.
Generally speaking wines white wines and Rosé has fewer calories that red wine .  The white wines that are lowest in calories are sparkling wines, German Riesling (Spätlese and Kabinett), Pinot Grigio, Albariño,  and Vino Verde.
Wines that tend to be highest in calories are dessert wines like Port, Sauterne, Ice wine, and late harvest wines.  On the other hand, the standard serving size for dessert wines is about 2 ounces rather than the 5 ounces for table wines.
But rather than focusing on how many calories are in one type of wine versus another, pair food with the wines you enjoy most. If you need to watch your calories, then consider a smaller pour.
Check out this week's sensational Skinny #SundaySupper recipes. My wine pairing recommendations are italicized. Click on the name of the wine to find out where to purchase.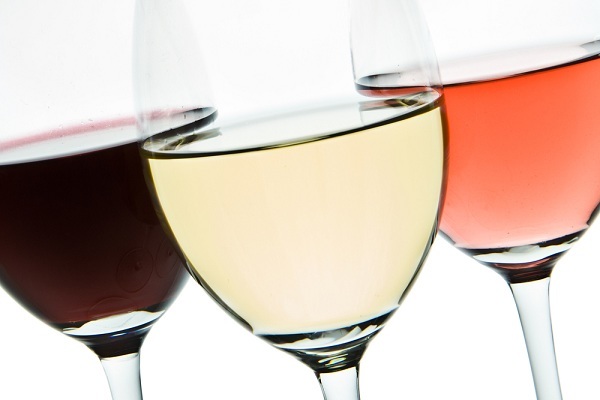 Pair these starters, main and side dishes with sparkling wine.  I like the Deligeroy Crémant de Loire Brut.  It made my Top 20 Sparkling Wines Under $20 list for 2012.  It's a blend of Chenin Blanc, Chardonnay & Cabernet Franc with a stone-fruit, raspberry, and mineral character.  
Pair these starters, main and side dishes with Sauvignon Blanc. Sauvignon Blanc is a top of mind wine for pairing with lightened up fare for me.  That's because lighter healthier foods are often prepared with fresh herbs, and/or well-spiced to make more flavorful.  Not only is Sauvignon Blanc a great match for food prepare that way, it works well with sharper acidic ingredients (yogurt for example which is often subbed for mayo), vegetables, salads, and seafood which are staples of lighter fare.  Look for the 2012 Kim Crawford Sauvignon Blanc.  It's off-dry with a zesty citrus, tropical fruit, melon, with a bit of herbaceousness character.
Riesling is another top of mind natural wine for pairing with lightened up fare. Not only is it among the most versatile of wines.  It also tends be be lower in calories because of it's lower alcohol content (especially German Riesling).  Pair these starters, main  and side dishes with the 2011 Josef Leitz Rüdesheimer Drachenstein "Dragonstone" Riesling QbA.  It shows a zesty lime, peach, pink grapefruit, apple, spice and mineral character. 

Pair these starters, main  and side dishes with Beaujolais, a wine from the eponymous region made from the Gamay grape.  While I'm not a big fan of the Beaujolais Nouveau release annually in November, I am a fan of Cru Beaujolais.  They tend to be light-bodied, food friendly red wines with soft tannins.  Look for the  2010 Potel-Aviron Côte de Brouilly "Vieilles Vignes" Cru Beaujolais.  It has a black raspberry, floral, and asian spice character.  Can't find a Beaujolais?  Then go with your favorite Pinot Noir – a similar style of wine. 
Pair these starters, main  and side dishes with a red Rhône blend. I recommend the newly released vintage of one of my favorites, the 2011 Tablas Creek Vineyards Patelin de Tablas.  It's a blend of Syrah, Grenache, Mourvedre, and Counoise. The blend of grape varieties produces a vinous synergy resulting in a fresh juicy red fruits, spice, and mineral character.
Pair these desserts & snacks with a Moscato d'Asti.  Look for the 2011 Saracco Moscato d'Asti. It shows a sweet, fragrant, delicate, floral, tropical fruit, and a hint of honey character.  It's "frizzante", which means it's not as effervescent as most sparkling wines. 
Pair these desserts & snacks with a late harvest Gewürztraminer.  One of my favorites is the 2011 Castello di Amorosa Late Harvest Gewürztraminer. It has intriguing honey, apricot, honeysuckle, and spice aromas and flavors, and is succulent and rich on the palate.  It's just flat-out delicious! It's a bit pricey, but remember portion sizes are smaller and dessert wines will last for weeks rather than day.  Beside it's tasty enough to be dessert on its own!
Pair these desserts & snacks with Yalumba Museum Reserve Muscat a fortified dessert wine from Australia.  One sip and it'll be Muscat love with its decadently rich toffee, caramel, and spiced orange peel character.
Join the #SundaySupper conversation on twitter each Sunday. We tweet throughout the day and share recipes from all over the world. This week we will be sharing out special skinnified recipes! Our weekly chat starts at 7:00 pm ET and you do not want to miss out on the fun. Follow the#SundaySupper hash tag and remember to include it in your tweets to join in the chat. Check out our #SundaySupper Pinterest board for more fabulous recipes and food photos.
Join us Around the Family Table this Sunday at 7pm Eastern Time and share your favorite healthy recipes with us!