My wife and I make it a point to drink sparkling wine on a weekly basis.  It's typically Friday night…thus "T.G.I.F. Bubbly"  It's a celebration of sort of the end of the workweek.  She get's to drink, and enjoy the bubbly, while I get to drink, enjoy and blog about it!  This week's sparkling wine is the 2008 Schramsberg Blanc de Noirs.

Schramsberg pioneered the Blanc de Noirs style in the United States, releasing the first such American sparkler in 1967.
Schramsberg Vineyard is Napa's second oldest winery (Charles Krug, established in 1861 was the first winery in Napa). It was founded in 1862 by German immigrant Jacob Schram who set out to make world-class sparkling wine in the true Méthode Champenoise style. The business flourished, and Schram built a lavish Victorian that replace the original log cabin built on his property. The Schram Victorian is still lived in to this day.  After Schram's death, the lethal combination of phylloxera and Prohibition brought an end to the Schram era.  The property exchange hands more than few times until  1965 when it sold to Jack and Jamie Davies who re-established the original historic Schramsberg property, run-down at the time,  as a sparkling wine estate. Today Schramsberg is known as "America's House of Sparkling Wine" and remains family-owned.  It is run by Hugh Davies, Jack and Jamie's youngest son who leads the winery's management and winemaking team.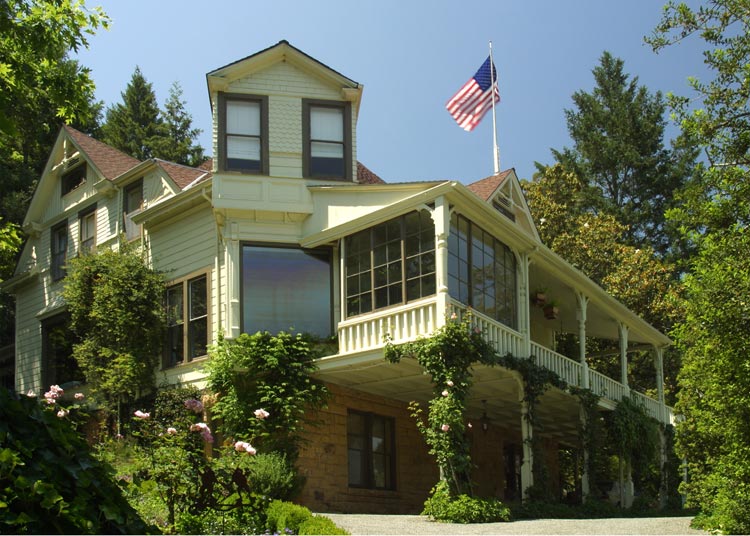 Schramsberg has been the leader in the American sparkling wine space.  Theirs was the first California winery to provide a Blanc de Blancs in 1965 followed by a Blanc de Noirs in 1967.  Schramsberg also made California's first Crémant (an absolutely delicious demi-sec style sparkling wine) in 1972.  While Schramsberg is probably best know for their sparkling wines, they also produce highly regarded Pinot Noir and Cabernet Sauvignon.
Schramsberg's 217-acre sparkling wine estate, a landmark once frequented by Robert Louis Steven is one of the Napa Valley's all-time best places to explore.  The Schramsberg Vineyards tour starts in the lobby where you're introduced to the history of Schramsberg Vineyards. After that, you're taken on a guided tour of the 120 year old wine caves, and introduced to the classic method of producing sparkling wine followed by a formal tasting of four Schramsberg wines. The cost is $45, not cheap, but we took the tour a couple of years ago, and it's well worth every penny in my book!  Advance reservations are required.
(Click on images below to enlarge)
About this wine…Blanc de Noirs (white from black) is a style of sparkling wine that is made from red grapes.  The red grapes are typically Pinot Noir, and Pinot Meunier.  In the case of this wine, it's made primarily from Pinot Noir, but includes a small percentage of Chardonnay, a white wine grape.
Grapes for this wine were sourced from various AVA's in Northern California including Napa (34%), Sonoma (33%),  Mendocino (24%), and Marin (9%)
Pinot Noir from Carneros and Anderson Valley combine with fruit from low-yielding Sonoma and Marin coastal vineyards to develop a sparkling wine with a breadth of fruitful aroma and flavor. Select Chardonnay lots give zest and backbone to the blend.
I typically prefer Blanc de Noirs ("BdN"), and Rose style of sparkling wine to  Blanc de Blancs,  But for me, it really depends on whether or not I'm having it with food, and if so what kind of food.  I generally prefer BdN for two reasons.  First they typically show more hints of red fruit character, rather than an orchard fruit character often found in sparkling wines that are composed mostly of Chardonnay, and secondly, they tend to be richer, leaning  toward being more medium-bodied.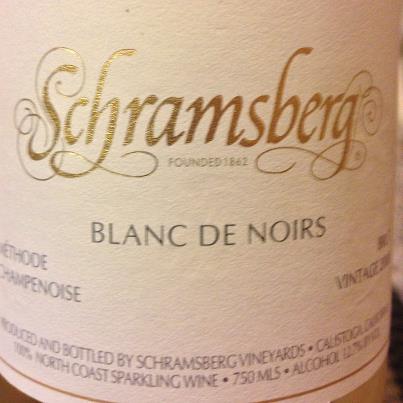 My tasting notes follow:
 Pretty copper color with lots of pin prick bubbles and sourdough bread dough, persimmon, and tangerine aromas. On the palate, it has an explosive, yet delicate mousse with persimmon, tangerine, and vanilla flavors with hints of honey and Queen Anne cherries. Medium long finish. – 90pts
Rating: Highly Recommended!  

Pair with: The beauty of sparkling wines is their versatility with food, because of their palate cleansing quality (think scrubbing bubbles;-). What I appreciate about this wine is because it's fuller-bodied, it can be a "one wine" for a diverse menu.  For example we paired it with both a T-bone steak, and pan-sauteed wild cod.  It was a surprisingly good pairing with T-bone steak.  It stood up to the hearty character of the steak, which seemed to bring out the red fruit character of the wine.  And it paired very well with the grilled cod.  We also had a bottle of Petite Sirah open, and while that I thought that paired better with the steak, it didn't pair well with the fish.  So this wine was fine example of "one wine" that you could pair with both steak and fish. Schramsberg suggests pairing with soft and nutty cheeses, macadamia nut-crusted halibut, or pork tenderloin with fresh rosemary and lemon thyme.
The Wine Geek Stuff:
Alcohol: 12.7% alcohol.
Closure: Cork
Grape varieties: 91% Pinot Noir, 9% Chardonnay
Production method: Traditional Method
Dosage: Brut
Retail: $39
Cases produced: 12,750
Drink: Now – 2022
>>Find this wine<<
Wine purchased for review
Related posts you might enjoy: