Last week I posted about our first day of wine tasting in Anderson Valley ("A.V").  We stayed overnight at the Anderson Valley Inn, nice clean choice for budget minded travelers to Anderson Valley (heads up…no TV…but there is WiFi).  It's centrally in Anderson Valley minutes away from Hendy Wood State Park with its majestic redwood trees.  It's also across the street from Scharffenberger Cellars, and a stones throw away from  Libby's Mexican Restaurant, the best Mexican restaurant I've  never been to (Everyone raves about it, but both times we've been to Anderson Valley, it's been closed for the Winter. Note to self – next trip to A.V.go in Spring, Summer or Fall!
When we were on the road just in front of the A.V. Inn, we saw a "Rivers Bend" sign.  We were curious and decided to check it out. "Rivers Bend" turned out to be a retreat center. Along the way, I spied this gorgeous view of fog hovering above the valley floor…It's a great example of the tremendous beauty of the Anderson Valley!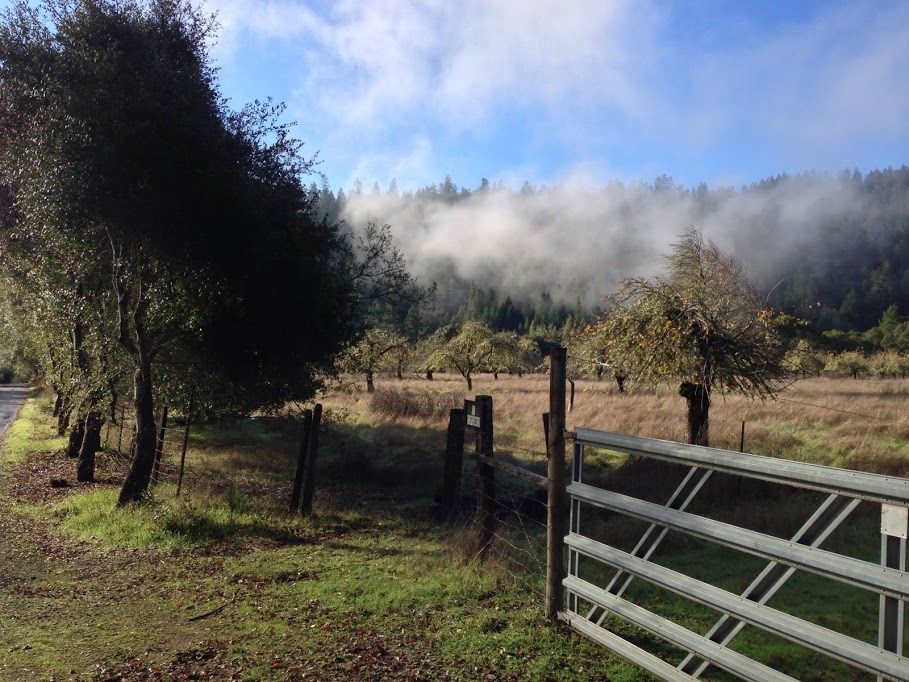 After our little adventure, we decided to make the 10 minute drive to Booneville to get some breakfast at the Booneville General Store, a wonderful, if a bit pricey,  place for breakfast, lunch or picking up some picnic goodies…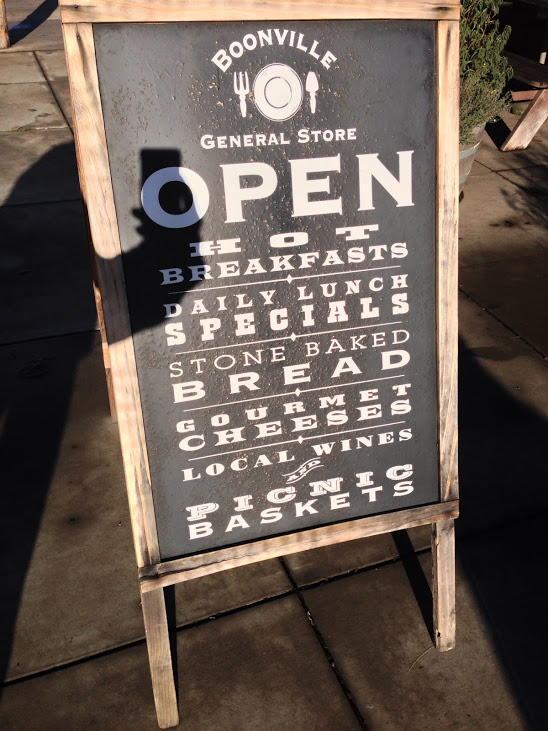 About the time we'd finished breakfast, the wineries were opening. Time to get down to pleasure!
Our first stop of the day was Navarro Vineyards, a family-owned winery that has been growing grapes, making wine and producing non-alcoholic grape juices in the Anderson Valley since 1974.  Navarro has a diverse lineup of wonderful wines that are reasonably priced.
Navarro is where we were introduced to Boontling, a jargon ostensibly spoken only in Boonville. While we were tasting we were offered small samples of some great local cheeses from Pennyroyal Farm including:
Laychee (Boontling for milk) – a blend of goat's and sheep's milk
Boont Corners – an aged raw goat milk cheese
Bollie's Mollies (Mollies is the Boontling word for female breasts) –  a dense, surface ripened lactic curd cheese with a light blue mold
All the cheeses were yummy, paired wonderfully with the wine we tried, and are available for sell in Navarro's well stocked deli case!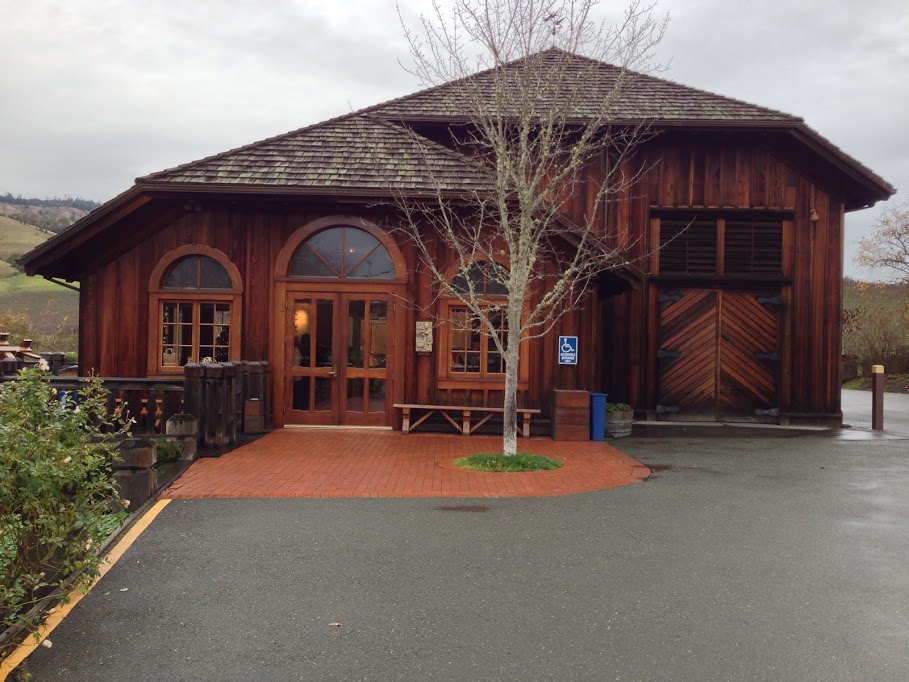 My tasting notes follow:
Our next stop was Toulouse Vineyards, a "boutique" winery founded by Vern and Maxine Boltz. Vern is a retired Captain from the Oakland Fire Department.  The Boltz purchased a bucolic 160-acre site approximately one mile from the town of Philo.
In 1997 Vern cleared the land, prepared the site, planted 17 acres of Pinot Noir grapes, and named the vineyard Toulouse. By 2002, they were making wine.
They subsequently purchased an additional 160 acres adjoining the rolling hills of their property which now encompasses 320 acres. They recently opened a beautiful (relatively) new tasting room on the property.
We ended up going to Toulouse based on the recommendations of several local folks, who are usually a great resource for recommendations about wineries to visit in my experience.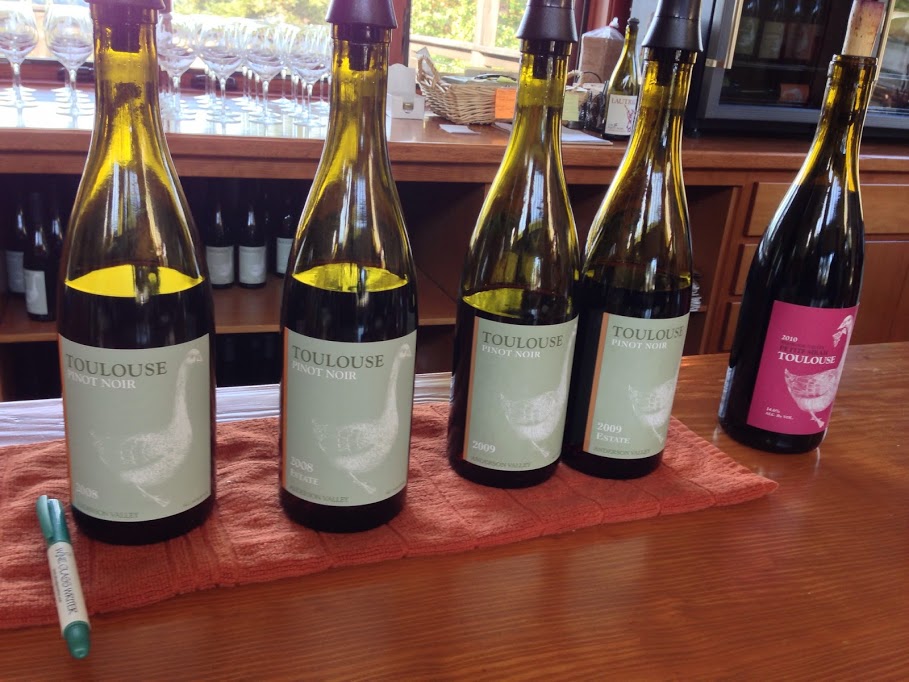 My tasting notes follow:
Next up was Phillips Hill (recommended by the Tasting Room attendant at Toulouse), a small (~1,000 cases/yr) winery specializing in Pinot Noir and Chardonnay
Toby Hill is the Owner/Winemaker of Phillips Hill. He's a formally trained artist who started the winery after a local winemaker decided not to begin a brand and offered him four barrels of an unfinished 2002 vintage from Oppenlander Vineyard in Comptche,
What started as an opportunity to express his work on a wine label became a new artistic obsession for an expression not only on the bottle, but in the bottle as well – a transformation from the art of the visual to that of the sensory.
They are definitely striving for more Old World style wines with elegance, finesse, and lower alcohol levels.  Only reds were available for tasting the day we visited, as they were sold out of their Chardonnay, and Gewürztraminer.  Each bottle label features his artwork.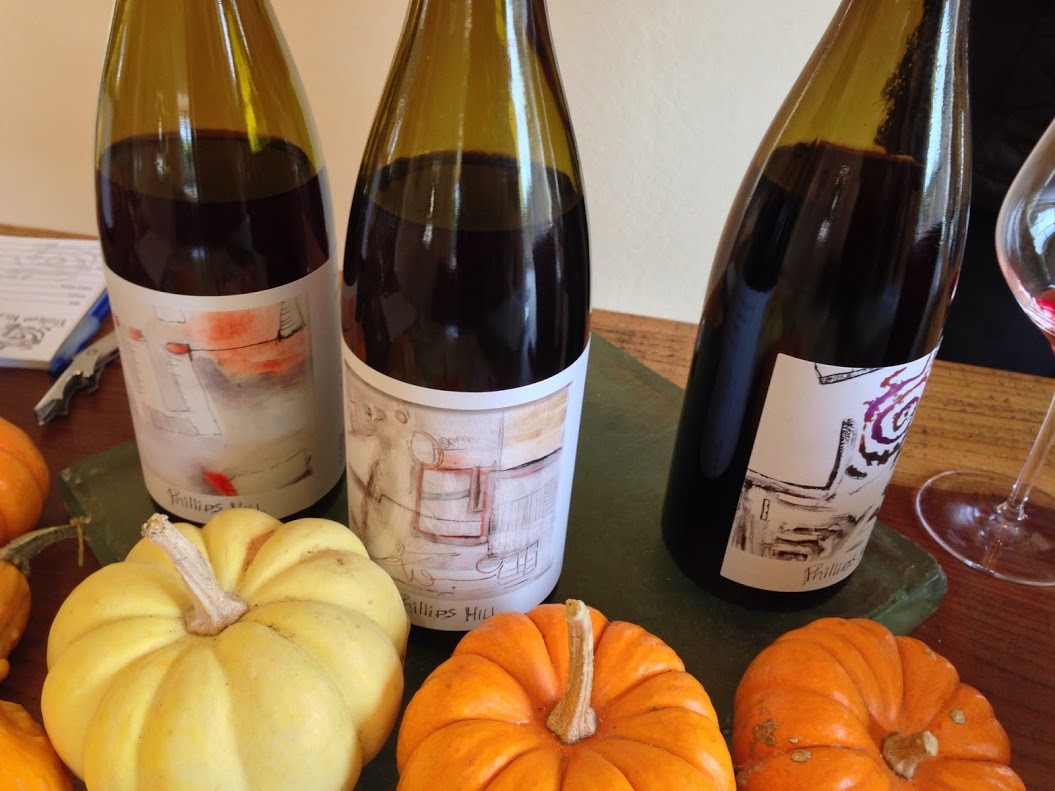 My tasting notes follow:
Our next stop was Goldeneye Winery.  Goldeneye was established after Duckhorn Wine Company (Yes – the same company that produces of one of Cali's most iconic Merlots) purchased the former Obester Winery in 1997.  They proceeded to plant 57 acres of Pinot Noir (the Confluence Vineyard),and have since added additional Anderson Valley vineyards such that they now own 220 acres of estate vineyards. They source  fruit from both estate and non-estate vineyards.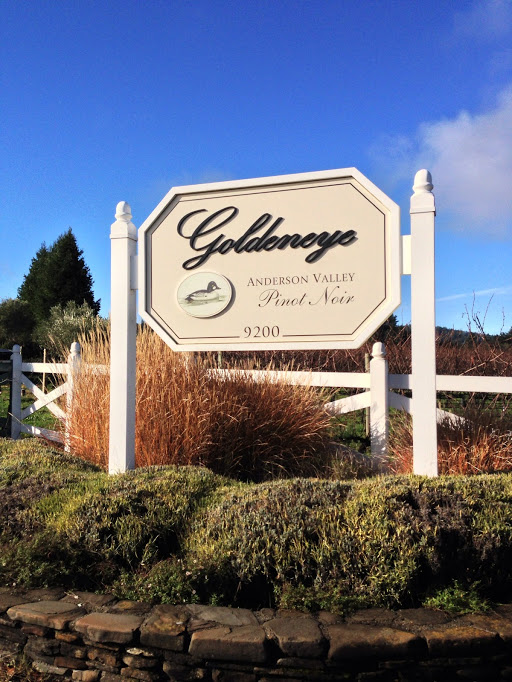 What sets Goldeneye aside from most wineries is the sheer beauty of the place, and the sit down tasting "experience" they offer. The tasting room had been remodeled since our last visit a few years ago.  They have one of the most beautiful vineyard views I've ever seen (the pic below doesn't do it justice). I think of it as their back yard.  Can you just imagine sitting out there enjoying a picnic or just relaxing with a glass of their wines?  Heaven!
My tasting notes follow:
Our last stop of the day was Zina Hyde Cunnignham Winery, located a few doors away from the Boonville General Store.
There was a great selection of wines, but after tasting nearly 30 wines already, and with a long drive in front of us we opted to only try three.
Zina Hyde Cunningham has a long history in Mendocino County.  It started in Mendocino County in 1865 when Zina Hyde Cunningham brought his vision of producing the very best wines from his winery and vineyards.  Today, Zina Hyde Cunningham is owned by Steve Ledson of Ledson Winery and Vineyards in Sonoma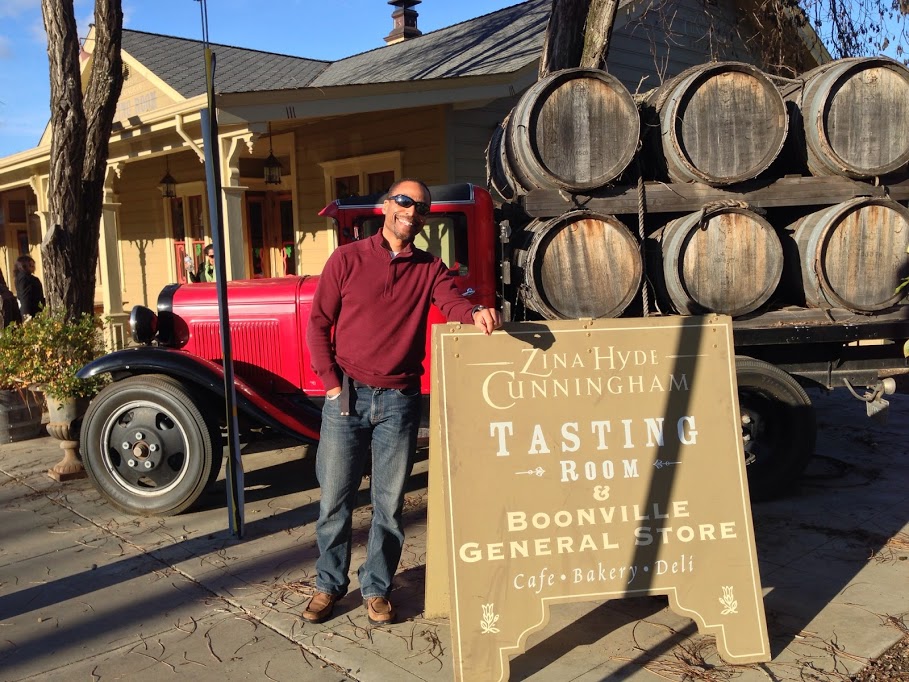 My tasting notes follow:
2011 Zina Hyde Cunningham – USA, California, North Coast – Strawberry red color with strawberry, peach and spice aromas. On the palate, it's medium-bodied, between dry and off-dry and fresh with strawberry, peach and spice flavors. Medium finish (87 pts.)
2008 Zina Hyde Cunningham Carignane – USA, California, North Coast, Mendocino County – Dark garnet color with black cherry, cocoa, and tobacco smoke aromas. On the palate, it's full-bodied with cherry, and ripe strawberry flavors. Long finish. (90 pts.)
2011 Zina Hyde Cunningham Pinot Noir – USA, California, North Coast, Anderson Valley – Ruby red color with brown sugar, cranberry, and vanilla aromas. On the palate, it's medium-bodied and balanced, and silky smooth with raspberry, cranberry, vanilla and baking spice flavors. Medium/long finish. (90 pts.)
Whew! After a full day of the 4 S's (Sniffing, Swirling, Sipping and Sipping) we had our fill of Anderson Valley.
My winery of the day…Goldeneye! But all the wineries we visited offered very good to excellent wines, and we walked away with wines from all the wineries we visited.
Anderson Valley is a great wine tasting destination that deserves your attention.  I highly recommend.  Until we meet again in the not too distant future!
Have you visited Anderson Valley?  What wineries would you recommend for our next visit?
Related posts you might enjoy: