From time to time I come across a wine with a surprisingly good quality/price ratio ('QPR").  The 2007 Bodegas Castaño Yecla Solanera Viñas Viejas , a Spanish wine from the Yecla D.O., is such a wine.  I purchased this bottle from my favorite wine store, K&L Wine Merchants.
Not familiar with the Yecla region of Spain?  Join the club, neither was I! What I do know about Spain is that it consistently offers great value in its wines.  Whenever I look for great QPR wine, I alway start with Spanish wine!  And whenever, I find one as good as this one, and consider what it cost, I inevitably ask myself why I'm not drinking more Spanish wine! It's a country whose wines I intend to explore more…
Yecla is a small DO ( Denominación de Origen) near the town of Yecla in the northernmost corner of the region of Murcia, not far from Spain's east coast.  The vast majority  of vineyards are planted to Monastrell (Mourvèdre, Mataro),  Other permitted red varieties are  Garnacha Tinta, Garnacha Tintorera, Tempranillo, Merlot, Cabernet Sauvignon and Syrah.  Permitted white varieties include Airen, Merseguera, Macabeo, Malvasia and Chardonnay.  The inclusion of grapes like Merlot, Cabernet Sauvignon, and Chardonnay tells me the region produces wines that are well-suited to the American palate.
The region is made up of a single district, but the local wine community divides the area into two – Yecla Campo Arriba, and  Yecla Campo Abajo.  Yecla Campo Arriba  is considered superior because  of its old vines.  Yecla was granted DO status in 1975.
Bodegas Castaño is a family run private winery that has had a winemaking presence in the region for generations.  They own about 400 hectares (approximately 10% of the DO) in four prime locations.
This wine has an excellent track record.  Previous vintages  (2001-2006) were all scored 90+ point and considered best values by the Wine Advocate and the International Wine Cellar.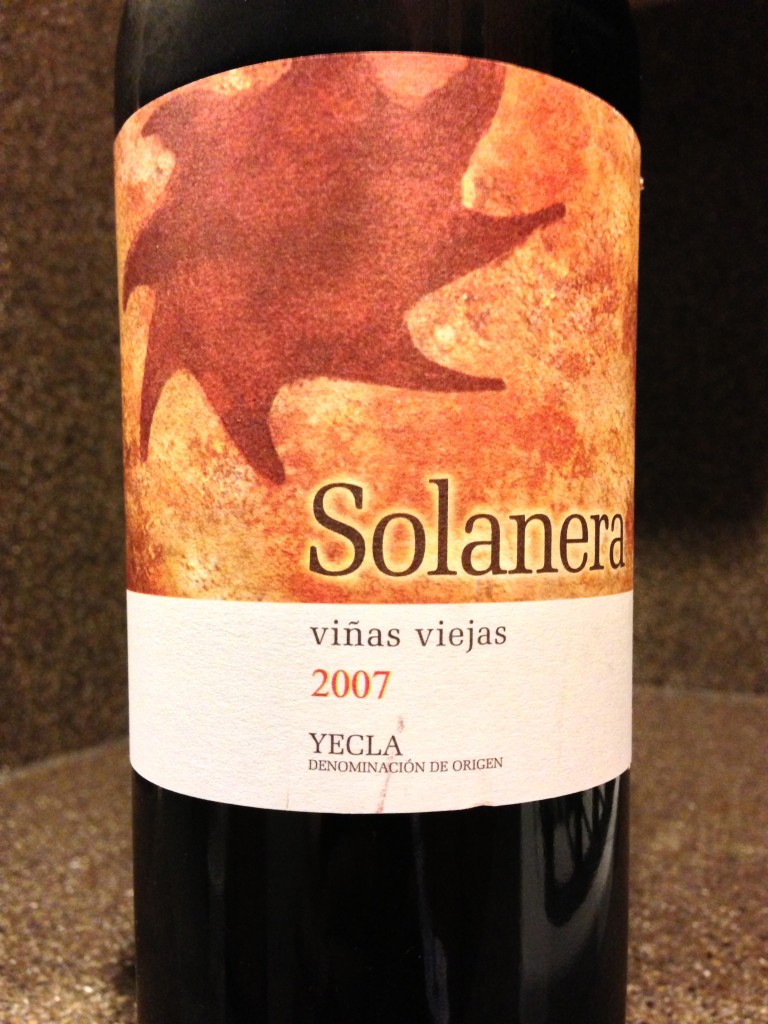 Here's what the producer says about the wine…
"This special limited production wine is an example  of the high quality potential of the emerging Yecla region in Southern Spain.  Solanera is produced from the oldest vines of the indigenous Monastrell, along with low-yielding Cabernet Sauvignon, and Tintorera which is aged in oak for 10 months..This wine is a custom blend for Eric Solomon and is bottled unfiltered and unfined."
My tasting notes follow:
Opaque violet color with sweet tobacco, cedarwood, sweet dark fruits, and hint of violet aromas. On the palate, it's medium-bodied with supple tannins, and surprisingly fresh acidity with dark cherry, blackberry, blueberry, and a bit of cassis flavors. Long finish. 
Here's the wine geek stuff:
Where it's from: Spain> Murcia> Yecla
The grapes: 65%  Monastrell (a.k.a. Mourvedre), 25% Cabernet Sauvignon, 15% Garnacha Tintorera (a.k.a. Alicante Bouschet),
Aging: Ten months in 10 months in oak; French (70%) and American oak (30%)
Age of vineyards: 40+ year old vineyards from Campo Arriba
Cost: $11
Alcohol: 14.5%
Closure: Cork
Recommendation: This is going to be a repeat purchase for me!  I highly recommend! To find this wine click here
Other related posts you might enjoy: