After a great couple of days of wine tasting, first in Paso Robles on Friday, then the Lompoc Wine Ghetto on Saturday, we still hadn't had our fill of the marvelous Central Coast Wine Region.  Since we were staying in Paso Robles, we decided to do some more tasting there before heading home.
Our first stop was a combination of a farm and two wineries…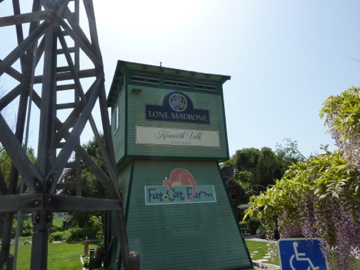 It was a beautiful day before we gotta wine tasting we strolled about the magnificent grounds of the wineries/farm…
Including bucolic picnic area…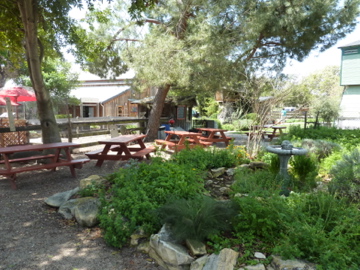 Farm animals…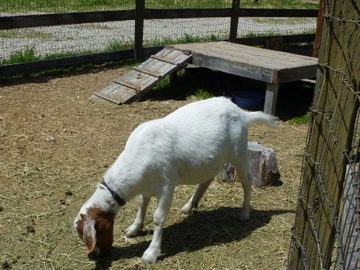 Even a bit of outdoor art…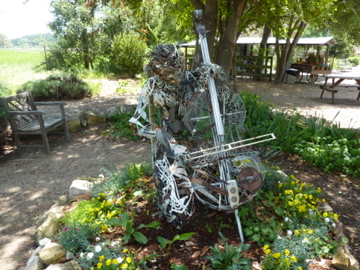 We decided to hit Kenneth Volk Vineyards first… 
Address: 2485 Highway 46 West, Paso Robles, CA
Phone: (805) 237.7896
Open Hours: Daily 10:30a-5p
Tasting Fee: $10 for 6 wines (includes glass)
Food Available: No
Picnic Area: Yes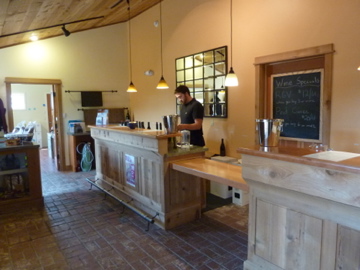 Kenneth Volk is the owner/winemaker for Kenneth Volk Vineyards ("KVV").  Ken has a long history of winemaking in the Santa Maria Valley.  In fact, the Paso Robles tasting room is a satellite  to their main tasting room, which is located in Santa Maria.  Ken's claim to fame prior to this eponymous winery was establishing the Wild Horse winery in 1981, just 6 years after graduating from high school. He owned and operated that winery for 22 years taking it from case production of 600 to 150,000.  He sold the winery to Peak Wines International.  In 2004, Ken purchased the "Original" Byron Winery facility from the Robert Mondavi Corporation and renamed the property Kenneth Volk Vineyards. The first wines were released in 2006.
They have an extensive tasting menu.  There were six white wines, and ten red wines available for tasting. The wines were priced between $12-$48.  Here's what I tasted:
2007 RGV, Paso Robles
2008 Pinot Noir, Santa Maria Cuvee
2009 Blaufrankisch, Pomar Junction
2009 Grenache, Rio San Benito
2009 Negrette, Calleri Vineyard
2007 Cabernet Sauvignon, Starr Ranch
My favorite was the 2008 Pinot Noir, Santa Maria Cuvee, which I scored 90 pts.  What I appreciated about the tasting was the diversity of grape varietals available, including Malvasia Blanca, Negrette, Touriga Nacional, and Blaufrankisch.  All the wines were very good.  I ended up purchasing a bottle of the Touriga Nacional (not available for tasting that day – but I want to try the varietal on a stand-alone basis – why not, I enjoyed all the wines I tasted!)
My two cents? – Recommended, especially if  you're looking to try a new wine or two.
Then stepped next door to Lone Madrone:
Address: 2485 Highway 46 West, Paso Robles, CA
Phone: (805) 238.0845
Open Hours: Daily 10:30a-5p
Tasting Fee: $10 (waived if your purchase 3 bottles)
Food Available: No
Picnic Area: Yes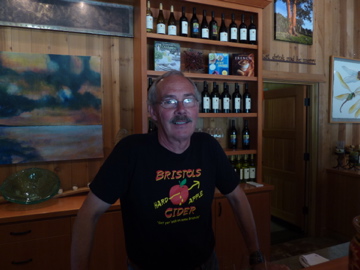 Lone Madrone is located in Paso Robles.  It was founded in 1996. It co-located with Kenneth Volk Vineyards, and the oh so cool Fat Cat Farms where they been growing organic herbs for 20 years (they have over 30 kinds of basil).
I discovered Lone Madrone while at Tablas Creek, a couple of days before.  I asked for recommendations for other wineries in the area.  Our tasting room attendant recommended Lone Madrone, and told us it was owned by Neil Collins, the wine maker at Tablas Creek.  The way she put it is that Neil can make wines at Lone Madrone he can't make at Tablas Creek.  Since Tablas Creek is one of my favorite wineries I decided to stop by on the last day of our Central Coast wine tasting trip.
Here's a bit Neil's of bio from the Lone Madrone website…
Neil has been working in the wine industry for 21 years, spending time at Wild Horse Winery and then Adelaida where he became winemaker alongside the notorious Mr. Munch. In 1997 he moved his family to the vineyards of Chateauneuf-du-pape in southern France where he spent a year learning the cellars and vineyards of the famed Chateau de Beaucastel, one of the oldest and most highly regarded estates in France. Neil returned to Paso Robles to take up the new role of winemaker and vineyard manager at Tablas Creek Vineyards, the California property of Château de Beaucastel. Since that time, great success has been achieved by Tablas Creek, success in which Neil's hand has been significant. Neil's experience in French winemaking complemented his earlier training as a French chef in hometown of Bristol, England.
Production is about 3,000 cases annually.
Wines were priced The wines are priced from $20-$54.  Here's what we tasted:
2009 La Mezcla (Grenache Blanc & Albariño)
2009 Points West White (Roussanne, Viognier, Picpoul Blanc, and Marsanne)
2011 Zin of Steel
2009 Points West Red (Mourvèdre & Syrah)
2008 Old Hat (Zinfandel & Petite Sirah)
2008 The Will (Petite Sirah, Grenache Noir, & Zinfandel)
2008 Tannat 
My favorite was the 2008 The Will, which I scored 91 pts.  All the wines were very good to outstanding. Lone Madrone was my Winery of the Day~
My two cents? – HighlyRecommended, especially if  you enjoy eclectic wines!
After our first round of wine tasting, we decided it was time to have some lunch.  We were in the mood for some BBQ!  We decided to give RB Smokin' BBQ a try.  It was a good call!  Nice joint, clean, good service, and the BBQ was bangin"
We had the family sampler…here's the "Before" pic…um…no "After" pic…nuthing left but bones and balled up finger-lickin' good BBQ sauced stained napkins!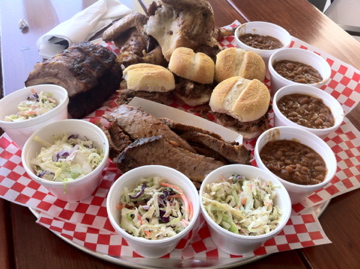 After lunch it was on to the next winery Clayhouse 
Address: 849 13th Street, Paso Robles, CA
Phone: (805) 238-7055
Open Hours: Sun – Thu 11 a.m. – 6 p.m.
Fri – Sat 12 p.m. – 7 p.m.
Tasting Fee: $5, waived with any wine purchase
Food Available: No
Picnic Area: No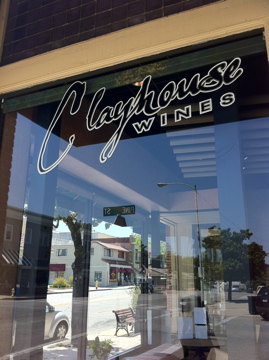 Where these young ladies helped us…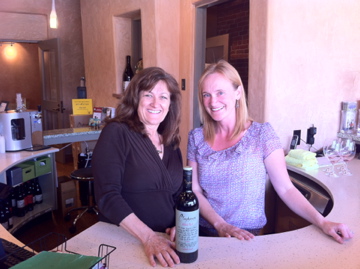 Rick Middleton is the proprietor of Clayhouse wines. He is part of a family that has been in agriculture related business in Washington State and California for four generations. Clayhouse is named for a historic adobe – a clay house – on their estate Red Cedar vineyard property.
I came to know about Clayhouse a couple of years ago when I tasted their wines at Dark And Delicious, the best Petite Sirah event of the year.  I loved their wines.  What stood out for me was how smooth the wines were. So I was curious to see if their other wines were as tasty.
Their wines are organized into three tiers:
Estate Series – wine produced from their best estate vineyard blocks at Red Cedar
Vineyard Series – wines are blended for vintage to vintage consistency from throughout Red Cedar
Adobe series wines combine Red Cedar and fruit from other Central Coast vineyards
Here's what we tasted:
2010 Estate Grenache Blanc
2010 Sauvignon Blanc
2009 Syrah
2009 Estate "Old Vines" Petite Sirah
2008 Estate "Show Pony" Petite Sirah
My favorite was the 2008 Estate "Show Pony" Petite Sirah, which I scored 89 pts.  While I enjoyed the other wines, the Petite Sirahs really stood out for me here. 
My two cents? – Recommended, especially if Petite Sirah your thing!
Alas, we needed to head home after the three wineries to get home at a decent hour.  It was a fantastic three-day trip to the Central Coast.  The Central Coast is rapidly becoming one of our favorite wine tasting destinations.  The wines are great, it's less crowded than Napa, and you won't find friendlier (or more knowledgeable  folks working in the tasting rooms.  We're already planning  for our trip next year!
Related Stuff You Might Enjoy: