When I saw the theme for this week's #SundaySupper – Dishes in 5 Ingredients or Less – my first thought was "Wow, that's going to be a challenge",  because I've seen the creativity and passion my  BFFs (Best Foodie Friends;-) bring to the #SundaySupper table. Then I thought, why not try to pair the undoubtedly diverse menu with only 5 five wines?  As I'm sure it was a challenge to use only 5 ingredients and still get great flavor, it's challenge for me to limit myself to a list of the 5 most food friendly wines. Ah, but in challenge lies opportunity!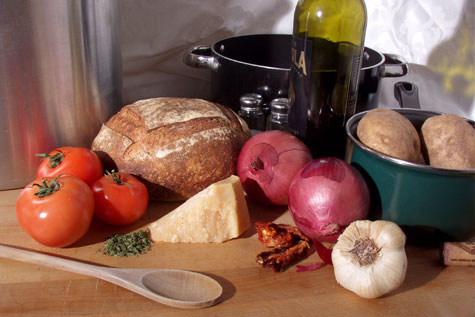 As I contemplated the five most food friendly wines, I kept coming back to wines that are flexible in structure and in style. By structure, I mean all the wines have a great backbone of acidity, a core of succulent fruit, lower alcohol, and modest or no tannins.  What I mean by style is that the grape produces wines in a wide range of styles from light to full-bodied.  That diversity of style makes these wines versatile pairing partners with a broad range of foods.
Sparkling Wines
Champagne and other sparkling wines like Cava, and Prosecco have an incredible affinity for a wide range of foods.  Aside from the aforementioned high acidity and lower alcohol, there's the bubbly effervescence!  I always have a chilled bottle of bubbly on hand!  Unfortunately, most folks only drink bubbly when it's a special occasion or as a cocktail without food.  But now you know better. Right?!
Sparkling wines work especially well:
To accompany raw fish (sushi, sashimi, oysters, etc.),
Tart foods: citrus, vinegars, pomegranate, dill, capers, and tomatoes
As a counterpoint for foods that are salty, moderately spicy, rich and creamy, or deep-fried. (For example, a classic pairing is buttered popcorn with sparkling wine)
With many Latin dishes (empanadas ceviche and mole), Asian cuisines (Tempura, gyoza, Chinese deep-fried dishes, fish cakes, Indian Samosas, etc.), Middle Eastern dishes (hummus, baba ghanoush)
To accompany dishes that are challenging to pair with other wines like egg dishes and soups.
To pair with dishes that are inherently toasty like canapes or puff-pastry dishes.
Riesling
Riesling is widely regarded as the most food friendly white wine.  It's among the most versatile wines because it's made in a wide range of sweetness, from bone-dry to very sweet dessert style wines.
Riesling goes well:
Almost any fatty poultry like goose, duck and other gamy birds.
Rich, salty meats such as ham, sausages, and charcuterie. LIkewise for mildly salty cheeses such as Gorgonzola.
Sweet shellfish such as crab, lobster, and prawns.
Dishes seasoned with exotic spices, such as curries, cardamom, clove, mace, star anise, etc.
Quiche and other egg-based dishes.
Sauvignon Blanc
You know how a squeeze of lemon seems to enhance almost anything?  I think of Sauvignon Blanc as a vinous equivalent.  It can be a polarizing wine. It's a bit like cilantro – people tend to either love it or hate it.  But since this a wine that is made in a diverse range of style, I believe there is something for virtually everyone.  It's a matter of finding the style that suites you!
Sauvignon Blanc goes well:
With dishes emphasizing fresh herbs, or dressed with a  vinaigrette dressing.

With dishes prepared with a variety of cooking methods, from low-impact such as steamy to high-impact such as smoking, and grilling.

With most vegetarian soups.

As a counterbalance to rich dishes made with light-cream or butter-based sauces.

With acidic or sharp ingredients such as citrus, dairy (yogurt, sour cream,etc) dill, capers, olives, and tomatoes.

With spicy hot dishes – the acidity and generally lower alcohol level refreshes the palate.

With a wide variety of cheeses. Goat cheese is the classic pairing, but try it with Brie, Gruyere, Neufchatel, or sharp cheddar.
Pinot Noir
Pinot Noir is known as the Chef's wine  because its affinity for such a broad range of foods. It's also the wine most often described in sensual terms! Depending on the vintner's choices, it can be delicate and light-bodied, or bold and full-bodied!
Pinot Noir pairs well with:
Damn near everything (which is why it's often the first choice for a food-a-palooza like Thanksgiving) because it's so flexible.
Dishes that complement its inherently spicy flavors such as dishes spiced with coriander, cumin, cinnamon, or ginger.
With foods that are smoked, lightly charred, or grilled, especially if you're serving one with a more oak-driven style.
Many fish – especially Salmon, tuna or swordfish.
With veggies (especially mushrooms) and dishes with earthier flavors such as cooked beans, greens, lentils, or dishes seasoned with Dijon mustard.
A multitude of Asian cuisines – Indian, Chinese, Japanese, and Korean foods.  That's because these cuisines often have sweet-salt flavor combinations with which Pinot Noir plays well.
Sangiovese
Sangiovese is produced  in diverse range of styles.  In Italy, where the wines are named after geographical regions rather than the grape varietal, there is, of course, Chianti, but there's also Brunello, Montepulciano, and "Super Tuscan" variations of Sangiovese.
Sangiovese goes well:
With dishes with tomato-based sauces.
Dishes  that are slow braised, grilled, or lightly smoked.
With dishes featuring fresh herbs such as basil, thyme or sage.
Richer, full-bodied soups such a bean soup, or minestrone.
There you have it, my short-list of the 5 most food friendly wines (for a more comprehensive list click
here
)!  Equipped with these five wines, and spirit of exploration to find what works for your palate, pairing food and wine will go from daunting to delightful!  I've added a new feature this week.  Click on the hyperlinked name of the wine to find where you can buy. Also, since I'm limiting my wine recommendations to five, no dessert pairing this week:-(
Here is this week's great #SundaySupper menu:
Breakfast, Starters, Butters and Jams:
Pair these dishes with Korbel Natural, a "California Champagne" made of 65% Pinot Noir and 35% Chardonnay.  It's a crisp, dry sparkler with cherry, raspberry and apple character.
Main Dishes:
Pair these main dishes with the Korbel Natural mentioned above:
Pair these dishes with Sauvignon Blanc.  Look for the 2011 Craggy Range Sauvignon Blanc Te Muna Road Vineyard. It's from New Zealand and it's full of citrus, gooseberry and tropical fruit character:
Pair these dishes with a Riesling.  One of my favorites is the 2010 Trimbach Riesling.  It's dry wine from the Alsace region with delicate aromas that belie its rich, fruity tropical fruit, peach and citrus flavors:
Pair these dishes with a Sangiovese. Look for the 2009 Ninety+ Cellars Reserve Lot 57 Rosso Toscana.  It's a blend of mostly Sangiovese (80%) with the balance split between Cabernet Sauvignon, and Merlot.  Therefore it's a what's referred to as a "Super Tuscan".  It's loaded with blackberry, black cherry, and spice character.
Desserts:
Please be sure you join us on Twitter throughout the day during #SundaySupper. We'll be meeting up at 7:00 pm(Eastern) for our weekly #SundaySupper live chat where we'll talk about our favorite 5 Ingredient Recipes! All you have to do is follow the #SundaySupper hashtag, or you can follow us through TweetChat!
Related post you might like: