I can't remember the last time I didn't have a glass of wine with dinner!  It's a nightly ritual for my wife and I, who are both ardent wine lovers. So much so that we typically decide which wine we're in the mood for, THEN we decide what to eat (I suspect most folks do it the other way around!) Regardless of which choice you make first food and wine together are one of life's great pleasures.  This quotes says it all for me…
"If  food is the body of good living, wine is its soul." — Clifton Fadiman
Those of you familiar with my ENOFYLZ (that's oenophiles spelled phonetically in case you're wondering) blog know it's a Wine blog.  This week, it's a Wine and Food blog since I've decided to take the leap and prepare a dish and do offer wine pairing recommendations. As a self-described "Wino with latent foodie tendencies", it seems natural to do the food and wine post!
When I saw the lineup of diverse wine samples provided by the Schlossadler Family of Wines, this week's Cooking with Wine #SundaySupper, it didn't take long to decide to make something spicy.  That's because a.) I love spicy food, and b.) One of the wine and food pairing tenets I've had the most success with is "spicy loves sweet", i.e pair spicy foods with wines that have some sweetness.
I decided on Jerk Turkey Burgers with Mango Coleslaw because it's a quintessential summer meal and well…it looked easy!   I found the recipe on the Food Network.
For the uninitiated, "Jerk" is a style of cooking native to Jamaica whereby meat (or for that matter, vegetables or tofu) is dry-rubbed or wet marinated with a hot spice mixture called Jamaican jerk spice. I'm sure there are many versions, but the two primary ingredients are allspice and Scotch bonnet peppers.   Other ingredients typically include cinnamon, cloves, garlic, scallions, thyme and salt.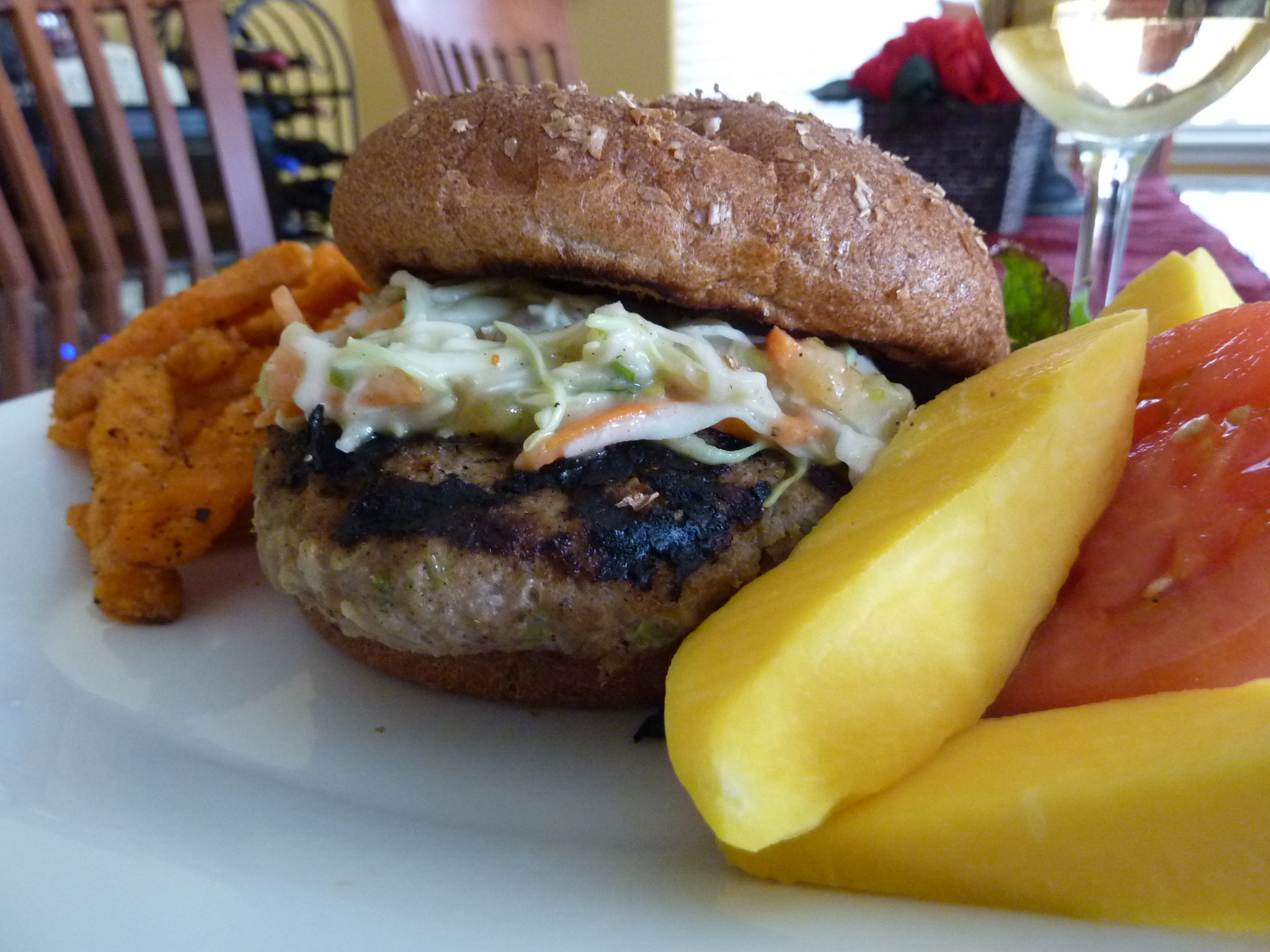 Here's the recipe:
INGREDIENTS

1 pound ground turkey
1 tablespoon jerk seasoning, plus more for sprinkling
1 small green apple, peeled and grated
1/2 cup finely chopped scallions
1/4 cup panko (Japanese breadcrumbs)
Kosher salt and freshly ground pepper
1/4 cup mayonnaise, plus more for brushing
1/4 cup mango chutney, roughly chopped
3 cups shredded green cabbage
1 carrot, shredded
Canola oil, for the grill
4 hamburger buns or challah rolls, split ( I used whole wheat)

Combine the first 6 ingredients to make the turkey burger patties. Whisk the mayonnaise and chutney in a large bowl. Add the cabbage, carrot and the remaining 1/4 cup scallions, season with salt and pepper and toss to coat. Grill the turkey patties until browned and cooked through, 4 to 5 minutes per side.

Brush the cut sides of the buns with mayonnaise and sprinkle with jerk seasoning; toast on the grill, about 30 seconds. Serve the burgers and slaw on the buns.
What's a burger without fries?  I decided to add some oven-fried potatoes, and in a epiphanic burst of culinary inspiration (Um…not sure where it came from – though I suspect it's from insanely creative, new-found foodie friends who set the bar high;-) I decided to garnish with sliced mango.
I'm pleased to report the burgers were a smash hit!  The spicy kick of the jerk seasoning in the burgers was cooled a bit by the mango slaw.  It was a wonderful match with the 2006  H.O. Becker, Kerner Auslese because of its fruity sweetness, which further offset the spicy kick of the burger.  It's pretty healthy too, especially if you sub something for the mayo!
On the other gustatory delights offered this week by the #SundaySupper bloggers!  Additionally, my tasting notes for each wine and my wine pairing recommendations follow:
2010  Kotuku Winery, Sauvignon Blanc, Marlborough
Pale golden-yellow color with aromatic passionfruit, citrus, mineral aromas. On the palate, it's The medium-bodied, with zesty acidity, and vibrant citrus, tropical fruits, and subtle mineral flavors. Medium-long finish.  Versatile partner with food.
Pair with these delectable dishes…
2010  Ernst Holler, Blaufrankisch, Burgenland
If you're not familiar with Blaufränkisch (blouw-FRAHN-keesh), here's a quick 411 – It's a dark-skinned grape used to make red wine
Ruby color with damp earth, mixed berry, dark cherry, and spice aromas. On the palate, it's light-medium bodied with very good acidity, supple tannins, and cherry, raspberry, spice, and a hint of cola flavors. Brings to mind Cru Beaujolais! Medium finish. Very food friendly wine.
Pair with these terrific entrees…
2006  H.O. Becker, Kerner Auslese, Rheinhessen
If you not familiar with the Kerner grape (I know I wasn't), here's a quick 411 – It's an aromatic white grape variety that is the offspring of a cross between Trollinger, a red grape variety, and Riesling a noble white grape variety.  It's named after poet and physician from Justinus Kerner.
Pale golden-yellow color with aromatic lychee, stone-fruit ,  and hints of Muscat and white flower aromas.  On the palate, it's medium-bodied, fruity  and sweet with vivid white peach, apricot, sweet mineral flavors underscored by racy acidity.  Medium-long finish. I initially thought it was a Rosé because it looked pink, but it turned out be bottled in pink glass.  Perhaps a tribute to its parentage?
Pair with these delightful dishes…
Next Shipment is October 2012 ~ Halloween Day  Ghostly Whites, Haunted Red for all friendly spirits everywhere.
Follow Schlossadler Wines:
Related articles