I enjoy watching the Food Network.  It's fun to see the manifestations of creativity and passion from the various TV personalities.  And of course when I think of cooking and TV personalities; top of mind for me is Julia Child.  Whenever I've seen her show, what alway come through is her passion for the sensual pleasures of food and wine.  Food and wine are a match made in heaven  in my book.
When I think about food and wine, I think of "foodies", and "winos".  How can you tell the difference between the two?  Simple, if one thinks of what food will be served then thinks about what wine will be a match, they're a foodie.  And if one think about what wine to serve, then considers what food will pair well with it, they're a wino!  I'm oversimplifying it a bit, but I mostly think that's the case.  Regardless if you're a "foodie", or a "wino", there are similarities.  I love the following quote from Julia Child…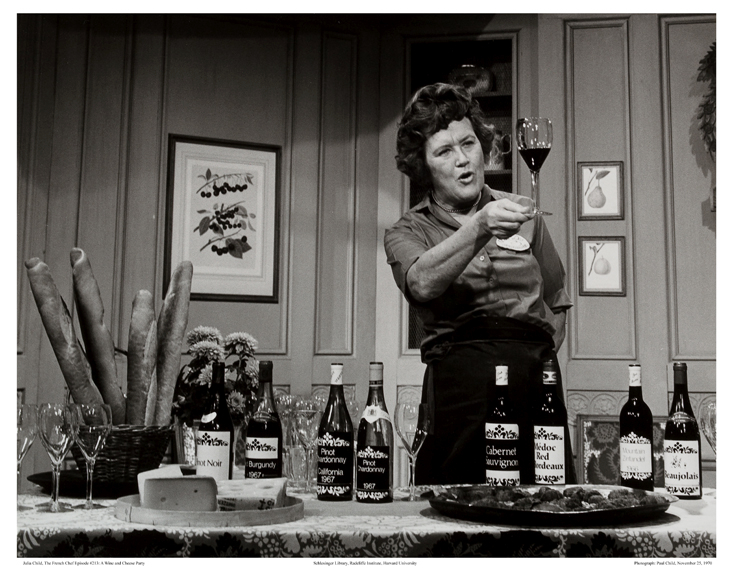 "Just like becoming an expert in wine–you learn by drinking it, the best you can afford–you learn about great food by finding the best there is, whether simply or luxurious. The you savor it, analyze it, and discuss it with your companions, and you compare it with other experiences." 

― 

Julia Child

, 

Mastering the Art of French Cooking
As Julia Child loved French food, she also loved  French wine,  so naturally I'll recommend some.  However, French wines can be a challenge to find, and may be a bit intimidating for the uninitiated, so I'll also includes comparable domestic wines were appropriate. My recommended wine pairing for these great Julia Child recipes follows:
Pair the following wonderful breakfast dishes with Champagne.  One of the things I love about sparkling wine is that it's really the only wine that good for every meal!  Look for NV Nicolas Feuillatte Champagne Brut.  If you must , add a splash of orange juice to make a mimosa (you know who you are;-) 
Pair the following lunch, sides, and dinner recipes with moderately oaked, full-bodied moderately Chardonnay. From France go with a White Burgundy from the commune of Meursault.  Look for the 2010 Domaine Bernard Millot Bourgogne Blanc.  On the domestic front, try the La Crema Sonoma Coast Chardonnay.  
Pair the following entrées with a dry Riesling from Alsace.  Look for the 2007 Schlumberger Saering Riesling Grand Cru. On the domestic front, look for the 2010 Dr. Frank's Vinifera Wine Cellars Dry Riesling.
Pair the following entrée and side dishes with a White Bordeaux, which is typically a blend of Sauvignon Blanc, and Sémillion. Look for 2010 l'Avocat Blanc, Graves, or from California try the 2009 Clos du Val Ariadne, which is also a Sauvignon Blanc, Sémillion blend. 

Pair the following entrees with a sparkling Rosé.  From France look for Louis Bouillot Cremant de Bourgogne Rosé "Perle d'Aurore", a nice blend of Pinot Noir, and Gamay from Burgundy.  From California look for Mumm Brut Rosé. 
Pair these entrées and side dishes with a medium-full bodied Rosé.  From France, look for the 2011 Château d'Aqueria Tavel, a Grenache-based blend from the southern Rhône Valley, or try a dry Rosé from Spain like the 2011 Muga Rosado.
Chianti, a Sangiovese based wine will be a good match for these side dishes.  Look for the 2008 Marchesi de' Frescobaldi Chianti Rùfina Castello di Nipozzano Riserva.
A Syrah, or Syrah dominant blend will be a great pairing for these hearty entrees.  Look for the 2009 E. Guigal Gigondas from the Rhône Valley, or try the 2009 Andrew Murray Vineyards Tous Les Jours Syrah from California. 

I recommend a Pinot Noir for these dishes. Look for the 2009 Bethel Heights "Estate" Eola-Amity Hills Pinot Noir from Oregon.
Now for the desserts!
Pair these desserts with a Sauternes,  a sweet wine from the Sauternais region of the Graves section of Bordeaux. They are made from  Sémillon, Sauvignon Blanc, and Muscadelle grapes affected by noble rot.  They typically have apricot, honey and peach aromas,  with good acidity to keep the sweetness from being cloying.  Look for the 2009 Roûmieu-Lacoste, Sauternes.
Pair these dessert with a Port.  I recommend the Graham's "Six Grapes" Port.
Bon Appétit!
Related articles